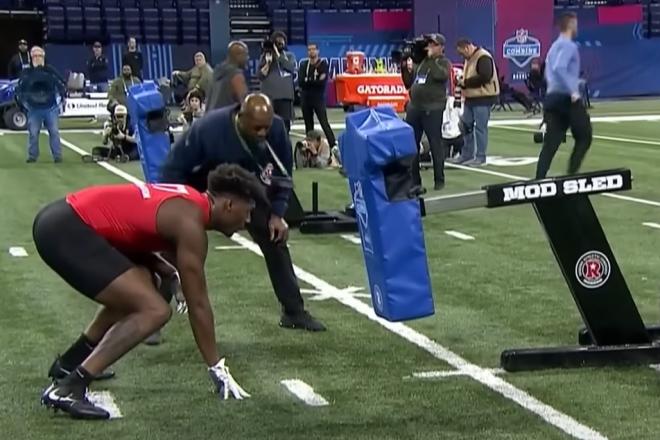 R.C. Fischer
Dynasty Rookie Draft
30 March 2023
Other Positions: QB | RB | WR | TE | IDP
Intro: This is part of my multi-report series on the process of putting together the candidates for the top 12/1st-round prospects for the 2023 Dynasty Rookie Draft (DRD), pre-NFL Draft. Obviously, where they ultimately land changes things -- but I want to show where I am at in the process with the intent on trying to determine/question 'just how valuable are these 1st-round DRD picks this year?' before the actual NFL Draft happens.
I go position-by-position, to talk about the group as a whole and identify the candidates worthy to be considered for the top 12, and why. Then I rank/mock draft MY top 12 candidates for 2023, as we know it now, and then rank them in a special mock draft with the 2022 rookies as we know those 2022 guys today/right now -- to try and compare 2022 with 2023.
And to be clear -- this is MY top 12…not caring much about what the hive mind consensus thinks. I'm evaluating how good these top 3-5-10-12 prospects are and whether to pursue them or get more 2nd-round picks to acquire them at a discount and trade our 1st-round picks for real/existing players, etc.
This is my my final top 12, the sixth part of this series.
In the seventh part of the series, I compare this year's top 12 with 2022's top 12 by merging the lists and ranking them together.
The Tight Ends…
This is the best TE class in a long time, probably the best ever…especially from an FF perspective…and will probably be eclipsed by an even better TE class in a year or three from now -- but we can only deal in a current reality…this 2023 TE class is a potential golden opportunity for FF.
Now, the problem is -- most NFL teams do not use their TE as a real pass game weapon. They use them as blockers and occasional 'surprise' targets and primary plans against really/obviously weak defenses against the pass for a single game angle…but rare is the way Travis Kelce and (to a lesser degree than  Kelce) Mark Andrews are used. And that's it…just those two. Every so often there's a hot Darren Waller year…or a hot 3-4 game stretch for George Kittle, but the very obvious NFL trend is -- talk a good game about TEs in the passing game, and then never really do anything about it.
Mark Andrews is not special, as an athlete…Kyle Pitts is. But when a team or QB is committed to using a tight end heavy for a stretch -- then a Dalton Schultz can help you win a Fantasy title, off the waiver wire, while you scratch your head trying to figure out why Noah Fant is a nobody or why Evan Engram has games with 1-2 targets, every other game it seems.
So, I'm super-excited about this TE class…but also super-cautious. What happened to Jelani Woods in 2022 is the most likely outcome for most/all this upper end of the 2023 TE draft class -- obviously a difference maker and a weapon and the best TE on the team…and was not be a starter right away and when he had an amazing breakout moment/game last season, the following game he'd have 0-2 targets and play 10-20 snaps.
The best way to play rookie TEs is to wait a year on them and buy at an ever-steepening discount. Do you remember who the first TE taken in the 2022 NFL Draft was? After you take time to re-remember that…what's their Dynasty ADP/enthusiasm now?
Now, one day, the NFL will make a turn and start realizing the mismatches these TEs bring and we'll go from zero-to-100 with everyone copying the trend to not be left behind…and that could be 2023 as the start of a turn, but it could be 2024 or 2025.
It's nothing but a 'guess' as to when tight ends will start to rule the NFL, and thus when a bunch of teams copycat it, but it's coming…and this class of tight ends might be the ones to bring it on in the near future. It's hard to properly value/chase these 2023 rookie TEs because we're all FF-wanting to be just ahead of the curve and not behind it or chasing it. I'm being mostly cautious on this group (for FF) but there are some exciting TEs in 2023 that are making me want to break my own rule/axioms.
There are four TE prospects that I am interested in putting on the list of possible top 12 DRD options…and Notre Dame's Michael Mayer is not one of them, as you should already know by now. And I know full well he will have ALL the NFL momentum and red carpet rolled out for him. It's just like a T.J. Hockenson 2.0 -- doesn't matter if I'm 100% right on my scouting, if the NFL is going to throw him 10+ targets a game (like Minny did late last year, after Detroit gave up on him) then he's going to produce at a high level and be a self/NFL-fulfilled prophecy. Going against TJH off the jump was the right call, so the same for Mayer here.
I need to make up a name/label for the non-Kelce/Andrews tight ends…the guys who are solid/marginal talents that are starting NFL TEs and with that (being on the field a lot) they could be a top 5 Fantasy TE for any stretch of hot time -- like Goedert, Kmet, Freiermuth, Njoku, Schultz, Knox, Hurst, etc. There's the Kelce-Andrews class…then there's Engram-Waller-Pitts weapons of mass destructions/eternal heartbreaks because the NFL doesn't utilize them…and then there's the Hockenson-Schultz crowd that are solid enough, boring TEs but can get FF-heat for just 'being there' or 'in the right spot at the right time' (like Schultz or Knox 2021, Hockenson late 2022). Let's label them: 'Babyface' tight ends -- a wrestling term for the guys who are getting a push from management/the story writers and they do 'things' to elicit the cheers/positive reaction from the audience…but it's all (usually) very bland, generic, silly -- which explains how I feel about Michael Mayer, for example. He's getting a babyface push from the media…and the duped masses react like trained seals.
Michael Mayer is not the next Gronk…he's a babyface, generic TE prospect. Apple pie, hot dogs, and love for 'Merica…and media love for Mayer.
The four TEs that ARE on 'my list' for potential top 12 DRD inclusion…
*And the fact that there are four hurts any one of their singular values. It will be 'landing spot' over 'who's better' in the end.
Dalton Kincaid is probably the best pure receiving technician, athlete I've ever seen coming out of college. Kincaid and Pitts are on a whole other level of weaponization potential, but a little different from each other stylistically, but both 'the future'…if the NFL can ever get to it/lean into it. He's definitely on the list. Kincaid is the most WR-like legit tight end I've scouted…right up there with Pitts. And we see what's happened to Pitts in the NFL…thus my excitement/caution.
Zack Kuntz is probably next on the list, just because his build/athleticism is so unique…he could be a superstar TE weapon…or just another gone-to-waste athletic TE (how long did it take for Darren Waller to get a chance?). But the upside, which is what we chase in DRDs, is tantalizing with Kuntz.
Darnell Washington could be the top TE DRD prospect of this class…or #4 of 4. Washington is not a better receiving threat then Kincaid-Kuntz or Musgrave but he's going to be highly drafted and is such a blocking force he'll be on the field more than the other guys and could out-snap his way to being better for FF right away. And he's really athletic/gifted, it's just there are others who are even more off-the-charts gifted as a receiving TE profile.
Luke Musgrave is the consolation prize if you miss on the other four…or he'll be the #1 of the four if he lands great and the others land like crap. Musgrave is in-between the new era weaponized TE hope and the babyface label. Kinda like George Kittle is not as productive as Kelce/Andrews, but he's the next best thing (over time) better than the rest of the babyface pack.
Michael Mayer is flirting with the current ADP top 12 in the consensus world…Washington and Kincaid are top 25, Musgrave is top 36, and Kuntz is outside the top 50…but in the top 60 ADP. 
So, we have Kincaid-Washington-Musgrave-Kuntz joining 'the list' of top 12 DRD hopefuls, pre-NFL Draft. They join the current list that has (in no particular order):
*I am adding Pitt RB Israel Abanikanda to the list because his unofficial Pro Day came in and it looked very intriguing.
Bijan Robinson
Roschon Johnson
Chase Brown
Zach Charbonnet
Jahmyr Gibbs
Deneric Prince
Chris Rodriquez
Tyjae Spears
Sean Tucker
The QBs from prior: Stroud-Levis-Richardson
17 prospects, so far, on the list to be in our top 12 DRD prospects pre-NFL Draft. We see what the WR group provides, tomorrow.