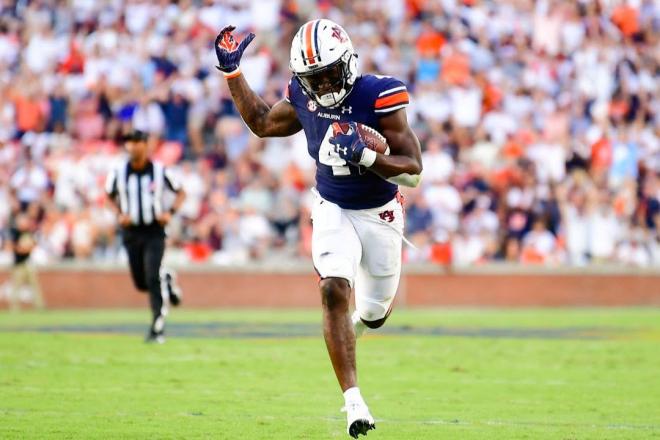 R.C. Fischer
Devy
14 July 2022
2022 Devy Preview Scouting Series (for 2023+): RB Tank Bigsby, Auburn
*Devy (for 2023 prospects) Preview scouting = scouting 1-2+ key game tapes, looking at output trends/basic analytics, and some minor background research. Not a full blown, deep dive scouting report. We'll continue to scout these players ahead of the college all-star games, the Combine and post-Combine for a full reporting ahead of their NFL Draft.
I (RC) conducted my scouting as Ross Jacobs did his, we then exchanged our reports without knowing what the other was thinking/seeing. Then we briefly discussed our scouting of this player in an informal text chat (posted below the two scouting takes). *Please forgive typos on the chat transcript.
RB Tank Bigsby, Auburn (Scouting Grade: D+) = by R.C. Fischer             
6'0"/205, 2021: 223 carries, 1,099 rush yds, 10 rush TDs, 21-184-0 rec. (13 games). Projected: 4.5+ 40-time, 7.1+ 3-cone
Didn't really get my attention. Looks like every generically good college RB in D1. Nothing special on size or speed, and definitely struggled when kicking things to the outside.
COMP? = Lesser D'Vonte Price (2021 UDFA out of Fla. Int'.)
---------------------------------
RB Tank Bigsby, Auburn (Scouting Preview Grade: C) --Ross Jacobs
5'11/208, 2021: 223 carries, 1099 yards, 10 TDs, 21-184-0 receiving (13g), Projected: 4.5 40-time, 7.0 3-cone
Standard generic tweener-sized guy. Not big enough to be a power back, not speedy enough to be a slasher. He has no real superpower, just another cookie-cutter decent back. He can handle 15 carries for a game or two if your starter goes down, but I don't see him ever being the man himself.
NFL Comp? = Tre Mason
RC: Tre Mason is a smart comp
Ross: I was afraid the Auburn connection was clouding my judgment
RC: That image of same jersey or same jersey number does play into our minds with these. Can't be helped.
Ross: That happens to me a lot and I always try to think of someone different just in case
RC: He runs/works like a generic power back...but isn't the size of one. That's gonna hurt.
Ross: Yeah, I'm just not a run of inside grinders when they are 205. And he's a nothing in the passing game
Ross: fan*
RC: Didn't like his outside ability...so no pass game option, nothing but interior running at a smaller size. Not a fan.
Ross: Tre Mason unfortunately. Somebody is going to waste a 2nd or 3rd round pick on this
RC" A 'C' grade is pretty strong...does that need to fall to the 'D+' catchall grade for not dead, but probably dead?
RC: I'm not sure he gets drafted.
RC: A worse Myles Gaskin story...but he got taken at the end.
Ross: It should probably be lower. I was thinking he's a C runner, just average. But when you add in his size and the no passing game stuff...D is more like it especially for fantasy
RC: and the NFL
Ross: For example, I'd rather have Chuba Hubbard
Ross: Similar player except Chuba can catch the ball a little bit
RC: Too many generically talented RBs to catch excitement with a guy like this, for the NFL anymore...but he did play in the SEC.
Ross: Tre Mason was a 2nd round pick
Ross: 3rd excuse me
RC: Back when there wasn't as much talent already in the league and back when the measurables weren't as 'wow' for so many
Ross: You are underestimating the stupidity of the NFL
RC: But I wouldn't put anything past the NFL. Anthony Lynn is still involved with NFL offenses.
Ross: Watch what happens when Bigsby runs for 1800 yards and 20 TD's at Auburn this year. They'll decide he's a god
RC: I would like Anthony Lynn, Gus Bradley, and Darrell Bevel to all wind-up coaching for the same team so the universe can implode with the apocalypse 
Ross: I mean Tyrion Davis-Price just got drafted in the 3rd! You're telling me that the much more heralded Bigsby can't?
RC: https://youtu.be/91wwMVyzqSA
Ross: And you can only have those three coaches on the same staff if you include either Hue Jackson or Adam Gase as the head coach
RC: You know who coaches the RBs for SF and TDP? Anthony Lynn...
Ross: Unfortunately
Ross: But yeah keep drafting Elijah Mitchell
RC: I will. He's all they got. Man was he good last year, watching more 2021 tape.
RC: As Trey Sermon gets cut...
RC: ...and Joe Williams has a single tear running down his cheek
Ross: He is good. He's also a 205lb interior runner that keeps getting banged up and his new QB likes to run for TDs
RC: But when Lance has arm fatigue...then Mitchell can take over! Like into the 3rd-quarter.
RC: Because that's what happens to arms, per Michael Silver
Ross: I wonder how Michael Silver knows that...
RC: Too much practicing and trying to improve!!! It's so terrible what Lance is doing!!
Ross: Please nobody tell me how much money Michael Silver is going to make this year
RC: Wait about 30 seconds...
RC: And...time. He just made more money the last 30 seconds than I will all 2022.
RC: I had a chance to punch him at the Senior Bowl one year.
Ross: And you passed on that??
RC: I didn't take it. I just kept talking with Jim Zorn about Ricky Stanzi.
Ross: I've never heard that story!
RC: A sentence never uttered or will again in the history of the world!!
‍