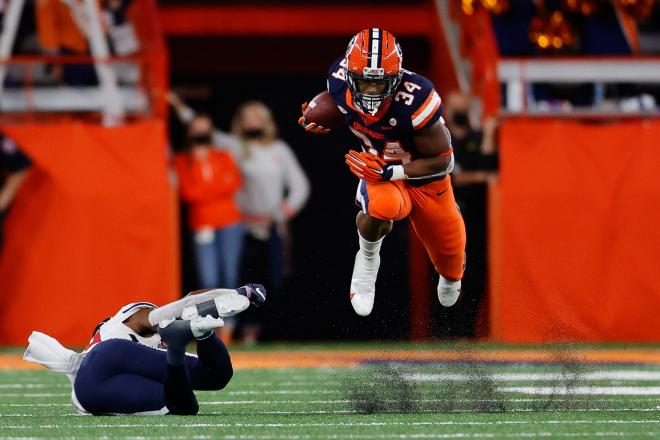 R.C. Fischer
Devy
11 July 2022
2022 Devy Preview Scouting Series (for 2023+): RB Sean Tucker, Syracuse
*Devy (for 2023 prospects) Preview scouting = scouting 1-2+ key game tapes, looking at output trends/basic analytics, and some minor background research. Not a full blown, deep dive scouting report. We'll continue to scout these players ahead of the college all-star games, the Combine and post-Combine for a full reporting ahead of their NFL Draft.
I (RC) conducted my scouting as Ross Jacobs did his, we then exchanged our reports without knowing what the other was thinking/seeing. Then we briefly discussed our scouting of this player in an informal text chat (posted below the two scouting takes). *Please forgive typos on the chat transcript.
RB Sean Tucker, Syracuse (Scouting Grade: C-) = by R.C. Fischer
5'10"/207, 2021: 246 carries, 1,496 rush yds (6.1 ypc), 12 rush TDs, 20-255-2 rec. (12 games). Projected: 4.5+ 40-time, 6.8+ 3-cone
Very good movement skills laterally, can switch lanes and cut away from CFB defenders with ease but doesn't show a lot of burst/acceleration after that. He's a plausible, roster-able NFL RB but I do not see any signs of an NFL starter or stardom. Possible satellite back in the NFL. His ability to cut on the move is impressive…to turn the field the other direction and still get away from defenders is impressive too.
COMP? = Better David Montgomery?
-------------------------
RB Sean Tucker, Syracuse (Scouting Preview Grade: A-/B+) --Ross Jacobs
5'9"/210, 2021: 246 rushes, 1496 yards, 12 TDs, 20-255-2 receiving (12g), Projected: 4.5 40-time, 6.9 3-cone
Compact, well-built back with excellent vision and acceleration, plenty of speed, and enough strength for a smaller back. He's very hard to tackle because he's so thick and low to the ground...IF you can get your hands on him in the first place. He's not the greatest receiver ever but he's more than adequate in that department as well. I have no real negatives to say about him. I usually like my backs to be a bit bigger but it's a minor point.
Tucker is thick and powerfully built. Don't think he's going to have the injury problems that plague so many smaller guys. Good chance he'll be my top back for 2023.
NFL Comp? = Maurice Jones-Drew/LeSean McCoy hybrid but bigger than either
‍
Ross: You're going to be wrong about this one
RC: You take the wheel on this because I am much lower. I like his interior agility but at his size it's going to be a bit of trouble at the next level...but I simply watched him get through the first level and get tackled/caught up from behind all the time...when he had space and gaps to run away.
RC: I saw him caught from behind too much
Ross: You just extolled the virtues of Deuce Vaughn, and you have a problem with Sean Tucker's size?
Ross: Who cares nobody could stop him from ripping off long runs
Ross: You know who else got caught from behind a lot? Le'Veon
RC: If I want a solid interior runner, I'll take a 215-220+ pounder
Ross: I know it's not ideal, but you can't talk about 170 Deuce Vaughn and hate on 210 lb Sean Tucker
RC: And I don't want my college RBs getting caught from behind all the time because that's more certain trouble at the next level
Tucker is the same weight as Henderson but shorter and thicker/more powerful
Ross: He's not as fast as Kenneth Walker but he's just as good and has better hands
RC: I just didn't get the 'wow' out of Tucker to give that grade to. I'll have to re-look
Ross: He's not wow that's true. But he cannot be stopped
Ross: Lots of people are going to overlook him because he's boring
Ross: Just like Koback
RC: What do the analysts think of him, while I look at a minute tape to refresh my brain
RC: Shoot the first play I put on he bursts through everyone and looks like Emmitt Smith
Ross: Uh huh...there's a lot of that
Ross: Right now, he's like a 4th rounder behind Robinson, Evans, Bigsby, and Achane (who is not on our list)
Ross: And Gibbs
RC: I need to watch more Tucker. I watched him v NC State and to me when he slows he's not as good getting back up to speed, and you know I hate that in an RB...when they slow into traffic and can't punch accelerator...but in open space they look like 4.2 runners. In the NFL, there's always people in the way.
RC: His highlights look great vs. Albany and when he's nothing but open space but watching him in congestion is some trouble...but he is VERY nimble to change directions and go.
RC: As long as he has space he's nice. Congestion...I have to study harder and see if it's him or his O-Line over their heads.
Ross: I don't recall but I'd have a hard time imagining the offensive line for Syracuse is very good
RC: He might deserve better from me. I don't think I can get to 'A' at his size regardless.
Ross: That's fair. That's why I had him borderline. But I love him otherwise
RC: There are some moments there that's different than these other guys. No 'Holy S' moments for me with Tucker...not like Deuce Vaughn or Chris Rodriquez.
RC: Yet
Ross: Keep watching. I saw several
Ross: Or we'll get to him next spring
Ross: It's subtle with Tucker though. It's not so much you go "WOW! what a run!" so much as you think "hmm nice run there, ok that was a good run...another good one there"
RC: I saw a great run or two...but v. Rutgers and Albany...not sure if an optical illusion he's running past them. But there's something better than my grade, it appears.
RC: Saw those just now looking at highlights
RC: Watching him against NC State I didn't get any excitement one way or other...except he can stop and change fields really well
Ross: We both gave him a 4.5
Ross: You actually gave him the better 3 cone
RC: But then can't run past anyone from it. He has weird/tight strides trying to open up
RC: He's shifty for sure
Ross: He does look a little stiff, but I don't know what it is, he just doesn't get stopped much
RC: In 6 months we'll see what we think. I'm open to it. Better than most we are looking at among RBs for Devy
‍