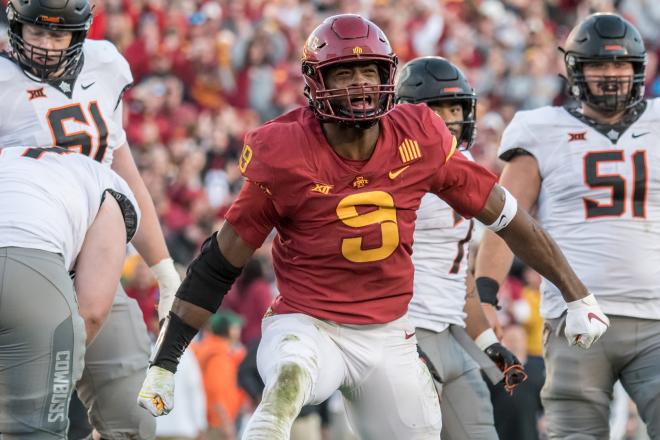 R.C. Fischer
Devy
08 July 2022
2022 Devy Preview Scouting Series (for 2023+): EDGE Will McDonald, Iowa St
*Devy (for 2023 prospects) Preview scouting = scouting 1-2+ key game tapes, looking at output trends/basic analytics, and some minor background research. Not a full blown, deep dive scouting report. We'll continue to scout these players ahead of the college all-star games, the Combine and post-Combine for a full reporting ahead of their NFL Draft.
I (RC) conducted my scouting as Ross Jacobs did his, we then exchanged our reports without knowing what the other was thinking/seeing. Then we briefly discussed our scouting of this player in an informal text chat (posted below the two scouting takes). *Please forgive typos on the chat transcript.
EDGE Will McDonald, Iowa St (Scouting Grade: B/C/D) = by R.C. Fischer
6'3"/220, 2021: 36 tackles, 13.0 TFLs, 11.5 sacks, 2 PDs, 5 FF (12 games). Projected: 4.5+ 40-time, 6.9+ 3-cone
Very quick off the snap…high end quickness off the jump. A very lean frame for an edge rusher. He needs to bulk up his upper body or he'll be useless in the NFL. I assume that he will, and if so there's a real twitchy, agile, quick pass rush prospect here. A very fluid, natural get-to-the-QB prospect.
COMP? = Nick Niemann/Kyle Van Noy?
--------------------------
EDGE Will McDonald, Iowa State (Scouting Preview Grade: B-) –Ross Jacobs
6'4"/240, 2021: 36 tackles, 13 TFLs, 10.5 sacks, 2 pd, 5 FF (12g), Projected: 4.55 40-time, 6.9 3-cone
McDonald has some decent pass rush ability. He's explosive out of his stance and possesses a nasty swim move to burst around the edge of tackles that aren't prepared. He's a whirlwind of energy and is quite tough for most blockers to contain. That said he's quite tall and thin and struggles to hold up as a run defender at times. To his credit though he was largely playing out of position as more of a 3-4 end (a position that normally weighs closer to 280+). In the NFL he'll be a true 3-4 outside backer or possibly a LEO in a 4-3 which won't require him to set the edge nearly as much. He's not big enough to be a pure 4-3 end, however.
McDonald can definitely make it in the NFL in his proper role as a pass rush specialist. He's got high end speed to threaten the edge and make life hell for tackles on 3rd down. Might never be a star but should contribute at the very least.
NFL Comp? = Bruce Irvin
‍
Ross: Man we are seeing these edge guys exactly the same...wonder if that means we're both smart or both very dumb
RC: I lean 'smart'
Ross: I'll take it
RC: McDonald is an A-B natural pass rusher with a 'C-D' NFL edge body
Ross: Absolutely. If he doesn't end up a Seahawk I'll be disappointed. Calling it now 1 year ahead of time
RC: If he adds to 240pds...will that hurt him for movement skills? That's a big jump from 220-225 range
RC: I think he's in the 220s
RC: 2021
Ross: I thought he might be in the low 230s but if he's smaller than that it could definitely hurt him
RC: That will be one of the key determinants...size he ends up at for the Combine, and then what speed he clocks with it. Because the skillset is there
RC: I'm sure he'll add 5-10 for the Combine at his size.
RC: To come in at 240+
Ross: Bruce Irvin or maybe a better Myjai Sanders
RC: What did Irvin come into the league at?
Ross: 235?
Ross: Excuse me 245
RC: Hmm. Irvin was a nice size. McDonald looked thin to me, but my eyes could be off.
RC: If I was told he's 235-240, I'd be a 'B' grade
Ross: I thought so too but it's easy to miss these things. We both thought Thib was smaller than he was a year out
RC: Could be the black uniforms are slimming.
Ross: Looks good in black. Top shelf scouting
RC: I need to have all prospects in Chargers road gear to see what they really look like
RC: Kyle Pitts in the all back Falcons uniform is pretty bad ass
Ross: Isn't it? That Chargers baby blue is the best though
RC: I mean look at Pitts in the all-blacks = https://youtu.be/iQHJARqk_-c?t=26
RC: McDonald or Murphy?
Ross: Murphy
Ross: But I like McDonald. He's got skills. Murphy just seems safer considering his size
‍