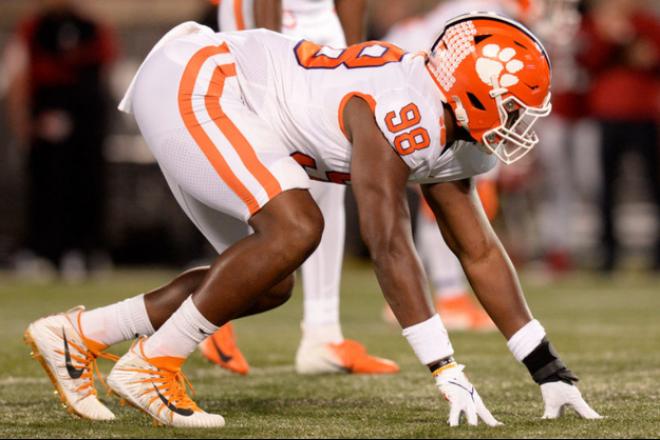 R.C. Fischer
Devy
07 July 2022
2022 Devy Preview Scouting Series (for 2023+): EDGE Myles Murphy, Clemson
*Devy (for 2023 prospects) Preview scouting = scouting 1-2+ key game tapes, looking at output trends/basic analytics, and some minor background research. Not a full blown, deep dive scouting report. We'll continue to scout these players ahead of the college all-star games, the Combine and post-Combine for a full reporting ahead of their NFL Draft.
I (RC) conducted my scouting as Ross Jacobs did his, we then exchanged our reports without knowing what the other was thinking/seeing. Then we briefly discussed our scouting of this player in an informal text chat (posted below the two scouting takes). *Please forgive typos on the chat transcript.
EDGE Myles Murphy, Clemson (Scouting Grade: B/B+) = by R.C. Fischer
6'5"/275, 2021: 39 tackles, 14.5 TFLs, 8.0 sacks, 2 PDs, 2 FF (10 games). Projected: 4.55+ 40-time, 7.2+ 3-cone
A pure edge rusher and a big boy one at 6'5"/275…he moves well for his size and this his mass/strength just allows him to push blockers back into the backfield, and he has a little agility to him, so he slithers between cracks to get to the backfield pretty well. Impressive.
'A' grade possible? Yes…depends upon the real Combine measurables.
COMP? = Better Emmanuel Ogbah
-------------------------------------
EDGE Myles Murphy, Clemson (Scouting Preview Grade: B+) --Ross Jacobs
6'5"/265, 2021: 39 tackles, 14.5 TFLs, 8 sacks, 2 pd, 2 FF (10g), Projected: 4.65 40-time, 7.0 3-cone
Good looking player. Murphy has prototypical size and top tier speed/agility. He is cat-quick, flexible, and flashes elite closing speed. The one area he could stand to improve is his power/strength. He can be pushed around a little at times by double teams. That should become less of a weakness with time. I'm giving him a B+ for now and I could easily see him settling in as a nice B prospect, but I do think A is on the table as well. His movement skills are legit.
NFL Comp? = Danielle Hunter
Ross: We seem to be on the same page with the edge rushers
RC: Yeah. I liked Murphy's upside a lot.
RC: He can really move around on the interior for his size
Ross: Definitely the best Clemson rusher I've seen recently
RC: He might be an Anderson challenger to the throne for top pass rusher NFL likes -- because of Murphy's big size advantage.
Ross: I could see that. Definitely think he'll be a top 10 pick
RC: 15 games for Murphy would have extrapolated to a 22 TFL/12 sack season?
RC: 15 games like Alabama/Anderson
Ross: Yep. Very good numbers
Ross: Not otherworldly but very very good
RC: 22 TFLs from a pure edge is pretty hot in the ACC
RC: Jermaine Johnson led the ACC with 17.5 last year, ACC DPOY
RC: Jermaine or Murphy?
Ross: Murphy and it's not close for me
‍