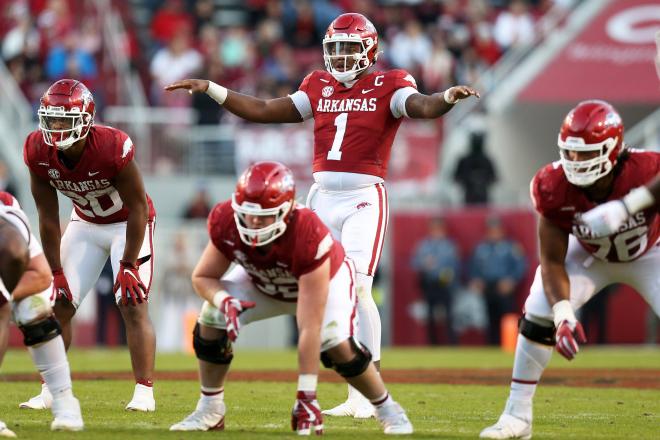 R.C. Fischer
Devy
04 July 2022
2022 Devy Preview Scouting Series (for 2023+): QB KJ Jefferson, Arkansas
*Devy (for 2023 prospects) Preview scouting = scouting 1-2+ key game tapes, looking at output trends/basic analytics, and some minor background research. Not a full blown, deep dive scouting report. We'll continue to scout these players ahead of the college all-star games, the Combine and post-Combine for a full reporting ahead of their NFL Draft.
I (RC) conducted my scouting as Ross Jacobs did his, we then exchanged our reports without knowing what the other was thinking/seeing. Then we briefly discussed our scouting of this player in an informal text chat (posted below the two scouting takes). *Please forgive typos on the chat transcript.
QB KJ Jefferson, Arkansas (Scouting Preview Grade: D+) -- by RC Fischer
6'3"/240, 2021: 67.3% Comp Pct., 2,676 yards, 21 TDs/4 INTs (13g), Projected: 4.75+ 40-time, 7.1+ three-cone
Neat college QB, poor NFL prospect. Poor mechanics, weaker arm strength release…doesn't zip passes all over the field on the defense. More he's keying on one WR and soft tossing to that guy. He gets a lot of time in the pocket as SEC defenses just laid back and didn't rush him…they played him to run (which he had 146 rushing attempts) and gave him little short, dump passes and dared him to throw his floaters deep.
He has size and raw materials to work with, but this looks like a big project to try and 'fix' or make a QB. He's college fast-ish/lumbering but his size is a college bully…too slow to be effective running in the NFL, so he'll have to learn to be a pocket passer and it's not his thing.
21 TDs/4 INTs in 2021…7 TDs/0 INTs vs. Ga Southern and Arkansas Pine Bluff. 14 TDs passes in his other 11 games.
COMP? = Tarvaris Jackson passing skills with half the arm speed and the same slow foot speed in Steve McNair's body.
-----------------------------------
QB KJ Jefferson, Arkansas (Scouting Preview Grade: C) -- Ross Jacobs
6'3"/240, 2021: 67.3% Comp Pct., 2676 yards, 21 TDs/4 INTs, 146-664-6 rushing (13g), Projected: 4.7 40-time, 6.9 3-cone
Little shaky early on but Jefferson settled in nicely by the end of the season. I watch him play and I think he's a little weak as a passer but then the numbers say he's pretty solid. He's definitely still working on that part of his game. The offense is a lot of RPO's, and one read stuff which he runs quite well but he will need to work on getting through his progressions for the NFL.
As far as just his arm goes, he's got an NFL arm easily. Plenty of zip, solid accuracy, doesn't throw a lot of dumb passes, and his deep touch is fantastic. He really has nice placement on deep sideline goes and comebacks. He doesn't really work the middle of the field well though, which is a problem of these new-age offenses. I don't think that necessarily means he can't do it, it's just not something the team runs.
Overall, Jefferson clearly has all the tools to play in the NFL. It's just a question of whether he can keep growing as a QB. He's got the physical traits, the mobility, the accuracy, and the leadership to be a very solid NFL quarterback (and a fantasy star). I would not be surprised if we were talking about him as a top 10 option next year. I also wouldn't be surprised if he was considered a 4th-6th rounder like he is today. I'll give him a C for now, but he might be a B by next year.
NFL Comp? = Cam Newton/Dak Prescott blend
RC: You have the Arkansas insight on this one... I wanted to like him more, but I couldn't get there. he's a poor imitation of Cameron Ward in some respects.
Ross: He's definitely a project but there are tools here
RC: I won't write him off. There's hope. But his mechanics are all messed up. He floats way too many passes...no zip and fire to his throws.
RC: He has some instincts and accuracy.
Ross: And he completely avoids the middle of the field
Ross: But he works the sidelines really well for what that's worth
Ross: Burks might have bailed him out a lot
RC: The Alabama game was bailed out by Treylon...KJ floating passes and getting away with it.
Ross: I thought the one long TD looked like a really nice back shoulder throw but maybe it was an accident?
RC: I expected him to move faster...and I think mobility could help his passer deficiencies, but the speed is not there that NFL teams will have to worry about.
Ross: He's not ripping off long runs but he could be a short yardage monster especially near the goal line
RC: He looks like Cam Ward visually/standing there but KJJ is no comparison as a passer, so it leaves me flat on KJJ.
RC: And Ward has things to work on too
Ross: Like I said I could see him developing his passing/mechanics and maybe being a B with his athleticism or he could just fall flat and be not better than a late round developmental pick
Ross: Definitely but Ward is far, far more developed as a passer right now
Ross: Which is weird because the reason Ward couldn't get an legit offers out of high school is because like Trey Lance he was a wing-t QB and only threw 72 passes his senior year
RC: Ward has that unteachable touch that I don't think Jefferson has, but maybe it shows up 2022 with another year of development...but usually they have it or they don't.
RC: hard to 'teach' or 'coach' that skill
Ross: Jefferson got better as the season wore on. Hoping that carries over
RC: If Jefferson ran faster, then defenses would lay back and he could use that against them, but he's slower to me than I thought he'd be
Ross: My Arkansas bias might have me hoping for more than what is realistic though
‍