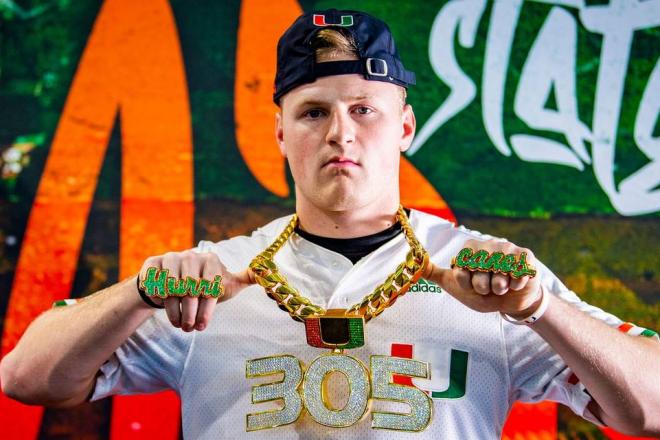 R.C. Fischer
Devy
04 July 2022
2022 Devy Preview Scouting Series (for 2023+): QB Tyler Van Dyke, Miami
*Devy (for 2023 prospects) Preview scouting = scouting 1-2+ key game tapes, looking at output trends/basic analytics, and some minor background research. Not a full blown, deep dive scouting report. We'll continue to scout these players ahead of the college all-star games, the Combine and post-Combine for a full reporting ahead of their NFL Draft.
I (RC) conducted my scouting as Ross Jacobs did his, we then exchanged our reports without knowing what the other was thinking/seeing. Then we briefly discussed our scouting of this player in an informal text chat (posted below the two scouting takes). *Please forgive typos on the chat transcript.
QB Tyler Van Dyke, Miami (Scouting Preview Grade: C-) -- by RC Fischer
6'3"/215, 2021: 62.3% Comp Pct., 2,931 yards, 25 TDs/6 INTs (10g), Projected: 4.75+ 40-time, 7.1+ three-cone
There's a little hope here. Good mechanics. Decent arm. But above average instincts and passer touch. He's a more classic pocket passing QB prospect…not a BS constant short game, tunnel screen passer prospect like Bryce Young or C.J. Stroud.
Another year of work to sturdy up his body and grow as a passer…he could be a legit NFL QB prospect. Has a little, tiny bit of Joe Burrow look (physically, mechanically) to him…which if he has a big 2022, scouts may do the equivocation on.
COMP? = Younger, skinnier college days Kirk Cousins
QB Tyler Van Dyke, Miami (Scouting Preview Grade: D+) --Ross Jacobs
6'4"/220, 2021: 62.3% Comp Pct., 2931 yards, 25 TDs/6 INTs (10g), Projected: 5.1 40-time, 7.2 3-cone
Van Dyke would have been a decent prospect 10-15 years ago. He's a big, solidly built kid with a good arm that stands tall in the pocket and fires. He's also a statue waiting to get killed and he tends to stare down his receivers a little too much. He's not bad per se but he's also not well suited to the changing game where QB's have to be able to move and improvise. Van Dyke has a lot of classic QB traits that could lead to him being the 3rd or 4th guy drafted in 2023, but I think they are traits of a bygone era.
NFL Comp? = Kyle Trask/Mason Rudolph
RC: I could be thrown by him wearing #9 and being skinny, and looking like Joe Burrow (visually) in a Miami uniform.
Ross: It's not crazy. I just didn't see an assassin. I saw a guy staring down his top read every play. To his credit he still completed his passes at a good rate
RC: I was just watching his highlights while you responded to re-look for a moment -- he has some vision and ability to throw downfield, and run the offense in general. He looks like Burrow the year before he broke out, to me. He may never get any better than that but I felt a little something with his play that I didn't get from most of the other gQBs we've looked at.
RC: Not a star in waiting, but like could make another jump in 2022 to be the Kirk Cousins-ish 'winner', who didn't look like much in college but just 'went for it' and was successful and scratched and clawed to the NFL.
Ross: I'm not going to argue against it much. He's got "the look" of an NFL qb. I wouldn't be shocked if he put it together this year and made a big jump
RC: He's got a 'Shanahan type of QB' look/feel.
Ross: He absolutely does now that you mention it
Ross: Very natural looking passing motion
Ross: He's got the size and the arm. Let's see if he's got the mind for it
RC: But Mason Rudolph is also on the table...nice college downfield thrower that didn't translate to the NFL. Van Dyke has a good size though and can add a touch of muscle to his frame.
Ross: So we agree there's tools to work with and a jump wouldn't shock us
RC: ACC QB draft...I like Van Dyke over Leary.
Ross: Definitely. Van Dyke has a chance. Leary I just don't see it, not as a starter
Ross: Leary might be the better college QB right this second though
RC: I put Van Dyke with the UVA QB...I see something, but I wanna see what another year brings but promising 2021 outputs for sure.
RC: Leary 'looks' like a polished NFL QB, mechanically. Van Dyke looks more natural in talent to me, not pretty to look at but then he burns you. Pretty hot stats for 10 games played
RC: For his first year in the ACC on a mediocre team
Ross: Oh dang I missed that it was 10 games...that is pretty sweet...
RC: Actually 9 games, one game he had one pass att
Ross: Got smacked his first two starts then took off
Ross: He's one to keep an eye on
RC: Look at his numbers his last 6 starts
RC: (5-1) 20 TDs/3 INT, all games 310+ yards passing
Ross: Yeah I see that now. Missed it at first. I may have underestimated him
RC: Three 380+ games in those 6 games
RC: That annoying Kirk Cousins trait...doesn't seem like anything and then 'boom' he's beating your ass deep and all over.