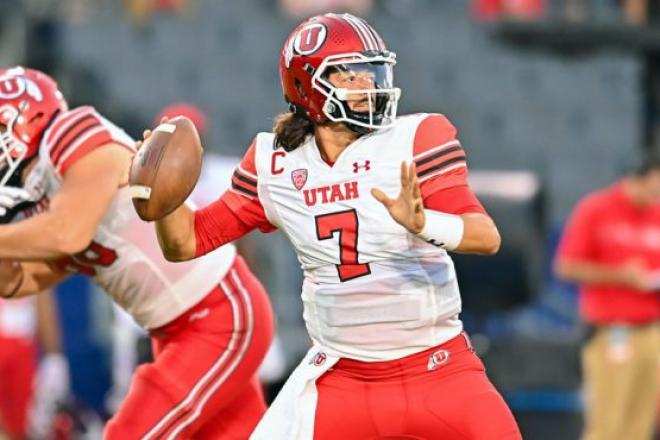 R.C. Fischer
Devy
03 July 2022
2022 Devy Preview Scouting Series (for 2023+): QB Cameron Rising, Utah
*Devy (for 2023 prospects) Preview scouting = scouting 1-2+ key game tapes, looking at output trends/basic analytics, and some minor background research. Not a full blown, deep dive scouting report. We'll continue to scout these players ahead of the college all-star games, the Combine and post-Combine for a full reporting ahead of their NFL Draft.
I (RC) conducted my scouting as Ross Jacobs did his, we then exchanged our reports without knowing what the other was thinking/seeing. Then we briefly discussed our scouting of this player in an informal text chat (posted below the two scouting takes). *Please forgive typos on the chat transcript.
QB Cameron Rising, Utah (Scouting Preview Grade: D+) -- by RC Fischer
6'1"/215, 2021: 63.8% Comp Pct., 2,493 yards, 20 TDs/5 INTs (13g), Projected: 4.7+ 40-time, 7.0 +/- three-cone
Doesn't have an NFL arm; you can see it right away…so this is not worthy of a lot of discussion. Is more of a CFL or XFL QB. Is a nice college QB because he's nimble to run out of the pocket and he has decent vision with time in the pocket. He's scrappy but there are not legit NFL tools that jump out upon first preview viewing.
COMP? = Logan Woodside?
—-----------------------------------------
QB Cameron Rising, Utah (Scouting Preview Grade: B-/C+) --Ross Jacobs
6'2"/220, 2021: 63.8% Comp Pct., 2493 yards, 20 TDs/5 INTs 74-499-6 rushing (13g), Projected: 4.7 40-time, 6.9 3-cone
Rising isn't on the radar for many people, but I like his chances. Good size with a thick build, can move around and run a little but isn't a true dual threat in the NFL, smart, decent accuracy, decent arm, works through his progressions, takes care of the football. He's solid.
Rising is what you get if you take a Sam Howell or Sam Ehlinger and give them a legit NFL body and arm, not a star probably but a good solid QB.
He might not be a high draft pick, but he has the tools to hang at the next level and could surprise people with how he adapts.
NFL Comp ? = Dak Prescott/Sam Howell blend
Ross: I thought his arm was good enough
RC: I didn't see much with him. He looked like a quirky, cool college QB but I was turned off by the arm right away. Not that it was not powerful so I'm 'out'...that it was too weak for the NFL to really worry about.
RC: He runs/scampers and sees the field OK, I just thought the arm was going to keep him out of the NFL.
Ross: You think he has a weaker arm than Leary?
RC: It was a while back I did those guys but I'm going to say both troubled me but Rising more because my instant reaction I wrote was more definitive.
RC: I'll look again if you think he's got something.
Ross: Hmm. Let's pretend his arm is good enough...what would you grade him then?
RC: I'm watching some highlights to look at him again because I watched him in a game and I didn't like it at all. On the highlight reel is stepping into some and firing OK.
RC: It might be his muddy pocket throws. He tries to throw the ball with his feet not set trying to make plays when the pocket broke down and it looked flimsy.
RC: Clean pocket he's stepping into it – but that the shorter guys that can't whip it in muddy pockets (which is every other throw) turn me off.
Ross: He does do that. Another reason why he reminds me of Dak. His mechanics can be sloppy at times. Dak cleaned it up. Maybe Rising can too
RC: Every other throw in the NFL that is
RC: He's got a little moxie to him. Gardner Minshew-like. I won't damn him to hell, but my first impression didn't grab me.
Ross: I want to see another year on him but I think I see a little spark of something. More than most of the rest of these guys
RC: With guys like Bryce Young and CJ Stroud I watched 2-3 games because I couldn't believe what I was watching was that flimsy. Rising I jumped to a conclusion off one game.
RC: You're not crazy to see something. I could see that being the right call.
RC: I may have jumped to too fast of a conclusion because maybe I was irritated after Young-Stroud-Leary then Rising in order right off the bat.
RC: All 'meh' guys, and Rising may have caught the brunt of my frustration last of \that group/cluster.
RC: If you're right on him the Sam Howell comp is on target.
Ross: I hope he's better than Howell but I'm afraid that may be right too
‍