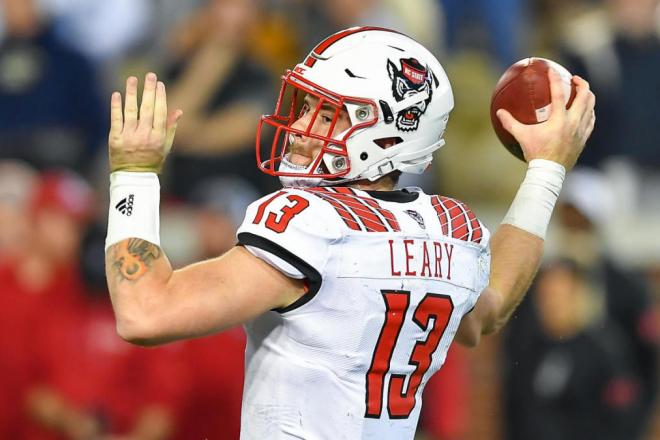 R.C. Fischer
Devy
03 July 2022
‍
2022 Devy Preview Scouting Series (for 2023+): QB Devin Leary, NC State
*Devy (for 2023 prospects) Preview scouting = scouting 1-2+ key game tapes, looking at output trends/basic analytics, and some minor background research. Not a full blown, deep dive scouting report. We'll continue to scout these players ahead of the college all-star games, the Combine and post-Combine for a full reporting ahead of their NFL Draft.
I (RC) conducted my scouting as Ross Jacobs did his, we then exchanged our reports without knowing what the other was thinking/seeing. Then we briefly discussed our scouting of this player in an informal text chat (posted below the two scouting takes). *Please forgive typos on the chat transcript.
QB Devin Leary, NC State (Scouting Preview Grade: D+) -- by RC Fischer
6'0"/210, 2021: 65.7% Comp Pct., 3,433 yards, 35 TDs/5 INTs (12g), Projected: 4.8+ 40-time, 7.1+ three-cone
Good instincts, good mechanics, decent vision, so-so-ish/below average arm, not great feet. I think Leary has backup QB talent for the NFL, at best. He looks comfortable and mechanically sound in the pocket, but there's not much beyond that…not at an NFL level, not a franchise QB or anything…but a solid/good college QB. I don't see much to get excited about here.
COMP? = Taylor Heinicke or John Wofford, without their feet.
QB Devin Leary, NC St (Scouting Preview Grade: C-) --Ross Jacobs
6'1"/210, 2021: 65.7% Comp Pct., 3433 yards, 35 TDs/5 INTs (12g), Projected: 4.9 40-time, 7.1 3-cone 
I want to like Leary more than I do. He's smart, accurate, goes through his progressions, and has nearly flawless mechanics. He's also very small with a weak-ish arm. Leary is what you would get if Zach Wilson had half the arm and attitude. He might be a better Brock Purdy.
Leary looks like your typical decent college QB that doesn't have the physical traits to develop into more than a career backup in the NFL. I hope I'm wrong and he goes on to be the next Drew Brees (who he's destined to be compared to), but the odds are against that.
NFL Comp? = Brock Purdy
RC: Leary looked like a competent hand. Possible upside to your C- grade. But he just oozes/drips the feeling of a backup QB
Ross: Yeahhhh...I don't have much to add to that. You're right that he just has that backup feel, like a Kellen Moore or something
RC: He's going to be a good little college QB, though. Better than most CFB QBs but college play is probably his peak.
Ross: He'll make an awesome offensive coordinator someday
RC: I'm going to take this in a whole different direction, and potentially mildly blow your mind.
RC: So, watching this ACC QB made me think of an ACC QB that I came across in the Jelani Woods and WR D. Henry scouting...are you familiar with UVA's QB from 2021?
RC: Brennan Armstrong
Ross: The lefty? Yes, he was one of the final cuts for this list. If we had more room, I would have included him but he's not getting much attention right now and I had to draw the line somewhere
RC: What do you think of him? Any thoughts or didn't really focus on him?
Ross: I couldn't say. I've just seen snippets. His numbers are as legit as anyone
RC: Checkout the first 2-3 min of this, like 15-20 plays and see what you think in an instant. The first few plays don't grab you as much but it sets up what's to come -- but watch when he starts throwing deeper and throwing some quick snap passes. Just take a 2-3 min quick reaction watch and tell me if I'm crazy that he's an interesting 'C'. Maybe I'm seeing things
Brennan Armstrong 2021 Regular Season Highlights | Virginia QB Brennan Armstrong 2021 Regular Season Highlights | Virginia QB
Ross: Yeah, not bad. Good anticipation and accuracy, arm isn't great, but man he's got all day to throw. With that lefty motion it looks so much like Kellen Moore and Tua
Ross: Both those guys looked better than they were because their teams were so much better than the competition. Hard to see that being the case with Virginia but maybe
RC: I mention it because Leary made me think Armstrong is the better QB for CFB, and the NFL (to me). AND...I liked that offense Virginia was running. Some cleverness to it and they seem to be attracting talent...I'm wondering if UVA is a mild CFB sleeper. But I'm not a CFB 2022 expert...just a QB scouting expert.
Ross: Very well could be. I don't follow closely enough to know
RC: In summary of Leary scouting…an NFL backup at best, not better than UVA's Armstrong.
RC: I'm more intrigued by Armstrong and his better arm and better feet but he might be backup level for the NFL as well.
Ross: That sounds about right
‍