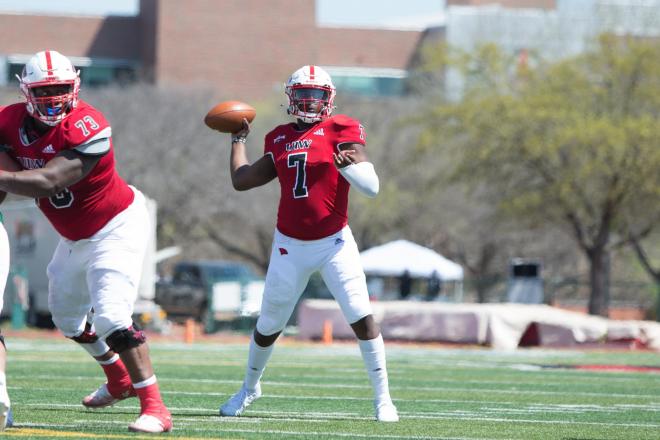 R.C. Fischer
Devy
02 July 2022
‍
2022 Devy Preview Scouting Series (for 2023+): QB Cameron Ward, Washington State
*Devy (for 2023 prospects) Preview scouting = scouting 1-2+ key game tapes, looking at output trends/basic analytics, and some minor background research. Not a full blown, deep dive scouting report. We'll continue to scout these players ahead of the college all-star games, the Combine and post-Combine for a full reporting ahead of their NFL Draft.
I (RC) conducted my scouting as Ross Jacobs did his, we then exchanged our reports without knowing what the other was thinking/seeing. Then we briefly discussed our scouting of this player in an informal text chat (posted below the two scouting takes). *Please forgive typos on the chat transcript.
QB Cameron Ward, Wash State (Scouting Preview Grade: B/C) -- by RC Fischer
6'2"/220, 2021: 65.1% Comp Pct., 4,648 yards, 47 TDs/10 INTs (13g), Projected: 4.7+ 40-time, 7.0 +/- three-cone
One of my favorite finds of my 2021 college tape scouting – a transfer to D1 for 2022, from Incarnate Word/FCS). I was not scouting him, but was looking at his RB and looking at Zyon McCollum on the opposition defense (for Sam Houston State)…and then this Incarnate Word QB just grabbed my full attention.
Ward has an unusual throwing motion and delivery…that the NFL scouts will hate, but it's a quick release…and more importantly is his accuracy/touch/instincts. What caught my attention about him is how beautifully he placed passes even though it came from a funky delivery.
Ward looked great in the FCS, but we need to see what he does in D1 play to know if we really have something here. I see the high potential that we do.
COMP? = Jimmy Garoppolo's talent (potentially) with Tarvaris Jackson's look with Lamar Jackson's delivery.
QB Cameron Ward, Washington St (Scouting Preview Grade: B) --Ross Jacobs
6'2"/220, 2021: 65.1% Comp Pct., 4648 yards, 47 TDs/10 INTs (13g), Projected: 4.8 40-time, 6.9 3-cone
I hate to invoke the name of Patrick Mahomes but...this kid looks like Patrick Mahomes. Same size, same build, same footwork, same throwing motion and quick release, same pocket movement...the only thing that looks different is I don't think Ward has the raw arm strength of Mahomes. He's not terribly far off though. It's plenty strong for the NFL.
When I say he looks like Mahomes though, that's not a complete endorsement because Mahomes had some questions coming out and I'm not sure Ward is as good as Mahomes. Pat's footwork could be sloppy at times, his accuracy was good but not amazing, and he put the ball in danger a little too often. I can say all the same things about Ward.
If he doesn't lead Div. I in passing this year I'll eat a shoe. He's still just a "sleeper" for many because they don't want to jump on the Ward train before he's played in a Power 5 game, but I'm jumping on. Ward will absolutely be in the mix of top QB's for the 2023 draft. Many people won't believe in him because he started at such a small school (for reasons outside his control) or because he's in an air raid offense (so was Mahomes), but I have no concerns. I see all the skills to make it in the NFL. Giving Ward a B right now but he might be an A.
NFL Comp? = Mahomes-lite?
RC: In the immortal words of Austin Powers..."Who eats a shoe?"
Ross: Wasn't it "who throws a shoe?"
RC: That was a joke, son!
RC: I'm laughing at the thought of eating a shoe
Ross: I read a story recently about a guy that did just that after he lost a bet. He had a custom shoe made out of like licorice and some other edible material and actually wore them around first. I digress...
RC: I think we're in the same range on Ward...except you blew past my first feelings. We think 'B' now but possible 'A' possible 'best in class'.
Ross: He's the highest grade I gave. He's not perfect but man there are things to like
RC: You didn't even give me credit for this immaculate find!
Ross: I might be getting sucked in by the visual of him slinging those side armed passes
Ross: It was a great find. I remember when you sent him to me and within a couple of plays it was like "holy crap this guy can play"
RC: I was looking for anyone who had him Devy ranked in May...all I saw was 'unlisted'. This is going to be some slick scouting by us here. But then people will start talking about him after we release this/his report.
Ross: I've seen him listed as high as 3 by a few people but nobody mainstream.
Ross: #3 in the 2023 class that is
RC: Whoa, really. I thought he was untapped...at least in April-May he was when we first started talking about him
Ross: I don't know how long they've been on him. I'll try to find that site for you
RC: Does Wash State still run the all-pass offense?
Ross: I'm not sure if they did after Leach left, but the HC from Incarnate Word is now the OC at Wash St so I'm guessing yes
RC: What a coincidence
RC: Mahomes comp is strong
RC: I want to see him at D1 to get the full 'A' on. FCS tape can be deceptive
RC: But he's about the best touch/accuracy passer in this 2022-for-2023 Devy review...I think.
Ross: That's reasonable. I don't think he's going to have any problems though. Word is he destroyed the spring game, had 4 TDs and just ripped apart the defense
RC: As he should. I love that he is 'in a battle' for the starting job. Yeah, right.
RC: Heisman Trophy possible for you?
Ross: Oh. I didn't realize this. Do you know who his coach at Incarnate Word and now Wash St is?
RC: No clue
Ross: They'll never give him the Heisman no matter what he does
Ross: Eric Morris
RC: From the Leach tree, of sorts
Ross: Kingsbury's OC at Texas Tech yep
RC: He can replace Kyler in 2023
RC: Don't put it past KK
RC: Ask Baker
‍