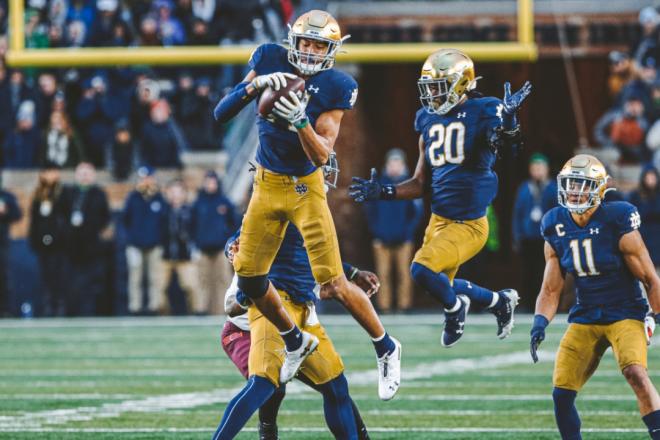 R.C. Fischer
Total Football Advisor
28 March 2022
NFL Draft 2022 Scouting Report: SAF Kyle Hamilton, Notre Dame
*FS/SS grades can and will change as more information comes in from Pro Day workouts, Wonderlic test results leaked, etc. We will update info as it becomes available.
When you think of why all the football people are pushing Kyle Hamilton as a top 10…top 5…top 3…some with him as the #1 prospect for the 2022 NFL Draft…what is the reasoning given for it?
He's so tall…a lotta reach there!
In 2017, UConn safety Obi Melifonwu was a 6'4"/224 safety prospect that ran a 4.40 40-time at his NFL Combine (vs. (Hamilton's 4.59 in 2022). Obi was as tall and a little thicker and much faster than Hamilton. All that got him was a #56 pick in the 2017 NFL Draft (and then he went on to be a bust…but is still clinging to the league year-to-year to this day).
So, why is Hamilton so much more special than all the other freakishly tall, fast safeties of the past few years? Well, I can only imagine it's because Kyle Hamilton went to Notre Dame…and they're on TV quite a bit and the other guys didn't.
Honestly, from the best I can tell…Hamilton's entirety of proof of concept on his superior safety skills is coming from one interception he had in the opening week of the 2021 season against Florida State. To be clear, I'm not joking – I do believe one play has made Hamilton a multi-millionaire in-waiting.
Watch it first, then I'll describe how utterly ridiculous it is to be held up as some great feat of safety/football play…
Here it is real-time:
https://youtu.be/Rm1ttBTovws?t=37
Here it is in slow motion as it was so holy that it somehow needed its own special treatment:
Now, it's a solid, nice play…but it's not the superhuman event that it's being made out to be. When Hamilton gets drafted on day one on TV, they will show that FSU play first, second, and third on his highlight reel and have an orgasm over it every time. But all that happened was, Hamilton was on the far side of the field. The QB dropped back in the pocket, but then was flushed to his right…so Hamilton started running to the same side as well, as he should. The QB was running out of field to run to and then floated a pass down the right sideline, allowing Hamilton to keep running over and catch the pass like a baseball pop fly. A guy (Hamilton) ran with the QB, kept running/chasing after a balloon ball, and caught up to it…end of story, no huge deal.
For football media/analysts, there's nothing like an interception to prove how great you are…even if they are gimme picks against terrible QBs. Hamilton's INT here (and he had another in the game) was against QB Jordan Travis, who threw 3 charity INTs in the game, and was benched and then the backup QB came in (down 18 going into the 4th-quarter) and went right through the vaunted Notre Dame defense and tied the game late to send to OT (where ND won it).
Hamilton had two picks in that v. Florida State opener. In his last 19 games (ignoring the FSU/2021 game), going back to the tail end of his freshman year, Hamilton had two picks in total. It's not like he's some interception machine.
I'm not exactly sure what Hamilton is as a prospect, but he's not a machine. I see he's tall. He has long arms. He tested AT the bottom of the Combine SAF class in 40-time. He's a weak-to-mediocre tackler. He lines up in several DB positions but isn't overly amazing at any of them…not enough to warrant top 10 pick status or ESPECIALLY top 10 pick money/payroll.
Hamilton's prospect hype reminds me of the same hype Grant Delpit had – everyone thought he was amazing because he was visible (SEC), pretty good in college, and had a few nice highlight plays to remember him by (when forced to us on a loop). But in the end, Delpit was a taller, not as athletic, nowhere near the hitter, nowhere near the player the media sold us on…and Delpit eventually fell to the 2nd-round, but he began his NFL Draft season as a top 10 pick, 'generational safety' for some. I'm not sure Hamilton is falling to the 2nd-round, but he's closer to Delpit than he is 'generational' or even 'Isaiah Simmons'.
Many mention Simmons as a comp for Hamilton, and that Hamilton is better – and, to me, that's possibly the most ludicrous draft statement of 2022…and I was not for/with Isaiah Simmons as a top guy either.
6'3.5"/233, 81.8" wingspan, 4.39 40-time, 1.55 10-yard, 39" vertical, 20 bench reps = Simmons
6'4.1"/220, 79.8" wingspan, 4.59 40-time, 1.57 10-yard, 38" vertical, XX bench reps = Hamilton
For extra comparison on how Hamilton's size isn't that overly special:
6'4.0"/224, 78.8" wingspan, 4.40 40-time, 1.51 10-yard, 44" vertical, 17 bench reps = Obi Melifonwu
Simmons was much bigger than Hamilton…and the fact that he was 13 pounds bulkier and ran a 4.39 40-time is way more freakish. Hamilton's 4.59 40-time is weak, much weaker considering the weight difference. And I think Hamilton skipped the bench because he has a skinny frame and he shows no power in his upper body, which you can tell is an issue watching him tackle – he's a wrangler or dive for the feet and hold on tackler. I've never seen a Hamilton tackle where the ballcarrier didn't take him/go 1-3+ more yards after Hamilton contact…or where they just blew through Hamilton's arm tackle attempt and kept going.
When I think of my time studying Hamilton, I think of what a crappy/mediocre tackler he is. I also flashback to him mostly playing deep centerfield for Notre Dame (which is not top 10 pick worthy work for the NFL). There's nothing really that I saw where Hamilton made me go 'wow! He's tall. He can move pretty well for his size. He's a potential liability in the run game. He's not fast enough to be great against all those 4.3 running WRs flooding the NFL. He's not upper body strong enough to get too physical with tight ends.
Hamilton is not horrible. He's got a good NFL body, that's underdeveloped…so with some work we got something here. He's a decent athlete with average speed. I just don't see top 1-5-10 material here. Honestly, it's not even really 1st-round material.
Additionally, I got the vibe from Hamilton (in interviews) and practice tape that he's a little immature…lacks some confidence, and he's working hard to try and hide it…but the master psychologist in me (I have extensive, and successful, interviewing experience away from football…and in it as well) is having my Spidey Senses tingle (in a bad way) about Hamilton. I'm not guaranteeing it's a problem with Hamilton (not like I knew Derrius Guice or Johnny Manziel or countless others had severe issues)…I'm just noting something doesn't seem right with Hamilton and his confidence, aggressiveness. I'd have to be in-front of him for an hour and also paper test him to be sure.
There's nothing to love here, for me, with Hamilton. There are some things I like but not enough to push a shaky coverage safety as a top 1-5-10 prospect for this draft. It's insanity, especially economically.
Kyle Hamilton, Through the Lens of Our SAF Scouting Algorithm:
  -- 46 DBs ran 40-times at the NFL Combine, Hamilton had the 45th fastest time.
 -- 32 WRs of all shapes and sizes ran 40-times at the Combine, only five of them ran slower than Hamilton.
Interceptions per game in college the past two seasons (among some of the top SAF names for 2022)…
0.35 = JT Woods, Baylor
0.27 = Quentin Lake, UCLA
*0.26 = Grant Delpit, LSU/2020 draft*
0.22 = Kyle Hamilton, Notre Dame
0.22 = Dane Belton, Iowa
0.19 = Nick Cross, Maryland
0.17 = Jalen Pitre, Baylor
0.15 = Dax Hill, Michigan
2022 NFL Combine Measurables:
6'4.1"/220
9.1" hands, 33" arms
4.59 40-time, 2.67 20-yard, 1.57 10-yard
38" vertical, 10'11" broad jump
4.32 shuttle, 6.90 three-cone
The Historical SAF Prospects to Whom Kyle Hamilton Most Compares Within Our System:
Isaiah Simmons is not on this list because Hamilton is nowhere near the physical comp, the computer does not see them as comparable.
T.J. McDonald's athletic measurables are near identical to Hamilton's (across the board), but McDonald had much more tackle and interception output/metrics in college for USC. McDonald had a decent-ish 5-year NFL career.
| | | | | | | | | | | | |
| --- | --- | --- | --- | --- | --- | --- | --- | --- | --- | --- | --- |
| Overall | Last | First | Yr | College | HT | HT | Weight | Tackle Strngth Metrics | Speed Cover Metric | Strong Safety | Free Safety |
| 6.919 | Hamilton | Kyle | 2022 | Notre Dame | 6 | 4.1 | 220 | 6.17 | 7.53 | 65% | 35% |
| 6.972 | Delpit | Grant | 2020 | LSU | 6 | 2.4 | 213 | 6.12 | 7.57 | 48% | 52% |
| 8.498 | McDonald | T.J. | 2013 | USC | 6 | 2.4 | 219 | 7.74 | 5.60 | 64% | 36% |
| 3.286 | Iloka | George | 2012 | Boise St | 6 | 3.5 | 225 | 5.99 | 2.49 | 77% | 23% |
| 7.067 | White | Javin | 2020 | UNLV | 6 | 2.1 | 211 | 5.47 | 5.27 | 52% | 48% |
| 5.042 | Richardson | Sean | 2012 | Vandy | 6 | 2.2 | 216 | 5.86 | 4.16 | 57% | 43% |
*The ratings are based on a 1–10 rating scale, but a prospect can score over 10.0+ and less than 0.0.
OVERALL RATING -- We merge the data from physical measurables, skill times/counts from the NFL Combine/Pro Days, with college performance data available on pass coverage/tackles, etc. and grade it compared to our database history of all college SS/FS prospects, with a focus on which SS/FS prospects went on to be good-great-elite in the NFL. We found characteristics/data points that the successful NFL SS/FS's had in common in college, that most other SS/FS prospects could not match/achieve.
Scoring with a rating over a 7.0+ in our system is where we start to take a SS/FS prospect more seriously. Most of the future NFL-successful college SS/FS prospects scored 8.0+ in our system, and most of the NFL-superior FS/SSs pushed ratings more in the 9–10.0+ levels overall. Future NFL busts will sneak into the 8.0+ rating range from time to time.
TACKLE/STRENGTH METRIC -- A combination of physical measurables and college performance, graded historically for future NFL profiling. In the simplest of terms, this is an attempt to classify the SS/FS as one more likely to be involved in a heavy amount of tackles, forced fumbles, and physical hits to separate a WR from the ball. It also gives some insight into the "toughness" of a player, if it is possible to quantify that (this is our attempt to).
SPEED/COVERAGE METRIC -- A combination of several speed, agility, size measurements as well as college performance. A unique measuring system to look for SS/FS prospects that profile for superior coverage skills and abilities.
2022 NFL Draft Outlook:
There's too much hype/momentum for Hamilton to not go in the 1st-round. Probably goes top 10 to some dupe/rube GM. I wouldn't surprise if he fell out of the top 10, as safeties tend to fall in a draft, but there's always an Arizona or NY Jets to come in/up and take one way too early.
In 2021, the first safety was drafted #35 (Jevon Holland)
Ditto 2020, #35 overall (Xavier McKinney)
2019, #21 Darnell Savage to Green Bay (and not a WR for Rodgers)
2018, #11 Minkah Fitzpatrick (traded a few seasons into his career)
2017, #6 overall Jamal Adams…a SAF who everyone tries to get, and then regrets.
2016, #14 Karl Joseph
Now, look up at this list. The mainstream top SAF prospect hasn't been the right one, right call the past six drafts (and I didn't bother look back any further).
If I were an NFL GM, I would NEVER consider a safety with a 1st-round pick…it's horrible, stupid business to do so – there's better safeties in any draft day two and day three, or reasonable off free agency too. So, I would not even consider Hamilton 1st-round (or 2nd or 3rd either)…because I see 3-5 safety prospects better than Hamilton, at least.
NFL Outlook:   
Will go on top be a forgettable safety in pretty short order, like all of the top drafted ones seem to be. Hamilton might be a solid NFL'er. He might be a bust (for where he'll be drafted). I wouldn't bet heavy he'll go on to be a Pro Bowler.