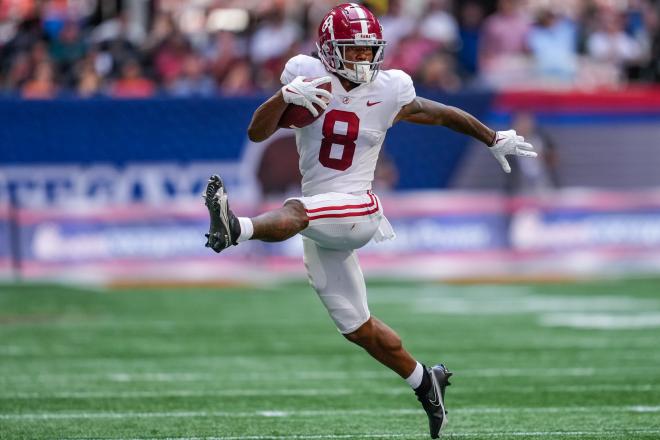 R.C. Fischer
Total Football Advisor
15 March 2022
NFL Draft 2022 Scouting Report: WR John Metchie, Alabama
*WR grades can and will change as more information comes in from Pro Day workouts, Wonderlic test results leaked, etc. We will update ratings as new info becomes available.
*WR-B stands for "Big-WR," a classification we use to separate the more physical, downfield/over-the-top, heavy-red-zone-threat-type WRs. Our WR-S/"Small-WRs" are profiled by our computer more as slot and/or possession-type WRs who are typically less physical and rely more on speed/agility to operate underneath the defense and/or use big speed to get open deep...they are not used as weapons in the red zone as much. 
Yes, John Metchie is another one of 'those' Alabama WRs…around 6'0", lean/sub-200-pound receivers with higher end movement skills…and the benefit of learning at the Alabama football factory. Metchie is not a bust prospect or overrated 'Alabama name'. He's a very solid, legit pro prospect.
The question is – How good is Metchie? Just 'solid' or future star? Well, I will say two lead-in things before attempting to answer fully…
1) I purposefully studied his teammate Jameson Williams right before Metchie. I just wanted to watch them both working in the same environments, to compare and contrast. An overall blanket statement on the comparison: I walked away more 'wowed' by Williams' tape than Metchie's tape.
2) Metchie possesses one superpower attribute that none of the other top WRs have (to his extreme). And we'll get to that in a moment. This superpower has the 'power' to enter Metchie into the debate as the better pro prospect than Williams…or any of the other top names.
I would describe Metchie as a WR talent this way…
-So-so, good enough speed. He tore his ACL late 2021 season, so we won't see him do any pre-Combine workouts, but I don't see Metchie running away from top SEC DBs – that's not his game, per se. He's not slow, but he's not a track star burner like Jameson Williams. I'd say a 4.50-4.55 is in order for Metchie for a 40-time.
-So-so/good enough hands. I saw/noted more drops and bobbles than 'wow' catches…not that there was a problem, just I have more red marks than green marks on his catches on the game tape I watched. He's not a great 'hands' WR, but he is not a butcher of the ball either. He's fine. 'C+' grade hands…with 'C+' speed, let's say.
-The superpower that comes into play, and subsequently raises his entire draft evaluation…he's an 'A' grade in foot movement off the snap, in agility. Metchie is going to get open on just about any CB that presses up on him. Metchie has a Davante Adams, Cooper Kupp, Diontae Johnson ability to make a quick cut/crossover move from a standstill and break his coverage opponent's ankles. This movement 'gift' is probably more valuable, headed to the NFL, than 'hands' or 'long speed'.
And Bryce Young was not the type of QB to fully expose Metchie's superpower…it went untapped a lot of the time. Metchie had to play a more suitable style (more downfield) to work with Young…it's like Rashod Bateman's similar gifts go to waste working with Lamar Jackson in Baltimore. If Metchie finds his Aaron Rodgers, etc., his pinpoint dart throwing QB…then Metchie can outperform, statistically, other, more talented WRs from this class.
Jameson Williams is a track star who can run by most coverage or is a guy you get the bubble screen to and let him fly. Metchie is the guy who works like a Randall Cobb or Cooper Kupp or Diontae Johnson…a BFF WR for the assassin/timing, quick-throwing QB…not a WR built for a highly mobile improvising QB.
Off-the-field, Metchie has the advantage over Jameson. Whereas Williams is more immature and an unconfident/unassuming personality – Metchie is confident, always smiling, happy to talk to you, face of a franchise type personality…and that difference + the movement superpower, might get Metchie drafted ahead of Williams, even though in terms of flipping on the tape and watching the two of them, you get a 'wow-factor' from Williams that Metchie doesn't offer. Metchie is more subtle.
Bryce Young gravitated towards Williams over Metchie in 2021…because the styles fit better. Young is not an assassin passer, he's a stand behind protection for longer times because his O-Line allows it…and if the great throw isn't there, he takes off running as a weapon. Young is more Lamar Jackson (although not as good as LJax) than he is like Aaron Rodgers. But, in the NFL, Metchie will probably run into more QBs that fit his style than Williams will. Both Alabama WRs could and should be fine, but Metchie is more ready to be a QB's BFF option quickly.
John Metchie, Through the Lens of Our WR Scouting Algorithm:
 -- Six or more catches in a game in 11 of his 13 games in 2021. Three 10+ catch games in 2021.
 -- Facing his toughest opponents, Metchie was fine…
6-97-1 vs. Georgia
13-150-0 vs. Auburn/McCreary
9-73-1 vs. LSU/Stingley
11-121-2 v. Tennessee/Alontae Taylor
6-49-0 vs. Florida/Elam
Not that the top CBs were on him exclusively all game, but Metchie usually drew the better CB coverer on the opposing team (having been at Alabama longer to know for D-Cs vs. Jameson Williams just arriving 2021).
2022 NFL Combine estimates
5'11.2/189, 9.25" hands, 30.6" arms (from the Combine)
4.5+ 40-time, sub-7.00 three-cone, possibly a 6.6-6.7 mark
15+ bench reps, 35+ vertical, 10'+ broad
The Historical WR Prospects to Whom John Metchie Most Compares Within Our System:
Another 'Calvin Ridley' for an Alabama prospect…Saban's crew definitely has 'a type'. I don't really love the computer's comps here. Ridley aside. I see more Rashod Bateman maybe some Diontae Johnson here, personally/scouting wise. The downside comp name that comes to my mind is Taywan Taylor.
The computer is also using Combine estimates and running comps, but we'll never know the real 40-times/three-cones, etc., due to Metchie's rehab from his ACL in 2021. We're using our best physical estimates and college performance metrics (for a guy in the 'wrong' offense, to me).
| | | | | | | | | | | |
| --- | --- | --- | --- | --- | --- | --- | --- | --- | --- | --- |
| WR Score | Draft Yr | Last | First | College | H | H | W | Power Strngth Metric | Speed Agility Metric | Hands Metric |
| 8.142 | 2022 | Metchie | John | Alabama | 5 | 11.2 | 187 | 5.91 | 8.98 | 8.03 |
| 7.158 | 2018 | Ridley | Calvin | Alabama | 6 | 0.4 | 189 | 5.51 | 8.98 | 8.16 |
| 4.697 | 2014 | Jones | T.J. | Notre Dame | 5 | 11.5 | 188 | 5.79 | 8.66 | 8.88 |
| 5.478 | 2019 | Johnson | JonVea | Toledo | 5 | 10.6 | 188 | 5.99 | 9.96 | 7.45 |
| 8.582 | 2003 | Curtis | Kevin | Utah State | 5 | 11.0 | 186 | 6.55 | 11.76 | 10.28 |
*A score of 7.0+ is where we start to take a Small-WR prospect more seriously. A score of 8.50+ is where we see a stronger correlation of a Small-WR going on to become NFL good/great/elite. A score of 10.00+ is more rarefied air in our system and indicates a greater probability of becoming an elite NFL Small-WR.
All of the WR ratings are based on a 0–10 scale, but a player can score negative, or above a 10.0 in certain instances.
Overall WR score = A combination of several on-field performance measures, including refinement for strength of opponents faced. Mixed with all the physical measurement metrics, rated historically in our database.
"Power-Strength" = A combination of unique metrics surrounding physical-size profiling, bench press strength, etc.  High scorers here project to be more physical, better blockers, and less injury-prone.
"Speed-Agility" = A combination of unique metrics surrounding speed, agility, physical size, mixed with some on-field performance metrics. High scorers here project to have a better YAC and show characteristics to be used as deep threats/create separation.
"Hands" = A combination of unique metrics surrounding on-field performance in college, considering the strength of opponents played. Furthermore, this data considers some physical profiling for hand size, etc. High scorers here have a better track record of college statistical performance, and overall this projects the combination of performance and physical data for the next level.
2022 NFL Draft Outlook:
Because of the ACL, you'll see Metchie more 2nd-round in projections. Jameson Williams is usually ranked higher for scouts/analysts – because Williams was more sexy, productive than Metchie…but I think that we're all getting lulled to sleep a bit by Metchie being in the wrong offense to fully expose his talents.
If I were an NFL GM, and I were the Green Bay Packers' GM (for example), I would be looking at trying to get Metchie in the 2nd-round (middle) to pair him with Aaron Rodgers, to replace Randall Cobb…to have a better, younger version of Cobb for Aaron (and Metchie is better than Amari Rodgers). Metchie has a gift…and it's a 1st-round level gift potentially, but it's going to be a potential 2nd-round bargain come draft day.
NFL Outlook:   
'It all depends on where he lands' is never more pertinent than with Metchie. In the right offense, with the right QB, he could be a major productivity WR…but if he's drafted by the wrong team with the wrong QB, he'll be a wasted commodity for years.
Metchie should get cleared for training camp, so he should be able to slide right into a starting lineup for the right team. How productive he is right away depends upon what role he's given and who his QB is. The potential for instant impact as a reliable option with future upside is here.