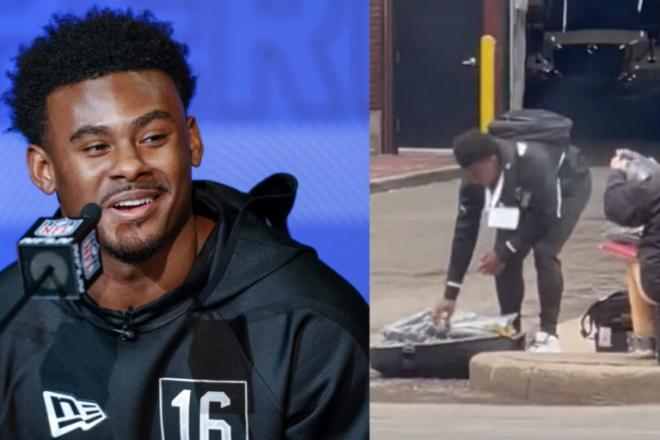 R.C. Fischer
Total Football Advisor
04 March 2022
2022 NFL Combine Day One: Reactions to the QB-WR-TE Group
My notes/reaction from day one of the Combine measurements and drills, in somewhat random order of my notes:
 -- Kenny Pickett, as I suspected, as many thought/worried, came in under the vaunted 9.0" mark…well under at 8.5". Michael Vick range. Let the debates begin, but I think the major takeaway is:
a) The media, and thus the fans, care A LOT.

b) The NFL people don't really care as much…and what they think matters more. They do care. They would wish there was a bigger hand size and longer arm size but when they see him throwing the ball just like the other guys and considering his double jointed thumbs that won't stretch out…it's not a big deal.
Now, the NFL people are not going to set themselves on fire to show how little they care about this. They don't care if Twitter and a few analysts on the NFL Network wanna worry about it. In fact, I think the NFL people are fine with the media bringing the Pickett value 'down' as much as possible. All the teams interested in Pickett want him to fall, because they're all at picks #6 and further away.
The real Pickett rise (if it happens) is going to go like this, from here…
1) Teams that need a QB…want a QB…and it's everything to an NFL organization. They know they cannot win without a legit QB.
2) After Washington calls every team about every QB, and all the other NFL teams realize Aaron Rodgers and Russell Wilson and Kirk Cousins and 10+ other major QBs the media prays daily will be trade…aren't being traded…and thus the real market is down to Jameis Winston and Mitch Trubisky and shoulder surgery/4+ month recovery Jimmy Garoppolo and possibly jailed Deshaun Watson – teams are gonna look to the draft…desperately to the draft.
And note…teams aren't calling every team and asking about the availability of all their offensive tackles or safeties, etc., they are calling EVERY team about the most important position in the game, with 2nd-most way in the distance, the QB position.
3) Free Agency will come and go and the teams that skipped on paying up for Winston or Trubisky or Foles or whomever will be backed into the corner of – 'it's the draft or bust' to find a QB.
4) When teams turn to the draft…it's Kenny Pickett #1…and then Malik Willis, secondarily, is the only other option to consider as a possible franchise QB.
Matt Corral and Desmond Ritter and Sam Howell are not QBs that team's desire enough to grab them in the top 10…they will 'settle' on them – but not covet in any way.
5) Once teams like Denver and Atlanta, and maybe Pittsburgh really dial in and realize the only shot at getting Pickett is getting past Carolina at #6…then if they are considering trading into the top five…they might as well go all the way to trading into the #1 spot to assure they get what they came for. And it only takes ONE other team to wanna fight/worry about Carolina at #6. Denver (for example) can take Pickett off their board for hand size, but if the Steelers don't…and/or Atlanta doesn't…then it will be those teams fighting Carolina.
The Panthers should sense this and are in the easiest position to jump to #1. If you're gonna put chips on Pickett at #6…you can't miss him, so why not pay a price (but lesser than ever) to go up and make sure you get the thing you wanted, the position you covet the most – the Quarterback, and that's all but likely Pickett at the top of most or every team's draft board at QB.
DraftKings went to 60-to-1 on Pickett #1. I'm a 'buyer'. I already own 30-to-1 shares.
And I'm not a Pickett homer or huge believer or ranting about his greatness. I think he's good, best QB prospect in this class, but I more LOVE the bet for the odds that he will go #1 because in a draft lacking an obvious elite/traditional/consensus #1 overall pick + the extreme importance of the QB position – the #1 overall pick will find a way to be a QB…and that QB being Pickett.
It's not a radical call…it's a pick, a bet…an event by default that Pickett is left as the obvious option at #1…hopefully…as a bettor.
I could do a small taste on Ikem Ekwonu to hedge some Pickett money. Evan Neal is too low of odds to be a real hedge.
 -- It's strange to keep pushing the Kenny Pickett narrative for him to go #1 overall, when I don't think/am not 100% convinced it's going to happen. I just think the odds they are giving us and the importance of the position/history of QBs going #1 make this something to take a bettor's shot on.
Why I won't say 'it's gonna happen' with confidence is…the media is doing everything they can to get Malik Willis over as #1 QB, but also Willis is doing everything he can to get over as the #1 QB over Pickett.
But that's also where I have some hope…the media is almost always wrong on these things.
Because the media LOVES Malik Willis, they denigrate (often by just ignoring) Pickett. it's like with political campaigns and elections. The media fawns over one candidate and ignores any of the candidate's issues staring them right in their face, while they hyper-criticize everything the other candidate that they hate does/says. 20-30-50+ years ago, the media was more trusted, and their spin mattered…now, the media has trust numbers below 50%...below 40%...and falling.
In 2018, the media desperately backed Sam Darnold as the obvious #1 QB in the draft. They pushed Bradley Chubb as the possible elite pass rusher/best defender of the draft, a 'smart person's' #1 overall pick choice, and they also debated how generational Saquon Barkley was and how he might be worthy of a #1 overall pick.
That all aged well.
The guy they were not endorsing, the one that they were slamming at every turn…too short, too immobile, bad background…he ended up going #1 overall – Baker Mayfield.
All this, as obvious elite OLs Quenton Nelson and Mike McGlinchey fell to #6 and #9 overall. QBs almost always rise to the top…and OLs sink, sink for reasons I don't understand ever, as well as counting on many of the 'smart' analysts to identify some pass rusher as the guy who SHOULD go #1 overall.
With all that said, Thursday night, I watched Malik Willis throw his first pass of the full speed accuracy drills – a short pass to a WR sprinting out and then cutting across the middle in front of the QB/in the middle of the field for like a simple 10-yard strike. QB after QB put the throw on the WR (to varying degrees of placement), until the 'W's' came up (in alpha order), and then we saw Willis throw his pass 5+ yards off the receiver.
Not a peep from the analysts.
With Pickett, everyone harps (rightfully so) on his hand size. With Willis, everyone loves the guy but quietly worries about his arm accuracy – then his very first accuracy (wild) throw should've brought up the discussion. One throw means nothing, but it is his biggest scouting negative…it should've started a night long watch/conversation.
Not a peep from the analysts.
Here's video of some of Willis's throws and see if you can pick up on the media covering for it subtly: https://youtu.be/g_wc9JvTXGc?t=39
Later, when throwing deep passes…Kenny Pickett was mostly a machine throwing bombs on the money. Pickett got a slight mention of 'nice ball'/a pat on the head from analysts. When Willis, who has a stronger arm, threw a bomb connect in the same drill, and threw it with some more zing…applause rang out from the crowd, and the analysts gushed over his cannon arm.  
Willis runs around a lot…which is visually exciting. Willis has a whip arm…which is exciting to watch. Willis, earlier in the day, was handing out stuff to homeless people and it was caught on tape 'unbeknownst' to him that he was being recorded. Willis is the perfect 'candidate' for the media to push as #1…and he's such a nice guy (he really is) and his game/his skills are visually pleasing, it's easy for fans to back him – especially when everything he does draws uber-enthusiasm on TV, and his throwing gaffes (and Willis had more than any QB in the throwing drills) are totally ignored. He's the media's candidate.
Meanwhile, Pickett is quietly dropping throws on the money all over…he works subtly, as he did all 2021, and there was little-to-no TV reaction as he did it Thursday night. So, it seems like he's a nobody and Willis is 'it'…to the average viewer/random website NFL Draft 'analyst'.
Willis is winning the media war, by a mile, but I think Pickett is winning the actual inner circle NFL attention. But I don't trust the NFL any further than I can throw them, so betting on them doing the right thing is always dangerous territory to tread. Both QBs will wind up top 10 potentially, but I think Pickett is the only one natural to be the #1 overall...in an event (the NFL Draft) where the QB is typically drafted #1 overall.  
 -- Malik Willis side note…I think it was Ian Rapport who let it slip that Willis scored a 32 on the Wonderlic. I didn't think they were doing that test anymore. That's a nice score though.
 -- Kenny Pickett ran a very solid 4.67 40-time…and it was mostly ignored by the TV analysts, like most things Pickett did at the Combine. I think Pickett only helped himself at the Combine…but you wouldn't know it from his TV coverage.
 -- Last QB item, then let's talk about the other positions (they do exist!)…
The Combine TV analyst's pushed Sam Howell as an 'amazing interview' guy, which was generating a ton of buzz on the Combine coverage.
Two things from this 'great interview' label…
1) Howell has secured himself being in every 1st-round mock draft now, because of it.
2) I wish that when Howell struggles to transition in the NFL, over the next year or two, that some analyst will exclaim…"Boy, Howell is really struggling here…which is surprising because we were told he interviewed so well in his 18 minute (the limit) visits with teams at the Combine."
 -- My biggest 'winner' and 'loser' from the Combine workouts THU were both from the tight end group…
WINNER: Jelani Woods
The Ross Jacobs discovery from his East-West Shrine previews. Woods was the most visually impressive specimen on the field Thursday, regardless of position. He looked physically imposing and was the 2nd-fastest TE (4.61)…doing so at an impressive 6'7.1"/253. He just looked like superstar TE at a glance. Plus, he looked totally fine/good in all the pass catching work.
I think he goes from a guy projected to go 6th-7th-round or undrafted to the top 100 after this.
I'm going to take an early guess that Woods might rocket to our computer model #1-2 TE in this class after we input all the workout and career output data.
LOSER: Jalen Wydermyer
I had thought Wydermyer might be that physically imposing worker TE, but he was not…especially hurting him was the fact that due to the alphabetical order, Woods went before Wydermyer in these Combine drills and Woods looked great and was great performing on-the-field, while Wydermyer looked like his kid cousin doing the same thing right after, in a lesser way in a lesser body. Optics matter.
Wydermyer goes from possible top 100 to day three TE, possibly out of the draft…that's how bad this Combine event exposed him. His constant 'double catches' in drills, after a season with some drops issues…it's killed him off 'dead', as a prospect.
 -- The contender, along with Jelani Woods, for the top graded TE in this class for us is likely (not Isaiah Likely) Iowa State's Charlie Kolar…who has been our top TE in this class since summer of 2021.
Kolar skipped being timed in the drills but did all the other on-field work. He looked fine. Didn't hurt himself here.
 -- The TE group was up first at the Combine TV event, and Daniel Jeremiah came loaded to push Greg Dulcich as the #1 TE in the class…he had his script/elevator speed down right off the bat and the video team had the promo package ready. It's really unfair for a guy to get this push, at the expense of others, when it's not OBVIOUSLY true. It's highly debatable Dulcich is top five among TEs, much less 'the #1'.  
When we got to see all the TEs do their work, Dulcich quietly slipped into the forgettable background. Jeremiah gave it another push a little while later after his intro push at the kickoff the Combine coverage, but then he just gave up/went silent…especially once Dulcich's 4.61 40-time 1st-run wound up a 4.70 official time…and Dulcich did not look all that impressive side-to-side next to the other top TEs in drills.
Despite the Jeremiah push, I think Dulcich lost momentum Thursday. At 4:15pmET, post-Jeremiah push, Dulcich might have been a 2nd-rounder. By 6pmET, Dulcich may have fallen to 'day three' rando pick.
 -- Other TEs catching my attention…
1) Connor Heyward showed really good hands. He's a unique specimen as a TE or FB…or short yardage RB…at 5'11"/233. A weird 'Deebo'-like TE possibly.
2) Trey McBride is another analyst's guy. He looks very competent, but I thought he got lost in all the 'solid' TE prospects here. Wasn't bad, but there were other items on the shelf at this store that caught my attention more.
McBride came in as one of the smaller TEs here too, 6'3.5"/246. Acceptable size, but they are just making the TE prospects bigger these days.
3) Daniel Bellinger helped himself here too…nice size (6'4.7/253) with big hands (10.1") and ran a 4.63 40-time.
 -- No tight end cracked the sub-7.0 three cone mark. Nebraska's Austin Allen hit 7.00 exactly.
Jelani Woods skipping the three-cone is probably a sign that his weakness might be in his agility times, but at his size he could have run middle of the pack three-cone but it would be impressive (for his size).
 -- Let's talk about the Wide Receivers…
First off, it's a weird dynamic (to me) with the WR group. Couple bullets on why, from my notes…
1) They all seem like robots out there…in a good way. Everyone of them seems super-fast, smooth, can catch with ease.
2) With so many WRs looking good…where are they all going to go and get playing time? And existing, veteran WRs hanging on in the league…they're likely going to get shoved out by this tsunami of fresh WR meat hitting the NFL draft-after-draft now.
3) The 2nd-group of WRs this night were running amazing 40-times…it got so ridiculous that I texted Ross Jacobs about it, and we concluded the electronic timers must be way off, and later it was proven they were – but it wasn't until later at night, so I think the majority of people will just now assume Chris Olave is a 4.26 runner…not the 4.39 official time, which a 4.39 time is now 'nice' not 'wow' in today's NFL Combine.
4) Here's how you too can become an NFL Combine analyst…
If a WR runs a 4.2-4.3s 40-time (unofficial), you lose your mind at this speed like we've never seen (except we see it multiple times a year now).
If a WR runs a 4.4s 40-time (unofficial), you knowingly say that 'it's a really good number'.
If a WR runs a 4.5s 40-time (unofficial), you say 'it's good'…and that the player is 'quicker than fast'.
If a WR runs a 4.6s 40-time (unofficial), you quick remind everyone that Cooper Kupp did too and he won a Super Bowl MVP, and 40-times are all stupid and useless anyway.
If a WR runs a 4.7s 40-time (unofficial), you ignore it out of respect for the dead.
5) These WRs all did the gauntlet drill like they have done it a thousand times in the last week…probably because they have. They are so coached up for this event now it's becoming a more useless thing to watch/try to delineate anything.
6) All but three WRs skipped the bench press. The players are wising up…they will skip anything that hurts their status or could hurt them physically (like smaller armed WRs trying to force a bench press).
7) Only two WRs hit under 7.0 three-cone…surprising. All that straight-line speed but one of the worst agility times for a group in a while.
 -- The Treylon Burks 6'2"/225 with 9.8" hands and 33.5" arms measurables are not a disappointment…nor was his solid 4.55 40-time. However, the 7.28 three-cone was a shock…and not good. Not damning, but not going to get him to #1 WR taken probably.
There were SO many talented WRs on display here that Burks was just 'another one of them'.
When I heard the 'he might be a tight end option' talk, I knew he was doomed to not be the top WR off the board.
 -- Honestly, I walked away from watching the WR group and looking at the measurables thinking…it might be Alec Pierce is the best WR prospect of 2022 after all.
We didn't get to see Drake London, so the door opened for others to shine…and Pierce, among others, walked through that door.
 -- Among the WR 'winners' at the Combine, from my notes…
Notre Dame's Kevin Austin was the athletic 'winner'…6'2.3"/200, 4.43 40-time, 6.71 three-cone (best in class), 39" vertical, 11'0" broad jump.
George Pickens quietly put up a 4.37 40-time…a prospect boost, but his 8.75" hand size was a small hit.
Tyquan Thornton hitting a 4.28 40-time makes me ready to go re-look at his tape. I didn't see a 4.2s coming.
Christian Watson really helped himself here…6'4"/208, 10.1" hands, 4.36 40-time, 38.5" vertical, 11'4" broad (best in class) but skipped the three-cone. His prospects continue a rapid rise from a great week at the Senior Bowl.
It was Skyy Moore mania at certain points on the TV coverage…the analysts love him, I think because he has two Ys in his first name. His 4.41 40-time also helped, his 7.13 three-cone wasn't great, however.  
Isaiah Weston running a 4.42 40-time, with 20 bench reps, a 40" vertical, and a 11'3" broad jump at 6'3.7"/214 is pretty stunning too. He skipped the three-cone.
 -- Among the WR 'losers' at the Combine, from my notes…
David Bell running a 4.65 40-time with a 7.14 three-cone did not help his case at all. I had higher hopes for him to be in the 4.5s and claiming the best 'underneath' WR mantle…but he may have lost it here.
Dai'Jean Dixon came in much smaller than I expected…205 pounds, and far less athletic than he needed to: 4.62 40-time, 7.28 three-cone.
Onto the Friday watch…the RBs and OLs.