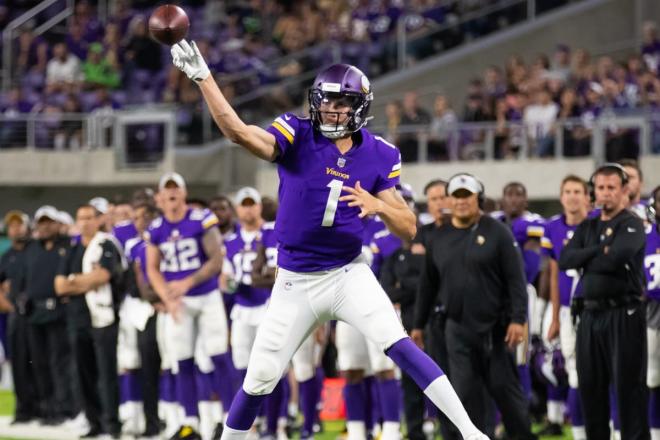 R.C. Fischer
Total Football Advisor
02 March 2022
2022 Dynasty Offseason: Four Things Report for 3/2/2022 
--Thing 1: The Weekly QB Update…
Again, if you're in the football media you can only discuss one topic – Quarterbacks. Us fans are a bunch of dopes who clickbait the hell out of pretend/for-fun Kyler for Cousins trade articles, so that's what we get from our media overlords.
Plus, the media only (thinks they) know QBs…all other positions they haven't a clue (thus they talk about Jalen Ramsey all 2021, into the 2022 Super Bowl, as a top shutdown corner when he's clearly playing linebacker/joker about 80%+ of the time all season, and that's just one example of their cluelessness).
So much QB hot air in the offseason now, it's my job to sift through it and try and navigate it for FF-opportunity. My QB commentary notes to start this week…
I was 95% sure, all 2022, so far, that the Colts would keep Carson Wentz at QB, as long as Frank Reich was there – I have been assuming the two will go down with the ship together (at the end of 2022 season/2023 offseason they'd be done). However, there's a lot of 'smoke' around the Colts just straight up dumping Wentz, because the loon owner doesn't like him…and the locker room are not big fans either (similar to his Philly days). Based on the latest chatter, now, I'd say it's 50-50 on Wentz remaining a Colt for the 2022 season. Reich's job is in danger, and he'll do whatever the boss says.
$28M to keep Wentz for 2022…$15M hit to cut him.
The Colts will try to say they're trading him, but not one wants him (enough to trade for him). The Carson Wentz that all the football people fell in love with as a rookie – they were wrong, in retrospect.
Wentz had a decent stretch his 2nd year and won a bunch of games in a row (so, because only QB matters…Wentz got a ton of the credit). Wentz got hurt during that hot run, and then Nick Foles came in and single handedly won the Eagles a Super Bowl, surrounded by a very good team and a great O-Line. The Eagles stuck with Wentz after that title year, and they got burned by that decision.
Good on the Eagles, after that, because they dumped Wentz high on the stupid Colts…now the Colts are being burned by the decision to possess Wentz. No one is going to have any interest in Wentz after the Colts give up on him. There will be interest in him as a backup or emergency starter – not a 'main' guy anymore. Wentz is a good/decent QB, poor leader, and injury prone. Not worth the investment with all the quality QBs flooding into the league.
Doug Pederson somehow gets credit for the memory of Wentz being good once, for a stretch…forgotten is Wentz sucked as a rookie, then had a hot stretch in year two but got hurt and Foles bested him to a title, and then Wentz struggled/was up and down in performance for the next three seasons after that Foles title year…culminating in getting benched for Jalen Hurts.
Aside from the magical 2nd-season/2017, Wentz was 24-30-1 as a starter outside of that for Philly. Somehow, this whole Wentz situation in Philadelphia…which was mostly negative/disappointing and ended horribly…it somehow means that Pederson is the perfect QB guru who will fix Trevor Lawrence. Which is the dumbest assumption in football, currently.
When I scouted/graded Trevor Lawrence as not being close to generational in 2021, I said Lawrence was a lot like one existing NFL QB…Carson Wentz. Ta-da.
When Philly turned on Pederson…it was 'spun' that he ruined Wentz, and that Frank Reich was the real brains of the operation behind any of the 'good' with Wentz…and all the 'bad' was Pederson's fault. Somehow that's all forgotten by hopeful, desperate Jags' fans.
In 2021 season, Reich-Wentz disappointed. Now, Reich is having his fake image as QB guru of Wentz tarnished.
All the Wentz excuses are gone.
Pederson was not the QB guru he was made out to be – but all you'll hear is how great this is for Trevor Lawrence going forward. When you see where Lawrence is in our Dynasty ratings, you'll see we're on the pessimistic side…because we're not believers in Lawrence, nor in Pederson (nor in the Jags organization)…nor in Wentz.
Kyler Murray update…
Hopefully you read my 5k+ word piece on the case for trading him.
The next day after that release Kyler's agent released a letter about wanting a new contract.
I spoke about this on the Video Q&A Tuesday night – on demand for you to listen to or watch as you desire. The first 10 minutes I discussed the 'meaning' (danger) of that agent letter.
--Thing 2: Did you see the USFL Draft?
First off, let me say…I have 0.0% interest in the USFL. I will not be watching games or projecting for Fantasy. I don't have enough time in the day/week/month now…and they want me to watch this garbage?
Secondly, I said 0.0%...but it may be more like 5% interest in the USFL. Why the sudden change a paragraph later?
I saw a report come across the Google news feed on my phone yesterday…'USFL Fantasy Redraft Rankings'. I was like…the USFL had their draft already? So, I had to at least click the report to see the names going to the USFL…and wouldn't you know who was ranked #1 for the reporters USFL Fantasy draft? My boy, Kyle Sloter.
If you don't know what that means, then you've not been with CFM/FFM going back 4-5 years…which is an OK excuse…but do yourself a favor and kill some time at work reading my series of Sloter articles. The very first, one of my only personal interviews of a prospect in a decade…but it's more of an origin story (a fascinating one at that) + interview + scouting.
If you care to partake, or for you FFM vets 'a classic': https://www.fantasyfootballmetrics.net/general-nfl-draft-reports/the-surreal-story-of-2017-nfl-draft-qb-prospect-kyle-sloter
I will likely watch (the highlights) of Sloter's games to see how he's doing. The good news is – at least Kyle is going to have an opportunity to play/show what he can do and possibly turn that into a more serious NFL opportunity. One of the biggest misses in NFL Draft scouting, by the NFL…and one of the worst personnel decisions by any two humans employed by the NFL -- by Vance Joseph and John Elway (I will never forgive them or forget)…is what they did to Kyle Sloter story.
The USFL is a shot for players to get back on the NFL radar, so I will check out/scout any of them breaking out/generating a buzz…and I have at least one or two of them in the top 600 Dynasty rankings 1.0 – just so we 'never forget'. Kyle Sloter and B.J. Emmons are the ones I see, initially, with a chance to take USFL 2022 to a 2023 NFL shot…but it's a LONG shot.
 --Thing 3: Dallas WR turmoil…
One thing seemed clear coming out of Combine-Tuesday…Dallas is 'over' Amari Cooper. One year they can't live without him and everyone wailed and moaned to get him a new deal. Now, they don't care.
Amari is set to make $22M if he stays in Dallas for 2022…or they can cut him for a $6M hit. No way they are paying him $22M. When asked, I believe it was Stephen Jones who basically shoulder-shrugged about Amari…but then lit up like a child on Christmas morning when the great Ezekiel Elliott was brought up (in a similar context to Amari…as 2021 disappointments).
If Amari is going…and Michael Gallup is a free agent dealing with ACL surgery/rehab…not sure he'll re-sign with the team.
It could be a nice spot for Cedrick Wilson, but he's also now a free agent.
Noah Brown showed some potential…oh, wait…he's a free agent now.
What is Dallas going to do at WR in 2022? Make overrated CeeDee Lamb a #1 WR? Sign Allen Robinson to a big deal?
It's going to be a completely different look at WR in 2022, it appears. It's a bump for Lamb, as the only guy with experience with the offense/QB.
Maybe it's a bump for reliable Dalton Schultz…nope, he's a free agent now too.
Is there a key receiver from 2021 for Dallas that's not a free agent?
Might this also mean Dak Prescott is getting thrown a curveball for FF 2022 – going from Amari-Gallup-Lamb to Lamb-expensive FA WR-Rookie WR? 'Stock' going to be taken down some more on Dak for FF value for 2022. I thought they'd work something out with Amari, but that's not looking too good right now – but Dallas is running out of options.
--Thing 4/non-Football Thing: My Amazon Product of the Year (2021)
This topic broke out into a conversation in my house this past weekend…as we were singing the praises of a particular item that I got off Amazon a while back and then took way too long to actually install and start using it – and it was an easier setup than expected and has been pure joy to own/use, and it only cost like $25.
The item? The myQ Chamberlain Smart Garage Control.
If you've not looked into such a product/option…this little device allows you to control your garage door operations from your phone. Newer garage doors a lot of the time now have this feature now built in, but any doors like 3-5+ years old or older likely do not. You wouldn't think such an item would make such a difference, but you would be wrong…
If not for anything else, just being able to check my phone to answer in seconds that annoying, sinking feeling/question of…'Did I close my garage door when I left?' That thought hits you a mile down the road…or several miles down the road as you left for vacation and won't be back for days. You can simply check your phone to verify and hit the screen/app to close it if you didn't. That peace of mind pays for itself.
But there have been so many other joys…
-My new place is set up where it's best we go out the garage door to get to the driveway to take the dog out for a walk in the neighborhood. Once in the garage, on my way to heading out down the driveway, I just hit the button on the app/my phone and the myQ sensor beeps a couple times warning me that it's about to close the door in 10-15 seconds, as I walk out the garage…and 'boom', done.
-Do you remote-start your car in the garage on a cold morning/day? Now, it's totally remote for my wife (who hates any temperature below 70) – on her phone, she can hit the button to open the garage then hit the button to remote start the car while she's making final preparations to get to work.
-My garage door remote for the car was acting up one time…couldn't get the door open – so it was just a button-push away on my phone, and…crisis averted.
Just to name a few positive scenarios off the top of my head.
I love making my life easier with technology controlled from my phone – and I thought this would potentially be good/useful in our daily lives, but it has been beyond good/great. Tomorrow I'm going to install one for my father-in-law…who constantly worries he forgot to close it and admitted to often circling back to check because it nagged him…which is a terrible feeling once it gets rattling around in your mind.
I've had mine installed for about 9 months now, and I've not had one issue with it – except the rare time the Wi-Fi is down (it works off your home Wi-Fi, obviously). It also has a feature that allows Amazon to deliver your stuff into your garage with a once-time code with it – if you desire. Amazon is keeping the cost of it down to try and gain acceptance as a future was to help deliver packages to inside safety to stop any Amazon porch bandits in places. If you're interested, take advantage before inflation hits this device…