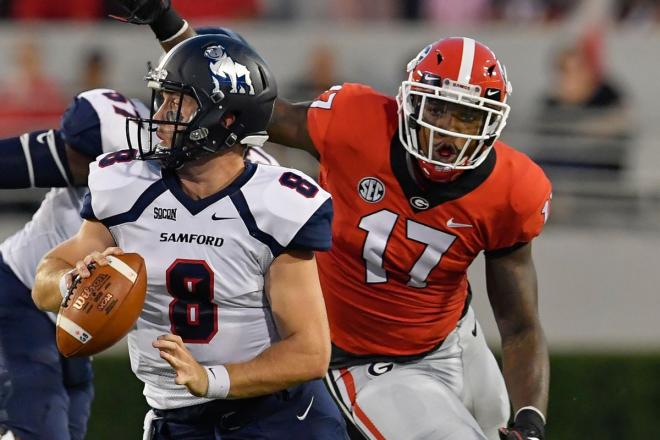 R.C. Fischer
Total Football Advisor
01 March 2022
NFL Draft 2022 Scouting Report: OLB/EDGE Adam Anderson, Georgia
*Our LB grades can and will change as more information comes in from Pro Day workouts, leaked Wonderlic test results, etc. We will update ratings as new info becomes available.
Adam Anderson was not invited to the 2022 NFL Combine.
Adam Anderson might be the best pass rushing prospect in the 2022 NFL Draft…according to my eyes.
Adam Anderson only logged half a season for Georgia in 2021 because he was arrested (out on bail now) for a sexual assault (rape) claim, and then a second accuser came out with claims against him as well.
That's a lot of 'things' to deal with here, and it's a shame we have to lead off with the off-field issues because the guy is super talented. I did not know who Anderson was (again, I don't watch CFB in-season…and only watch/scout the NFL Draft prospect CFB players all offseason) until our own Xavier Cromartie sent me a note, and in passing, mentioned that he thought Anderson was probably the best pass rusher in this draft. I was immediately like…'Who is Adam Anderson?' I didn't see him at the Senior Bowl…he wasn't on the Combine list for our scouting previews. Who is this guy?
So, I rushed out to catch some tape to get acquainted and…and you love it when you can turn on some random tape and within 30-60 seconds know you're looking at something special. I asked our own Ross Jacobs what he knew about Anderson right after that, and like me, he's been working on the East-West and Senior Bowl and Combine guys right now…if they aren't at one of those events, they might not exist for us yet. Ross took a look and instantly gave his thumbs up. Xavier, Ross, and I agree on a lot of things but will definitely disagree about a prospect's grade/value from time to time – but in this case, we're all singing the praises of Anderson.
So I asked Xavier, "Why isn't Anderson going to the Combine?" And that's where my bubble was burst.
If I have the story right, and trying to shorten it up: In November 2021, Anderson was accused/arrested (turned himself in) for sexual assault of a woman that had recently happened (per her testimony), and soon after the first claims were out there, another accusation came in from a different woman for an event that happened in 2020. I have no idea on the validity of the claims. The main accuser was out with Anderson and was drinking…she says she passed out and then 'things' happened. And Anderson's defense is she wasn't passed out/it was consensual. A second accuser came along with a forced/rape event claim…which Anderson is also denying.
No one, outside of the direct participants, knows what happened. Outsiders, fans, scouts are left to speculate and have emotional reactions to charges and counter claims – but none of us has a clue what really happened at this point.
Two claims of this nature against him certainly don't look good. However, Anderson had a ton of people come to the defense of his character, etc., and he was granted release on bail and is being allowed to attend his Pro Day (if Georgia lets him). So, I don't know what's gonna happen – but it for sure forced away any chance at a Senior Bowl or Combine attendance.
Setting that stuff aside, I believe Anderson could be the best pass rusher in this class. Not a slam dunk for sure top of the group, but he's for-sure right up there…and WAYYY better than Kayvon Thibodeaux (as many from this draft are).
For me to describe Anderson is difficult…or might be too simplistic/generic, it's best you catch a glimpse for yourself -- but here goes: When I think about Anderson after my tape sessions, the thought that comes to mind is – on every pass rush, he pretty much is going to beat his blocker and either get the quarterback or come very close. He's so fast, so agile, so slick, so strong that he just comes off the snap and his opposing blocker is immediately fighting (a losing battle) the weight of the world trying to slow him down. Anderson is such a natural…he just 'feels it' as he rushes, and the moment he senses the blocker losing his balance, he strikes the weakness – it might be he just runs outside of the blocker with ease, sliding like melted butter right off the blocker, and then, a step ahead already, Anderson almost (basketball) picks/shields away the blocker from ever recovering/getting between him and the QB. If the opposing blocker tries to guess or overcommits to the outside rush, Anderson will then just dart to the inside and slice right to the QB while the blocker desperately tries to stay up but it's often too late.
Most of the pass rushes I saw of Anderson on tape were him beating his blocker. I noted this success rate in my studies, and then was pleased to see that PFF had graded Anderson the top pass rusher in 2020 season, in their charting.
A highlight reel on Anderson (from 2020): https://youtu.be/PNKgyHEputg
Anderson seems to have the look/movement of a 3-4 OLB/Edge. Anderson is comfortable/athletic enough dropping into coverage or chasing the run, which he did plenty of in college. He was a 4-5 star recruit out of high school. He has all the tools, but his specialty is his ability to get to the QB.
The shame of the off-field stuff is…Anderson would have probably been #2-3 in the SEC in sacks in 2021 and would have been part of the National Title game/win (how great is Georgia that won it without him?)…and he might have won some awards, gotten his degree, gone to the Senior Bowl and then Combine and might have been in the top 5-10 overall prospect debate. Instead, he misses out on all of it – and maybe for something he didn't do…though let me hasten to add that if he did, it's 'deservedly so'.
He's being allowed to go to the Georgia Pro Day, by the courts…but I assume Georgia will not let him participate. So, we may not have any real workout numbers/measurables on Anderson, which is why I wanted to go through his case before the Combine started and we get tied up all March scouting all the top names after the Combine results. I'll be comparing a lot of Combine pass rushers to Anderson, and maybe only his teammate Javon Walker is as good/better a pass rush prospect from this class. 
Adam Anderson, Through the Lens of Our OLB Scouting Algorithm:
Was a situational pass rusher for most of his time at Georgia but was starting to breakout more as a senior.
Registered at least 0.5 sacks in a game in eight of his final 10 college games.
Anderson was on pace for a 60+ tackle, 10-11+ sacks, 10-11+ TFLs season in 2021 before being suspended 7 games into the campaign.
2022 Measurable Projections:
6'5"/235-240 range, 34"+ arms, 10"+ hands
4.5-4.6 40 time, 7.0 +/- three-cone (which is nice for an edge prospect)
The Historical OLB Prospects to Whom Adam Anderson Most Compares Within Our System:
I can see some of the 'Demarcus Ware-like' comparisons, per our computer models top comps. But I gravitate to the Randy Gregory comp – because Anderson is sleek and so athletic/quick like Gregory, but also…neither are the brightest bulb in the box (not just because of the sexual assault possibilities…ignoring that, and just listening to him in press conferences). A ton of physical talent is obvious scouting Gregory or Anderson, but players without a ton of 'smarts' – but rushing the passer, as natural as Anderson does…doesn't require a PHD. But then you worry is the mental side going to ruin them…on or off the field.
Anderson has an 8+ grade projection on talent assessments and measurables projections in our system, but you have to consider, somehow, the off-field stuff in there for an overall prospect valuation picture. He may be more 5-6 grade range with the off-field risk (somehow football players get cleared of these things magically).
| | | | | | | | | | | |
| --- | --- | --- | --- | --- | --- | --- | --- | --- | --- | --- |
| OLB Grade | Last | First | Draft Yr | College | H | H | W | Tackle Strgth Metric | Spd Agility Metric | Pass Rush Metric |
| 8.538 | Anderson | Adam | 2022 | Georgia | 6 | 5.0 | 240 | 6.00 | 9.01 | 9.81 |
| 6.766 | Gregory | Randy | 2015 | Nebraska | 6 | 4.7 | 235 | 7.09 | 10.69 | 10.11 |
| 7.142 | Van Ginkel | Andrew | 2019 | Wisconsin | 6 | 3.4 | 241 | 6.55 | 9.21 | 7.92 |
| 11.494 | Ware | Demarcus | 2001 | Troy | 6 | 4.0 | 251 | 7.26 | 12.64 | 10.31 |
| 8.090 | Harold | Eli | 2015 | Virginia | 6 | 3.1 | 247 | 7.21 | 9.39 | 8.39 |
*A score of 8.00+ is where we see a stronger correlation of LBs going on to become NFL good/great/elite. A score of 10.00+ is more rarefied air in our system, and indicates a greater probability of becoming an NFL elite LB.
All of the LB ratings are based on a 0–10 scale, but a player can score negative, or above a 10.0 in certain instances.
Tackle-Strength Metrics = A combination of several physical and performance measurements. An attempt to classify the LB prospect's ability to stop the run, as well as a gauge of how physical the player is, and the likelihood of higher tackle counts in the NFL. All based on profiles of LBs historically.
Speed-Agility Metrics = A combination of several speed, agility, and size measurements...as well as game performance data to profile a LB for speed/agility based on LBs historically. A unique measuring system to look for LBs that profile for quickness, pass-coverage ability, and general ability to cover more ground.
Pass Rush Metrics = A combination of the physical measurements, but also proven on-field ability to get to the QB/backfield in college.
2022 NFL Draft Outlook:
Some scouting services don't have him on the board. Some have him top 25-50 overall. I haven't a clue how it will turn out come draft week. If he gets cleared of charges ahead of the draft…he could go top 25. I suspect he won't get cleared ahead of that (if he ever/even is) and teams will be investigating this hard, and he'll wind up a day two pick because he's so talented a team may just gamble on the outcome of the ultimate verdict.
If I were an NFL GM, I'd definitely have my best investigators on this. I mean, some NFL team out there might wind up with a top 10 prospect in the 3rd-round of the draft or later – a serious bargain, a defensive game changing event potentially.
I'd have to have the full investigation to set him up on my board and judge where I could take him – but the more he falls out of the top 30, the more itchy my trigger finger would be…again, depending on if the legal stuff was hopeful that it's not in his character, and that the situation is shaky from the accusers (as some are saying).
NFL Outlook:   
A natural pass rush talent…if he falls into the right hands in the NFL, he could be the biggest steal of the draft and a pass rush game changer for his team.
He could also be a full knucklehead and ends up with a mostly disappointing career like Randy Gregory.
He also could be in jail quickly and never plays a down in the NFL for years.
All I know is – this dude can rush the passer like, maybe, no one else in this draft.