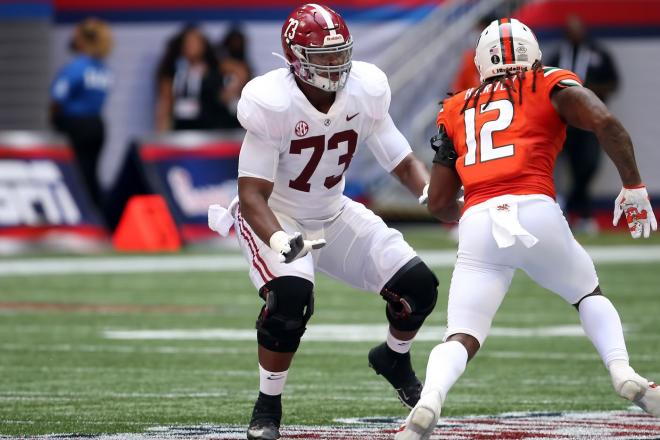 R.C. Fischer
Total Football Advisor
18 February 2022
2022 NFL Draft Scouting Report: OT Evan Neal, Alabama
*OL grades can and will change as more information comes in from Pro Day workouts, leaked Wonderlic test results, etc. We will update ratings as new info becomes available.
If you want to say Evan Neal is the best OL prospect in the 2022 NFL Draft, you'll get no pushback from me. I think there are a few contenders for that honor…but Neal is strongly among them. So this scouting study/report is the equivalent of 'hitting it into the fairway'…or 'a lay-up'.
Neal was a five-star high school recruit out of the IMG Academy football factory. He walked right into Alabama (2019) and started at left guard as a true freshman and then moved to right tackle starter (2020) and then finally to left tackle in 2021. No major injuries. No real missed time. All-American. Several O-Line awards or finalist for the award. And a permanent team captain in 2021, and an overall solid dude/nice enough guy.
It's a near-perfect resume.
I watched several of his game tapes, and I see no major flaws. For a guy that's 6'6" range and 350 +/- pounds, he should not be able to move the way he moves. It's not the best movement skills I've ever seen from an O-Line prospect but for his size it's quite nice/high-end.
The only negative I could put out there would be – Every so often I see him get off-balance and then beaten by the pass rusher as he's falling over or about to. He gets the wrong leverage and loses his balance and opens the door for a fairly free rush at the QB from there. It's not persistent, but I saw it a few times.
As a run blocker, he's pretty flawless…an 'A/A-' grade run blocker with his size and movement skills. He's aggressive and a road grader, and nimble enough to go looking for and find defenders not right in front of him.
As a pass blocker, he's pretty good as well…a 'B+' grade pass blocker with 'A' potential. He can backpedal smoothly. He is nimble enough to dance with edge rushers. But his best attribute is his ability to lock up the pass rusher and just wall them off with the strength of his extended arms. He's rarely shoved backwards into the backfield desperately fighting off a bull rush he can't handle while about to butt-check the QB. Only when he gets himself off-balance does he look bad, get toppled and loses the battle quickly.
He's a solid profile for a left tackle, but he might be better as a right tackle or guard…'better' as in 'great'/a Pro Bowl type asset.  
Is he worthy of the #1 pick overall? Is he going #1 overall to the Jags? We'll discuss that near the end of this piece.
Evan Neal, Through the Lens of Our OT Scouting Algorithm:
 -- Consensus All-American for several outlets (2021)
 -- 2nd-team All-American by AP
 -- 40 starts in three college seasons, beginning as a true freshman
 -- Semi-Finalist for the Outland and Lombardi trophy
 -- Freshman All-American (2019)
2022 NFL Combine Projections:
6'6"/350, 10" hands, 34.5" arms
5.2+ 40-time, 7.6+ three-cone
25+ bench press
The Historical OT Prospects to Whom Evan Neal Most Compares Within Our System:
It wasn't easy to match a guy of Neal's size and ability/accolades, etc. I might say…a poor man's, and smaller-ish, Mekhi Becton – not as athletic as Becton, or imposing…but more technically sound, more savvy, more consistent on and off the field.
| | | | | | | | | | | |
| --- | --- | --- | --- | --- | --- | --- | --- | --- | --- | --- |
| DT Grade | Last | First | College | Yr | H | H2 | W | Perfm, Technq Metrics | Speed, Agility Metric | Power, Strength Metric |
| 8.79 | Neal | Evan | Alabama | 2022 | 6 | 6.0 | 345 | 8.98 | 8.14 | 8.87 |
| 11.01 | Becton | Mekhi | Louisville | 2020 | 6 | 7.3 | 364 | 9.42 | 9.35 | 10.47 |
| 9.47 | Brooks | Brandon | Miami | 2012 | 6 | 5.0 | 346 | 7.47 | 11.56 | 14.23 |
| 5.91 | Glenn | Cordy | Georgia | 2012 | 6 | 5.6 | 345 | 7.65 | 5.88 | 8.72 |
*A score of 8.00+ is where we see a stronger correlation of OTs going on to become NFL good/great/elite. A score of10.00+ is more rarefied air in our system and indicates a greater probability of becoming an NFL elite OT.
All of the OT ratings are based on a 0–10 scale, but a player can score negative, or above a 10.0 in certain instances.
Overall OT score = A combination of several measures, which includes – performance based on strength of opponents faced, physical measurement metrics, injury probabilities...all rated historically against the future great OTs in our database.
"Power-Strength" = A combination of unique metrics surrounding physical size profiling, bench press strength, etc.  High scorers here project to be more physical, better straight-ahead power blockers.
"Agility-Finesse" = A combination of unique metrics surrounding speed, agility, physical size, mixed with some on-field performance metrics. High scorers here project to fit a blocking scheme where lateral movement/pulling and heavy pass-blocking skills are required.
"Performance Blocking Profile" = A combination of all the physical measurable profiles, arm length, and hand size, on-field performance grades, etc. An attempt to profile the OTs skill level beyond only the physical. 
2022 NFL Draft Outlook:
Evan Neal is typically the #1 overall pick for many in mock drafts (today) for two reasons:
(1) There is no obvious #1, slam dunk prospect in this draft, so people are matching names to the team needs.
(2) Neal being from 'Alabama' gets the matchmaking push because when the media/analysts are in doubt, they default to 'Alabama' in this era.
I've just started seriously studying OL prospects with Neal, and only have a taste of other OL prospects from the Senior Bowl and some quick tape on Ikem Ekwonu. It's possible Neal is the best OL prospect of 2022, but it's also possible he's 3rd-4th-5th best. Ekwonu looked like he might be better (his report/study is my next one). Trevor Penning has heat. Zion Johnson is well respected, but a guard/center. Neal deserves to be in the #1 overall conversation, in a weak draft class overall, but I have a feeling he won't be the #1 overall pick…nor the #1 OL taken. But he won't fall far…he'll go top 5-10 for sure.
If the NFL sees him as a guard more than tackle, that makes it hard…it's bad business to spend #1 overall pick money/guaranteed salary on that. But in this draft, there are few good options to spend that big money on.
If I were an NFL GM, I got no problem taking Neal for my football team. The question is – how high do I reach? I would not want to give top pick salary to an OL prospect unless I thought they were a freak of nature/one of the greats (or to any position without that thought/belief). Neal does not strike me as a full freak of nature, though at his size, he's in the discussion. He falls just short of 'freak' to me. I wouldn't draft him in the top 3 and maybe not the top 5. I might rather trade back and acquire more assets and take an overlooked OL prospect maybe as good, but at less cost…but that's nitpicking. No disrespect to Neal, it's just business decisions. I just don't think '#1 pick' and 'Evan Neal' in the same sentence. But 2022 is an odd draft class, so I wouldn't say never just yet (it's early on in the overall board setting process for us).
NFL Outlook:   
Will be an insta-starter for his NFL team and be very solid/good and the team will be pleased, and the fans will start to forget about him halfway into the season (which is half a compliment for good OLs…often they are known for being bad/a problem). Neal should have a long solid career with Pro Bowler upside over the years.