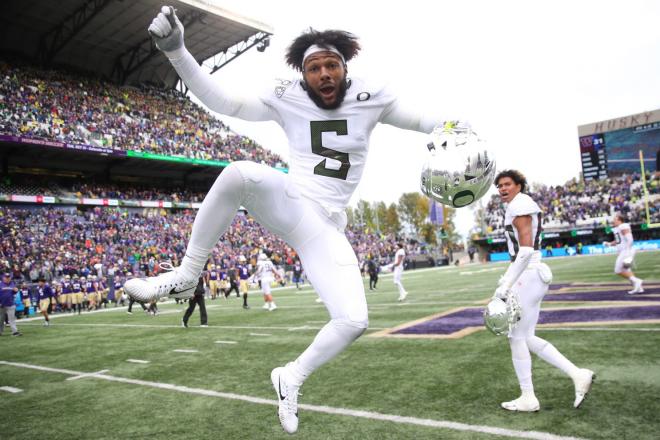 R.C. Fischer
Total Football Advisor
17 February 2022
NFL Draft 2022 Scouting Report: DE Kayvon Thibodeaux, Oregon
*Our DL grades can and will change as more information comes in from Pro Day workouts, leaked Wonderlic test results, etc. We will update ratings as new info becomes available.
You've seen plenty of mock drafts projecting Kayvon Thibodeaux in mock drafts being projected as a top 3-5 draft pick for 2022…even as high as #1…in January 2022. In February 2022, he started to fall a touch in the draft rankings/mock drafts. Why?
The answer to that is the central/chief discussion of his NFL projections.
ESPN draft analyst Todd McShay came out a few weeks ago and dropped this bombshell:
"I heard a lot about Oregon defensive end Kayvon Thibodeaux, including concerns that he just doesn't play with the same fire as some other top prospects. His ceiling is high, but the floor is lower than what you want for a top-five pick. And based on a handful of conversations, it wouldn't shock me if Thibodeaux fell out of the top five. Speaking of which, it was very apparent this week that the top of the draft isn't nearly as set as it normally is at this point. Picks at the top of the first round might be a little more based on team flavor than recent years."
When I saw that initial report from McShay, I semi-blew it off. I didn't think Thibodeaux was all that great to begin with (from a summer 2021 tape preview), but I wasn't 100% sure where McShay was coming from either. I kinda put it out of my mind until it was time to do my Thibodeaux deep-dive study.
Once I dug deeper on Thibodeaux, I realized – McShay is absolutely right. And it's worse than he let on. And it fits with the knocks we had on him in our 2021 summer previews. This is not McShay claiming it's his opinion…it's just 'what he's heard'. Well, he's plugged in to some decent personnel people – because that IS a/the problem with Thibodeaux.
We actually have two problems with Thibodeaux that are REAL draft issues…
1) He does not have that fire in his play that McShay alluded to (and I'll explain my view in a moment).
2) He's just not that great an edge rusher to begin with, much less with the added no-fire issue.
Let's go to the 'fire' issue first. It's a two-prong 'no-fire' issue…
1) You can see it through Thibodeaux interviews…he's full of himself and full of a lot of non-football things. It's not bad to have outside interests, but he's telegraphing an issue (real or imagined) at the wrong time (before he's drafted).
Watching him in an interview with Joel Klatt, in a format where 'hair could be let down'/real thoughts could come out – Thibodeaux said he could've gone to Alabama, but basically then came right out and said he wouldn't get a real education there…that Alabama was just for football, and no one thinks much of/respects an Alabama education. That was shocking/damning/dumb enough, but then the part most didn't pick up on (because the Alabama stuff was so ridiculous) was that his real reason for going to Oregon was to build a brand and cozy up to Phil Knight at Nike…and also for the West Coast education that was better than Alabama's (his words). He started with Nike…not 'fit' or 'coach' or 'family' or 'pro prep' – he was 'doing business' before he stepped foot into college.
Thibodeaux thinks he's on Shark Tank…already. He thinks he's the smartest business guy in the room…and he will let you know it. Thibodeaux is working on a project with Phil Knight having to do with NTFs, and Thibodeaux started his own Cryptocurrency – not because he's a tech wiz, I think it's to show how business smart and ahead of the college world he is. The crypto is centered around his charity, which is noble…but his whole vibe is he's on a mission having nothing to do with football…that football is just a way to get quick cash for him and to 'be in business'.
Every interview I watched…I just didn't like Thibodeaux. Aidan Hutchinson is someone you want to talk to and are impressed by. Thibodeaux feels like a low key, caricature car salesman. He's no dummy…but he's too much of a shark, one where you can see the fin heading your way from miles out.
2) I could live with everything I 'felt' from point #1 (above), as a GM… Thibodeaux could be as smarmy as he wants, if he played like a beast – but his tape backs up the (lack of)  'fire' problem/the lack of 'beast'…and backs up the notion that he's only in this for himself/the money.
Thibodeaux has NFL-worthy physical traits/skills. Not top notch, but NFL-worthy. He's not a supreme edge rusher talent. He's maybe 'good' at best. However, he plays in a manner that makes him not-that-good.
You watch play after play of him vs. Utah (his toughest matchup of 2022, played them twice) and you'll see a guy who:
(a) is easily blocked by the left tackle most every play.
And (b) you see a guy who CANNOT wait for the play go the other way so he can jog half-assed after it (or just come to a near stop and watch)…his tape shows someone who doesn't want any part of the action. He's very often hesitating into contact…he doesn't love/seek/go blindly into contact most plays and pass rushes.
On every play, he looks like his #1 goal is to see if he can speed by a blocker or if not, then the goal is to make sure his feet don't get tangled up or put at risk when other bodies are near him. He plays football like a guy who is going to get a $50M bonus if he doesn't hurt his feet or any body part by game's end.
It wasn't just the Utah game. It was every game I watched. Thibodeaux is not aggressively chasing plays with a never say die attitude, racing all over the field. He gives you a bland speed or bull rush attempt (he's really not a talented pass rusher, just an 'athletic' college one), and when his pass rush doesn't work he just hits the brakes and watches the play go wherever it's going…there is almost a sense of relief in his body posture when the play starts going away from him. God forbid the play comes back his way, then he has to slow up more to make sure he isn't in the real scrum.
It's a weird thing to watch, but I've been doing this for 10+ years and watched a lot of tape…and you can usually find guys doing this in the NFL – just playing safe to not get hurt, just taking the money. Mark Barron 2020 (or 2019) with the Steelers comes to mind as a recent example. I know it when I see it, and then I can't unsee it – and I see it clearly with Thibodeaux…the very subtle ways a player moves to stay safe on the field, while semi-looking like he's going all out. Mastering the art of the slower pace chase after a play going away from you…Thibodeaux is working on his 'Masters' at that. Head down/blind pass rushing as often as he can, dancing with a blocker and usually getting blocked away from the play or QB so he isn't involved in as many car accident tackles/hits/plays or just scrums where his feet can get tangled in the fray.
When you see this selfish/passive style of play combined with his off-field persona…they both make sense together…and it's not a good combination.
Thibodeaux has decent physical skills. He can occasionally run past a blocker or bully them backwards and snag a QB trying to escape pressure. You can watch cherry picked highlights of his play and think he's great…but when you watch all the plays, even the non-sack ones (because all you'll see come the draft is a handpicked few of his successful plays), you will see a guy coaches and scouts will not like…as Todd McShay alluded to already happening.
The thing is -- Thibodeaux doesn't have any great numbers/production to boast about either. I mean, his best efforts on the field aren't even that good – but he has the media wrapped around his finger right now…and they say he's awesome. Phil Knight needs him to get a big contract to boost their relationship, as a speculation…so, I'm sure Knight is not helping push this media clout in any way…
Scouts and GMs and owners are terrible judges of talent and personality, by-and-large, so Thibodeaux could still go top 10 overall to an asleep organization…maybe, but the drumbeats of the problems are starting to get a little louder every day. If he has a mediocre Combine, he's really in trouble. NFL teams will send disinformation pieces out (lie to analysts) on how much they like him…hoping to bait the idiot teams perpetually in the top 10 to take him.
If I were an NFL GM, I wouldn't touch him. I'd have zero interest in him. He's not that good/dominant as it is…he's a hoax on his upside talent, but then factor in the persona and selfishness you're getting on top of it…if you actually give this guy millions, it's not going to reel him in – it will only light him up to be himself (the big business guy) even more.  
Kayvon Thibodeaux, Through the Lens of Our DE Scouting Algorithm:
 -- Never led the PAC-12 in sacks, and never in the top 20 in sacks in the NCAAs any season. I'm not sure where this great pass rush claim is coming from?
 -- 19.0 career sacks in 30 games? Will Anderson (Alabama) had 17.5 sacks in 2021 season alone.
 -- Thibodeaux set a career high in sacks as a freshman (9.0) and really hasn't put up better numbers since. Most prospects grow into greater production – not Thibodeaux (and it's not because he's getting double teamed…no need to).
 -- Two career bowl game appearances…0.0 sacks in those two games.
 -- 3.0 sacks in his last six college games, flimsy considering that almost all he does is go for sacks.
 -- Two games against higher-ranked Utah in 2021 season, and his tally in those two games: 1.0 TFL, 0.0 sacks.
2022 NFL Combine Measurables projection:
6'4"/250 (and it wouldn't surprise me if he was under 6'4" despite being billed as 6'5"+.
4.65+ 40-time
7.2 range for three-cone
20 bench reps
36" vertical 
The Historical DE Prospects to Whom Kayvon Thibodeaux Most Compares Within Our System:
People had a lot of hope early on in the draft process with Shilique Calhoun and Rashad Weaver…seen as high end pass rush prospect hopes, but they fell as the draft process went on…and they flopped at the NFL level. Thibodeaux could walk right in those same shoes…
DE Score

Last

First

Yr

 

College

H

H

W

Bull Rush

Speed Rush

Pass Rush Metric

Tackle Metric

5.518

Thibodeaux

Kayvon

2022

Oregon

6

4.0

250

7.96

6.11

6.73

6.70

4.181

Calhoun

Shilique

2016

Michigan St

6

4.3

251

7.26

6.63

6.87

4.80

6.201

Armstrong

Dorance

2018

Kansas

6

3.5

257

7.03

3.30

5.92

6.31

5.636

Weaver

Rashad

2021

Pitt

6

4.3

259

8.01

4.97

7.01

6.23

4.759

Finch

Sharif

2018

Temple

6

4.1

251

7.14

6.31

5.80

4.98
*A score of 8.00+ is where we see a stronger correlation of DEs going on to become NFL good/great/elite. A score of 10.00+ is more rarefied air in our system and indicates a greater probability of becoming an elite NFL DE.
All of the DE ratings are based on a 0–10 scale, but a player can score negative, or above a 10.0 in certain instances.
Power-Strength Metrics = A combination of several measurements. An attempt to classify the DE prospect as more of a battle-in-the-trenches type of DE, a 'bull-rusher', and/or a DE prospect who has some DT capabilities.
Speed-Agility Metrics = A combination of several speed, agility, size measurements. A unique measuring system to look for DEs who profile more as speed-rush, stand-up DEs, and/or possible OLBs.
Pass-Rusher Rating = A combination of physical measurables, and college performance, graded historically for future NFL profiling. In the simplest of terms, this is an attempt to classify whether a particular DE is likely to achieve high sack totals in the NFL. We know the 'system'/scheme the DE goes on to play in has a part in future success...but so do the player's skills and performance history. "You can't keep a good man/DE down," we'd like to think.
Tackling Rating = A combination of physical measurables, and college performance, graded historically for future NFL profiling. In the simplest of terms, this is an attempt to classify the DE as one more likely to be involved in a heavy amount of tackles, tackles for a loss, and forced fumbles. Lower-scoring DEs in this subcategory tend to be more pure pass-rushers/specialists. This is also our attempt to quantify, if it's possible, the 'toughness' of a player.
2022 NFL Draft Outlook:
You see him top 5 most often, occasionally outside the top 5 but not past the top 10. I think he's gonna fall very hard in this draft. Remember when Greg Rousseau was being pushed as the best edge rusher in 2021, early on, a top 5-10 pick? He ended up #30 overall in reality/the draft. Edge rushers can fall fast in the draft, and Thibodeaux will get shot holes in from all angles…from his size/Combine to his tape to his personal interviews. I wouldn't be surprised if he fell out of the 1st-round…unless Pete Carroll or Bruce Arians wants to father him, as they are wont to do.
If I were an NFL GM…Thibodeaux is not seriously on my draft board. I'm not taking whether he falls or not.
NFL Outlook:   
I think he comes into the NFL, after falling in the draft, and everything they say is true on him and by year 3-4 he's cut and drifting around and then out of the league around year four. If he sticks in the NFL, he'll be forgotten…quickly. A bit player.