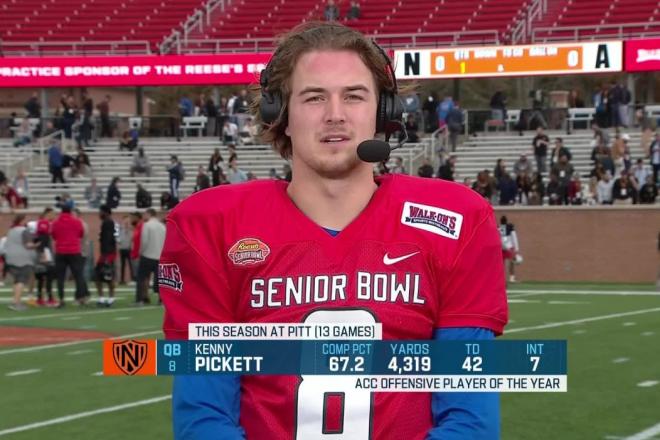 R.C. Fischer
Total Football Advisor
08 February 2022
I watched the Senior Bowl game twice, taking notes along the way…and listening to the commentary from the NFL Network analysts looking for media clues and cues. I'm going to present my notes in roughly the order I took them watching it back...some of it referring to the game, other times practice week or outside thoughts I had triggered by some event in the game.
I'm going to go into some different looks at the QBs (since they ARE the most interesting position group this season) at the very end of this piece. I will touch on them in my notes as they entered the game (taking turns/rotating) but go in unorthodox paths at the end.
With all that said, the Senior Bowl Game notes from the RC worldview…
--1ST-QUARTER--
 -- Malik Willis (2-4 for 11 yards, 0 TD/0 INT, 4-54-0) started, as expected, and his team got the ball first…and Willis played overall 'OK'.
As I wrote/predicted ahead of time…the practice week was not going to Willis's friend, but the game itself could be because the offenses are typically so disjointed and a mess that we don't see real QB play…so broken plays and scrambling QBs can rule. And Willis, for his brief time, did make a couple nice runs in the game.
The edge rushers in this game are so hyper focused on getting to the QB for a sack, a standout play, that they put their head's down and get after it, and that would allow Willis to have escape lanes and take off running…frustrating the defense, wasting the WRs, and give us the only real cool plays QBs have in this type of game (the off script scramble), unless they hit on some bombs (and no one really did in this game).
Right before the end of the 1st-quarter, which is like the end of the half for the convoluted rules in this game (possession changes at the end of each quarter for some reason), Willis dropped back to pass from 30+ yards away, likely going for a Hail Mary (so the defense thought), but Willis did what he usually does…runs. So, he escapes and runs down thru middle on a prevent defense, but then makes a move to the outside and suddenly it looks like he may run this thing in for a score…but he got tackled a few yards short of the goal line. It was the most exciting play by a QB in this game. Sad but true.
It's an important play because fanboy analysts, fanboy media, and general fanboys saw that play and got all excited…because we love a scrambling QB making nice runs away from the defense. It's not a real showcase of the QB's pocket/passing ability, but that doesn't matter to video game boy/fanboy. Willis made a cool play and then was done for the day…he left on a visual high note. Analysts left comparing him to Kyler Murray.
I leave the 2022 Senior Bowl week thinking Willis is a little better QB than I walked away in my initial scouting on. He is a more elusive runner…like a Tyler Huntley or Justin Fields…than I initially scouted. He's an OK-ish passer, because of his scramble threat opening up the defense some, but I still don't see a real pocket passer for the next level…so he's going to have issues when defenses contain him to the pocket.
He's not the best QB in this draft, but he's not bad -- but now, after this week, people think/hope he might be. He definitely helped, not hurt himself this Senior Bowl week. Willis has prospect momentum right now, but it's flimsy…but you'll see mock drafts shooting him ahead of Pickett a lot this week/month.
 -- When Malik Willis made that nice scramble and run right for a near-TD right before the end of the quarter, he was running past everyone impressively but then Wyoming LB Chad Muma (9 tackles, 1 PD) cam flying from out of nowhere and snagged Willis and threw him down to save a possible score.
However fast Willis runs…4.5s or 4.6s?... Chad Muma is faster. So, Muma is 6'2"/241 and may run a 4.4-4.5 40-time, which wouldn't shock me at all.
Muma had a great week, and he's CLEARLY the best ILB prospect at this event, anyone who thinks Oklahoma's Brian Asamoah is clearly superior/better (and they all do) is just jock sniffing 'Oklahoma'. Muma is the real deal. Asamoah is fine, but I'll take Muma…especially since he may not go in the first two days of the draft. He might now after this great week in Mobile.
It's hard to get a real feel for a linebacker at the Senior Bowl, until the game itself…and Muma showed his little practice flashes were just an appetizer as to how good he is in game conditions.
 -- Kenny Pickett (6-6 for 89 yards, 1 TD/0 INT), as expected, started for the National team and was 'perfect' (6 of 6 passing) on the day, and he left on a semi-high note with a 20-yard TD pass for the game's first score.
It wasn't as good as you think. Here's my notes on his play…
1) He had a bunch of checkdowns, mostly…including the TD pass. The TD pass was a little flare out of the backfield and the RB did all the work (with nothing but open space in front of him) to rumble 20 yards for the score.
2) Pickett had a shot to get noticed for a big time throw…he had a WR flash wide open, streaking down the sideline, because the covering CB fell down in their collision off the snap. The WR sprinted 10+ yards and then cut inside to an open space past the corners and in front of the closing safety. Had Pickett unleashed a rocket to the WR in stride, it would have been (a) impressive visually, and (b) a 20+ yard downfield strike and then the WR running 20+ yards for the score. It woulda looked fantastic for the highlight reel and countered Willis's scramble moment.
Instead, we got Pickett underthrowing the pass terribly, the WR diving to the ground to make the catch and then getting up and running for a few more yards (that's how open he was). It was a moment lost for Pickett. The entire week was a loss for Pickett.
He had the hand size issue right off the bat. He played it safe in practice all week – no real fire in practice, no real fire in interviews. He acted like a politician who was sitting on a big lead before an election, and just needed to not say or do anything stupid to seal the deal.
I entered the week 100/0 (Pickett/Willis) on Pickett being the top QB to be taken in the 2022 NFL Draft. Now, I leave the week thinking…80/20 it will still be Pickett.
I entered the week 75% sure Pickett would be the #1 overall pick (eventually), but I left the three practices at 50% sure, and now with the game and the full week perspective and listening to people talking…I'd say I'm 30% sure he'll be the #1 overall pick and falling.
Now, a few things can/will happen ahead to re-light his #1 overall potential…
1) People will forget about this event in a week, which is good and bad…because people are leaving with a generic 'meh' Pickett. They entered mildly intrigued. They leave unsatisfied. But this entire week will be mostly forgotten soon (right around Combine week).
2) If his hands come at 9" or just shy…he can get that issue behind him. A measurement of 9.0" would be beautiful. 8.5" inches and he's done with any chance to be a #1 overall or top 5 overall…or maybe even done as the #1 QB taken. If we can get a 9.0" read the momentum changes. I have a feeling he's coming in 8.75" and that will not be lethal, but it will not generate momentum.
3) When people see his physical size compared to Willis-Howell-Corral at the NFL Combine, and if he shows a bigger arm indoors, especially if he does so with no gloves on…there will be more conversation on his 'pro style readiness' and his size and look and arm will get people motivated. But he's never taking off those gloves. I think he's eating dinner with those gloves on…telling us all 'it's an issue'. I never see him without those gloves on.
4) If Joe Burrow wins the Super Bowl, and Pickett gets more and more Burrow-lite comps…that's a good thing.
5) If we can get some rumors going of Detroit whispering his name (even as disinformation) or his Matt Rhule connection (committed to Temple/Rhule out of high school, but then switched to Pitt as Rhule was about to head to Baylor) start getting the #6 spot percolating…maybe we can get some heat of people realizing that the QB is the key and Pickett is the best pro-style one here, so you may have to overpay for him.
There's still hope on this bet of him going #1 overall, but the odds are worsening…50-to-1 is worth a light snack, maybe.
Pickett is the best QB prospect in the 2022 NFL Draft. The Senior Bowl game itself is not a great showcase for a pro-style QB in disjointed offenses thrown together, and coaches wanting checkdowns so they can 'win' the game. We need Pickett's hands to grow and then him to stand tall at the Combine, and interview like he gives a crap…and then we can get some momentum from there.
 -- There was a lot of talk all practice week on how good, how fast UNC WR Calvin Austin (2-45-0) was…but I never really saw it. He's not bad, in fact he's OK/good…but not 'wow'/great. He'll be a solid pro, maybe even a good pro…but I never took a note on him all week where I was blown away, but I could see he's fast/scrappy/good.
No WRs really stood out this week. I mean, technically, some stood out over others…but I mean STOOD OUT like 'wow'. I'll re-grade the WRs (and all position groups) post-even this upcoming week and publish it. There is no 'A' prospect going in or coming out of the week.
Not helping the WRs was the fact that the cornerbacks were so good…way better than the WR group this year.
 -- EDGE DeAngelo Malone, Western Kentucky (6 tackles, 0.5 sacks) had a good week and had a nice individual/memorable pass rush moment here. He looked solid all week…a sleek 6'3"/234, former WR-turned-edge rusher might have taken himself from a day 3 to a day 2 draft pick here.
On a 3rd-quarter play/battle, Malone got under the highly/highest lauded OL here, Trevor Penning, and drove him back five yards almost right into the QB for a sack via blowing the O-Lineman into the QB. I'd not seen anyone dominate Penning like that all week…but it was just one moment…still, memorable.
 -- All the O-Line talk all week was mostly surrounding Northern Iowa's Trevor Penning…and it built all week. He was one of the practice day three stars for the ESPN and NFL Network coverage team. He's the kind of guy the Lions staff (especially) loves. He had 'moments'…throwing people down, getting into minor skirmishes. He did what Kenny Pickett failed to do – Penning had moments the scouts can remember – the scouts who NONE of them are ever taking notes while watching 50+ players doing things all at one time for three days' worth of practices…you won't see a pen or paper or iPad anywhere among the observers on the sidelines or crowd…I never do. I had a notebook and pen handy taking notes my very first year I ever went to Mobile for the event, and every time I've gone since – and people looked at me like I was a narc at a biker rally.
Back to Penning…that's why the Malone note above this one will matter…anyone looking good vs. Penning in one moment gets a boost. Making memories is the most important thing a prospect can do at the Senior Bowl – because scouts and media are not seriously studying this in detail. Many in the stands, away from their bosses, aren't even paying attention…I know, I've been among them. And if you think 'Oh, well they'll watch the tape later'…sure, sure they will. Then why are they there in the first place sitting around for no reason?
Penning is moving into everyone's 1st-round and is probably on his way to the top 15 overall with the momentum built here.
 -- A couple analysts pushed Tennessee WR Velus Jones (4-53-0) as a 'Kadarius Toney' like prospect, which is titillating…but I didn't see that instant/obvious athletic 'wow' on Jones. He got some decent targeting in this game and returned kicks, and I watched him in the drills during the week…I just didn't see him stand out. But he probably got enough attention to get into the 4th-5th-round of the draft now.
--2ND-QUARTER--
 -- So…early into the 2nd-quarter, Lions HC Dan Campbell H-C gets interviewed live/in-game action by an NFL Network reporter. He gets asked the obligatory question about the week/players. Campbell quickly says it's about (I'm paraphrasing all his words) 'Seeing who is playing for themselves or playing for the team'. And the reporter smiled at the brilliance of that answer and quickly moved onto his next question.
However, it made me stop and ponder – who is Campbell fooling? 'Who's in it for the team here, really'? This is a thrown together all-star team that's very focus/centerpiece is individual judgment and individual performance. No one cares or even knows who is on what team or how the team did. It's really ridiculous – but I know this from the various Campbell interviews this week…he absolutely believes it.
Dan Campbell is so hyper-focused on 'team' that he can't see straight. I think Dan Campbell loves being on a football team more than anything else in his life, and in soundbites it sounds great. It takes us back to the days of our youth playing ball for bizarre human beings we called 'coaches'…guys who held our playing time, etc., in the palm of their hands. They were/are like gods…for some reason.
I just started reading the book 'Better to be Feared' (an inside look about the Patriots end of the Brady era and the 'Patriots way', etc.). There was a line in the book that describes Bill Belichick (noting how odd/unusual he is for the coaching profession) – (going from memory on it) 'He is an introvert, nerdy/cerebral personality among a group of glorified gym teachers.' When I listened to Dan Campbell speak on the sidelines in-game…it made me remember that it was his same manner all week…that 'gym teacher' quote played over-and-over in my head.
The NFL Network guy tried to get Campbell to spill beans…
(My memory of the question wording and answers/paraphrasing…)
"So how would you like to see Willis making plays for the Lions next year?" Campbell laughed, knowing what the reporter was doing, and sidestepped any talk of it and noting he wasn't going to give away any scouting/insight, etc.?
"Who else do you like out here?" Again, Campbell side-stepped.
The reporter took a third pass at cracking Campbell, as if he knew he could eventually…and he did. "So, what are the specific needs for the Lions in the draft this year?" Campbell laughed and said he wouldn't get specific about such things. And then within five seconds, Campbell spilled some specifics…
(This I rewound the tape and wrote the specific words to share with you) "We're focused on all areas to just get better. (PAUSE) You'd like to have another receiver. You'd like to have a linebacker, some O-Line help, some more DBs…" And then he caught himself realizing he just blurted out specifics and they ended shortly after. The 'you'd' was really code 'we/me/us' by Campbell.
I would tell mock drafters to focus on WR-LB-OL-DB for the Lions early on, because I don't think Dan Campbell is ever 'playing poker'. I envision him sitting at a poker table, holding his cards up by his face…only the cards are all faced out the other direction and he's slyly staring at the backsides of the cards.
He didn't mention QB…I believe him. I think they are looking for the next Jim McMahon out there somewhere. Sam Howell is maybe the closest to that in this draft. I think they're good with Goff-Boyle right now.
I thought Dan Campbell's interviews this week were all pretty eye-opening/ridiculous…made him look like the worst of what we think of him. He wasn't coaching this week, just there/supervising his junior staffers getting the chance to take charge. When they interviewed guys on his staff, or we when got to watch them work/communicate with the players…it was all the same high school gym teacher/football coach stuff…the guy who still yearns to play, the guy who's tough guy attitude carried them all through their schooling and into the NFL. They know no other way than to be a meathead/lunkhead personality – it's not an act. It's real. And it will wear thin in the modern NFL era.
But fans like it…for now. The kneecap biting and all. It's a schtick…but not a schtick to them, they really believe it – which is why free agent skill position players will avoid the Lions like the plague. They'll always have a scrappy, never-say-die team that will never be real 'winners' in the NFL. They won't write books about Campbell's coaching prowess 20 years from now. By the end of 2023 season, when the honeymoon is long over, and Campbell is losing and can't deal with it…the fans will turn on him, he'll become a deeper caricature of himself on his way to being fired after 2023 maybe 2024.
Sorry to my Lions fans. I just can't go here after watching them this week. Lazy practices. Delusional interviews. Nonsense words to the players. All this 'team' talk. They all feel like they're desperately wanting the emotional security of 'the football team' because they know no other life…like an inmate jailed at age 20 and now released into free society at age 50…those kinds of situations/people typically want back in prison because they know no other way of life, and they feel better staying in jail – same with Dan Campbell and 'the football world'. He'll die on the field or in a practice. He won't ever not be associated with football. It's his oxygen.
You think it's 'passion'.
It's a delusion. He's living a Metaverse football life but he doesn't realize he has the A.I. goggles on.
This isn't the way to coach the modern athlete/team in this era.
You'll see, soon enough Detroit...
 -- Dan Campbell did gush about one player specifically, when pressed in that sideline/in-game interview…before I say who it was, given my description of Campbell -- what kind of player type/position comes to mind as to who he'd love?
You won't be surprised one bit to know it was 5'11"/239 fullback Connor Heyward (2-6-0). I think when a fullback dive is play-called, and a guy like Heyward is met at the line of scrimmage but the pads pop and he bullies his way for +1-2 yards fighting through the near TFL…I think Campbell has a religious/orgasmic experience. Nothing is better in the universe, to guys like him.
Heyward showed well this week. He did what you'd suspect 5'11"/239-pound fullback would do at this type of event. Because most NFL coaches are glorified gym teachers…they all took notice of Heyward, and even extra that he's an NFL relation (Ironhead Heyward/Cam Heyward), so he has a high profile for the 2022 NFL Draft. He'll be a 4th-round pick as sure as I'm sitting here…probably to the Lions…
 -- 'Surprisingly' the Lions had all the big, beefy RBs on their team for the Senior Bowl event. Led by big guy RB Alabama's Brian Robinson (6-18-0).
Robinson showed little all week, but to be fair – the Senior Bowl is a terrible showcase for the RBs all week because there isn't normal 11-on-11's with real contact, etc, all practice week. You get a little better feel for them in the game itself. Robinson looks big…and mediocre, at best. He doesn't seem to be one in the great lineage of big guy RBs from Alabama.
 -- Georgia linebacker Channing Tindall (5 tackles) had a 'money making' play on special teams here in this quarter. On a kick return, the return man started out going up the middle but then kicked it outside to his left and beat everyone in camera shot to the outside and you started to think he might be taking this to the house. Then Tindall came to the sidelines, from midfield, and seemingly out of nowhere ran past everyone on his own team and caught/wiped out the return man.
They showed the replay and man was it impressive…Tindall was way behind the action to start but just flew at a different speed to go make the play. He's an NFL athlete for sure. Higher end speed among this group of defenders.
 -- Trevor Penning was the #1 most lauded O-Lineman of the Senior Bowl week, by far. The obvious #2 was Bernhard Raimann, the Austrian may have played his way from a day two pick into a day one discussion.
Boston College Guard/Center Zion Johnson probably had the 3rd-most love…he just looks the part at a glance.
 -- Desmond Ridder (4-6 for 68 yards, 2 TDs/0 INT) came in from his team after Pickett, and he did fine. It's hard to get too excited about the QBs in this game because they had two play calls…(1) screen pass, (b) play action rollout for a checkdown/short pass.
Both coaching staffs coached to impress the coaching circles for future jobs, so they called the plays that were the safest…screens and rollout, short passes. It didn't help their coaching future, nor helped any of the QB's draft stock.
Ridder had an OK week, but he is so small/skinny compared to the other QBs he got lost. He's a competent backup. He's Brett Hundley-ish.
 -- Sam Howell (6-9 for 67 yards, 5-29-1) had the best game among the QBs, and is the one QB who actually helped himself here in the game, reversing the dive he took during the week.
When the bullets were really flying, Howell showed good pocket awareness…firing passes more over the middle than cheap screens, but he really impressed with his escape-ability and savvy running. I wrote in his scouting report a week ago that 'he thinks he's Josh Allen' as a runner, but he isn't. There's some truth to that because he's not the size of Allen, but watching Howell escape the great D-Lines that were overwhelming the O-Lines here…I was impressed. Maybe he is a better runner/avoider of trouble than I gave credit initially.
Howell can play. He's just not an obvious franchise QB…too small, not that fast – but he's elusive, and a scrapper like Taylor Heinicke. He looks like Baker Mayfield in every way, except he's faster and not as good a passer…but NFL competent. A better version of Sam Ehlinger.
 -- So, later in the 2nd-quarter they interviewed Malik Willis on the sidelines. Willis was personable and affable…infectiously nice to talk to. He even acknowledged his low-key tone normally, but discussed how he ramps it up on the field.
Malik Willis had cool scramble plays in this game, and had a very likable, engaging sideline interview.
I mention this for a reason, because in the 3rd-quarter…
--3RD-QUARTER--
 -- So, in the 3rd-quarter they do a sideline interview with Kenny Pickett. About an hour or so prior we saw the Malik Willis sideline interview. Everything about the Pickett interview was opposite the Willis interview. The more this Senior Bowl week plays out…the more Pickett isn't helping himself. It's been a great disappointment.
Willis was smiling, engaging, affable, and was focused but cracked a light joke/witty retort or two. Pickett, by contrast, was looking off into the distance like he'd rather be somewhere else. He gave canned, impersonal, detached answers. Pickett is supposedly this Midwest tough QB, a linebacker-mindset at QB. All his interviews all week showed a longer haired, California cool…too cool for school…mild 'above it all' attitude that is ruining his chance to go #1 overall by the second. He's talking and acting his way to not even being the #1 QB taken. He's not doing anything wrong/bad, he's just not doing anything aggressive/good to help himself – he's costing himself millions of dollars, potentially.
And the Pickett interview was complete with him being asked about his hand size as the cameraman panned down to his tiny, gloved hands. Pickett still doesn't have a good, prepared answer about his hand size. He just blows it off without a funny quip or explanation. He's literally murdering his own bank account/draft stock via personal interviews. Where are his agents/handlers coaching him up on how to act right now in this political/media campaign part of the NFL Draft?
I lose faith in Pickett going top five overall in the draft with every sentence I type, as I think on it more as the week goes.
The good news, I guess, is that Justin Herbert was not the cult of personality either, at the Senior Bowl, but his star got on the rise after the week because of his huge arm (among other things). However, Pickett's star is not on the rise after this week. Our only chance at seeing a big universal draft move towards Pickett is when the lack of competition/other options for the top spot really sinks in, and how important QB is…and how much more talented a pro-style QB Pickett is…then Pickett might stumble into the top five or #1 overall.
 -- I mentioned earlier that the Senior Bowl week is not a great showcase for RBs, just because of the drills and not-real activity for backs in practice. However, the game itself is a shot at more reality. There was one RB, and one RB only, who stood out to me here in this game…and you saw flashes during the week but it's so hard to judge RBs in noncontact drills – the RB was Florida's Dameon Pierce (5-17-1 rush, 1-5-0 rec.).
He got a carry to start the 2nd-half and he just blew through tacklers with his 5'11"/220-pound body and nice acceleration/athleticism/power. Unlike any of the other RBs here, Pierce runs with an urgency, a bucking bronco of power and urgency. He split a lot of work at Florida, so he doesn't have a high public visibility…but people always wondered why he was in an RBBC when he looked so good, so legit.
Pierce reminds me of Kareem Hunt and Elijah Mitchell, I overheard someone say 'Cam Akers'…I could see some of that. He's going to move in national draft rankings from a 6th-7th-rounder to 4th-5th at a minimum, and if he has a 'fast' Combine, he could jump into the 3rd-round. He leaves Mobile with momentum, from the scouts…and from me. He was the most promising back here that I saw…among a very mediocre group.
 -- Speaking of Pierce, who started to show he was the best RB talent here in the 3rd-quarter…by running around and through tacklers – we have to note that Pierce didn't do so against that Wyoming ILB we mentioned in detail earlier, Chad Muma. When Pierce met Muma in close quarters on one of his carries, Muma wrapped him up and threw him to the ground with impunity all on his own/solo.
Muma really is one of the top prospects leaving here…but he wasn't really considered that highly going in. He will be now.
 -- I didn't love Cincy CB Coby Bryant as much as the general draft society in my preview scouting…some of it was that there was so much talk about his name being like the famous hoopster. It felt like his scouting was all about the name connection, oddly. However, he will rise in my post-event grading – because that dude can play. I was behind on him. Not anymore. He has the athleticism and size you want in a cover corner, but he has a safety's mentality…he's a bulldog of a corner. He could jump into the 1st-round with the right Combine.
 -- QB Carson Strong (6-11 for 67 yards, 0 TDs/1 INT) entered the game this quarter and didn't really do anything to help himself. The narrative is set – he's an OK Mountain West Conference QB who has a history of concerning knee issues. He did little this week to dig himself out of that hole.
He's a decent QB mind/arm, a legit mid-round prospect if he were totally clean…but if not for the knee issues that will scare everyone away.
 -- The best safety here…Baylor's Jalen Pitre (5 tackles, 0.5 TFLs). He's going to be like an Elijah Molden (2021 rookie, Titans), who was/is a better version of Tyrann Mathieu, and who was undervalued in the 2021 NFL Draft – smaller guys who are just great football players, guys who can cover and hit people.
I think Pitre is going to be a day two guy like Molden (pick #100).
 -- All week Minnesota edge rusher Boye Mafe (3 tackles, 2.0 sacks, 3.0 TFLs) was the best edge rusher in Mobile. This game didn't do anything to dispel that notion. Mafe has gone from top 100 or so prospect to top 50, on his way to the 1st-round I suspect. He's just too good to not be a top 50 consideration.
Everyone has been barking about Florida State's edge rusher Jermaine Johnson, and he's a legit top edge guy too – but whereas Johnson looked sweet in 1-on-1s, and a little less noticeable in the 11-on-11s…Mafe was 'real' in the 11-on-11s as well as the 1-on-1s. I'm not totally sold on Johnson, but the entirety of the football scouting world is from this week. Made, I am sold on. Was from the start…and even more so now.
--4TH-QUARTER--
 -- So, into the 4th-quarter we get the Robert Saleh sideline/in-game interview. Saleh's interview time was everything that Dan Campbell's was not. Saleh talks like a normal human being who is aware that he's the CEO of a major business enterprise…and he's not going to spew any business secrets on air because someone asked him, because he's so excited to talk about football because his oxygen is football stuff.
I'm not saying Saleh is a good or bad coach of things. I'm just saying, if you job interviewed both Saleh or Campbell to be the head coach of your NFL team, the choice you made says more about you/your preferences – because these guys couldn't be any different.
When you allow a meathead ex-NFL linebacker whose entire reason for existing is to be around football, like an energy source, essentially run the organization…Chris Spielman…then you're going to get meathead things run by a group of meatheads who probably spend more time in the gym/working out with free weights each day than they do studying the salary cap and analyzing all the breadth of the prospects for the NFL Draft.
I hate to be so negative on Campbell, but I'm calling it as I see it…and I saw too much Campbell revealed here, and it didn't make me believe he was going to turn the Lions around. BUT…NFL head coaching talent is easy to diagnose…by asking, "Who is their QB?" Jared Goff? OK, they might be a wildcard team in the future. Is that your great desire? A good enough NFL QB running a stiff offensive system for an organization that will have a hell of a time attracting high-end offensive weapons during the Campbell regime. They're gonna have to draft them…and develop them. Watching/listening to the Senior Bowl week…I don't think that's Campbell's forte.
 -- Perrion Winfrey (5 tackles, 3.0 TFLs, 2.0 sacks) registered another sack in the 4th-quarter as his team's defense started teeing off on the opposing offense late in the game. Winfrey is another prospect who blew up at the Senior Bowl, all week…potentially moving himself from 2nd-round to 1st-round prospect (we'll see what the Combine says…but post-Mobile, you'll see him 1st-round of mocks now as a knee jerk reaction, rightfully so).
Winfrey is another reminder for me of the difference between guys who shined mostly in 1-on-1 drills, and the rare few guys that shined in 11-on-11s, as well as 1-on-1s…like Perrion did. Perrion did not enter Mobile as the top DT prospect there, but I think he leaves as the top guy…with his play, and with his measurables (longest arms, wingspan of the DT group).
 -- 4th-quarter, we finally got to see Bailey Zappe (8-13 for 103 yards, 0 TD/1 INT). I thought Zappe had the best day two and three practices of the QB group…among a not-all-that-impressive a QB group. However, he did not carry that over to the game itself.
Zappe definitely looks like the best processor, little detail worker QB among the group…and I could see small flashes of it in the game here, but the fact he was in the game so late and really left out there to die as the D-Line was teeing off on the O-Line by this point – it was going to be difficult for Zappe to have a moment.
He did have a 2-minute drill offense to run (down 20-10 late), so he could've had a moment, but he was under pressure quickly by a savage D-Line knowing he was going to throw every play so that there was hardly time to run the offense/throw a legit pass.
Still, Zappe had his chances…and he led the team down the field, not all that impressively, and then he had a real chance – a wide open receiver slicing through the prevent defense corner to his right and safety playing centerfield from about 30 yards away from the end zone. Had Zappe planted and thrown a dart he might have hit the receiver near the goal line for an easy walk-in score. Instead, Zappe floated a touch pass out there and the centerfielder safety flew over and stepped in front of the pass and ended the game with a pick. For anyone who questioned Zappe's arm ability…he gave them red meat to gnaw on with that balloon ball. Zappe is better than that and he had some pressure moving on him that might have altered the throw, but the memory will be the balloon ball pick.
I like Zappe a lot, but I know there's almost no chance in hell that he gets a shot to develop in the NFL. It will take a perfect storm to even get him real reps in practice. I'm a fan, but I know he's almost doomed by the scouts wanting 6'3"+ and/or sizzling scramble ability.
OK…that's the Senior Bowl for this year! Onto the NFL Combine as the next piece of this ever changing, every discovering puzzle known as the NFL Draft scouting process.
For the next week, we will re-grade the Senior Bowl prospects after seeing the entire week's activity and publishing the new grades/rankings, daily by position group, over the next week or so.
------------------------------
A few 'extras' on the Senior Bowl QBs…
Where do I see this group of QBs landing in the 2022 NFL Draft now? My predicted order (as of now, but will change after the Combine I'm sure):
1) Kenny Pickett – my prediction is #6 to Carolina. He has a relationship with Rhule, and the Panthers need some hope to build on.
2) Malik Willis – I'll bite…I'll join 'the Steelers' chorus. The Steelers move up into the top 15 to draft Willis.
3) Sam Howell – 3rd-round late, 4th-round early
4) Desmond Ridder – Day three pick. Late 4th, early 5th.
5) Bailey Zappe – 6th-round…and watch Detroit for the pick here. Hopefully some team jumps to get him ahead of Ridder in the 5th-round.
6) Carson Strong – could have been a 3rd-4th rounder but that knee issue will take him into day three of the draft and potentially a 6th-7th-round, possible undrafted due to his knee.
The lack of strong QB prospects will drive Pickett and Willis higher than they are mocking/trending right now…the notion of that hasn't sunk in yet to the mainstream.
Come along for a side journey with me…
Prepare your mind for this fake-world…a world where we're going to draft the NFL QBs from the 2021 AND 2022 class but thinking of them as the college kids that April of their drafts (not knowing their 2021 season on the 2021 rookies), what the scouts/teams and media thought of them before they were drafted (according to me)...
A QB ranking of this make believe 2021 + 2022 QB draft, according to the NFL establishment:
1) Trevor Lawrence (which was all absolutely wrong)
2) Justin Fields
3) Zac Jones
4) Zach Wilson
5) Kenny Pickett
6) Malik Willis
7) Matt Corral
8) Davis Mills
9) Sam Howell
10) Carson Strong
Where I would rank them, for what I think of the 2022 class so far…but we're still scouting and have the Combine coming up…BUT knowing what we know of the 2021 performances…
1) Zach Wilson
2) Kenny Pickett (and I'm getting cold feet daily here)
--I wouldn't bother highly drafting any other QB from here on, but we'll continue for fun…
3) Bailey Zappe (I would draft, day three as a bargain)
4) Justin Fields
5) Davis Mills
6) Mac Jones
7) Trevor Lawrence
8) Malik Willis
9) Sam Howell
10) Matt Corral (haven't finished my initial full report yet, he may fall from here or go higher)