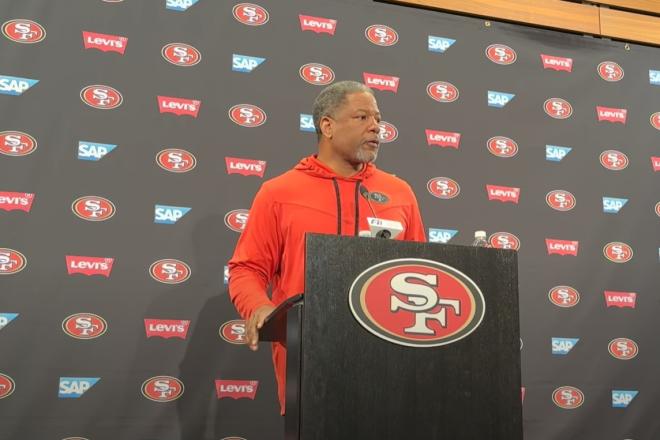 R.C. Fischer
Total Football Advisor
26 May 2023
Intro: In this 'pairing' series, we'll take a quick look at the top defensive units (talent-wise, per me) and try to find their best 'pairing' match schedule-wise for 2023. We have to consider pairings at DST right off the bat because there are no shutdown defenses and there are so many good offenses now, it's hard to find any one DST that has a great schedule run on its own -- but combining two DSTs that have schedule's that complement each other might just get us by with an advantage at the position.
The 49ers defense tied for 3rd best in FF DST scoring last season. Despite some weakness in their secondary, their strong front seven and just good team/coaching staff overall got them into the upper echelon. NFL analysts and general football fans and FF owners respect the 49ers-DST on name/reputation alone -- thus, they are a top 3 ADP DST for FF 2023…for many, their #1 ranked DST.
However, a closer look at the 49ers 2022 DST output reveals their FF scoring bump was aided by their weak division (Rams and Cardinals QBs collapsed) and other fortunate schedule breaks (facing Miami without Tua, etc.) also helping push the 49ers-DST scoring. The good news on that is -- the NFC West is still kinda weak and the 49ers-DST schedule has a favorable start for the first six games (including ARI and LAR). The overall picture of a solid defensive unit + good coaching (even with constant D-C changes) + favorable early schedule = the 49ers-DST is worthy of their lofty ADPs (but too rich for my blood).
The schedule turns Weeks 7-8-9…at MIN, CIN, BYE. Three potential sits…then the schedule is fairly favorable the rest of the way outside of Week 13 vs. the Eagles.
If you desire to run with the 49ers-DST, or already possess them in Dynasty, etc., or want to run them in Best Ball, our computer shows one DST that pairs the best with them…and that DST is divisional foe Seattle-DST.
Covering for the 49ers-DST Weeks 7-8-9 is the priority. It would be good if a DST pairing covered Week 13 as well, but there is no DST that is strong (on paper) all four major-need weeks of the 49ers-DST. The best pairing is one strong Weeks 7-8-9 and then do your best by Week 15.
When San Fran is weak Weeks 7-8-9, Seattle (a good, up-and-coming DST in their own right…perhaps better than SF) faces ARI-CLE-BAL. And Week 13 isn't a perfect cover by Seattle, but you'll likely take them facing Dallas than SF-DST facing Philly.
49ers-DST holders…Seahawks-DST is your clear, best pairing on paper.