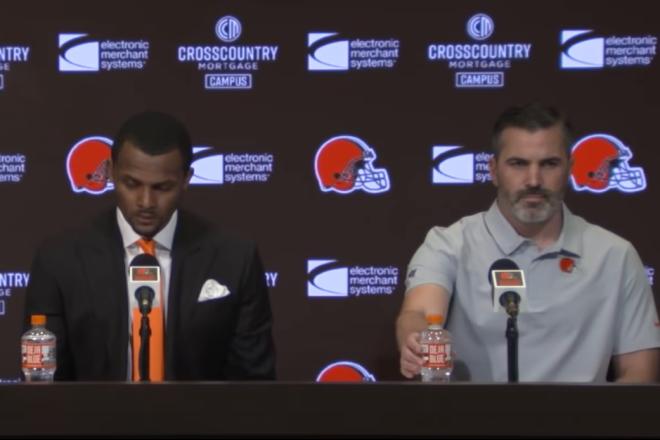 R.C. Fischer
Total Football Advisor
24 May 2023
Several 'REWIND' series reports are on tap for 2023 offseason, and many of them are going to be from the QB position with the rise of guys like Purdy, Geno, Trevor, Dan Jones, some literally out of nowhere and the fall/struggle of other established QBs like Baker, Dak -- we're going to go through their 2022 seasons and see if their 2022 is a blip or trend and what explanations there are for this sudden turn (in 2022). Because of the QB's effects on the WRs/TEs for FF outputs and how we will project the related receivers for 2023, the QBs 'in question' are gonna be high on the list of players to study this offseason.
Did the risers really rise…or did they get lucky? Remember when Carson Wentz was thought to be the next big star after a breakout season? Did anyone think Geno Smith could go from national joke to MVP candidate in just nine short years? Why does no one believe in Brock Purdy's pop, but everyone does believe Trevor Lawrence is generational after he had his pop?
There's a million and one questions with QBs in this rapidly/ever-changing era, so instead of assuming from memory of watching them live and on tape last year (when all the games were happening/bullets flying) and instead of just accepting the statistical output on the surface -- I like to go back to the tape on players I worry may have head faked us one direction or the other…to see if there are clues in order to project their upcoming season. I want to go through their game logs/outputs, etc., and see if there is anything to discover…kinda like a detective chasing after a cold case file. Let's take one more deep look before 2023 comes along and see what we can find/scout.  
My first of these reports is this one on Deshaun Watson. Why Watson? Well, it's an interesting twist of a career obviously… The highest paid QB/the mega contract of 2022…the biggest trade of 2022 offseason…the 12-game suspension…the constant court-related events, the 'meh' Browns debut/reveal. I remember Watson being very skittish and underwhelming his 2022 return…and his numbers certainly help confirm that memory -- 58.2% Comp. Pct., 7 TDs/5 INTs, 183.7 pass yards per game in six games.
The data is on the side of my memories, but in order to feel better about my Watson…and thus feel better about my Amari, DPJ, Njoku, etc., projections (and Browns win-loss projections)…and with some concern that I dislike Deshaun so much for various reasons that my judgment could be clouded…all that led me to set out to rewatch/scout all of his 2022 games to see 'how bad was it?'…or was there an initial rust and then improvement shown that could lead to a further leap in 2023? So, that's what I did -- watched every one of his 2022 games (but one) and took scouting notes.
Here are my 2022 season/game-by-game rewatch and scouting of Deshaun Watson…
Again, for context, I was going into this wanting to confirm or even more push back on my simple/quick mindset that Deshaun was pretty bad in 2022 and he may be losing it under the bizarre circumstances that his career has taken. However, after watching all his games, I wound up with some different impressions/thoughts/projections that were a bit of a surprise to me. But the surprise finding is a twist that I didn't see coming. I'll explain when we get there.
Watson returned Week 13 vs. Houston, of all opponents to return back for, and after watching all his 2022 games (but one) in chronological order, I would tell you we should ignore this game. It was his debut, and it was bad (12-22 for 131 yards, 0 TD/1 INT)…but all the games after this were much better than this (because this was so awful). I was noting simple notes of 'positive' and 'negative' and 'neutral' on each play/snap-by-snap in all these games, and this debut game was the one filled with negatives. The rest of his games were not like this at all. So, I throw it out and blame 'rust'.
Week 14, facing a top 10 defense in Cincinnati, Watson was much better/not a disaster (26-42 for 276 yards, 1 TD/1 INT). In his prior game, Watson was short arming the ball, looking skittish/indecisive…the following week here he cut down on all that sloppiness. Week 15 vs. Baltimore was more of the same -- looking more comfortable but not really tearing things up either…18-28 for 161 yards, 1 TD/0 INT.
Week 16 game hosting the Saints was that game in freezing temps and 30-40+ MPH winds…so, it was not normal by any means, and I just ignored it.
Week 17 vs. Washington started a bit shaky (an attacking WSH defense/got sacked 5 times) but Watson pulled it together for a weird 9-18 for 169 yards effort but had 3 TDs/0 INTs. Week 18 vs. the Steelers was played to win by both sides, Pitt having things to play for, and Watson got sacked 7 times but had his best Comp. Pct. game (65.5%) of his return -- 19-29 for 230 yards, 2 TDs/2 INTs.
After watching all the games, the quick summary notes of my Watson 2022 scouting…
 -- Watson improved some each week…or, at least, improved from his shaky debut.
 -- With the improvement/comfortableness…it still wasn't a great, or even good, performance by Watson. There was no juice or dominance on display to make the defenses worry. In fact, defenses saw a weak member of the herd and played to it -- a lot of 7–8-man boxes focusing on Nick Chubb and daring Watson to do whatever. Some of Watson 'looking decent' as he went along in the season came from defenses giving him runway/soft coverages to work with.
 -- Watson seemed unsure too often in the pocket, but he looked fairly sure of his run-ability. Watson took off and ran a recent amount of the time and looked very quick and athletic. He ran for at least 20 yards in every game with a high mark of 44 rushing yards in a game. I wasn't overwhelmed by his running, but he was quick and seemed more confident/felt better on the move than in the pocket.
 -- No great relationship with any of the receivers on display…it was more like Watson was uncomfortable and would just try and find anything he could a lot of the time or the play was scripted and he went with it/didn't deviate -- a planned/scripted throw to a route. As the season wore on, he did lean on Amari Cooper a bit more…and by 'lean', I mean he threw a lot of hope-and-prayer passes to Cooper when he was in trouble or needed to try to convert 3rd-downs.
 -- Nick Chubb rushed for 12 TDs in 12 games prior to Deshaun starting in 2022 season and had half (6) of his games played with 100+ yards rushing. In 6 games with Deshaun to end the season, Chubb had ZERO rushing TDs and one 100+ yard rushing game. Defenses were visibly going after Chubb…and mostly unconcerned by whatever Watson was doing.
 -- Watson was throwing a lot of no/one-read passes. Get the snap, immediately look at the designated receiver, and fire. When he was pressured or tried to go to a 2nd-read…Watson was flustered and not effective.
 -- Watson splits of interest in 2022:
65.6% Comp. Pct. on 1st-downs
59.6% on 2nd-down
48.9% on 3rd-downs
As things got more obvious to pass…Watson was not good.
3 TDs/0 INTs when leading in games. 4 TDs/5 INTs when tied or trailing.
With 2.5 or more seconds of pocket time: a sad 54.4% Comp. Pct. and 4 TDs/3 INTs.
In short, watching Watson's 2022 games in order…he got more comfortable as he went, but he still really didn't look that good (and it's not that he needs more time with the offense…he was uncomfortable playing QB in the NFL, not confused by the offense). He looked more like a shaky game manager than a force to be reckoned with. I think I know what part of the problem is…the Cleveland Browns passing game plan via Kevin Stefanski. And this was the eye-opening/revelation for me of this whole study…
To really set the scene for this we need to go back a couple of years…and look at the Minnesota Vikings. Remember the Mike Zimmer era Vikings? Old school, cranky head coach who wanted to run the ball all the time and paid up big for Kirk Cousins in free agency and then fought with him/the passing game for their entire working relationship? Zimmer's passing game was so problematic that Stefon Diggs spoke out and got run out of town…and then we found out that Diggs was right all along. There was also team-first guy Adam Thielen, a great WR (back then)…who started speaking out against the passing game issues as well. There was also a stretch of time a few years ago where Kirk Cousins was considered dead and buried by the media -- with many analysts targeting him to be traded/released and/or replaced by the excellent Sean Mannion (there was many an NFL analyst who pushed this)…only for Cousins to rise up and get into the MVP discussions in the same season the media declared him worthless.
In the middle of all this was the Vikings' 2017-2018 QB Coach and 2019 O-C, now Browns head coach, Kevin Stefanski. The Vikings pass game rebellion by all the star players…Stefanski was in the middle of it all.
Stefanski's one year as O-C, the Vikings were #30 in the NFL in pass attempts, #23 in yards, #14 in passing TDs. Lower volume, but semi-efficient.
In three years with the Browns, Stefanski's passing game attempts have ranked #28, #28, and then #21 last season. Passing yards rankings in the league while HC of the Browns: #24, #27, #22. Passing TDs: #13, #29, #19. Overall points/scoring: #14, #20, #18.
In his four years heading up an offense, Stefanski's average rank in the major passing categories:
Pass Attempts: #26.8
Pass Yards: #24.0
Pass TDs: #16.5
Conversely…
Rush Attempts: #5.5
Rush Yards: #4.8
Rush TDs: #6.0
Kevin Stefanski is like most of the NFL head coaches in this league -- they'd love to run the ball 90%+ of the plays, and only throw when absolutely necessary…and their playbook for the passing game is basically a modified run game passes/short passes, etc., to try and steer clear of turnovers -- their passing games are not meant to push the ball down the field, it's meant to not turn it over and be a break from the run-run-run game. I don't have to guess this about Stefanski, I only need to look at his four years of results and tendencies running an offense to know it's true.
Why would you think 2023 will be any different? When have you seen an established run-heavy coach do a 180 and become a run-and-shoot high volume pass game? NFL head coaches do not change/evolve…and any that do, it's slow in coming and usually a blip forced by injuries and deficits in games causing them to have to call more pass plays for a season…or a Patrick Mahomes falls in their laps. Kevin Stefanski is not going to ever lead punch with an exciting passing game.
And that's what caught my attention the most watching Deshaun's 2022 games -- this Stefanski passing game offense is DREADFUL. It's Arthur Smith 2.0…not even that good. Every pass play seemed scripted…Watson was not reading much of anything, he was looking/staring at his primary option and throwing timing passes, simple passes…or scrambling/getting sacked if the 1st-read was obviously covered. When Deshaun looked the best is when the protection broke down, or no one was open first read and Deshaun scrambled and made some throws on the run. Deshaun looked better unscripted. He looked totally boring scripted/on purpose.
This also takes me back to the Browns of 2020-2021. Were you part of our club that was howling at the moon that Baker Mayfield was being put in a box and not being allowed to let his true gifts shine through by the Browns? Well, it might not be that Baker is so bad after all -- it might just be that Baker was thrust into the same box Deshaun was/is…and Baker looked way better than Watson doing it. And when Baker complained (a running trend with Stefanski QBs) and OBJ and Landry complained (another running trend on WRs under Stefanski)…they were all jettisoned, made out to be the 'bad guys'.
Josh McDaniels is doing the same thing in Las Vegas -- blame the QB and WRs for not making his golden offense succeed. It's not the coach's fault, it's the player's fault. That's no more on display than in Cleveland with Kevin Stefanski. And every time these types of coaches get mad at the QB, they make a sweeping change…for the sake of change, because they hate the old QB for not being great in their scripted offense…and the sweeping change is desperate and overpaid (Watson…Jimmy G. among others). Tom Brady walked from New England eventually, as Belichick pined for Jimmy G. to replace Brady years prior to the divorce…and Bill thought/knew the team would be better off without Brady. How'd that work out? NFL head coaches, by-and-large, are old school run game 'fake tough guys' who want to punish defenses with a run game to get their jollies, their former football adrenaline flows watching run games and pads cracking…and they hate talented, confident, 'lippy' (they think) QBs and receivers who want to throw the ball more and these coaches do not have playbooks/play calls to allow elite QBs to thrive.
Credit Andy Reid and Doug Pederson as among the rare few who work with the QB, not working to spite them. Zac Taylor's career was saved by the arrival of Joe Burrow, but credit to Taylor who just lets Burrow lead the way.
All that to say, watching Watson in this Stefanski offense in 2022 -- it was terrible. It was boring. It was limiting. And there is 0.0 reason to believe it's gonna change in 2023…unless the team falls apart and they have to throw in the 2nd-half in deficits a bunch (possible).
By plan, the Browns are not designed to be a high-flying passing game. That reality hurts Watson for FF output, but it also hurts the related items for FF output -- Amari, DPJ, Elijah, Njoku. It may not kill them -- it's just there's no great upside coming…again, unless the Browns get crushed most games and are throwing heavy in big deficits.
The 2023 schedule is loaded with top run game defenses early on…and I don't think Stefanski will go pass heavy in response. He'll try and win the war of toughness and only throwing the ball more late in games if it's not working. When the Browns faced top 10 run defenses (by ypc allowed) last season, 9 times, they went 3-6 scoring just 18.1 points per game. Under Watson last season facing top 10 run defenses, the Browns went 1-2 scoring a measly 12.3 PPG.
Deshaun Watson did not look good in 2022, but how much of that is rust or boo birds vs. the Stefanski offense…I don't know, but the more I watched the more I started thinking it was way more about the Stefanski offense, especially when I started to think back to how Baker was limited and treated as well. I don't see how or why Stefanski will change in 2023…so, I am planning/projecting accordingly on Watson and his related items.