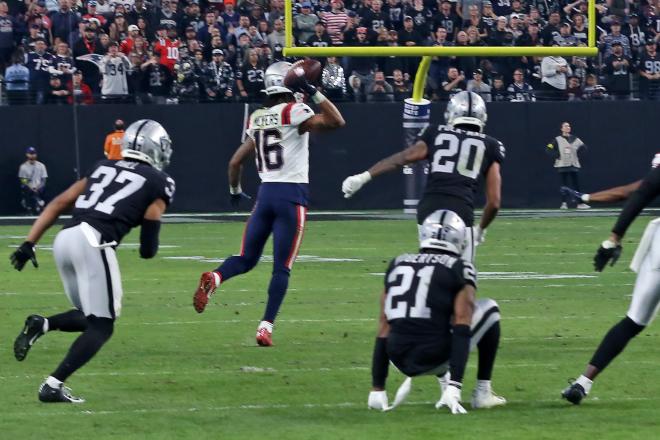 R.C. Fischer
Total Football Advisor
19 December 2022
2022 Fantasy/Dynasty Monday Executive Summary: Week 15
I felt like I knew IT was coming when reviewing the games for handicapping going into the Week 15 game week.
I'd been on such a roll, but nothing felt right about the matchups, the point spreads. I can't describe it…I just 'felt it'. Something was wrong/off. I've been so hot picking/predicting games, especially of late...but I even wrote in my intro to 'All Picks…' report this week that I felt a disaster was looming. And it wasn't as bad, picking the games ATS, as I feared…but it was one of the worst pick/betting weeks of the year for me.
I didn't realize that would extend over to the Fantasy Football side for Week 15. White-hot back-to-back weeks for FFMers at large the past two weeks, riding a high going into the FF playoffs…and…and we got a sucker punch to the gut in too many places, and bounced too many from our ranks from the playoffs.
Putting it in a short context… If you had Justin Herbert, you almost certainly lost. Everyone else is tracking 50-50 with things still to happen tonight, but it's fingernail biting time on MNF. The best producing group/teams this week in FFM-land: those of you who secured a bye and didn't participate in this mess.
It goes without saying that Week 15 was probably the most bizarre week of football any of us have even seen. Sometimes, there's a week with one event that's crazy and thus we classify the whole week as crazy…like that Baker Mayfield Rams debut game. Week 15 of 2022 wasn't defined by one crazy game.
It started with the Vikings historical comeback. It moved onto the massive snowstorm in Buffalo…all removed pregame like it was nothing…with expectations of snow all game, only there wasn't…until there was affecting the game in the 4th-quarter. That was just Saturday…which is odd enough to have a full day of games on Saturday, a week+ before Christmas. Then there was Sunday…
Dallas is humiliating Jacksonville, until the Jags just stormed back from nowhere to win. The Chiefs can't control the Royce Freeman-led Texans. Joe Burrow looks like a fool, the Bengals go way down…and then they just march back in and blowout the Bucs like it was nothing. While we all got to watch the topper at the end of the afternoon games…the Patriots attempted no-time-remining lateral-fest to try and win their game.
Also, Justin Herbert was allergic to throwing TD passes. Jakobi Meyers threw more TD passes than Herbert this week.
All the non-scoring by teams in the 1st-half of these crazy games seemed to help me…they were a lot of my opponent's collective players. I would feel good…only to then watch Minnesota, Jacksonville, Cincinnati, and Las Vegas/New England players go off in the second half as if there were no defense. The one team that made a big comeback, but then it didn't involve outrageous FF numbers in the comeback was the Cincy game, chock full of FFM players, so even the Burrow-Higgins-Mixon comeback was FF-muted comparative. I can't have nice things.
Justin Herbert was gonna save me with the perfect matchup against Tennessee, but nope…we need to pass it like mad to get to the goal line and then run it 2-3-4 times to get the score. The story of Herbert 2022.
There were others who didn't have Herbert, and/or who faced the likes of Jonathan Taylor, and had in on the Jacksonville party (Engram, Zay) and you flourished right through…continuing the win streak…and on to Week 16.
For those we lost in Week 15. I hate it. It was a bad week to have a bad week, a bad week that was due because our collective players had been pretty hot of late -- but that's Fantasy Football for you. Everything ends so abruptly. The weeks of prep preseason, the daily grind and highs and lows of the season…all over in one fell swoop. Fantasy mirrors the real football experience, and this is how it feels when seasons end in the playoffs. It sucks, now, but you'll appreciate the season in a few days with some time removed from the Sunday wound. You got a couple of weeks of DFS to play to scratch that itch for a little longer.
But we got plenty of winners on to Week 16, bye week earners on to Week 16, and those who this is the first week of the playoffs or week #2 of a two-part playoff week. We've got work to do for Week 16. Can't let Week 15 derail the focus.
This will be a weird week of prep for the key Week 16 events. We got a short week (main slate is on Saturday), but three games Sunday + the MNF game. We got injuries galore. We got weather problems potentially. We got a few NFL teams not 'in it' that will be changing lineups/priority. A lot of chaos…which is our time to shine!
Mostly a normal week schedule for FFM.
Tuesday Night Waivers Video Q&A as usual. The Sunday morning sit-start Video Q&A will be moved to Saturday with the NFL schedule.
Game reports all week. I hope to get to all of them, but it's important for me to watch all these tapes ASAP to look for clues, and not get too derailed by writing novels about what I saw. I'm going to try and be brief on the game reports, trying to stick to the things that FF matter for Weeks 16-17-18. With the short week, I will watch every game…but I may not be able to report out on every game. There's just not enough time for everything during this Christmas week, but I'll do my best. The priority is -- watching tape, gathering intel from sources, finding sleepers and avoiding trap door players for all of us…oh, and try and spend some time with my kids traveling in for the holidays.
My condolences for those whose teams lost this weekend, and congrats to those moving on.
Those that lost, you may have felt and sounded like this (like I did) for a full two days watching Week 15 football: https://youtu.be/NgtyuHQCQFw
Those that won, you had a different weekend feeling: https://youtu.be/E4ScPro8YcI
Good luck to those needing whatever on MNF!!!
*Note any fractional numbers in parentheses (4/2) or (2/3), etc., are a 'split' stat on our definition of a 'quality start' (or not) marker on a player -- using 14 PPR points in a game for RB-WR-TE and 21 for a QB…point levels that are good/productive/well above average starts for a Fantasy week. Trying to identify trends, consistency (or not) in players we might not normally realize.
A (3/2), for example, means: 3 times the player hit at/above the mark, and 2 times they did not.
--THREE THINGS--
*The SF-SEA, IND-MIN, BAL-CLE games have already been filed as game reports, published earlier today. FYI.
MIA-BUF
 -- Tua Tagovailoa (17-30 for 234 yards, 2 TD/0 INT) looked a little better this week, but not back to his quick pass assassin ways of 3+ weeks ago, yet. We can't be sure if he is still having 'issues', or how much of this was 'the cold', or how much of this was (also) the Bills defense.
Week 16 hosting Green Bay is a much better set of favorable surroundings to see/judge where Tua is at. Could/should be a top 5 projection type week for Tua…but it's a tad shaky.
Tua started the season a (4/3) but is an (0/4) the last four games since.
 -- Raheem Mostert (17-136-0, 1-20-0/2) looked like a beast in this game. If Jeff Wilson is out again, against a bad GB run defense Week 16…Mostert is back to RB1/2 projections. Wilson back…hard to say how it all goes, but Mostert is likely the lead.
 -- A nice game out of Dawson Knox (6-98-1/8)…back-to-back weeks with a TD. He finally is showing signs of that 2021 connection with Josh Allen.
PHI-CHI
 -- Single-digit temps + a stout Philly defense = Justin Fields (14-21 for 152 yards, 2 TDs/0 INT, 15-95-0) continues his same game narrative that he's made for several weeks now -- running at will, seemingly, while throwing at least one wide-open TD pass with the defense frozen in fear and cheating to play/stop his run game…AND also actually losing the NFL game.
So, what are the Week 16 expectations for Fields? Pushes for 100+ yards rushing, has at least one wide-open TD pass, and loses the game.
Fields started the season (0/6), then discovered he's the greatest running QB in the NFL…and has gone (7/0) since…with a (1-6) record.
 -- A supposed perfect setup for Miles Sanders (11-42-0, 1-0-0/1)…against a very weak run game, one that lost its killer middle linebacker (Sanborn) halfway in, and yet you got this FF-dud.
Miles Sanders may be the most inexplicable player for me in all of FF. He never looks good, to me, on tape. He's a liability in the passing game. He has more 'nothing' efforts than super-productive ones…but somehow is held in huge regard by one and all, especially the Philly coaching staff and management.
I guess that makes sense…since the NFL people are allergic to things that work/look great. Sanders is a panacea for them.
Sanders is a (6/8) this season.
 -- No Chase Claypool this game…so, what WR took over for Chicago? None. Dante Pettis (1-13-0/4) led the WR in targets. No WR group has less impact on a game, to an offense than the Bears WRs. Keep this in mind for 2023…this Justin Fields offense is absolutely NOT helping any of the FF WRs, consistently. Fields doesn't play a style where he needs to lean on any one WR.
ATL-NO
 -- Well, I did say Tyler Allgeier (17-139-1, 1-0-0/1) was the future lead back for the Falcons. I just didn't think he could get to it in 2022 with Cordarrelle Patterson (14-52-1, 1-0-0/3) still active. It's been building slowly over the past two months, but I think Week 15 was the real pivot -- this is Allgeier's backfield…now, and for 2023. But CPatt will still get touches right now.
 -- Well, I did say Rashid Shaheed (3-95-1/4) was the 'nuclear option' for Week 15…the guy that could make a huge play and go WR1 off it…a guy trending up in snaps and touches and has just generally played/looked really good week-after-week.
Shaheed caught a 68-yard bomb TD on his way to a nice WR1-level scoring week. Shoulda been more, but the Saints find that just one big/great Shaheed play a week is about the right amount…they don't want to gorge themselves. They don't want to get distracted from running their offense through their three-yards-and-a-cloud-of-dust RB Alvin Kamara (21-91-0, 2-13-0/2).
 -- The Saints leading receiver this day: TE Juwan Johnson (4-67-2/6)…now 7 TDs in his last 7 games. How crazy did I sound about JJ in the preseason? Sorry, it took 6 weeks before it got going…but it's going now.
Most TDs by a TE this season…
12 = Kelce, KC
09 = Taysom Hill, NO
07 = Juwan Johnson, NO (a 4/2 his last six games)
DET-NYJ
 -- I made quick mention of it on the Video Q&A Sunday and in the game report from last week…that the Lions' run defense was really coming on, and looks (visually) very impressive. Well, they held a good Jets run game to 22 carries for 50 yards total here. Thus, the Zon Knight (13-23-0) disappointment…plus, he got hurt in the game as well. The Lions run D looked good, but I didn't think they were ready to just consume NYJ's ground game…but they did.
 -- Making the call to shut down D.J. Chark (1-18-0/2) for FF this week due to the NYJ pass defense on outside receivers…that was the right call. He's back in-play Week 16 at Carolina.
 -- Zach Wilson (18-35 for 317 yards, 2 TDs/1 INT, 3-7-0) had spurts where he looked really good this game, but still too much 'bad Wilson'. He drags down the receivers, limiting their FF-upside. He will again Week 16, but maybe not as harshly given it's Week 16 facing Jacksonville.
PIT-CAR
 -- D'Onta Foreman (10-9-0) has died on us, for FF. He hasn't done anything wrong…it's just he's a total telegraph to the defense when he's in, because Steve Wilks is the most predictable coach in the NFL and D'Onta is the only thing defenses fear about the Panthers. That rising Detroit run defense that I spoke of earlier in this report…D'Onta might get squashed by them in Week 16.
 -- When these teams tell you what they want/like/ignore…we have to believe them. George Pickens (2-53-0/5) is the best Steelers WR since peak Antonio Brown -- he's already that good just halfway into his rookie campaign. And what have the Steelers done with him lately? 2-3-5 for targets in games, 1-3-2 for catches in those games. It's criminal, but we have to believe them and project him as such, until a change happens. He's just a WR3 hope-and-pray.
Pickens has a (4/2) stretch midseason and looked like he was on his way…but he's been an (0/4) since.
 -- Ditto Terrace Marshall (3-51-0/3) for Carolina…
Like Pickens, Marshall has really been showing some alpha traits…and is his team's most talented WR…and his team could not care less. 3-1-3 for targets in games the last three weeks since the boy wonder (Darnold) took over.
DAL-JAX
 -- No more mocking Trevor Lawrence (27-42 for 318 yards, 4 TDs/1 INT) for me. No more naming him the 'downside player of the week'. I'm still not fully on board…and he's not generational, but he deserves my respect now. He's not flopping. He's as good/bad as any 2nd tier QB. And since no defenses can stop any level of QBs, except bottom of the barrel ones or those stuck with horrid coaching…I may not mock a QB's talent ever again. It might be they just need 2-7 years, like a Geno Smith.
 -- Third game in-a-row where we see Evan Engram (8-62-0/10) finally being used like he was always meant to be. Kudos to Doug Pederson and Trevor. Only Travis Kelce is a better FF TE right now.
Engram was a (1/10) to start the season…and is a (3/0) since.
 -- Has anyone seen the vaunted Dallas-DST? They are M-I-A of late.
Manhandled by Jacksonville Week 15…and the week prior, should've been beat by Mills/Driskel/Lovie. How could you use them vs. Philly Week 16? They won't be any type of lock Week 17 at TEN either. Their FF-usefulness has probably ended.
KC-HOU
 -- My big Chris Moore (4-42-0/9) move didn't work out. I'm not too distraught about it. Moore got 9 targets, and really had 11 with the ones negated by penalty. Davis Mills was aching to get the ball to him…it just didn't work this day. Plenty of near miss throws to complain about watching the game is all I got. Moore got the attention I expected…not the output. The intent was there.
If Cooks-Collins out again, I'll be considering Moore again Week 16 at TEN.
 -- I'm just sayin'…
Davis Mills (12-24 for 121 yards, 2 TDs/0 INT, 5-21-1) has played two really good games against two of the supposed top teams in the NFL the past two weeks and had them both beat. Impressive considering his awful surroundings. Houston is, apparently, not the target for our DST that we all thought.
 -- Jerick McKinnon (10-52-1, 8-70-1/8) has become one of the best FF RBs in the game, out of nowhere. He's getting WR1 level targets each week plus carries to the tune of 7.5 rec. (8.5 targets), 91.0 rec. yards, 128.0 total yards, and 2.0 TDs per game the past two weeks. A new wrinkle discovered, and KC is running with it. You have to project him as a PPR RB1 every week now.
McKinnon started FF 2022 a (0/11), but is a (3/0) since with two 34+ PPR point efforts the last two weeks.
ARI-DEN
 -- Marquise Brown (4-19-0/8) disappointed here. Two factors: (1) Ace slot CB K'Waun Williams returned from injury for Denver, and I bet on my more detailed watch I'll see KW on Hollywood a bunch, and (2) Colt McCoy (13-21 for 78 yards, 0 TD/1 INT) is rough enough but Trace McSorley (7-15 for 95 yards, 0 TD/2 INTs) at QB is a killer to most all things.
 -- Marlon Mack (5-37-1, 4-26-0/4) has earned his increased touch counts. He looks quick enough to me and he's been playing with the aggression/urgency of a guy trying to prove his NFL keep. He's an RB4 trying to be a lucky RB3+ any given week.
 -- James Conner (16-63-1, 3-28-0/5) is rolling again. After returning from injury, in his last 5 games, Conner has scored a TD in every one of those five games…6 TDs total. He's about the only thing working for Arizona right now.
Conner started the season a (1/5) and missing multiple weeks with injury -- but he's a (4/1) the past five weeks.
NE-LV
 -- There was concern Rhamondre Stevenson (19-172-1, 2-0-0/3) wouldn't be active…then fears he would be limited by the team if playing though his injury, and when I saw Kevin Harris (5-19-0) in for the 1st-series and Stevenson on the sideline, I thought everyone who rolled dice on Rhamondre was totally screwed.
Stevenson did get in the game, quietly at first…and by the end he was just dominating. He's the future (and current) bell cow for the Patriots.
Rhamondre started the season a (1/3) and has been a (9/1) since.
 -- Darren Waller (3-48-1/3) also had fears of being limited in a return from injury, and he was…but he did get a TD in return to action. He will likely get more integrated Week 16, especially now that the Raiders are back in the playoff discussion. 49% snap share Week 15. Could be anywhere from 50-70% snap share Week 16 at Pittsburgh. He's another TE1/2 wannabe.
 -- The Marcus Jones (5 tackles, 1 PD) rise continues…still making waves as a return man, got in for some offensive snaps, and has become a full starting CB for them (100% of the snaps this game on defense)…and he made a great deep ball PD on Davante Adams this game.
TEN-LAC
 -- Justin Herbert (28-42 for 313 yards, 0 TDs/2 INTs) was in a perfect spot for a big game…at home/dome, facing a totally wounded Tennessee defense, must-win, that has been crushed the last two weeks, with all his receivers back -- and we just get more of the same from Herbert = looks awesome, gets yards, doesn't get TDs because he either misses the short scores or (more likely) they love to run it in. Three 300+ yard passing games in a row, but only 2 total passing TDs in that span…it's very bizarre, and FF-soul crushing.
-- Austin Ekeler (12-58-1, 2-12-0/3) got banged up, which led to extra Joshua Kelley (10-24-1, 1-7-0/2) touches here. If Ekeler goes down for Week 16, Kelley is an RB1/2 projection as the lead back for LAC for a week…if it happens.
 -- Chig Okonkwo (4-54-0/5, 1-6-0) only had five targets -- but he led all Titans in targets and had a 'carry' that was a target as well, but technically a lateral. For what it is worth, Okonkwo is keeping a strong presence in this passing game…really becoming an offensive go-to for a weak passing game.
CIN-TB
 -- The Rachaad White (11-38-0, 1-5-0/2) roll got derailed…as it was bound to. I was hoping it wouldn't get tripped this week, but Tampa Bay found themselves in a very odd position for them and it changed all their normal game flow.
The Bucs actually led a game early…by multiple scores. This allowed them to not have to throw the ball 18,000 times a half, with many short throws to the RBs, to try and find an offense. They instead ran the ball to nowhere more to try and hold possession/run clock/sit on the lead. It worked…in the first half…then the Bengals kicked their-ever-loving arses all over the field in the 2nd-half.
A bad script for White and it led to a disaster. It's possible to happen, ahead, any week the Bucs would somehow get a quick multi-score lead. We need the typical Bucs down big and fast and playing chase to get the heavy RB targets.
 -- I thought this might be the big 'pop' game for Mike Evans (5-83-0/10)…and it was for the 1st-half, where basically his entire output came from. But…when TB got wrecked in the 2nd-half, there was nothing for the Bucs weapons for FF scoring, including Evans. This is just a very sad Tampa Bay team/offense…and they barely had the ball in the 2nd-half.
 -- Tee Higgins (5-33-1/8) looked normal to me. Didn't show any ill-effects of his hamstring issue from last week. Should be no worries for Week 16.
NYG-WSH
 -- Jahan Dotson (4-105-1/6) took over this game late, and that will be remembered fondly…and he is a rookie, so even more remembered by the analysts.
Just note: Dotson was a ghost all prior to that. It was a nice couple catches/plays late, but there are too many other options trying to feed off limited Taylor Heinicke (17-29 for 249 yards, 1 TD/0 INT)…it's hard for any star to be born any given week/this season.
 -- I respect what Darius Slayton (5-23-0/7) has done this season. He's a very solid NFL WR. However, just like with Washington/Heinicke…the WRs cannot FF-live or thrive off an anemic passing game. Slayton is a random flex/WR3 any given week, hoping for a big play.
Slayton has MIN and IND the next two weeks, two great matchups that I want to get excited about…but Daniel Jones/the passing game worries me more than the passing game opponent excites me.
 -- Kayvon Thibodeaux (12 tackles, 1.0 sacks, 3 TFLs, Fumble Rec. TD) played out of his mind this game. He's definitely looking better as the season goes, but it cracks me up the overt attention he gets because he is (a) a high draft pick, and (b) plays for the media beloved northeastern based New York team.
KT deserves all the praise from this game, and he may be a superstar in the making…but he also may have just had a good game against a bad O-Line. But because of his name/draft stock and team location, it will be reported as the greatest thing a defensive lineman has done in recent football history. Why, Thibodeaux may even be better than the great Chase Young (DNP)! I hope you get the irony of that sentence.
What's really going to be funny…is the entirety of the local New York sports talk this week debating whether Thibodeaux is better than Lawrence Taylor, already. All it takes is one good game on national TV…
  ===== FIVE PLAYERS =====
*** FIVE WAIVER/FREE AGENT PLAYERS TO TRUST***
*Looking at players owned less than 50% on average in leagues across the whole FF-landscape. Your league, obviously, may be different/deeper.
**Adding a school grade to show my interest level (A-F)…and I don't mean that a D-F grade is 'bad'/just showing how pressing/important to me, your situation may differ due to injury, etc..
***IF FAAB% mentioned at any time below is based on a 16–20-man roster league. And it's hard to predict the right bid % because every league, situation, and lineup needs are so different. So, doing the best I can to 'project' (i.e. 'guess') what they will be based on early chatter.
*Again, note…not a grade on talent…just how important/urgent/great the waiver move is in context.
1) RB Joshua Kelley, LAC (Grade: A-B-C-D?)
Austin Ekeler hurt his arm in-game Week 15, but after getting evaluated he quickly returned to action…but the coaches did throttle him back some, giving Kelley more touches. Ekeler is probably fine for Week 16, but if things were to turn -- Kelley would be an RB1/2 projection at Indy this week.
2) TE Juwan Johnson, NO (Grade: B)
Seven TDs his last 7 games. You know how I feel about him…one of our scouting magic tricks of the preseason…just was 6 weeks too early. JJ didn't start popping until Week 7. He's getting the TDs, so that draws your attention…but I'm drawn to how confident and how dominant he's starting to work. Good for him. He deserves it.
Is he due to not score a TD in a game next week? Sure. But I kinda thought that last week going in as well, and he only scored two more TDs.
Considering how disappointing almost all TEs are every other week…Juwan is as solid/stable an option as there is to have a 'quality start'.
3) TE Dawson Knox, BUF (Grade: C)
Knox used to do what Juwan Johnson is doing…scoring TDs like crazy. Knox's TD penchant died this season with just 2 TDs through Week 13. BUT Knox has a TD in each of his last two games with his best target counts of the season the past two games. Whatever wasn't working suddenly is. For those in TE purgatory, Knox is back on the board as an option for a TD week.
4) WR Marquise Goodwin, SEA (Grade: C-)
With Tyler Lockett out, we get Goodwin starting as a #2 WR with a Week 16 game upcoming with KC that should be on the shootout side of things if the weather isn't too depressing (at KC) for such things. Goodwin is a hidden gem opportunity for Week 16.
5) RB Tyler Allgeier, ATL (Grade: D+)
Coming off their BYE, the Falcons run Allgeier heavy (17 carries for 139 yards)…and Allgeier responds by seizing the moment. He is coming into his own as a lead RB…it's just he plays on arguably the worst offensive concept in the NFL, so what he is doing/how he is progressing is kinda hidden from view/excitement.
He looks great, but alas…Week 16 at Baltimore…arguably the toughest run defense in the league to face. You can't use him with any confidence Week 16…so this is more a grab for Week 17, I guess?
6) RB Zach Moss, IND (Grade: D-)
I don't even really want to put Moss on here, but he's going to be a popular name…people are so crack addicted to chasing any RB who just had 15 or more carries OR 100+ yards rushing the prior week that Moss will draw attention. Plus, he was SUPPOSED TO be great per the scouts/analysts…so, the public loves the name to go with the spike in touch counts.
I saw, Week 15, what I always see with Moss -- a tugboat RB who cannot make plays, can't evade tackles. He can run forward and try to move piles with his mass, but it rarely works…just ask the Bills, who gave up on him this year. Pray that your opponent chases this and gets suckered into starting him Week 16 because 'Taylor is out, and what an opportunity'!
-----------------------------------------------
***FIVE WAIVER/FREE AGENT PLAYERS TO DISTRUST***
1) WR Byron Pringle, CHI
No Chase Claypool and it is Pringle who steps up (kinda) with 90% snaps played and caught a TD pass, but he only had 2 targets all game…so there is no magical connection being formed, just a random event that happened because Pringle was 'available' one time. Nothing is developing here.
2) RB Royce Freeman, HOU
I don't know how/why Freeman's career was such a failure, but it has been…and he looks slower by the year -- but somehow he was the Texans lead back Week 15, despite all that. Well, they don't have any RB talent beyond Dameon Pierce, so I'm not shocked…just shocked that in this era they have accumulated zero talent for RB depth.
Freeman is bad. The Texans run game is bad. They face the Titans top run D this week…all not-good for Freeman.
3) TE C.J. Uzomah, NYJ
CJU is a BFF of Zach Wilson, thus I'm sure it helped the two TD game in Week 15…but it was on two targets, because Uzomah isn't an on-purpose part of the passing game. It's a LONG shot that he will catch another TD this season.
4) WR K.J. Osborn, MIN
Amazing FF tally in that wild Saturday, historic game. Back-to-back games with a TD too, but prior to the last two weeks Osborn had nine single digit PPR games in-a-row. Either the last two games are circumstantial or he's becoming a WR1-2 suddenly.
I'd say, if you think the Vikings will be down 30+ by halftime this upcoming week and will have to throw a million times in the 2nd-half to climb back into it -- KJO is a strong hope for Week 16. Otherwise, he's a flex/WR3 flier.
5) DST Titans, TEN
The days of grabbing a DST because they're facing Jacksonville or Houston that week are over. Houston just pushed Dallas and KC to their limits, so I wouldn't assume it's a slam dunk for the Titans-DST this week…especially with the Titans' defensive injury issues. This looked like a gem matchup 1-2-3 weeks ago, now it feels like a random hope option, along with several other random hope DSTs this week.
------------------------------
***FIVE BUY LOW PLAYERS***
*NOT 'Buy at any price'…it's Buy LOW. Try to find a deal. If none to be had, walk away. It's also NOT…go immediately ask the owner 'What do you want for ____', don't telegraph your desires.*
-- Closed up for 2022 season, since most all trade deadlines have come and gone. We'll discuss undervalued players or sell-off options within the game reports all week, as they arise. --
xxxxxxxxxxxxxxxxxxxxxxxxxxxxxx
***FIVE SELL HIGH PLAYERS***
*NOT 'Sell at any price'…it's sell HIGH/sell good. Try to find someone in love with your player or seen as a neat value thrown into a multiplayer deal. If no one respects the player/buys right…then walk away.*
-- Closed up for 2022 season, since most all trade deadlines have come and gone. We'll discuss undervalued players or sell-off options within the game reports all week, as they arise. --
------------------------------
***FIVE DEEP SLEEPER WAIVER PICKUPS***
*Total flier/lowly owned or not-owned players
1) WR Rashid Shaheed, NO
Snap counts have risen from 13% to 49% to 53% to 61% to 71% over the past five games. 50+ yards in three-straight games. 75+ yards in back-to-back games. The Saints aren't using Shaheed to his fullest, but they are at least growing his opportunities. He's a legit WR3/flex consideration with WR1 upside against his week…except now the public knows what you did one and two+ weeks ago.
2) RB Deon Jackson, IND
Jackson is a far superior talent compared to Zack Moss, but Week 15 showed us Jeff Saturday and his staff have their brains wired wrong as they see everything on talent the opposite -- they like Granson not Jelani, they like Ryan not Foles, they also like Moss not Jackson, apparently.
However, I guess it is possible they get religion and give Jackson the lead to finish the season…but likely Week 16 begins with a further Moss push.
Dwight Schrute once said: Before I do anything, I ask myself "Would an idiot do that?" and if the answer is yes, I do not do that thing". I ask the same about what players Jeff Saturday will push in a given week, but I trust that he will do the thing I would NOT do.
3) QB Brock Purdy, SF
Purdy will likely not get pulled Week 17, assuming/if the game means nothing to SF…I think the 49ers will prefer to push Purdy the next two games as a passer, more work to get him ready for the road ahead in the playoffs. We could see an elevated passing game from SF the next two weeks…maybe.
4) RB Khalil Herbert, CHI
Eligible to come off IR Week 16, but I'm more thinking he could get extra work Week 17?
5) WR Mecole Hardman, KC
Should come off IR this week…if you have Mahomes (or facing Mahomes), maybe this is something for Week 17…if Week 16 checks out OK?
6) RB Jordan Mason, SF
If the 49ers can't get to the #1 or #2 seed after Week 16, then they can effectively shut down CMC and let Jordan Mason take a load of touches to finish out the season…to get him ready for the playoff run ahead. As soon as SF can, they will shut CMC down to keep him safe for the playoffs. It may be a 50/50 split of touches Week 16 and then heavy Mason Week 17-18.
---------------------------------
 -- FIVE…IT'S OK TO QUIT THEM PLAYERS (for REDRAFT) --
1) RB Jonathan Taylor, IND
There's no reason for Taylor to take another snap this season. He likely will be put on IR, but they may not decide that before your waivers run. There's no reason for him to put his foot/himself at risk and no reason for the team to want to put him at risk either.
2) RB Kevin Harris/Pierre Strong, NE
Rhamondre Stevenson came back fine Week 15, and Damien Harris likely back Week 16 for support. Strong-Harris won't see any touches until/if Week 18 is meaningless. But NE probably plays down to the wire for the wild card hope.
3) WR Parris Campbell, IND
Parris was hot for a few games with Matt Ryan, but it's been dissipating the last few games. Ashton Dulin is starting to play a few more snaps in place of Parris. This whole Colts thing is a disaster, you can't trust any of it.
4) RB Jeff Wilson, MIA
Missed Week 15 after being limited the prior weeks. You can't use him with any confidence Week 16 if he is cleared…then is he really going to be 'the man' for Week 17? Maybe if Mostert goes down, and Wilson is back…I guess. There is that long shot hope.
--------------------------------
***STREAMING DSTs OFF WAIVERS(?) OPTIONS***--
1) Chargers-DST
This defense came back to life Week 14 vs. Miami…rattling Tua and holding them to 17 points in a LAC victory. Week 15 they were all over Ryan Tannehill with 4 sacks and a pick, holding TEN to 14 points in a LAC victory. This defense looks terrific with Derwin James gone those two weeks…flying to the ball, really tight in coverage…it's a total 180. Now, they get an easy finishing FF schedule…
Week 16 = at IND…yes, please
Week 17 = v. LAR…yep.
Week 18 = at DEN…what a final schedule!
2) Bengals-DST
This defense has held down Tennessee and Kansas City, two of the top teams in the league, in Weeks 13-14.
They got down to Tampa quick in Week 15, aided by a fluke turnover…but then in the 2nd-half, the Bengals-DST, short-handed their top corner (Hilton), and missing their two best pass rushers (Hendrickson and then Hubbard in-game), totally shutdown the Bucs to go and win the game.
This Cincy defense is underrated, two years running. If they get Hilton and Hendrickson back for Week 16, then even better.
Week 16 = at NE…I like it.
Week 17 = v. BUF…no-go.
3) Raiders-DST
The Raiders are not totally out of the playoffs yet. Their defense had been trending well for weeks…and then the Baker Mayfield breakdown late in Week 14 -- but they actually played well there too, overall. It's an emerging defense with a nice Week 16 matchup.
Week 16 = at PIT…possibly against Trubisky.
Week 17 = v. SF…no go.
4) Rams-DST
The Rams-DST has been a little scrappy of late, featuring a few younger prospects getting a chance and doing decently. They get a very favorable matchup Week 16 hosting Denver. See hoe they do on MNF…
5) Jets-DST
A top tier, top physical style defense faces a hot offense in Jacksonville Week 16. It's not a 'favorable' matchup at a glance, but I want to note -- the Jets physical style may be a bad matchup for the Jags. Trevor's big issue is pressure. Dallas didn't give him any last week. If the Jets can, then this might be a sleeper/contrarian DST move. It's a big 'if' right now. Zach Wilson at QB doesn't help me like this more either.
---------------------------------
 -- Sleeper/lesser-name IDPs whose box scores or live watch caught my attention --
1) LB Damone Clark, DAL
One of the higher tackles-to-snaps ratio IDPs out there…among the non-starters/off-the-grid types. 7-3-6-9 for tackle counts the last 4 games playing 40-70%+ of the snaps. We had nice scouting metrics on him, and he's starting to percolate a little in the pros now. Vander Esch has a neck worry again…Clark might be the sudden starter/producer off of that.
2) OLB James Houston, DET
Just keeping up with my favorite IDP story!!!
Another game for James Houston, another sack. Four games played so far in 2022…a sack in every game, 5.0 sacks total. Imagine if he gets more playing time?
His snap count% progression: 6% to 21% to 32% to 40%.
3) LB Luke Masterson, LV
A season/career high 11 tackles Week 15. He's in the Jack Sanborn mold of little-known UDFA who impressed me in the preseason with their throwback middle linebacking ability. When he's playing, he's involved in getting tackles…another high tackles-to-snaps ratio guys roaming around the underground. If he starts playing 90%+ of the snaps in games down the stretch, he's an LB1 threat due to his double-digit tackle count per game ability.
4) LB Joseph Ossai, CIN
One of our highest graded OLB prospects in 2021…got hurt and was lost all 2021. He's back in 2022, but only playing 20% or so of the snaps in games this season as a backup -- but thrown into more playing time, due to Hendrickson-Hubbard injuries, watching him Sunday, the guy just looks like a star waiting to happen as a jack-of-all-trades OLB/EDGE. And Week 16, he may have to start due to the Hendrickson-Hubbard injuries.
5) DL Deshawn Williams, DEN
Williams has provided a short sample size 'burst' of numbers, only to disappear for long stretches, so we have to keep that in mind -- but he's got 4.5 sacks in his last three games…2-0-2.5 for sacks in those three games. It all may be with Dre'Mont Jones out, but something is clicking recently.
-------------------------------
OUTTRO:
With all the NFL and FF things going on this week, we cannot forget it's Christmas lead-up week. Have a great week, hopefully off work…or actually, maybe at work but like it's not work-work because everyone else is out and you can just read and play on the computer going over FF line up configurations -- because you have already purposefully burned your vacation days at other times of the year when everyone else is at the grind! Now you're on vacation at work, kinda.
Whatever your story, enjoy!
And remember the true meaning of Christmas: https://youtu.be/_uVUSBi3u0E