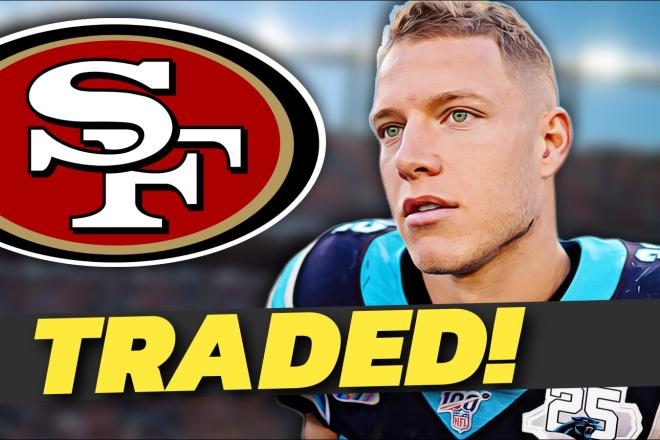 R.C. Fischer
Total Football Advisor
21 October 2022
Fantasy Analysis: Christian McCaffrey Trade to SF
I thought this would be Buffalo making a deal. Many thought the Rams. We forgot about the childhood connections of McCaffrey and the Shanahan's.  
My quick hit takes on the fallout of CMC to SF…
 -- CMC will quickly be the centerpiece of their offense…and it will be a great thing for CMC's career working with a better coach/O-Line/plan.
 -- Elijah Mitchell dies and goes to RB heaven…the backup, the relief back working with CMC. They won't overrun (game) CMC like Carolina did every game, every situation because they had nothing else…so Mitchell will see 3-8 carries/touches a game, which is good for his fragile nature…but death for FF.
 -- CMC probably sees some touches this very week to throw at KC as a curveball…maybe more than anyone would guess, even if just as a pass game back.
 -- Jeff Wilson's projections will crater this week under the CMC shadow…unless SF announces CMC can't/won't play this week.
 -- Tevin Coleman is nothing for FF now…unless Wilson goes down this week…and until Mitchell returns, he'd be the CMC backup for a moment. It's a narrow window of long shot events.
 -- The 49ers are the definitive favorite for the NFC West now.
 -- Deebo Samuel's running days/carries will get greatly reduced…but the presence of CMC helps Deebo in the passing game.
 -- If CMC is going to get a chunk of passes per game, then it's coming off of Kittle and Aiyuk…and Aiyuk is the most likely to suffer…just a random event WR3-4.
 -- Jimmy G. gets a small bump for having this extra weapon, but nothing shocking.
 -- Trey Lance, I still think, has played his last play as a 49er. They can trade him and recover some draft picks. Lance throwing to RBs is not his thing…it's never a mobile QB's thing (but Cam did adjust, so there is hope). SF goes all-in on CMC…not Lance, which Lance's time was ending as it was…for various reasons having nothing to do with CMC. Just pure speculation on my part. 
SF can recover lost draft picks with a Lance trade, perhaps.
 – Kirk Cousins may be the next 49ers QB in 2023. 
 – D'Onta Foreman is going to be the lead RB for Carolina this week, in some kind of split with Chuba Hubbard…Steve Wilks likes sending a power RB up the middle for 0 yards per play, back to his failed Arizona year.
Last week, Wilks' debut as interim HC, Foreman played 10 snaps and had 5 carries. Chuba Hubbard played 4 snaps and 2 carries and a catch. Chuba is a Matt Rhule special project…so, he may get denied. 
Rasheem Blackshear is a nice change of pace, good+ receiving back (a 2022 rookie UDFA) that Carolina poached from Buffalo a few weeks ago…he may make an impact in PPR, and be their best hope of a playmaker.