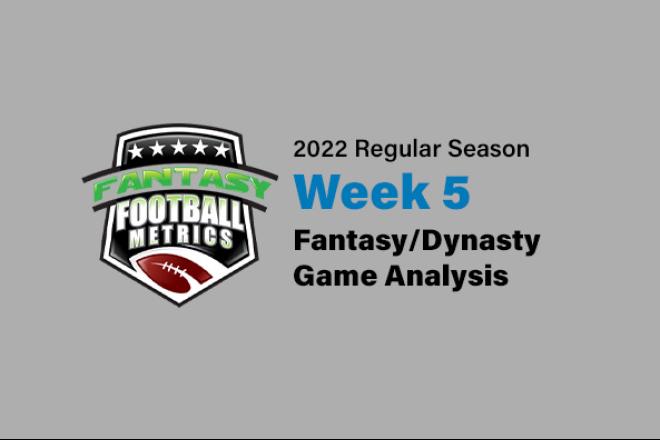 R.C. Fischer
Total Football Advisor
14 October 2022
2022 Week 5: Chiefs 30, Raiders 29 (Dynasty/Fantasy Analysis Game Report)
The Raiders got out to a 17-0 lead midway through the 2nd-quarter…and I'm thinking -- they really have a shot to win this game. They were dominating the Chiefs, really. Then they remembered they were the Raiders and found a way to lose/KC more times than not finds a way to win.
The nuisances of this game, the examinations of going for two or anything else -- all this game outcome does is solidify the reality that the Raiders have no fear of the Chiefs, they play them strong most times now…but they are also likely to find a way to lose, because in the end Derek Carr is not in Patrick Mahomes' class.
The Chiefs are now (4-1), lucky not to be (2-3)…but I shouldn't say that. KC keeps finding ways to win. They aren't crushing teams every week, but they are winning more than their fair share for years now. They will win the AFC West with distance in 2022.
The Raiders are now (1-4), and with some luck they would be (5-0)…but I shouldn't mention 'luck' -- the Raiders are bizarro (the opposite universe) Kansas City. They find a way to lose. They have a favorable schedule ahead to try and get back into the playoff discussion, and they might…but probably not.
Well, I am staring at the smallest amount of player notes that I've ever had for a game here. I mean, Josh Jacobs ran a lot to try and beat the Patrick Mahomes to Travis Kelce TD party…and almost did but didn't. You should try to have those guys on your FF teams. Not a lot of action for everyone else/everyone else did their normal thing.
A few notes…
Fantasy Player Notes…
   -- This week KC went back to Jerick McKinnon (8-53-0, 2-19-0/3) as the RB better than Clyde Edwards-Helaire (9-15-0, 3-20-0/4) on the Chiefs. When it isn't Isiah Pacheco (1-0-0) flashing ahead of CEH…it's McKinnon. It is going to be an FF-issue for CEH this season…it already is, but another 2-3 games like this will be a major panic button.
If CEH goes down, I think McKinnon would take the lead on a McKinnon-Pacheco split. But most redraft people are holding Pacheco. Maybe, but I'd bet on McKinnon due to his prior experience. But I wouldn't bet on anything with confidence…it's more a hot hand RBBC situation.
 -- A couple notes on Raiders' receivers…
Davante Adams (3-124-2/7) really was taken out of this game by KC…except for two huge/long TD plays that killed them…so, it doesn't seem like he had a bad game at all. The connection between him and Carr is not great, and teams are finding it easier to take him out of the game/plays. Just three catches on 7 targets here…dragging his catch rate on all targets to a near career low 53.7%...close to the year he was dropping everything in Green Bay, his 2nd-season, and was benched and was being discussed as a possible player they would cut/release.
4.8 rec. per game his last 4 games is good…but it's not at all what you expected with Davante for FF. It's working on big plays and TDs, but there's some overall issues hiding in there.
Mack Hollins (0-0-0/4) got a few deep ball shots and end zone shots, but he couldn't connect on the 50/50 balls from Carr like he had been. Everyone will drop him after that performance and on his bye week now. He's not a must hold but I think he'll have some usefulness to come during the bye weeks.
I'd probably rather have Hollins versus forgotten Hunter Renfrow (4-25-0/4)…maybe Hollins non-PPR and Renfrow PPR, in a crisis need.
Darren Waller got hurt early and was gone from the game. He sure is getting hurt more and more. He's no spring chicken. He got his big contract in September. His best days look behind him.
 -- Just re-mention from the Executive Summary…
The Chiefs have a decent NFL defense, but they've played a killer schedule to drag them to mediocre-looking for FF…and they still have some difficult matchups ahead. However, their FF-playoff schedule looks very promising…
Week 14 = at DEN
Week 15 = at HOU
Week 16 = v. SEA
Week 17 = at DEN
Snap Counts of Interest:
62 = JuJu
58 = MVS
29 = Hardman
25 = Skyy
11 = J Watson
38 = McKinnon
31 = CEH
02 = Pacheco
64 = Davante
61 = Hollins
35 = Renfrow