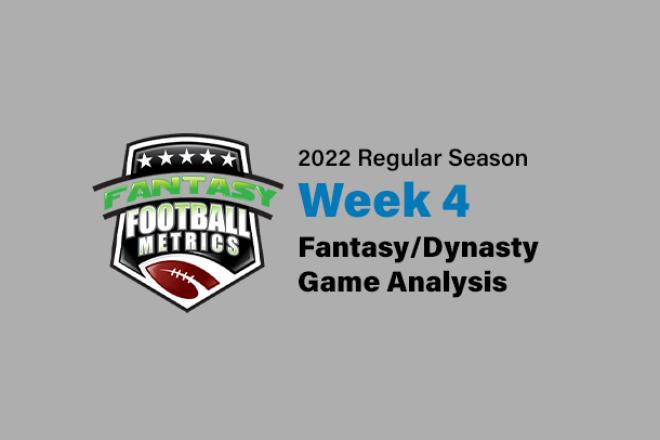 R.C. Fischer
Total Football Advisor
08 October 2022
2022 Week 4: Chargers 34, Texans 24 (Dynasty/Fantasy Analysis Game Report)
Another infuriating game from the Chargers…
L.A. raced out to a 21-0 lead in the early 2nd-quarter. They led 27-7 at the half. They were cruising along on both sides of the ball. The next thing you know the lead is down to 27-24 LAC with 8+ minutes left in the game and the Chargers just having received a kickoff and fumbling it over to Houston in prime position for the Texans to take the lead.
The Texans returned the favor to LAC at that point…a sack/fumble/recovery for the Chargers set them up to go on a long drive down for a TD with minutes remaining to put the game away.
Yes, LAC won…but it's another game…it's more evidence of this Chargers team being SAWFT. No killer instinct. No anything really…just Justin Herbert bailing them out/keeping them afloat. The LAC players aren't playing with much urgency…and definitely not up to their billing/roster talent. Like with Denver, at some point you look at the talent and the output and have to blame the coaching. Only, LAC has Herbert to save the day more time than not.
With this win, the Chargers are (7-9) in their last 16 games. The Chargers have 4 winnable games ahead (CLE-DEN-SEA-ATL)…they should lock down 4 wins and jump up to (6-2) and then can make the playoffs from there. But if LAC flops in the 4 games ahead, like splitting it (2-2)…they could be in danger of missing out on the playoffs and then this whole staff will be fired…or Staley stays but turns over all the coordinators.
The Texans are in a similar boat as the Chargers…underwhelming/disappointing with flashes of 'something' on occasion. Only Houston has half the talent the Chargers do. The Texans have the excuse that they are young, but that's gonna wear thin as we go. Houston may lose their next 4 games and fall to (0-7-1), and then the heat will be on the Texans staff…if anyone even cares. It's gonna be a chore to get Houston over their 4 win over/under preseason bets, for those that made them.
Not a lot of fresh notes/things that happened different or alarming in this game, so just a few player notes (and I'm trying to cut down on writing too much poetry right now as I am in pain from my gallstones event still happening/up in the air -- going to home in on 'just the facts'/things of high importance…but this first note is a doozie/long).
Fantasy Player Notes…
   -- The most intriguing thing/note I have about this game has to do with the LAC WRs. A game where once again they worked without Keenan Allen.
With no Keenan, Justin Herbert (27-39 for 340 yards, 2 TDs/0 INT) has to make do with what he has got. His favorite downfield throw (not set up screens or dump passes to Ekeler) is definitely Mike Williams (7-120-0/11). It's not pretty…and Williams doesn't get open that well, but he does enough for Herbert to throw it his way and hope a connection is made. 
You'd think Josh Palmer (1-25-0/1) would have a great opportunity here with Keenan out, but he was benched about halfway through this game…and returned later in the game for a few routes. I don't know why he was benched, but he was.
Week 1, Keenan went down in-game and Palmer (a starter as it is) went on to play 75% of the offensive snaps. Week 2, no Keenan…91% of the snaps. Week 3, no Keenan…93% of the snaps. Week 4, no Keenan…56% of the snaps.
The Chargers are doing this weird thing where Josh Palmer is sprinting in motion coming across the QB before the snap all the time…he probably physically ran 2x the distance of any other player as he was wasted/spent going in motion from one side of the field to the next most plays. When he goes in motion, 95%+ of the time it means he's not getting the ball…and he knows it. Once the ball is snapped, as he's finishing his motion in the backfield, he starts heading up field…and Herbert is taking the snap and looking the other direction for a throw, set up/designed play misdirection. I started watching Palmer exclusively on this in-motion thing, and pretty early on he was operating at 75% effort running it or just worn out…frustrated with the play/role he has. When Palmer did run normal routes, Herbert went elsewhere…and you could see Palmer's frustration on the field.
One of Palmer's in-motions, he was going through the motion for what seemed like the 100th time in a row and he lagged and was coming across and the ball was snapped before he got near the QB, which was a handoff to Ekeler…Palmer arrived a second later in motion and ran into Ekeler and forced a fumble on his own teammate. That's when I noticed Palmer wasn't in the game much after. Could it be punishment for that play? The LAC O-C at his press conference was asked about Palmer's reduction in snaps…and he shuffled it off as 'it's just the way the rotations went' and they all moved on.
First off, Palmer is never rotated like that with Keenan out…so, there has to be more to it. Second, it wasn't an injury of any kind…because it was not mentioned, and Palmer was back in the game running his stupid in-motion sprints and then running his pattern later in the game. I can only deduce that something may be happening with Palmer and this staff/QB…because it makes no sense for him to have one catch in a game without Keenan and with Herbert throwing pretty much at will.
Before you think Palmer is in a sneaky good spot Week 5 with Keenan gone…maybe he is, or maybe he isn't. Josh Reynolds, for example, I know is going to be involved/play most all the game this week and has a good relationship with Jared Goff, with/if St. Brown/Chark out. Noah Brown has a role, a consistent production with Cooper Rush as a #2-3 WR. Even Mack Hollins gets red zone work with Adams-Renfrow working. What Palmer's role is or if he'll even play half the game this week…I'm not for sure. Something has happened starting with this Week 4 game with Palmer. It might be a blip or a secret injury (he has been limited with an ankle), or something has changed (or always been) with Palmer.
If you think…well, he has a six-catch 99 yards, 9 targets game Week 3! It's smart to have the #2 WR with Justin Herbert, and I would and did agree with that thinking, but looking at it deeper because many are wondering about Palmer Week 5 as one-week option/hope…his Week 3 game (6-99-0/9), has some concern too.
Did you know, in that Week 3 game…Palmer never saw a target in the-half?
He got his first target in the 3rd-quarter. He had 2 targets until late into the 3rd-quarter. When Jacksonville (their Wk3 opponent) took a commanding 31-10 lead late 3rd-quarter, and LAC went to an all-pass comeback attempt…then Palmer got in on some action. Against a prevent, in a hurry up…Palmer started to get involved. The regular game plan, in a close game or lead…Palmer is not a plan apparently.
He wasn't part of the real game plan Week 3, until LAC was down 21…and it was more he 'was available' in the hurry up. He was not a part of the game plan Week 4, ever…besides going in-motion constantly…and never getting looked at…and benched for about half the game. DeAndre Carter played more snaps than Palmer in this Week 4 game.
If you project LAC to be down 3+ scores in the 2nd-half, maybe Palmer is going to hit for FF in the 4th-quarter.
Outside of the 6-99-0/9 Week 3 event in a beatdown, all-passing late stat grab…Palmer has put up games of 5-30-25 for yards in a game in his other three games. He is not a part of the plan. Be careful getting cute here. Michael Bandy (2-49-0/2), preseason star, not only had more targets/yards/catches in  this game than Palmer…Bandy is potentially a more talented WR (but they work different roles). The rise of Bandy may be pressuring Palmer out of the game as well.
 -- Because Palmer is falling away, Gerald Everett (5-61-1/6) is the de facto #2 target downfield for Herbert with Keenan out. But note, Donald Parham is going to make his 2022 debut this week. I think Parham will play a light amount of snaps, probably playing in the red zone his first week back, but as we go…Parham could be something for non-PPR, a TD accumulator. But this staff seems intent of Everett as a thing, so Parham will likely be a Jelani Woods random event, low snap count/TD guy…but Parham has the size/skill and was having the training camp of someone ready to breakout (then hurt his hamstring and was out for like 6+ weeks, debuting Week 5).
This may be the last Everett-trust event for FF…with Parham back this week, and then/if Keenan Allen returns.
 -- With Pharaoh Brown cut a week ago (Houston TE starter prior) and Brevin Jordan hurt, O.J. Howard (2-27-0/5) is the new starter for the Texans…and that's something for FF, but I wouldn't get too excited. There's a reason why OJH has bounced around the league as a disappointment. He's lost any of the juice in his legs that he had, and he's now just a generic TE…one who would be a backup or 3rd-string on most teams but has become the #1, by attrition, for Houston.
OJH is something to consider for the TE desperate, but Jordan Akins (2-33-0/2) is showing more receiving pizzaz than OJH. Akins joined the team a few weeks ago and has played a limited role in Weeks 3-4. His per game numbers in his two games with Houston Weeks 3-4…
2.5 rec. (3.0 targets), 32.0 yards, 0.50 TDs = Akins
1.0 rec. (3.0 targets), 13.5 yards, 0.00 TDs = O.J. Howard (playing double the snaps)
 -- Davis Mills (26-35 for 246 yards, 2 TDs/2 INTs) looks fine/solid but he's not getting any better than he was in 2021…a 2021 where he was much better than analysts/media realized, but a 2022 I was wondering if he would take another step -- but I don't see it.. New regime, new staff, new playbook…and same old struggling offense. Bottom 10 in the league in scoring.
Mills is destined to be a QB2-3 this season…I see no growth or exciting things happening. Whereas, for example, you can see Geno Smith doing so much better…or Jared Goff playing so well…even Zach Wilson gave us some hope in his debut. Mills is the same guy 2022 as he was in 2021…good, but not great…and stuck with weak coaches/a weak offense.
 -- Can we, should we trust the Chargers-DST going forward?
I dunno. So much talent…so many injuries…so poorly coached. But the schedule is going to work, in theory, the next 4 games (Brissett, Russ, Geno, bye, Mariota).
Week 1, they held the Raiders under 20 points, and played well.
Week 2, they had the Chiefs…but let them win off a pick-six…held them to 20 offensive points otherwise.
Week 3 got smashed/embarrassed by Jacksonville…a bit fluky, but definitely got whooped.
Week 4 was giving the Texans fits in the 1st-half…and then let them right back into the game…and were lucky that the Texans did cash in on a late turnover to get to 30+ on them.
If they flop against the Browns Week 5…it might be time to just move on completely…but that schedule is juicy with Denver Week 6, however, given all Denver's woes/injuries, etc. But I'm under no illusion this is a must hold DST.
Snap Counts of Interest:
43 = OJ Howard
20 = Akins
19 = M Schreck
39 = Pierce
18 = Rex B
65 = MK Williams
49 = DeAndre Carter
39 = J Palmer
20 = Bandy