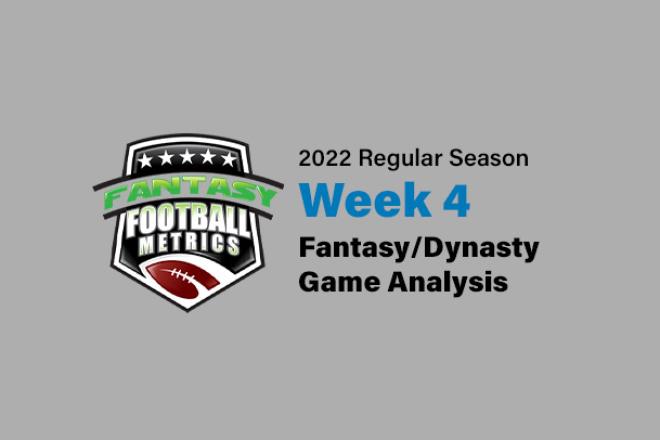 R.C. Fischer
Total Football Advisor
08 October 2022
2022 Week 4: 49ers 24, Rams 9 (Dynasty/Fantasy Analysis Game Report)
Same Rams game…same 49ers game played for 2022 season, as you would expect…
The Rams can't run the ball and go heavy Cooper Kupp. The 49ers are limited with Jimmy G. and run the offense behind Deebo, but it's their rapidly ascending defense that is the true difference maker -- and was this night. This game result totally reflects where these two teams are at right now.
The Rams are in trouble -- mass injury along the O-Line and secondary. If they can split their homestand with DAL-CAR, get to their Week 7 bye and get healed up for the SF rematch, then maybe they'll be a playoff team. If they lose their next two then BYE, then go face SF and lose there…then all heck will break loose. The Rams are like a lot of FF teams right now -- hit with mass injury, and you just gotta find a way to survive until you can get healthy and then make a kick down the stretch.
The 49ers are dealing with a wave of injuries on their O-Line too, but their defense is pretty healthy and humming and can get them by while their O-Line heals. The 49ers are going to have two winnable road games ahead (CAR-ATL) and then a gauntlet -- KC-LAR-bye-LAC-ARI-NO-MIA-TB.
It's impossible to project an NFC West winner based on where the teams are at now, besides to say two things: (1) SF is probably the favorite due to their defense, and (2) It's going to be a lower win count than expected to win the division, and that means Seattle and Arizona, sloppy as they are, are still in this thing…and could be to the end.
Fantasy Player Notes…
   -- Matt Stafford (32-48 fir 254 yards, 0 TD/1 INT) is weaving into 'buy low' territory (as a #2 QB for those that need it), but not yet…there's still some market timing here.
Stafford has played 4 games and had a nice FF game in just one of them (Week 2 v. ATL). But you don't want to punish him fully for having weak FF games vs. BUF (Week 1) and SF here Week 4…because SF/BUF are the 1-2 in PPG allowed as a defense in the NFL this season. Some of the Stafford problem is bad scheduling -- just like you hate your (1-3) FF team, but if you look back and realize that you had a win or two level of scoring, but you just caught your opponent in their best week…it doesn't mean your team sucks. It's early. Some players/FF-teams are getting inflated due to an easy schedule…others are taking hits because they had a miserable schedule start. Stafford is more in the bad schedule start category.
It won't get easier with the #3 defense in the league (by PPG allowed) Dallas Week 5. A mild break with #14 Carolina…then a bye, then right back at it with #1 SF. Then he follows that with #6 TB.
The schedule has suppressed Stafford, plus a battered O-Line and no run game. It's going to continue to batter him the next few weeks. He's not buy low yet. But maybe after Week 8-9…when you might see him on waivers in some leagues.
 -- I think we've all seen enough of Allen Robinson (2-7-0/6) in L.A. to all fully move on, and I think everyone has…and he's been sent to mass waivers the past 2+ weeks, and barely anyone has dared pick him up.
Whatever the issue is with ARob…whether it's ARob himself, issues with Stafford…the OL protection/time to throw -- whatever it is, it's dead right now. We can all move on. I don't know how it gets to any FF viability until their O-Line is back healthy. But even then we move closer and closer to their savior returning (so I'm told every broadcast)…OBJ.
 -- How about this Rams run game?
Cam Akers (8-13-0, 0-0-0/1) keeps getting the push…and not delivering. 3.1 ypc so far this season, averaging 29.5 rush yards, and two catches total this season.
Darrell Henderson (7-27-0, 3-12-0/5) is clearly the better option…but not to Sean McVay, not yet. I still think McVay is going to have to panic back into DH going forward, but it's likely not going to be great anyway with the rough schedule and terrible O-Line.
 -- Jimmy Garoppolo (16-27 for 239 yards, 1 TD/0 INT) may be the savior of the 49ers, but he's not an FF-savior…just 1 TD pass each game for him this season. If Jimmy G. just manages the game and lets the defense lead the way…they can win this division and JG gets a lot of undue credit.
 -- The best part of game managing the 49ers by Jimmy G. is their best play is a simple bubble/tunnel screen and let Deebo (6-115-1/7) fly. Deebo keeps making these amazing/fluky/cannot be repeated plays…except he keeps making them each week it seems. Deebo is going to be a strong WR1 with JG, likely.
What is getting shutdown is the Deebo run game…defenses are focused on it now. SF/Shanahan can use run fakes to Deebo to his advantage but then it kinda takes Deebo out of the passing routes. Deebo has 8 yards rushing total with Jimmy G. fully starting his two games so far.
Brandon Aiyuk (4-37-0/4) appears to be the loser with Jimmy G., his two games with Garoppolo fully starting are both under 40 yards receiving. He's just a random WR3 who will have a pop every so often.
 -- In his last 9 games (including playoffs), George Kittle has averaged 3.0 rec., 34.8 yards, 0.11 TDs per game (one TD in 9 games).
Of those 9 games, he's been under 30 yards receiving 7 times.
Kittle owners are experiencing what the Pitts' owners are -- how is this possible? As soon as you discount Kittle, then he goes on a spurt of the best TE numbers on the week…soon to be followed by his next injury that has him out 2-3 games.
Nothing you can do with Kittle except hope and pray…what else is out there off waivers or in trade that's better? But do have a plan B if this keeps dying.
 -- Jeff Wilson (18-74-1, 0-0-0/0) is taking all the SF RB touches and doing OK with them. Not great but RB2 enough. Jordan Mason played special teams, along with Marlon Mack…while the only other RB on the team to get an offensive snap in this game (and it was 1 snap) was Tevin Coleman. I would now assume Coleman as the Wilson handcuff, given his experience there…but who knows?
 -- I think the Philly-DST and Bills-DST are the cream of the crop DSTs right now…but Buffalo has a ton of injuries to deal with, but they are still doing well despite it. The top contender to join the DST elites, in my eyeball test, is the 49ers-DST.
SF has a nice two games ahead -- CAR, ATL and then some battles…KC, LAR rematch (LAR could be healthier by then), bye, LAC. You might stream an option when they face KC or maybe LAC, but definitely don't drop them if they are your main DST. You'll get a good run this season with SF-DST.
Snap Counts of Interest:
33 = Wilson
01 = Tevin Coleman
74 = Kupp
73 = ARob
65 = Skowronek
06 = Powell
01 = McCutcheon (his first offensive snap!!!)
44 = D Henderson (he continues to lead the way in snaps but rarely touches the ball for it)
28 = Akers
02 = Malcolm Brown