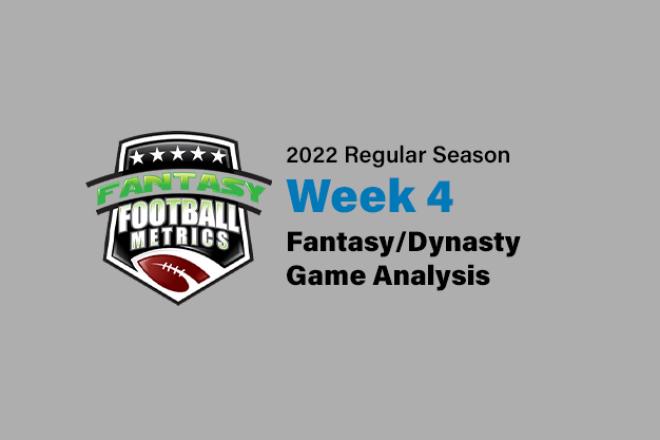 R.C. Fischer
Total Football Advisor
07 October 2022
2022 Week 4: Bills 23, Ravens 20 (Dynasty/Fantasy Analysis Game Report)
This was an entertaining game to watch, but not so much for FF output. The game was played in a drizzle, wet conditions and there were bunch of missed connected, dropped passes because of the slick conditions. I would say to throw out this game from the memory and statistical banks because the conditions affected play so much. However, I do have player notes for sure…mostly about who these coaches and QBs used in crunch time and trusted to catch the ball in the conditions…in a crucial game that was super-important for the AFC…and we learned who they didn't trust or desire to use. A lot of 'tells' were happening.
As far as the game itself…the Bills had a misfired, slippery ball pick right away that set up Baltimore for an early, quick, cheap score. Baltimore then had a traditional drive TD soon after for a shocking/quick 14-0 lead. Baltimore was nearing to take a 21-3 lead in the 1st-quarter, but they got halted in the goal-to-go and kicked a field goal…17-3 Ravens early 2nd-quarter…then 20-3…it seemed like this game was going the Ravens way no matter what.
Buffalo had a Josh Allen for MVP drive, in miserable conditions, for a score in the closing minutes of the 1st-half to cut the lead to 20-10.
The Bills would shutout the Ravens in the 2nd-half…including a couple key interceptions…one in the end zone near the end of the game. Buffalo got more MVP Josh to gut-out the win. Impressive win for Buffalo under the conditions and early 20-3 deficit to a good team.
The Bills are still the class of the AFC East/AFC. Baltimore is pretty good but not Buffalo good. The Ravens can win the AFC North good, but not win the AFC good…in the end. The Ravens facing Cincy this week and then a lot of winnable games from there the rest of the season. If the Ravens beat Cincy Week 5, they have to be the odds-on favorite to win the division.
Fantasy Player Notes…
   -- The player I'm getting the most emails about, seeing the most activity on is Devin Singletary (11-49-0, 4-47-0/5). It's a perplexing dichotomy…
1) He's getting much more snaps the last two games more than the first two…56% of offensive snaps played Weeks 1-2 and 81% Weeks 3-4…while at the same time Moss-Cook are ghosts.
2) Singletary is getting the touches, but the numbers aren't great, but he is catching more passes in PPR…so that has people amped.
Singletary is playing a lot but only averaging about 10 carries a game, but 6+ catches per game the last two weeks (after a big Wk3 spike). He hasn't rushed for a TD but has caught one.
FF players LOVE RBs getting 10+ touches a game, especially when the other RBs around them are barely playing…so people see Singletary as RB hope for their eternal RB thirst, but then they see him not scoring TDs and rushing for less than 4.0 yards per carry this season.
Do you get FF points for carries and snaps played?
Singletary has had double-digit PPR FF scoring his last two games, so you can't turn your nose up at it. Will it continue? I dunno…maybe?
Every time Singletary looks like a breakout to RB2 or better, Zach Moss will inexplicably get a bulk of work. And I know the Bills want James Cook to be a weapon, but they can't trust him yet. By default, all they have is Singletary…running behind one of the worst run blocking O-Lines in the NFL (we rate them #28 in run blocking…close to #32).
It's working now…it may work great for weeks…or it might change on a dime. Singletary has been one of the most unpredictable players in FF since he hit the league. Why would it change next week?
It's your call…your guess is as good as mine. I have no insight or data trend worth anything on him.
 -- J.K. Dobbins (13-41-1, 4-22-1/4) looks totally healthy and fast as ever. You should have no worries on him health-wise. His only FF-concern is Gus Edwards (back from IR) getting active and splitting carries some with JKD. And it's gonna be worse in 2-3 weeks, when Justice Hill (8-45-0) gets back from his injury and the head coach who loves an RBBC trio will have three legit RBs to work with.
Week 5…Edwards may not be active yet and Hill may be out for a week or two -- it could be a big Dobbins week despite a very good Cincy run defense.
 -- The Bills receiving group should not be judged in output, per se, in the rain…but we can look at what Allen was doing in desperation in this game/comeback…also the Bills got struck with a ton of injuries among the receivers, so there's that to deal with. First, the flow report out…
Gabe Davis (1-13-0/3) is either hurt worse than we know…or he's collapsing. Mild/OK game Week 1. Hurt Week 2/out. Week 3: 3-37-0/6 and 1-13-0/3 this game. Not good.
Isaiah McKenzie (4-42-1/6) stepped up as the top non-Diggs option, but the early intent was…there was that Jameson Crowder (1-7-0/4) and McKenzie split role happening again…coming in and out for each other early on, but then Crowder broke his ankle in-game and then McKenzie was on the field a lot more to finish the 2nd-half.
The Bills have a Gabe Davis issue of some kind. Now they have a Crowder issue. McKenzie is in a great spot to work Week 6 vs. PIT, but he got hit/concussed and questionable. So, let's get into the Week 6 injury issues…
McKenzie is looking less than 50-50 to get cleared of his concussion…especially in the Tua-era for that now. Gabe Davis is then in a great spot, but he has sucked this year…and I never thought he was that great, but he may get extra work here.
Dawson Knox (3-40-0/60 may have gotten in a better spot…but now he's out with various injuries. Quinten Morris gets a bump off of that, as does FB Reggie Gilliam…but not a mega-rise on either. Morris likely the better of the two for Week 6.
Rookie WR Khalil Shakir (2-23-0/20 is in a really great spot if McKenzie cant go. Shakir is a talent. He's got good speed, so-so agility, excellent hands…but is a rookie being pressed into a bigger spot.
 -- The Ravens are having WR issues too…
Rashod Bateman's (3-17-0/6) numbers haven't been great outside of two long TDs Weeks 1-2. Now, he hurt his foot…and my guess is he won't play this week (Week 6), and the Andy Isabella signing might foretell a longer absence on Bateman -- possible IR stint? Just speculation on what I am seeing/sensing.
Who will step up then for the Ravens?  
I want to say Devin Duvernay will be that guy…as he should see a few more snaps…but he's the Kyle Pitts of the Ravens -- talented, making money catches, might be their best WR for this style offense…but they always keep him(mostly) around 50% snaps and 2-4 targets.
DD made a money catch in this game in the red zone converting a 1st-down near the goal line. Next play, a critical moment of the game, Duvernay not out there to try and be part of the scoring offense. I see that a lot…it's like they don't know what they have in a what could be a Pro Bowl, game breaking slot WR…wasted as a generic/random WR out there that Lamar barely looks at but trusts in big spots but doesn't ride with it.
Duvernay has a shot to be good/a WR2-3 option for Week 5 FF if Bateman is ruled out.
 -- Just a quick note…the two QBs in this game are FF-great, but had so-so FF outputs…blame the rain, nothing else. They were both normal/fine, just lost opportunity through drops and slips in the rain.
 -- Side note: The Ravens-DST looked really good here. Aided by the rain, but Humphrey-Peters back to normal and adjustments made. Statistically, the Ravens defense is pretty bad this season…but I think they are getting crushed from Weeks 1-2-3 and the injuries to the secondary, and it's hiding the improvements/stability they have more at full strength.
The Bills-DST, despite the injuries they are dealing with, is still amazing…they really won this game by shutting out BAL in the 2nd-half and treating a couple deeper into their territory drives. If/when they get to full strength they are right there with Philly defense as 'best in class'.
Snap Counts of Interest:
45 = Duvernay
39 = Demarcus R
31 = Bateman
06 = Tylan Wallace
05 = James Proche
35 = Dobbins
25 = J Hill
56 = Singletary
06 = Moss
02 = J Cook