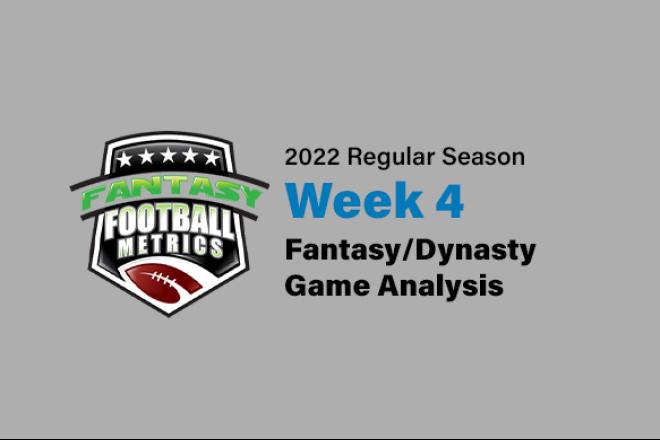 R.C. Fischer
Total Football Advisor
04 October 2022
2022 Week 4: Jets 24, Steelers 20 (Dynasty/Fantasy Analysis Game Report)
The Jets were up 10-6 at the half. Then Kenny Pickett came into the game after the half, which got the Steelers home field faithful charged up and the next thing you know the Steelers were up 20-10 a few minutes into the 4th-quarter. No way the Jets were gonna make a comeback!
Way.
Two impressive TD drives led by Zach Wilson, the final one with under a minute left, and the Jets got away with the win to jump to (2-2) and send the Steelers to (1-3).
Honestly, this was two bad teams playing football against each other…until the 4th-quarter, where the Jets decided to play well and just grabbed this game back from the Steelers…in Pittsburgh. It's going to be a long season in the Steel city.
The next 4 games have the Steelers facing BUF-TB-MIA-PHI…a (1-7) Steelers team is headed our way. They might as well start the trade deadline deals that they need to make right now…dumping players for picks. Mitch Trubisky to the Giants right now for anything they can get…
The Jets (2-2) are lucky they aren't (0-4), but they are playing a bit better every week…still disjointed but they now have some hope sitting at .500, and ahead of the Patriots! I have lived long enough to see the Steelers and the Patriots in last place together at the same time. Northeast teams, man…northeast teams. The decks are stacked against them.
Fantasy Player Notes…
  -- There is no turning back, the Steelers have launched the Kenny Pickett (10-13 for 120 yards, 0 TDs/3 INTs, 6-15-2) era. I feel bad for Pickett, he is starting right into the wicked schedule turn and it's going to consume him and the entire related offense.
Those next 4 games: Buffalo and Philly have great passes defenses. Tampa Bay has a near-great pass D. Miami has been roasted by Allen-Lamar-Burrow, but they are good, and Pickett is not in that class of QB. It's gonna be ugly and the Steelers will lose a lot of games…and not provide any great FF output.
How did Pickett look in this game?
Not nervous/calm, but his arm was pretty laggy/slow throwing…I think it was just he was trying to settle his feet/nerves, but he doesn't have the greatest arm anyway…he's more about touch. He made a couple decent throws but also some sketchy ones, as you would expect.
If it wasn't for the two TD runs…this would have been really messy, statistically, for a debut…but at least Pickett was mostly smart enough to NOT throw at Sauce Gardner. Prior to Pickett entering, I watched Trubisky time-after-time try and force it to the WR covered by Gardner…like he didn't even check the field and matchups pre-snap and make decision -- it was stupid and career damning, he deserves to be a backup for life with his terrible pre-snap reads this game…and probably all season, but it really stood out here with the obvious CB to avoid.
 -- As I re-watched/studied this game, it was the same 'ol Zach Wilson (18-36 for 252 yards, 1 TD/2 INT, 1-2-1/1)…scrambing around, not setting his feet, jumpy, trying to make plays with his arm not under control. I was thinking of things I was going to write about him, to slam him once again…but then the 4th-quarter happened…
It was like a whole new/different Zach Wilson.
8-of-24 (33%) for 132 yards = Wilson quarter's 1-3
10-of-12 (83%) for 120 yards = Wilson 4th-quarter
It may have been the first time I've ever seen Wilson stay in the pocket with real protection/time and then step in and make sizzling, real NFL throws…on the money, with ease, in crunch time. Granted, the Steelers played back in some prevent but usually the Jets' QBs are under the gun no matter what the situation…but the protection here in the 4th-quarter was good/great (or PIT laid back, which I don't know why they would). This 4th-quarter gave me a pause on Zach…a pause wondering if there is real hope here.
Wilson is not dead…we're still watching/studying, seeing if it is real as we go. But some hope here, finally, shown in this game. The best quarter of football I've seen him play, and I've watched all his quarters from 2021 this summer.
 -- Did Kenny Pickett favor any WRs?
It was tough to tell. Pickett got thrown in with no weekly 1st-team prep and came in cold and had to start playing. I'm not sure he knows who his favorite WR is.
Well, I know no Steeler QB favors Chase Claypool (0-0-0/2). It's like he's wearing camo on the field. Done for FF until he leaves Pittsburgh, probably…and that might be at the trade deadline or 2023 offseason.
Diontae Johnson (2-11-0/4) was shutdown, as we theorized, by Sauce Gardner (3 tackles, 1 PD). D.J. Reed (4 tackles) and Sauce Gardner are becoming one of the best CB duos in the league.
Because of Gardner-Reed on Diontae-Claypool a bunch, George Pickens (6-102-0/8) got some targets and he came through with some nice catches…his first real flash of confidence on the field shown this season. It was no real pitch-and-catch, swoon to a #1 WR moment for Pickens…it was desperation, more up-for-grabs throws.
Pat Freiermuth (7-85-0/9) is a nice checkdown option…and that may keep up with the schedule they have to play coming up.
 -- How about Zach Wilson's favorite targets, in his 2022 debut…any clues on tape?
Elijah Moore (3-533-0/4) looked like his guy early, but that dissipated soon after.
Garrett Wilson (2-41-0/6) was hot with Joe Flacco, but cold here…it didn't look good between Wilson-Wilson. But it's just one event.
When Zach took off in the 4th-quarter, it was with Corey Davis (5-74-1/7).
Tyler Conklin's (3-52-0/5) bigger target days slowed in game one with ZW.
My take is: Zach Wilson 4th-quarter here is something we've never seen before…it's just a quarter of goodness in a bit of a prevent/hurry up. It may not be reality…but I know Wilson is a good QB, I think he can turn…but not sure if he has the mental constitution to do so. Trying to call who his guy is right now is a dart throw. I will take Corey Davis a bit more seriously now, but CD has usually been a sucker's bet.
 -- Breece Hall (17-66-1, 2-12-0/6) is taking over the backfield for NYJ. Michael Carter (9-15-0, 2-14-0/3) is ceremonially starting but then Hall is taking over. Hall looks fine…not great, not terrible…he's good.
 -- The upcoming schedule won't be fun for Najee Harris (18-74-0) either. Najee is a great receiving option…but got zero targets in this game. I suspect with more prep Pickett will resolve that. And Najee gonna FF-need the passing game work, extra, against that schedule coming up.
I don't just cold dump Najee in a deal, redraft or Dynasty…but if something hot comes along in a deal, I'll move him. His market value is way above his reality. His name carries a lot of weight…his results/output doesn't match.
 -- Just to put a bow on the Steelers upcoming schedule woes…you can't use their defense either, even if T.J. Watt returns. J. Allen, Brady, Tua/Tyreek (still evaluating nicknames), and Hurts the next 4 games…no, thanks.
The Jets defense…they are showing some promise, but they're not ready yet. One to watch ahead.
Pittsburgh Dad's analysis:  https://youtu.be/R8wvCOphyz0
Snap Counts of Interest:
57 = Diontae
47 = Claypool
45 = Pickens
48 = Najee
16 = J Warren
63 = E Moore
54 = G Wilson
52 = C Davis
08 = Berrios
46 = B Hall
31 = Carter
57 = Conklin
31 = Uzomah