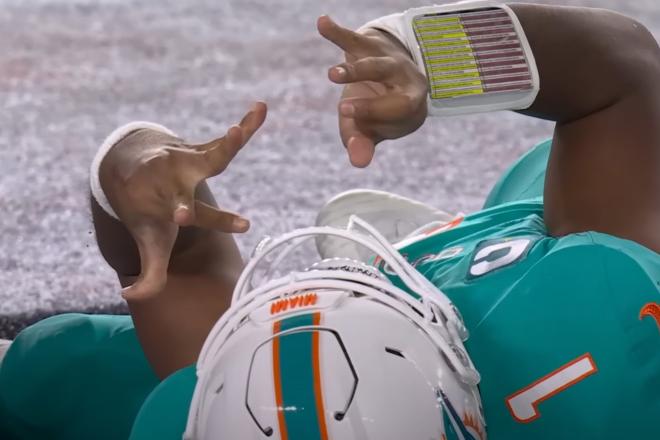 R.C. Fischer
Total Football Advisor
03 October 2022
2022 Week 4: Bengals 27, Dolphins 15 (Dynasty/Fantasy Analysis Game Report)
This game will always be remembered for the Tua concussion event…the gnarled fingers from a paranormal horror movie up in the air as he lied still otherwise.
There was a game outside of that…a game where the Bengals decided to run Joe Mixon for 2-yards at a clip a million times, which helped keep an otherwise distracted Miami in the game late into the 4th-quarter, until the Dolphins finally gave out.
Considering the circumstances…the Tua event, Miami on the road on a short week where they came off a massive, physical win against Buffalo, a game that saw the Miami defense on the field forever Week 3 and then having to play a few days later on a road trip to face Joe Burrow in a Cincinnati fanfest game on a solo night game -- this, honestly, felt like a win for the Dolphins to me. A loss in the standings, but a 'W' mentally. A confirmation that Miami is not a fluke. I now believe that the Dolphins can take down the Bills in the AFC East, if Tua is back this week or next.
Cincinnati does not look right to me…it's Joe Burrow putting 52 other players on his back and carrying them to wins. They should win the AFC North, unless Baltimore finds a secondary…fast.
Fantasy Player Notes…
  -- Obviously, Tua Tagovailoa (8-14 for 110 yards, 0 TD/1 INT) is the big news on the FF player front. Before I touch on the injury, I have to say…I went into this game wanting to see if Tua followed up what I thought was his real breakthrough game (Week 3) for me (but it might have been Week 2, but I didn't want to believe it/Baltimore played so bad 4th-quarter).
And the answer is = he did…he did follow it up and looks like a real NFL QB to me.
Actually, strike that…he doesn't look like a real NFL QB, he looks like something very unique in the league, very different -- a master at short, quick passes. And he's adding more medium and deep throws into his game to make the short stuff even more lethal.
Tua is carving up defenses with his surgical strikes in part because he now has elite weapons to do it with…Tyreek and Waddle are so fast and can get open so quickly it's giving Tua some 'greatest show of turf/grass' vibes. Tua is so good at identifying the open receiver in the cracks of the coverage in a blink…the defenses can't react to his throws properly, and are always chasing/guessing -- if they cheat up and dare him to throw over them, he's got the WRs to burn them with. The amazing 4th-quarter comeback against Baltimore, may have been due, in part, to the replacement Ravens secondary cheating up to play/assume short quick hitters that Miami faked and went deep with Tyreek, and he was open by a mile.
Tyreek Hill is one of 2-3 NFL WRs that change the game…change the defense/are almost indefensible. Kansas City let that go to waste, which is why Tyreek wanted out…and now it is giving Tua a career boost of confidence and options.
Speaking of Kansas City… Has Tyreek Hill been wrong about anything yet?
He wanted to leave KC because of their offense going the wrong way…and once in Miami, he instantly said that Tua throws the most accurate ball he's seen, better than Mahomes. Where has he been wrong so far?
Patrick Mahomes is one of the best QBs of all time, specifically one of the best deep ball throwers and improvisers in the history of the game. Possessing this historic weapon, KC has chosen to…
1) Get rid of Tyreek and add in slower, non-star WRs for Mahomes to work with.
2) Possessing the great deep ball thrower, KC has changed its offense to timed/quick/short throws to a bunch of limited after-the-catch guys…which is starting to frustrate Mahomes.
3) Defenses are sitting back allowing Mahomes to burn himself out throwing short passes and also taking away the deep ball…which they are being helped by Mahomes's own coaching staff.
Whereas Tua, a more limited arm/athlete/size than Mahomes…Miami sees what he can do and builds around it.
1) The current regime has Waddle, then they trade for Tyreek…and they build the passing game around their superhero skills.
2) Possessing a great short game thrower, Miami is not installing a plan to do the opposite or go with a traditional offense…they built the offense to all low Tua to work the short game and have given him excellent speed weapons to do it with.
3) Defenses don't know what to do against Miami…play up to try and stop it and worry about Tyreek-Waddle killing them deep…or play back and let Tyreek-Waddle catch a ton of passes and race after the catch.
It would not shock me if from Week 2 to Week 17, that Tua outscores Mahomes in Fantasy …and throws for more yards while keeping close in TDs (if Tua is still playing in the NFL this season).
Now, warm up the heart paddles if you need them to recover from that heart stopping statement just typed.
I'm not saying Tua is better than Mahomes…I don't believe that, but I do believe Mahomes is being dragged down by his game plan/surroundings now…whereas Tua is being pushed forward/enhanced/boosted…and Tua may boost right by Mahomes if Tyreek stays healthy.
…and if Tua stays healthy.
I imagine that Tua will clear the neurological tests and be playing Week 4 or Week 5 (Week 5, if they hold him out a week out of fear/public backlash).
I don't believe Tua got pushed through all the concussion checks in-game Week 3 or during the Week 4 lead up. He was obviously fine Thursday until he had his head slammed down. I don't know that Week 3 had anything to do with the Week 4 issue, but it's just speculative on my part -- guys used to play through concussions all the time back in the day and take hits the next week/s. Why people are making the leap that his Week 3 event had something cumulative to his Week 4 event is speculative at best…stupid at worst. Because people saw something unusual on video…it's now their reality. Whatever the truth is, we'll find out this week.
I'm into acquiring Tua as a 2nd FF QB, who might be my primary QB depending. I'm starting to believe in the Tua upside in this offense with these weapons.
The Tua valuation is: No one really believed after a mild Week 1. And he was just solid Week 2 for three quarters, getting killed by the Ravens and then the 4th-quarter performance for the ages got everybody chasing him off waivers. Week 3 was a minor let down in output…but it was against Buffalo and Miami barely had the ball…but it will be noted in FF-owner's brains as a dud FF week, regardless. Week 4, FF mild/OK numbers prior to the concussion, but then the concussion takes center stage and only a half game's tally Week 4 that is logged as a 'full game played' statistically, dragging his averages down for the year. It's been mostly duds for Tua, statistically, and now the concussion issue is taking center stage.
If we don't have answers on whether he plays Week 5…he could be dropped a lot of places on to waivers this week. And I'm going to be there to pick up the pieces, cheap. You might be able to trade junk for Tua on Monday-Tuesday or post-waivers running. There is risk that he has something bad on the brain checks, but so far it looks like he's moving along fine. I'm not paying for Week 2/4th-quarter Tua…I want the selloff-on-fear Tua for cheap/nothing, people folding. I'm willing to take a look now…especially if I have Tyreek to stack them together.
Yes, I'm into Tua now. The situation has changed…I change with it. We can examine how/why and all that in the offseason…but I see opportunity here, at a declining cost.
 -- Teddy Bridgewater (14-23 for 193 yards, 1 TD/1 INT) and was solid…better than I expected. He too took advantage of this offense with Tyreek-Waddle…and he obviously prefers Tyreek Hill (10-160-0/14) over Jaylen Waddle (2-39-0/5).
But next week could be different, if Teddy has to start. The Jets could put Sauce Gardner on Tyreek Hill, and then buckle up for that one…two of the best I've ever seen at their positions. It might lead to more Waddle opportunities Week 5?
If Tua is back, same thing…only better.
 -- Yes, the Bengals did play in this game too…
Joe Burrow (20-31 for 287 yards, 2 TDs/0 INT) had a solid game…only sacked once, only hit three times. He didn't have the greatest FF numbers, but it was OK.
The reason Burrow took less hits here and why his numbers were maybe down a bit was because Cincy decided to run and run and run with a suddenly very dull Joe Mixon (24-61-1, 4-13-0/4).
I've been pointing out the Mixon low ypc issues going back to the 2nd-half of 2021 season on a weekly basis…and then here we got a TON of Mixon and just 2.5 ypc. The string of games under 4.0, under 3.5 ypc is getting silly now. He's averaging 2.7 ypc in 2022.
The Bengals have a bad O-Line and Mixon is slamming into the line almost always and having to grind a yard or two out of many carries.
NEVER.
AGAIN.
With 1st-round redraft RBs.
 -- It was shocking to see Burrow not even looking at Ja'Marr Chase (4-84-0/6) much of this game…to JC's frustration. But Chase had Xavien Howard on him a bunch, and Tee Higgins (7-124-1/9) is probably playing his best ball of his career…and he was good before.
In another week, I might be typing NEVER. AGAIN. With 1st-round WRs in redraft. Adams-Jefferson-Chase have all been duds/disappointments the past two weeks (writing this pre-Week 4 Sunday games)…now three weeks in-a-row for Chase. Not bad in that stretch, but not the ROI/great you wanted from a 1st-round redraft WR.
 -- OK, if you didn't think it before…it is even clearer after this game: Raheem Mostert (15-69-0, 2-12-0/3) is the LEAD back for Miami…and it's not even close.
Chase Edmonds (5-6-0, 2-14-1/3) keeps getting TDs, but Mostert is getting the heavy touches and big snap tallies.
Snap Counts of Interest:
36 = Hayden Hurst
32 = Wilcox
16 = Asiasi
40 = Smythe
28 = Gesicki
46 = Mostert
18 = Edmonds