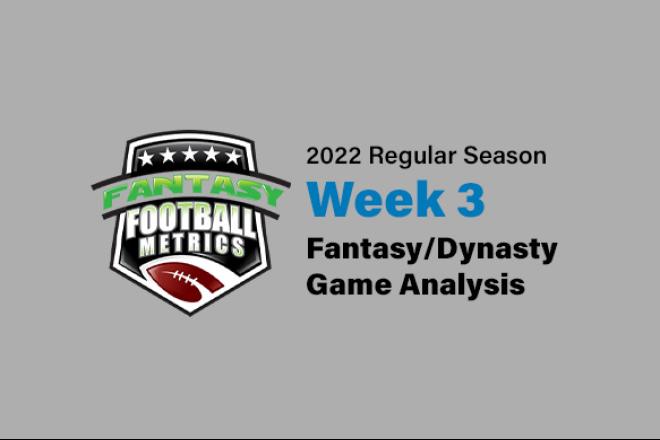 R.C. Fischer
Total Football Advisor
01 October 2022
2022 Week 3: Ravens 37, Patriots 26 (Dynasty/Fantasy Analysis Game Report)
I'm not sure how to describe this game I just rewatched.
Both teams flashed some solid/good play…that would be negated by blown/bad coverages on defense (BAL) and turnovers on offense (NE). The Ravens had control of the game all the way, but the Patriots kept hanging in there. The Ravens kept giving NE chance after chance to get back in it, but New England would not accept…these aren't the Patriots of 5+ years ago/the Brady era.
A lot of analysts think Baltimore is some great team, because the media is so into Lamar Jackson as a god, but the Ravens, to me, just seem erratically good…like Lamar…brilliant one moment, jaw-dropping play another moment, then totally stupid the next moment.
So far, in 2022 the Ravens beat NYJ…collapsed against Miami…and survived the Patriots. I'm not sure this qualifies them as a top 5 NFL team. But they are dangerous/can beat anybody.
NE played Miami tougher than the Ravens did (secondary injuries did hurt the cause). NE handled the Steelers. And then the Pats were not bowing to the Ravens here, they just have the lesser-QB, one not built to bring you back from behind. The Patriots have been decent all year…just not enough juice to take down the better teams.
Baltimore is not that dominant team from a couple years ago. Their offense is in-range, but their defense is atrocious.
New England is the team that will somehow wind up around .500 but are no threat to anyone anymore. The Patriots, the Belichick mystique…is totally over.
Fantasy Player Notes…
  -- I mentioned it on the Video Q&A this past week…that the star of this game was DeVante Parker (5-156-0/10), by a mile. I have watched a lot of Parker events over the years, and I have never seen him look so good. It may have been boosted by the Ravens being a disaster in the secondary -- but even so, I've seen Parker take on bad secondaries before, and he was never like this.
Instead of Parker being jump ball guy, deep ball finesse/sawft guy…he was running interior routes, making tough catches, speeding past tacklers, making acrobatic catches and contested catches. It's like he was literally possessed by the ghost of a great WR. He played like he cared…like his career was on the line.
5 catches, 156 yards is great for a game tally…but he was so close to 7-8 catches, 200+ yards, and 1-2 TDs in this game.
Yes, it was the Ravens…a lesson/head's up for those with Buffalo weapons Week 4 (v. BAL)…but also consider here: Parker had one catch on 4 targets, total through 2 weeks, playing a ton of snaps…and then this explosion. What if Parker has 'figured something out' about this offense? What if Parker has been 'reached' by a coach? What if this is a different Parker? What if this is just a flash in the pan?
Sure, it could be a flash moment never to be seen again…but there was something going on between Mac and DeVante, and I'm interested to see more if I can stash him on my bench and just see what happens with Brian Hoyer and when Mac returns. It was that good.
See what you think: https://youtu.be/Xpb0hYwRB14
Who wants boring old 4-5-6th+ year NFL WRs, RC? We want rookie eye candy, fairy tale WRs!!!
Is 2022 the year where experienced WRs, grinding WRs getting their chances are way better than college overpaid, NFL overpaid hype rookie unicorn WRs…and we're missing it because we like new, shiny toys? Don't you think NFL coaches like the grinding, experienced, some formerly thought-to-be talented, mature WRs rather than gambling on lost and/or pampered rookies in their rookie year?
Just going to keep putting that out there as the question screaming in my own head every day, as I watch tape of the week's prior games and see the outputs of some WRs that were thought to be nobodies (Dortch, Hollins, JReynolds, Noah Brown, Curtis Samuel, etc.).
 -- Speaking of players we thought were done…
Justice Hill (6-60-0) was the soup du jour player for FF waivers a few days ago, when a nice thing said by his coach was twisted into a Roto-blurb headline/blurb that created a mini-stampede after Hill.
I'd see pro-Hill blurbs even mention how J.K. Dobbins (7-23-0, 2-17-0/2) looked not-so-good in his debut/return and that it might cause more opportunity for Hill. What game were these people watching? I don't think they watched anything but highlights and looked at a box score. Dobbins looked totally fine…they just aren't pushing everything back on JKD all at once in his return…and for Hill's sake, he has looked very good. Where was this guy the past 4 years? I think he's been there all along…buried.
Hill is not replacing JKD or working into a split…he's a Darren Sproles-ish change of pace option who will be a in a 70/30 split…growing into an 80/20. But if JKD gets hurt…they would turn to Hill, right now…until Gus Edwards returns in 1-3 weeks or so.
 -- For the first time this season, Rhamondre Stevenson (12-73-1, 4-28-0/5) beat out Damien Harris (11-41-1, 2-5-0/3) in both carries and catches. Could be that Stevenson is going to become the hot buzz 'Patriots fave' RB…or could it be the more favorable passing game situation, in a constant deficit, (against BAL) caused him to be on the field more.
We'll see what Week 4 brings, but for all intents-and-purposes this is a 50/50-ish random hot hand week-to-week. One guy is not going to push the other one out of the role/touches.
 -- Rashod Bateman (2-59-0/4) went on sale this week. FF owners are very in-tune with target counts…and Bateman's targets  are bad, for a #1 guy.
5-7-4 = Targets in games 1-2-3 for Bateman
2-4-2 = Catches in games 1-2-3 for Bateman
Catches in a game his last 9 games: 0-7-1-4-7-2-2-4-2 (3.2 rec. per game in that span)…is that worth trading for? Bateman has 3 TDs in 15 career games with the Ravens.
Bateman catch rate on his targets this year = 50%...that's not a Bateman issue.
As I pointed out the whole time it was happening this season -- he was catching one of the limited targets for a long score to prop his FF output Weeks 1-2, and that when he didn't hit jackpot -- people/owners would turn. Now, they are.
I cannot make a compelling case as to why you should try to buy low here or have faith that it turns except -- Bateman is really talented and he is the #1 WR here, but on the other hand…that doesn't mean a ton with the Ravens. I've said it since the day Bateman was drafted…a good WR who wound up on the wrong team/with the wrong QB for his skill set. Marquise Brown was a WAY better match for Lamar.
Devin Duvernay (2-25-0/4, 2-0-0) is a great slot WR in waiting…but also wound up with the wrong team/with the wrong QB for his skill set.
Duvernay targets in his last 9 games: 2-3-5-3-3-0-4-2-2 (2.7 targets per game)…what would change it, consistently higher, ahead? Is Lamar going to be a different QB ahead? Is Harbaugh changing the offense?
Duvernay has 3 receiving TDs in 3 games so far this season, but he's not a hotly desired target of Lamar's...just randomly, lowly targeted…but is getting some scores early this season among his low targets/catchers.
Duvernay would be a WR1 PPR today, a star slot -- had he been drafted by like the Packers and been their slot WR since day one. Being drafted by the Ravens has killed his future earnings in free agency 2024.
 -- The difference in winning this game likely was decided by which team had the better QB, in general, and that of course is easy to figure out…
Lamar Jackson (18-29 for 218 yards, 4 TDs/1 INT, 11-107-1) is back to his 2019 MVP ways. I think Jalen Hurts is playing better, but no qualms with Lamar-lovers.
Lamar has 10 passing TDs this season…he didn't hit 10 passing TDs until Week 7 last season. He has back-to-back 100+ yard rushing games…he last did that in 2019. He had two 100+ rushing all of last season. He's definitely making his mark to be the highest paid QB in the NFL…you have to respect him for it.
 -- Mac Jones (22-32 for 321 yards, 0 TD/3 INT) is not going to win the MVP this season, or any season. 2 TDs/5 INTs so far this season. He did throw for 321 yards here, but it seemed like every throw downfield is into tight spaces and any little amount off created/caused a potential turnover. He is, at least, pushing the envelope downfield more this year…good for DeVante Parker, if that's gonna be a thing.
Brian Hoyer is likely to play in Mac's place for at least the next two games…Mac really sprained his ankle badly at the end of this game.  
 -- Just a quick IDP note…
Deatrich Wise (6 tackles, 3.0 sacks, 4 TFLs) played out of his mind here. I've never noticed Wise doing anything of note prior years. His career high in sacks was 5.0 as a rookie in 2017…and he has 4.0 sacks in 3 games already this season. Another one of the late bloomers' hitting in 2022? We'll see…
Snap Counts of Interest:
64 = D Parker
54 = L Humphrey
50 = Agholor
18 = Bourne
41 = Stevenson
25 = D Harris
37 = Bateman
35 = Duvernay
22 = D Robinson
28 = J Hill
27 = JK Dobbins