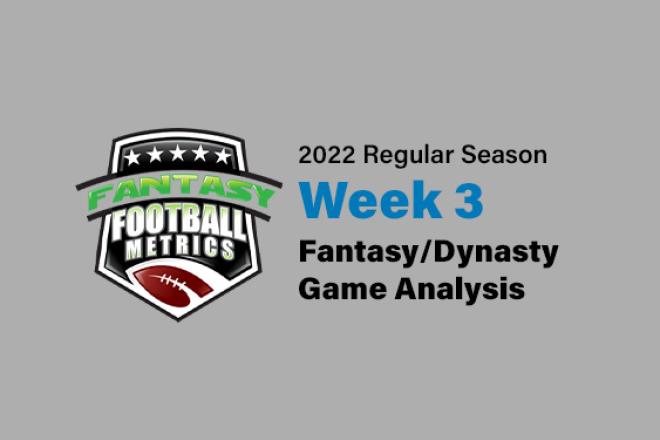 R.C. Fischer
Total Football Advisor
30 September 2022
2022 Week 3: Falcons 27, Seahawks 23 (Dynasty/Fantasy Analysis Game Report)
This was an interesting game. The short version of it is: The team that used their known, obvious weapons heavily (Pitts, Patterson) won the game over the one that got super cute with the playbook and didn't push their top weapon (Penny), after starting out doing so…and taking a lead…then abandoning the obvious as they went along, and they lost the lead in the 2nd-half and the game.
Both of these teams are not terrible…they're just usually terribly coached. Arthur Smith outcoached Pete Carroll here by simply letting his stars carry the day…or the stars took over and saved Smith from himself.
Fantasy Player Notes…
  -- If you watched all of Kyle Pitts's (5-87-0/8) targets in this game, then you'd know I will NEVER apologize for taking him or pushing others to take him 'too early' or 'at all' (after his first 2 games were FF nightmares).
Pitts had 40% of Mariota's targets in this game and caught 38% of his completed passes and 38% of his passing yards.
…and still they left money on the table with Pitts…two near miss 30+ yard plays on overthrows (which we'll have to live with this with Mariota).
…and he had a target taken away on an offensive penalty (elsewhere).
…and it wasn't 'TE was open, so they went with it' or 'late game, in a deficit, throwing against prevent defenses, and the QB dumping it to the leaking out TE'. No, Pitts was more a purposed weapon here than maybe any game I've seen him in the NFL so far.
…and they went away from attacking with Pitts in the 2nd-half in a heavier run game effectiveness. He got his numbers in about a half a play, roughly.
The sky's the limit on Pitts. Coverage cannot stop him, only Arthur Smith and Marcus Mariota can. If you own him and were thinking you got a dud after Week 2…you should be as excited about where this could head as much as you should be scared to death Arty Smith takes it away again.
See for yourself: https://youtu.be/Kd5k18T4FaU
 -- Mock these two QBs if you'd like, and I have over the years, but they are both playing pretty well.
When the mainstream was trying to project Desmond Ridder as the starter Week 1, I was projecting Marcus Mariota (13-20 for 229 yards, 1 TD/1 INT) as a QB1 threat in 4pts pass TDF leagues because of his running. Guess what? Mariota is currently the #13 QB in PPG so far this season.
The Falcons are #9 in scoring offense in the league so far.
Better at the QB position than Mariota, shockingly, is Geno Smith (32-44 for 325 yards, 2 TDs/1 INT)…not for FF scoring right now, but in actually playing the position/throwing passes/commanding the offense. I can't believe it, but Geno is 'capable'. He's leading the NFL with a shocking 77.5% Comp. Pct. through 3 games.
Geno is not great…but he's not a joke either. He is running this offense well and making solid throws downfield more and more. Shocking.
2022 is the rise of players who were written off years ago but kept grinding, gaining experience and finally got a shot at QB or WR, and very good performances are arising out of nowhere. The first 3-4 years in the NFL is becoming the new 'college' experience to vet and shape/mold these never-quit players.
 -- The good old, boring veteran RBs…
Cordarrelle Patterson (17-141-1, 1-12-0/1) foiled Arthur Smith's plan to waste him in 2022 by taking this game over in the 2nd-half and literally carrying the team to victory. Patterson was fine in the 1st-half, but then he just started gashing Seattle in the 2nd-half and the Falcons took the lead and ran clock/possessed the ball to put away Seattle.
Patterson is one of the best RBs in the NFL, and the Falcons try to find ways NOT to play him heavy and run the offense behind him…like last week. Hopefully, Smith noticed this and wants to win games going forward.
Unlike Pete Carroll, whose team took the lead early and featured Rashad Penny (14-66-0, 1-3-0/1) right out of the gates…runs of 10 and 11 and then 14 yards his first 3 carries on the first 5 or so plays of the game…and then Penny just kinda disappeared and we got to see how clever Carroll's play calling and RB rotations were…and Seattle eventually lost its lead and wouldn't stick to a run game after it being so successful right away.
Pete Carroll is known as a run game head coach, to a fault -- but his 2022 self is beyond smitten with Geno Smith. This is a Geno Smith-based offense…while Penny, one of the best yards per carry RBs in the league the past 10 NFL regular season games, is used spottily.
Seattle is #31 in rushing attempts in the NFL…and #17 in pass attempts, despite being in three closer games to start the season, ones where they have led a chunk of the time -- they won't use the run game to sit on leads anymore despite all the results/efficiency and on-tape obviousness of Penny. This a Geno-centric offense.
Patterson and Penny look so good that the magical rookie RBs were nonfactors here…
Tyler Allgeier (6-25-0, 1-5-0/1) looks really good, and he was running on-and-off with Patterson early, but then CP took over to win the game.
Kenneth Walker (3-19-0, 3-14-0/3) enters games for Seattle and looks lost half the time and misses blocks…he does rookie things. He's not ready to challenge or usurp Penny. He may take over the 3rd-down role a bit with Travis Homer on IR.
 -- Because this is a Geno Smith-centric Seattle offense, and Geno is now the most accurate QB who ever lived, all my preseason projections on this offense are trash.
Tyler Lockett (9-76-0/11) is going to catch a ton of short passes, until they figure out what Geno is doing (a ton of play action rollouts…which teams have been allowing while they defend Penny/the run game).
D.K. Metcalf (5-64-1/12) will get double digits TDs this season, because Geno is smartly targeting him in the red zone, and Geno has been good/very accurate in ball placement.
No TE has stood out yet, because they are rotating/using all three as 'one'…Fant-Dissly-Parkinson combined 9 catches for 105 yards and 1 TD
Snap Counts of Interest:
49 = Penny
15 = D. Dallas
09 = Walker
02 = Homer
43 = Dissly
39 = Fant
26 = Parkinson
43 = Hesse
38 = Pitts
09 = Firkser
35 = CPatt
21 = Allgeier
04 = Av Williams