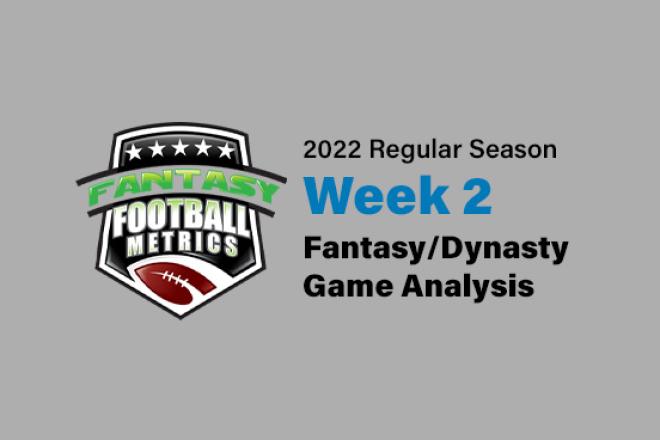 R.C. Fischer
Total Football Advisor
23 September 2022
2022 Week 2: Bucs 20, Saints 10 (Dynasty/Fantasy Analysis Game Report)
I forgot/didn't realize until the rewatch that this game was 3-3 with 7 minutes left to go. A defensive battle. Both teams with good defenses and both teams hate each other (and they made that obvious here) and they just went to war, and it was a low scoring physical affair. I'm not going to judge either team from this effort/offensive struggle -- either team could've won, honestly but Tampa Bay is just better because of Brady, and it showed, and they won.
Tampa is very likely going to win the NFC South, again, because they have Brady and the better defense. The Saints have a good chance at a wild card…but they should be (0-2) right now.
Fantasy Player Notes…
  -- My main focus re-watching this was to see if Tom Brady (18-34 for 190 yards, 1 TD/0 INT) was losing it or not.
He isn't.
He looks fine. He faced a tough, energized defense that always gives him trouble and he was forced to work with Perriman-Scottie Miller-Gage-Brate way too much. I feel a lot better after watching this in detail…once they get their WR group back together, or at least most of it, Brady should be fine/old Brady. Week 3 might be worse considering no Evans-Godwin-Julio and facing a tough Green Bay defense.
We'll start the 'buy low' talk on Brady next Monday.
 -- With Mike Evans (3-61-0/4) suspended and Julio Jones/Chris Godwin out…who is Brady going to Week 3?
Based on Week 2, with the same issue when Evans got kicked out, there was no clear 'winner'.
Breshad Perriman (3-45-1/5) caught a nice TD but otherwise there was no great connection. He didn't see his first target until well into the 2nd-half. It's possible he's a winner but he plays a deep game, and the Packers corners should eat him alive doing that…but all it takes is one pass to land…
Brady kept trying to force things to Scottie Miller (3-34-0/8) but it was almost always a missed/near connection, drawing frustration from Brady. He was trying to make Miller an 'Edelman', but it wasn't working.
Russell Gage (5-28-0/6) looked the best of the group by far and he got a good catch count in the game but not much else, and no obvious desire from Brady to push him more.  
Perriman could work Week 3…on one big play. Gage could work from being the best of the group, seeing a lot of targets out of necessity.
 -- So much for the radical Taysom Hill (3-14-0) Week 2 event. Sorry. Right now, everything I think could happen…won't.
Get this…
So early on in the game they bring Hill into the shotgun. He gets the snap, fakes a drop back to pass for a split second which freezes everyone…then he launches forward on the run and blasts off for like 14 yards and a 1st-down to keep the drive going.
At that point I'm thinking…they are gonna beat TB with Taysom running and throwing from that alignment a few times after seeing that. It was the second week in a row Taysom was their best offense.
From there, they never did anything clever with Hill the rest of the game -- just two basic runs for Hill the rest of the way as Jameis threw 3 picks and didn't score a TD for the first 57 minutes of the game and then scored a mercy TD late.
Welcome to the NFL 2022…don't use your weapons, do use whatever has the most draft stock and/or payroll.
 -- I was looking to see if Chris Olave (5-80-0/13) was trying to make waves like Garrett Wilson did Week 3…he did and he didn't. But I had to look at him under a microscope on this rewatch, since he's a 1st-round pick and thus will get a ton of targeting right away. Next week he'll probably see 15+ targets and 10+ catches because he's a high 1st-round pick. 
The good/great news for Olave was -- Winston threw him like five bombs…Olave sprinting deep, sometimes open by a half step or a step usually, no big window, but Winston didn't throw him any catchable ones until late in the game they popped one for 51 yards.
The not-as-good news…Olave wasn't showing anything special. No great routes or 'wow' plays. He was mostly sprinting deep. He was fine but no 'wow'-factor shown yet.
Mike Thomas (6-65-1/9) is the clear #1 otherwise. He doesn't look great/he's not beating anyone in coverage…but he's so physical and confident and connected and finds gaps in the zone…he's gonna work. He plays kinda like a TE at WR, but it works.
 -- Juwan Johnson (4-40-0/7) has had a solid start to the season, and he's had two near-miss TDs…a TD each week. He's so close to getting into the TE1 group. He's overdue for a TD. I think this may be the week if Winston makes it through the whole game.
 -- Both of these DSTs are good…Tampa Bay is the better of the two and looking like one of the best 3-5 defenses in the NFL.
Not a great matchup for Tampa Week 3 v. GB but might not kill you…given GB's WR issues and OL still trying to get healthy.
Week 4 v. KC is not favorable for the TB-DST. Things turn more favorable after Week 4…possibly use the rest of the season except Week 11 bye.
Snap Counts of Interest:
53 = Juwan Johnson (the most of any skill player in game)
52 = Mk Thomas
51 = Olave
46 = Landry
33 = Trautman
50 = Perriman
44 = Gage
41 = Mk Evans
29 = S Miller
08 = Darden