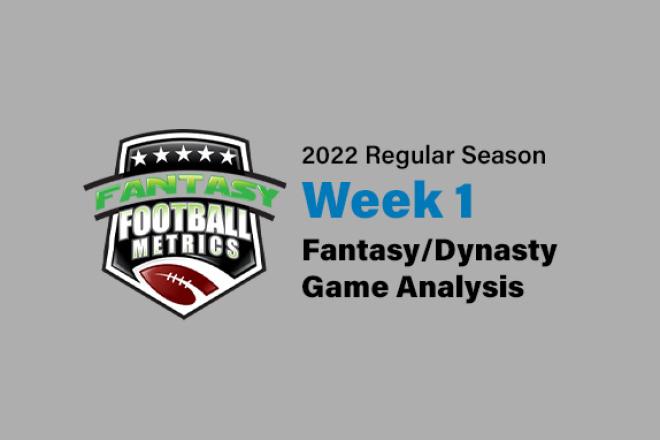 R.C. Fischer
Total Football Advisor
17 September 2022
2022 Week 1: Giants 21, Titans 20 (Dynasty/Fantasy Analysis Game Report)
This game was 13-0 Titans at the half, and it was going about how you would have expected. Titans slow and methodical…the Giants inefficient, ineffective.
In the 2nd-half, the Giants hit on some big plays…a long Saquon run to set up a TD, then a long Sterling Shepard TD pass which is rare for NYG, and then a late muffed punt setting up a short score and then a missed field goal at the buzzer by Tennessee gave the Giants an improbable win. The Titans were the better team but found a way to lose.
The Titans aren't great but they're fine/solid as always. The Giants aren't fixed, they just got a lucky win.
Fantasy Player Notes…
  -- The biggest news from this game: It's confirmed, Kyle Philips (6-66-0/9) is the Titans #1 WR for PPR/FF…he will lead them in catches and probably yards and maybe TDs.
Philips is like a Julian Edelman reincarnated and Tannehill was pitching-and-catching with him like Brady-to-Edelman.
We projected it to be true this preseason, but now we know it's true.
Philips dropped 1-2 passes early but then really came on late when they needed him. This easily could've been pushing an 8-10-catch game had he gotten out to a better start.
 -- Treylon Burks (3-55-0/5) looked very solid in this game but still more decoy downfield than true #1 WR right now. Philips is the easy fast pitch-and-catch option.
Robert Woods (1-13-0/2), as we suspected from the preseason tape, doesn't look back to 100%...if he ever even will be again.
 -- The best player on the field was Kadarius Toney (2-29-0)…only he was on the field for 7 snaps. Why? I do not know the real answer.
Oddly enough, Toney started/was with the starters first play -- then out right after and was not in the game for basically all the 1st-half…then made a surprise appearance in the 2nd-half on a jet sweep and ran by and around and through 5+ defenders for 19 yards. It was so good that he instantly came out of the game and wasn't seen again for a while. He came back in for a backwards pass to set up him throwing a pass (as he does so well), but when it didn't develop right, Toney had to escape, and ran by and around about 5 other defenders to take a -10-yard loss into a 3 yard gain. And then I don't think I saw him again the rest of the game.
Should you hold Toney? Will he ever turn around? Will Daboll ever give into him?
I have no idea on all three of those questions. All I know is, the moment he steps on the field he's the best player…and talent like that ain't easy to find…but I have no idea if he'll ever make it in the bigs due to off-field. He's already 'hurt' again this week.
Richie James (5-59-0/6) was the big target for NYG, which is ridiculous…but the G-Men won so now Daboll is emboldened to be a 'genius' for a week or two and not have to play Toney.
Sterling Shepard (2-71-0/4) looked fine/moved around well in his return…but only saw 4 targets, and a fortunate 65-yard TD haul.
 -- Daniel Jones (17-21 for 188 yards, 2 TDs/1 INT, 6-25-0) is not 'fixed'. I know the media is always so great with their QB analysis, and there's no way the NY media could be wrong about this -- but Dan Jones is still Dan Jones…a bottom 3-5 QB in the NFL. Competent if protected and playing small ball, a mess otherwise.
 -- Derrick Henry (21-82-0) looked fine. The O-Line looked OK. DH sniffed near the goal line but not TDs, which is a rarity. Nothing problematic detected, just a low FF output.
Dontrell Hilliard (2-8-0, 2-61-2/4) got two receiving TDs out of nowhere. It's not a thing now…it just happened by chance. It may be his only two TDs of the season.
 -- Saquon Barkley (18-164-1, 6-30-0/7) looked fine…like his old self, a good-not-great RB. He got sprung for a big run in the 2nd-half which boosted his day from good-to-great.
Matt Breida (5-24-0) is clearly the #2, FYI.
 -- Titans DE Rashad Weaver (4 tackles, 2 sacks) came out of nowhere, literally, for two sacks. I thought he was going to be a very limited backup, but he played a lot here and got two sacks, kinda by 'being there'. I don't see anything special developing here so far.
Snap Counts of Interest:
46 = Woods
44 = Westbrook-Ikhine
31 = K Philips
24 = Burks
44 = Henry
12 = Hilliard
45 = Swaim
40 = Hooper
10 = Okonkwo
46 = Golladay
43 = Shepard
42 = R James
27 = Sills
09 = Wan'Dale
07 = Toney
50 = Barkley
13 = Breida