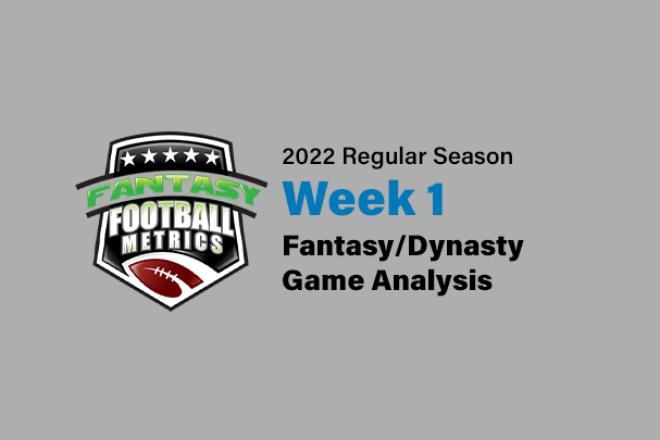 R.C. Fischer
Total Football Advisor
15 September 2022
2022 Week 1: Chiefs 44, Cardinals 21 (Dynasty/Fantasy Analysis Game Report)
We thought, going in, that the Cardinals were (a) dead as a team, no life, poor coaching, poor locker room leadership, bad personnel management and ready for failure…and (b) if all of 'a' wasn't bad enough, then Arizona came into this game missing their starting outside corners and their best CB, a slot CB, was sick (but played, but was sick during). All of those issues likely leading to an ass-kicking by the better-everything Chiefs.
…and that's exactly what happened.
The Cardinals played dead right away as the Chiefs just blitzkrieg'd them, throwing punches/passes from every angle. It made the Chiefs look like gods…but a lot of that was Arizona playing like one of the worst teams in the NFL…which they are rapidly becoming.
I don't know how good the Chiefs really are from this event, but I do know the Cardinals are terrible. That's confirmed. This current iteration of the Cardinals is going to be in an upheaval soon -- they'll want to fire Kingsbury, they'll hold a big Deshaun Watson-like trade event for trying to move off Kyler…Kyler is going to spiral, emotionally, in all this. The house of cards, literally/figuratively, is about to collapse…epically.
Side note: Tony Romo (and Nance) were the broadcasters for this game. When did Tony Romo become the most insufferable football analyst in the game? He started out so well. I know I've been saying he's been terrible for the past two seasons now, but he's reaching new lows of intolerable now. Why is everything in the NFL always getting worse, not better, off the field? The players get better, but the scouting and coaching and broadcasting and analysis gets worse?
How can there not be a human being walking the planet that is good at being a pro football TV analyst, who is both smart and enjoyable to listen to…one that we can learn from? Why is it always ex-Cowboys who are either dull…or over the top…or turn into self-absorbed nightmares around an open mic for too long leading to nauseating Sketcher and Corona ad campaigns? That commercial where Tony Romo answers the Corona hotline…for the length of that phone ringing, 1-2 seconds…Romo made more money in that time than I will this year or possibly/probably this decade in football analysis. But I'm sure inflation will get under control, and everything will be fine ahead…I trust our leaders. I respect authority.
I wish I could watch these games with the sound off…but I need to hear what 'the enemy' is absorbing from their football gods…it's all a part of the proper FF-scouting.
Fantasy Player Notes…
The biggest on-field takeaway I have from this game is…Kansas City is in love with their new all-personnel in a rotation at every position.
The Chiefs went 3-deep at TE…3-deep at RB…5-deep at WR. It seemed like every other snap on offense, there was a new personnel group in. Arizona seemed confused by it…but it may be more that Arizona was going to be confused by anything that happened. It looked cool, for KC, but I want to see what they do when they get resistance -- there was no resistance here by Arizona, per se.
So, let's look at each position and I'll throw in my 2 cents…but don't take it to the bank, because this game may not be 'real'.
 -- The KC WR report…
JuJu Smith-Schuster (6-79-0/8) led the WRs in targets. Marquez Valdes-Scantling (4-44-0/4) led all WRs in snaps played. Mecole Hardman (3-16-1/6) caught the only TD pass by a WR. Skyy Moore (1-30-0/1) played sparingly. Justin Watson (0-0-0/1) was in quite a bit (but got hurt).
What's the projection going forward?
My gut feeling is this offense is becoming Andy Reid's wet dream…the offense he loves, and fits Alex Smith perfectly. A quick, safe throw offense…and he has a QB much better than Mahomes to do it with. He has defensive coordinators planning for KC like Mahomes is a constant deep ball thrower, so the underneath throws and quick hitters are all easy and open. It will probably take a year for teams to figure out what KC is doing…and to figure out that it's not 2019 anymore…and that Tyreek Hill isn't here.
JuJu led in targets/catches because he's a good quick hit throw when the defense is playing way back to stop Tyreek Hill (who is in Miami) from getting behind them for an embarrassing long TD. JuJu is like a quasi–TE at WR…big, slower, reliable. I'd say this will keep up (JuJu as catch leader among WR group), but if the opponent has good cover corners…he could get wiped out very easily. He's a game-by game 'thing'.
MVS is the new deep ball decoy…in a short passing game. You'll get these 4-44-0 games for a week or three, then the lighting strike will hit, and he'll have a 4-144-1 game. Good luck figuring out when it will hit. I want to see another hand or two/game or two of this offense before I worry about MVS or anyone else here. I saw a lot of MVS hope here…and if teams start playing up on KC, MVS is going to kill them deep. Arizona just laid back and took it all.
KC is going from one extreme to the other from Week 1 to 2…from ARI to LAC defenses. Let's see what happens when it's a tough game…who gets targets then -- it may be MVS, who can get open better than JuJu. Week 3 against TB is not going to be easy either.
In the end, the best WR on the Chiefs is Skyy Moore (1-30-0/1) and it's not even close…and I don't know when it will hit, but when it does it should be very good for FF, maybe even great…considering if KC is going to be in a quick hit offense. I didn't 'get it' with Skyy coming out but seeing it on an NFL field…he's got different gears than the other rookie WRs. Christian Watson is also a different breed fast.
However…
KC is so in love with rotating personnel that it may be hard to predict any WR any week. Plenty to go around against ARI, but maybe not so much against LAC.
We need more time/tape of KC to see where this is going.
 -- The KC TE report…
Might you be shocked to learn that the TE snaps in this game was:
45 (64%) = Travis Kelce (8-121-1/9)
37 = Noah Gray (1-10-0/2)
24 = Jody Fortson (1-1-1/1)
Part of this was the game got out of hand early, but again…KC is in love with mass rotations every play. Kelce is obviously fine. Fortson had the TD catch (you're welcome to those who bet it), and he had another near goal line shot…but his close-call-TD catch and run was reversed out due to a penalty. Fortson has TD hope every week…but that's about it right now.
 -- The KC RB report…
Clyde Edwards-Helaire (7-42-0, 3-32-2/3) is the lead, but in the mass rotation KC world…that doesn't mean a whole lot.
Snap counts:
27 = CEH
27 = Jerick McKinnon (4-22-0, 3-27-0/4)
16 = Isiah Pacheco (12-62-1)
Some of this due to the game getting out of hand, but plenty to do with the love of rotating personnel. CEH has a limited upside from the rotations. Jerick McKinnon has value as a side piece 4-6 carries, 2-6 targets per week worker.
Pacheco is the future ball carrier workhorse for them, but his great debut output was mostly all 4th-quarter run the game out work -- but he looked darn good. The future is soon…and his ability already fits perfectly with this mass rotation plan. 40-35-25 split CEH-JMK-AP is likely going to happen…as Pacheco slowly rises over time, taking touches away from the other two.
Eventually, like 2023, Pacheco will be the KC lead into the future. But if CEH goes down…look out.
Yes, the Cardinals did play in this game too. Let's hit all their players/issues…
 -- I know this about the Cardinals WRs: Greg Dortch (7-63-0/9) is their best WR…and was the most targeted here, commensurately. I mentioned Dortch a few times in the preseason and on the pre-kick Video Q&A…but I didn't think he'd be Arizona's #1 already.
Marquise Brown (4-43-1/6) drifted around aimlessly and got a late/lucky TD to salvage his week. I don't know if it was the constant pressure on Kyler or what, but he was finding/looking for Dortch like he confused him with BFF Marquise.
Kyler is gonna get Marquise numbers for his contract, but this was jarring…Dortch is for real but will likely get buried by Kliff for showing up Hollywood. Ask Andy Isabella (1-10-0/3) how that works. When Rondale returns, probably bye-bye Dortch. If not, his presence is some minor FF-trouble for Rondale…and Brown.
 -- James Conner (10-26-1, 5-29-0/6) looks as slim, muscular, and dare I say nimble as I've ever seen him. Still not elite, but he's his best version of himself. I projected this preseason that his 2021 rise in the pass game mattered. Here he is with 5 more catches. And, as always, he had his government mandated short TD run.
Eno Benjamin (4-28-0, 3-33-0/4) was decent…but it was late game, dying game work.
 -- Let's end on Kyler Murray (22-34 for 193 yards, 2 TDs/0 INT, 5-29-0).
Everything I wrote about him this spring/summer is coming true. Everything I've said/hinted at for the past two years is coming true. Super-talented, but this situation isn't getting better…and when Kyler gets paid big money, it's definitely time to run…runaway from a well-paid, emotionally stunted spoiled brat who doesn't take his job seriously…and doesn't have to now, he just got paid like he does.
He hasn't hit rock bottom…he's still a-ways from it, but he's definitely heading down that track. When Arizona collapses and the fans turn on him, and when his enabling coach turns on him…or the enabling coach gets fired or leaves for another job, then Kyler will really spiral. No control-freak coach is going to want Kyler…and if they get him, they will install a different offense and they will try and manage him, and he won't wanna be managed and will not take it well.
Kyler's contract says, to me, he'll be winding down through 2024…and then cut by whatever team in 2025, paid his guarantees, and he'll go try baseball. He might be a QB1 in 2022…a lower-end one, but could be a middle range QB1 if he garbages a lot, but 2023 could bring about change, and/or a trade and then the spiral will fully happen.
You need to sell Kyler high…as I've said since spring 2022…and discussed the pro/con of it in 2021. Please check out or re-read my special report on it for those who subscribed to the Dynasty Offseason.
Snap Counts of Interest:
62 = Marquise
59 = Dortch
48 = AJ Green
21 = Isabella
47 = Conner
22 = Eno
51 = MVS
46 = JuJu
39 = Mecole
16 = J Watson
13 = Skyy
27 = McKinnon
27 = CEH
16 = Pacheco
45 = Kelce
37 = Gray
24 = Fortson