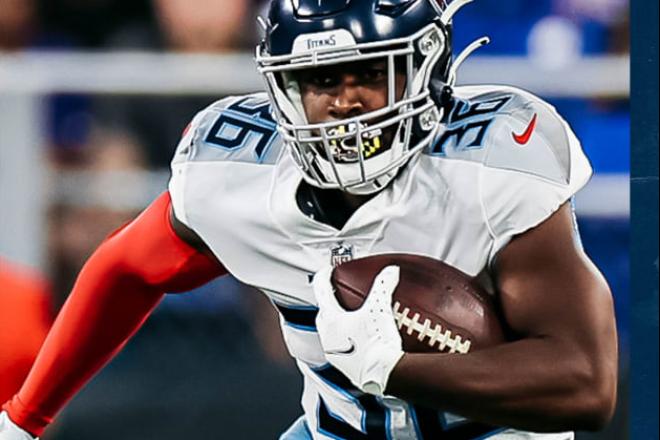 R.C. Fischer
Total Football Advisor
12 August 2022
2022 Dynasty/Fantasy Preseason Week 1 Game Report: Ravens 23, Titans 10 (Subscriber Extra Notes)
Malik Willis debuted this game…and lost…but made a play or two that got him crowned 'great' by Twitter. The Ravens won another preseason game…I don't think they've lost a preseason game since before I was born.
When I started watching this game on tape today, the first thing that was spoken was the lead announcer telling us who was on the call, the broadcast team this day -- it was whoever and 'Gerry Sandusky', and I hear that name for the game call from time-to-time and I always think -- how dumb, how oblivious do you have to be to keep billing yourself that way? I mean…wouldn't you change you name up to stay away from the obvious blight of 'Jerry Sandusky'. The guy's birth name is Gerald Sandusky…that's gotta be better, right? Why should I trust any football opinion from someone too dumb or stubborn to change his name up?
Anyways, onto the player notes…
Dynasty/Fantasy Player Notes…
 -- OK, let's start with Twitter hero Malik Willis (6-11 for 107 yards, 0 TD/0 INT, 5-38-1).
Willis was as expected…he didn't exceed or fall short of my expectations. Good runner/escape artist. Not ready to be a primetime passer, which is to be expected. He's a raw QB talent/athlete that needs time to figure out the 'passer' side of things.
The Twitter banshees saying he is a better Jalen Hurts already…whoa-whoa-whoa, slow down. Hurts was a much more polished passer entering the league. Willis has a hopeful future and did well here but didn't do anything to suggest he's a star or bumping Ryan Tannehill anytime soon, much less Jalen Hurts.
Tyler Huntley (16-18 for 109 for 1 TD/0 INT, 3-17-0) faced Willis, and is a pretty darn good QB in his own right…but Twitter doesn't care because Huntley is not a prospect half the experts claimed would go top 1-3-5 overall in the NFL Draft for the past 1-2 years, only to see him go #86 overall. Willis can/will be better than Huntley, but Huntley is a really nice backup QB who deserves better than 'ignored'.
The Twitter scouts proclaimed their undying love for Willis and then moved on to whatever else it is they do/complain about, so likely all of them missed the best rookie QB in this game -- Ravens UDFA QB Anthony Brown (10-15 for 112 yards, 0 TD/0 INT, 2-14-0).
Brown was one of our higher rated 2022 NFL Draft prospects among the QBs. Not a star or starter rating but showed statistical/analytical and tape signs of being a much better QB than he was being given credit (basically, he was ignored). Brown was the one who impressed me the most here, because you never know how rookie QBs will go in their very first NFL action…usually they are jittery/amped up and everything is moving like a blur…as it was for Willis, as it should be. But Brown did not show that NFL play was blurry for him…and that's really quite amazing considering he was a UDFA and came in playing with backups.
Brown was really nice/sound in the pocket…going through his progressions…and making good throws. I've seen rookie QBs Bailey Zappe, Malik Willis, and Anthony Brown play preseason Week 1 so far -- and the one who showed the most pocket passer poise and looked like things were not too fast for him was Anthony Brown.
For FF, Brown has little chance to get noticed unless he gets cut and put on the practice squad and then a desperate team pulls him off the Ravens. Still, being a UDFA and not elite, just savvy/steady…he'll not get the development or opportunity, and he'll be forgotten soon. I hope not, he deserves better.  Really nice debut here for Brown.
 -- The Titans WR report…
We got to see a glimpse of rookies Treylon Burks and Kyle Philips. If anyone was wondering if the 'shaky' camp reports were 'right' on Burks, I'll report what I saw this game, and you can decide on what the current status of Burks in Tennessee -- and whether it matters much in the long term, or is just a cute story of the moment…
Kyle Philips (0-0-0/1) was out there with the 'starters' for this game, for a series or two, and he fielded a couple of punts…as he has been named the team's starting punt returner on their latest depth chart.
Treylon Burks (1-4-0, 0-0-0/1) did not start with the first WR group…Burks entered the game at WR like 2-3 or so series in., as Philips was near leaving the game for good. Actually, the first time I saw Burks on the field was on the opening kick return team…as a blocker. Burks' first touch in this game was a jet sweep…and let's just say it was 'uninspiring'.
It's too early to be making definitive statements on players/rookies from their first preseason appearance, but all the bad Burks talk from camp…and his 'walking on eggshells' play here and being humiliated (for a 1st-round pick) by being put on the kick return unit as a blocker -- none of this is making me think there ISN'T a current problem with Burks. Maybe Vrabel will beat it out of him, figuratively…literally if needed.
More on why this is some level of a concern in the subscriber extra notes report from this game.
*SUBSCRIBER EXTRA NOTES… 
Last season, the Titans signed WR Josh Reynolds in free agency. He was expected to be a starter considering the Titans lack of recognizable names at WR outside of A.J. Brown-Julio, and those guys weren't completely healthy in-season either. There was opportunity for Reynolds for sure.
In training camp, Reynolds got buried and pushed onto the kick and punt (I think both, going from memory…but definitely one or the other) return team (not as a returner) in practices and preseason and eventually Reynolds got active in regular games when WR injuries walloped the Titans -- and Reynolds looked good, to me, in his WR play, once getting the chance…and then a few weeks later the Titans just cut/ditched Reynolds.
Whether you agree or not, Mike Vrabel is not messing around with skill position players he thinks are 'soft'/not working hard. And Vrabel is putting Burks through the ringer right now. And all I'm saying is…this means Vrabel sees some kind of issue he's got to fix -- and if he can't, he could bury Burks.
I had a bad vibe on Burks pre-NFL Draft, when I had liked him two years prior on preview tape…but the deeper I dug into his real scouting case/background, the more concerns/worry I had. Maybe I was wrong…reading the situation wrong? He had great SEC production and ended up grading well enough in our scouting…with concerns.
I tried to keep an open mind, but our first introduction to Burks as an NFL player wass 'out of shape…no, it's asthma', then working with the 2nd-3rd-team in practices, and now I see him pushed onto the kick return protect team and not even starting with the backups in this Week 1 preseason game.
There are too many other 'neat' young WRs to mess with at Burks' ADP to try and fight all this and be a hero. He may turn it all around. He may get in phenomenal shape and become a star. But I, like Vrabel, am wondering why he wasn't in peak form before hitting the NFL. He has one job -- getting drafted as highly as possible, and yet he had terrible Combine/Pro Day numbers, for his rankings/status.  
 -- Ravens WR report…
Fort Valley State UDFA rookie WR Shemar Bridges (4-62-1/5) had a couple nice plays in this game. He stands out as a tall, lanky/wiry WR. He's got some skills. He's got height/wingspan. He's a little lacking on athleticism.
Isaiah Likely (4-44-0/4) really had a nice game. I've heard all about how good he looked in camp, but I hear that on a thousand players a day. But in Likely's case -- now, I get it a bit more. But all I could think watching him was -- he's a lot thinner than I remember…did he cut weight to get faster (since he had a terrible Pro Day)? He doesn't even look like a TE anymore…he looks like a sleek TE/WR. Watching him here, I will lower my defenses on writing him off because of his Pro Day (and tape). Still, he's in a bad spot for FF…Mark Andrews ahead of him. Rookie Charlie Kolar (DNP) is good. There's no clear path for Likely to become an FF asset…but I'm not as against it (down the road) as I was going in.
 -- An interesting, early twist in the Derrick Henry 'handcuff' sweepstakes… UDFA RB Julius Chestnut (7-44-0, 1-12-0/1) started ahead of 4th-round pick rookie Hassan Haskins (6-19-0, 3-29-0/4).
Chestnut is a big boy UDFA RB out of Sacred Heart…5'11"/228, a 4.61 40-time and 7.03 three-cone with 22 bench reps at his Pro Day. He worked kinda like a D'Onta Foreman 2.0 here…power running, trying to run over anything in his way. He didn't look out of place or over his head from being a UDFA from a small school.
4th-round pick rookie RB Hasson Haskins (6-19-0, 3-29-0/4) came in right after Chestnut…and the two went in-and-out together working this game. Haskins couldn't run at his Combine or Pro Day, so this was a glimpse of his athleticism at the next level, and I thought he moved really well for 6'2"/227.
Both RBs looked very capable/good.
Tennessee has finally gotten with the program I complained about for the past 2+ years. If you're gonna base your offense on Derrick Henry's style/talents…then why were you drafting Darrynton Evans types to go with him? Take the big bully RBs to be his backup in case of emergency.
Tennessee lost D'Onta Foreman to free agency, but they walked away from this offseason with two D'Onta replacement hopes in Haskins and Chestnut.
More on this situation in the Subscriber Extra Notes…
*SUBSCRIBER EXTRA NOTES… 
Chestnut 'starting' over Haskins, maybe be nothing…or it may be something. Worst case, it means Chestnut has Vrabel's attention.
Chestnut being 'NFL legit' means a couple things…
1) It's not a clear and obvious path for Haskins as the for sure Henry 'handcuff'.
2) The Titans may get cute and cut Chestnut before the 53-man roster announcement, with the hopes of grabbing him back to their practice squad. I don't know that Chestnut wouldn't get poached by another team if that happened…which could put Chestnut in to a better depth chart situation (or not).
3) If Chestnut makes the 53-man roster, then that is huge sign of respect from Vrabel.
Haskins and Chestnut both on the Titans…it makes it an 'unknown' as to which is the 'cuff, right now. The answer may be 'none' -- and they'll decide when/if they need to and just roll hot hand.
4) In two years, it's possible Derrick Henry moves on in free agency and Vrabel uses these two in a bully RBBC…which will be maddening for FF -- but it's too early to plan for this…I'm just putting it on the table as something we all keep in mind for those of us Dynasty Rookie Drafting and/or planning around Derrick Henry's future, if you own him (or don't).
 -- Ravens rookie RB Tyler Badie (6-19-0, 1-19-0/1) looked solid with the touches he got. He looked 'as expected', like a good satellite/hurry up offense scat back. But ask Justice Hill if that matters to the Ravens staff/plans or not…
 -- Just one IDP note…
So, I'm watching Kyle Hamilton (1 tackle) in this game…and I went back re-rewatched the first 2-3 series of him specifically. I still don't get it. He missed a few tackles here, two of them badly…and he has perfected the art of getting to the scrum just a hair late, so he doesn't have to get into a fray. He's going to lead the league in guy jogging into the TV shot as someone else makes the tackle.
He's just playing deep centerfield safety, which is fine…but don't expect any big FF numbers, especially in tackle counts, unless he gets his heart changed.
There's a reason he slid in the NFL Draft…and woulda slid further if the Ravens didn't get suckered in.
 -- Speaking of defense, just a quick note on the Titans defense…this unit was a mix of starters and backups for this game, and then they went to the backups and backups to the backups -- but all the units were really flying around to the ball. This is a well-coached team.
The Titans-DST gets Dan Jones Week 1…that ain't bad. The Titans had a surprisingly good defense last season, statistically.
It all made me think -- why does everyone assume the Colts are winning the AFC South over Tennessee?
The Titans have the better defense, especially with Matt Eberflus gone and Darius/Shaq Leonard hurt.
Don't the Titans have as good an offense? Both have solid O-Lines working for a big-time RB led offense, and isn't Ryan Tannehill 2022 better than Matt Ryan 2022? I mean, hasn't Tannehill been better than Ryan for the last few years, since taking over in Tennessee? Where do the Colts have some huge advantage over the Titans? Certainly not in 'coaching'.
The only clear advantage the Colts have is their constant media push…which has ended up being a letdown at the end of the season under Frank Reich, plus they have an overrated media-hype GM, and they all have to work with the nutty, meddling owner.
I'll take the Titans.
Didn't we all hate Matt Ryan the last few years…now, he goes to Indy and will be reborn? That was the same narrative for Carson Wentz last year…and Wentz is a better all-around QB than Ryan, at this stage of his career.