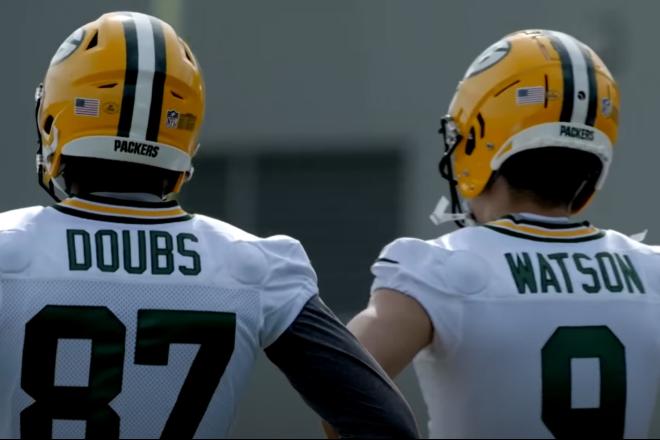 R.C. Fischer
Total Football Advisor
09 August 2022
‍
2022 Dynasty/Fantasy Camp Notes (from 8/08/22)…*Subscriber Extra version
A collection of notes and commentary from training camps -- wanting to discuss the big news or give some tidbits you might not see anywhere else…
 -- As we discussed a week or so ago, the Romeo Doubs story is gaining more and more steam…and thus his 2022 Dynasty Rookie Draft and Redraft ADPs are starting to move higher.
I will reiterate, I'm intrigued by Doubs, as a scout…and started noting the reasons why in our Dynasty Rookie Draft top 350 rankings board and in our redraft Draft Guide a month+ ago, right before the surprising camp breakout -- but I'm also a little suspicious of this current push right now.
I think Doubs is a very good 'technical' WR, and 7-on-7s and 11-on-11 non-contact play works to his advantage, much like KeeSean Johnson rose to prominence in the preseason for Arizona a few years ago (a comparison we made a few weeks ago).
Doubs is at least getting attention, that's a good thing -- but it has helped that Christian Watson has been out with injury and unable to practice. If Watson was 100%...would we be getting the glowing reports on Doubs? Maybe.
Green Bay loves its Packers, and many a-young player gets legendized by the media in non-contact training camp practices over the years. It's fun for fans, but we have to be more critical as Fantasy GMs. Doubs is good/promising, but these camp stories on him have him going from 'not bad' to 'makes wow plays every practice' to now 'walking on water' it seems. Packer fans and media are looking for WR hope, desperately, since Davante ditched them…jilted lovers that they are. Doubs seems to be their rebound WR, right now.
The Packers had a game simulation night for the fans this past weekend, and I have some additional notes on that for subscribers.
*SUBSCRIBER EXTRA NOTES… (go to the subscriber sections to read the extended notes for this section)
The Doubs rise, whether real or inflated, is going to HELP my real target/prize of the Packers WR group…the guy I've been talking about all year, Allen Lazard.
People/fans/media do NOT want to believe Lazard is going to be the Packers #1 WR. They haven't all along…and even as Rodgers says it, there's still not the proper excitement response about it. Why? Because Lazard is not a rookie and/or high-profile draft pick from the recent two drafts…he's not supposed to be good.
Green Bay fans and media pushed/wish-listed all the top rookie WRs to them in the 2022 NFL Draft…but the Packers didn't bite on a high-pick/1st-round WR. The Packers fans and media begged for them to acquire Tyreek, A.J. Brown, D.K. Metcalf, Deebo…any of these contract-complaining WRs. They didn't bite. Then, they shifted to wanting any free agent WR with any history…Julio Jones or T.Y. Hilton, but so far, the Packers haven't made any major move at WR.
The fans/media, having been rebuffed on their big-name 1st-round pick WR wishes…or in getting a big name trade & sign WR…or getting any big name veteran free agent (and Sammy Watkins doesn't count, he sucks) -- now the desperate Packers fans and media have found something to spark their loins…Romeo Doubs.
If all the Doubs talk holds Lazard's ADP rise down…and buries Christian Watson's Dynasty Rookie Draft ADP a bit more, great on all fronts. I like Lazard and Watson more than Doubs, for FF.
The Packers had their annual game/family night preseason event (and 'only' 50,000+ people showed up to watch) and there were some tidbits to pass on from it…
-Snap counts of 1st-team RBs…
14 Dillon, 14 Jones. Not saying anything here besides…the full split is coming -- like they ended up in last season. It's not AJD's backfield now…in some magical wish world people have concocted. I wish it were, but it isn't AJD's backfield…it's an old-fashioned split with Jones still the favored back…by Aaron Rodgers.
I love A.J. Dillon but his output is going to be boat anchored by Aaron Jones, and it's gonna drive all of us nuts…but if Jones ever goes down, and it becomes the AJD show – you could win your league with the mid-round grab of Dillon…or Jones doesn't go down and we cry like stuck pigs all season. A.K.A. the Javonte Williams story in 2021…and fear that it is again in 2022. 
-WR snap counts with the 1st-team…
18 = Lazard (10 as an outside WR, but 8 as the slot WR…he's gonna be Davante-lite)
16 = Watkins
13 = Doubs
-TE snap counts with the 1st-team…
11 = Tyler Davis
07 = M. Lewis
05 = Deguara
I mean…do I know things or what? Who called this months ago?
-- The reports on D.J. Chark 'looking great' in practice…believe it.
Now, somewhere between 50 and 227 players get the beat writer camp label of 'looking great'…or 'looking good' or 'they really like this guy' or 'shinning' or 'turning heads'…so, this latest media DJC praise is likely to drown into the background quickly.
It's especially likely to drown into the background because everyone dismisses the Lions, and they for sure dismiss Jared Goff…so, 'who cares' if Chark is shining in camp.
I am guilty of ignoring the first inklings of positive Chark talk. I let the positive Chark words just roll off my back too. I mean, Josh Reynolds is a serpent (according to Dan Campbell) and everyone loves Amon-Ra St. Brown, and D'Andre Swift is amazing in every camp report -- so now Chark is getting praise, big deal, right? Campbell praises all of them…the media echoes it for the moment…and no one outside (or inside) Detroit really cares.
However, I have watched various camp tape and 11-on-11 work, etc., and I gotta say…it's good to see DJC back. There's more here than the typical pat on the head, camp fawning stuff…potentially.
How much is he back? How does Jameson Williams factor into all this? We'll discuss that in the subscriber extra notes.
*SUBSCRIBER EXTRA NOTES… (go to the subscriber sections to read the extended notes for this section)
I mean D.J. Chark looks REALLY good. I didn't write the above just for fun and for a nonsense/filler camp note reporting like we're used to seeing everywhere you look online for such things -- I was teeing the 'extra' up in the extra notes.
Chark looks fantastic from what I've seen…moving great…and Jared Goff is a really good QB, who has gotten a bad rap. He really closed the 2021 season well, once they got the WRs rolling/healthy and he got used to the situation. 11 TDs/2 INTs and a (3-2) record in his final five starts last season, completing nearly 70%+ of his passes in his late season run.
The Lions have a good O-Line and solid weapons -- if everyone stays healthy enough, Jared Goff is going to be a SuperFlex or deep roster or Best Ball bargain play for those in need. Mariota-Mills-Goff provides some great depth at the FF QB spot in various formats/depths of leagues.
I'd push Chark hotter for FF (and he is rising in my projections out this week), because he really does look like a connection with Goff (which makes sense for Goff to lean DJC), but we got speed bumps in Josh Reynolds being connected to Goff as well…and Amon-Ra a trusted target late last season, and Hockenson a solid hand. I don't know that DJC will get the pure QB's BFF/pitch & catch treatment…but he will have some nice spike games, as DJC can play the short game and the long game.
The DJC ripple effects, if he's becoming a WR leader…
1) Chark could be a hot free agent this offseason…he's only on a 1-year deal. He may not be in the Detroit stew for 2023…he may be off to a better place…or not…
2) If Chark is gonna connect with Goff, Chark could run hot out of the gates (his Weeks 2-4 or 2-5 schedule is sweet)…but when Jameson Williams returns, it's gonna be some kind of drag on Chark (for targets) and a drag for Jameson -- that he is not needed to be a savior in 2022.
3) Chark rising hurts Jameson's 2022 return outlook…and, potentially, hurts his 2023+ outlook, to some degree, if DJC stays around. Chark doesn't crush Jameson for 2023+, but he does take some/a lot of juice out of it (if Chark stays in DET). Which the Chark problem (for Jameson), if DJC is back in 2023, really lends itself to my all-year theory of trading the 2022 Dynasty Rookie Draft 1st-round picks for all they're worth, if you find the right deal.
4) Amon-Ra St. Brown can only fall from his lofty heights of targeting/output late last season -- Chark is gonna pull targets, a returning Jameson is gonna take targets, a healthy D'Andre Swift is gonna be a drag on short targets. ARSB is set up for minor failure compared to his current ADP.
 -- Two lesser thought of rookie RBs are ascending to Week 1 starting roles, potentially. We're going to touch on them as well as a third rookie RB who has gone from totally ignored to the soon-to-be apple of every Dynasty/Fantasy player's eye in the next week or two, and it's already starting.
I'm getting a lot of questions on them, and rightfully so. Let's talk about them in the subscriber report.
*SUBSCRIBER EXTRA NOTES… (go to the subscriber sections to read the extended notes for this section)
We've talked a lot about Tyler Allgeier this entire offseason, but I just wanted to note he is likely to be listed as the #2 RB when the first ATL depth chart comes out…and that is probably a forerunner of CPatt starting, but then Allgeier taking most of the traditional RB snaps/carries in short order, starting Week 1…with CP playing all over the place as a 'weapon', like he started out doing last year…back when he was a nigh end RB1 producer.
The other rookie homing in on Week 1 start is Houston's Dameon Pierce. By my source's accounts, Pierce is outplaying Marlon Mack and the others…but there will probably be an RBBC rotation to begin and then they'll see what happens. If Pierce runs well in the preseason, he will seize this 'starter' (majority of the touches) role for Week 1, as the Texans try and redefine themselves.
Of course, you're probably seeing all the national love for Isaih Pacheco…he's now starting to take reps with the 1st-team. He can't leapfrog the veteran RB cluster ahead of him for Week 1, but I think the feeling is becoming more and more that Pacheco might be the future…and if any opening (CEH injury, etc.) happens, then Pacheco could get sprung into touches. Pacheco is the hottest name in the lesser-name RB pool…the days of him as a DRD bargain are over…hope you had your DRD drafts weeks/months ago, as most of you did.  
Let's see, I was right about Pacheco ahead of anyone in Fantasy (or the NFL analysts)…and with Kyle Philips…and with Tyler Allgeier. I'm firing on all cylinders, as usual…but what about Jelani Woods? Very little news, and the news is more mixed or down -- he's not standing out in practice, and there's more attention starting to focus on fellow rookie TE Alec Ogletree. I'm not deterred on Woods, but between his quiet camp so far and the surge of TE talent coming to the pros in 2023…I'm not as desperate for Woods right now. I still want in, but not as much as when we first started the rookie journey.
‍
‍