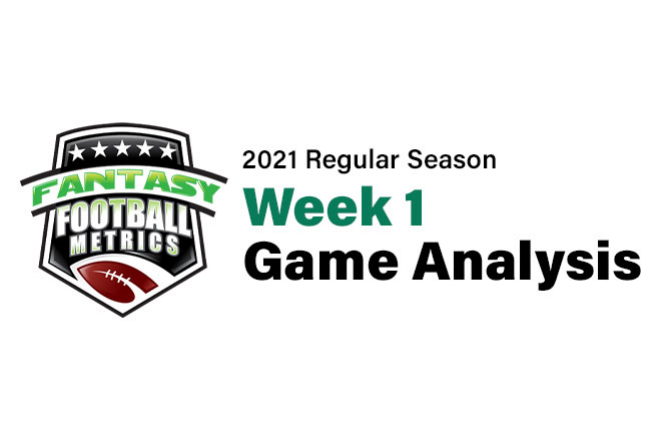 R.C. Fischer
FFM
18 September 2021
2021 Dynasty/Fantasy Game Analysis Week 1: Panthers 19, Jets 14
Jets fans…just be a little more patient. Your time in the sun is coming. The Jets played about as well as they could in this game – they've just got O-Line issues (again) and are too young/beat up on defense right now.
But look at the Brightside:  Zach Wilson is a force…a future elite 9and pretty damn salty now)…and that defense was on fire (energy wise) but lacks in the talented department. I walked away very impressed with the Jets and the job Robert Saleh did to have them motivated despite their shortcomings. Hope is on the horizon. So much so, that I think I'll take the Jets and the points this week. The Computer trend was towards the Pats, but Zach Wilson is so good…despite all the limitations around him and with his young defense is so amped. I'll roll the dice with points for the home dog.
With the Jets being feisty, this has to be classified as a 'good win' for Carolina…led by their top 10 defense and a safe offense. Carolina has a really good team. How good? If they had Zach Wilson and the Jets kicker Matt Ammendola, I'd say they'd be a playoff team and push the Bucs for the NFC South. The Panthers lack QB and kicker, and that means they'll be flirting with .500/tough out all season…but not taking it to the next level. It's a shame.
Credit to Carolina for holding off a 'game' Jets team.
Credit to the Jets for pushing a better Carolina team to the limit.
Fantasy Player Notes…
 -- Let me just say, I've watched all the rookie QB debuts for 2021 and their preseason work…not a one of them is anywhere near on par with how talented Zach Wilson (20-37 for 258 yards, 2 TDs/1 INT) is. Only Justin Herbert had a more impressive rookie debut game than Wilson the past two years of rookie QBs.
Wilson has no run game, a corrupt O-Line and was scrambling for his life, and terrible WRs (in this game minus Cole-Crowder plus Corey Davis is an awful #1) and terrible TEs – but Wilson never gave in and just avoided the pressure as best he could and fired bullets all over the place.
The only generational rookie QB in the discussion from the 2021 class is Zach Wilson. He's so far superior to Trevor Lawrence it isn't even a debate, and yet 100 out of 100 highly paid football analysts would not agree. I like 'dem odds. It's how I know I'm right…and have been since January.
The Jets run game is so bad, that Wilson might start creeping into the QB1 discussion before you know it – he may have to throw 40-50+ times a game, and he can run/move so well, and if he gets his better WRs back…he may just shock with racking numbers in defeats.
Jets fans should be so excited they didn't get suckered into Justin Fields and that failing Urban Meyer signed his death certificate taking Trevor in front of them, leaving Zach there.
 -- As I mentioned, the Jets have no run game…at all.
The Ty Johnson (4-15-0, 1-11-0/3) FF 'let's see' experiment ended at one week. Nowhere to run and not the preferred back. He didn't look that great on tape this game anyway. We can all move on.
Michael Carter (4-6-0, 1-14-0/2) isn't close to ready to be that crafty 3rd-down back yet. There's no way he'll ever be the lead back here. People who think that are delusional.
Tevin Coleman (9-24-0) is their best back, but again…nowhere to run, and not that great.
The best runner on the team is Zach Wilson.
 -- Who does Wilson throw to? Corey Davis (5-97-0/2) for now. It's his comfortable throw with Cole-Crowder out…but they are both back this week and might change the game up some.
Elijah Moore (1-0-0/4) is the great NY media fraud of 2021. He's not ready for this at the moment. Amari Rodgers looks more ready than Elijah Moore right now…and Rondale Moore is light years ahead of Elijah.
Watch out that Keelan Cole doesn't become Zach's #1…or at least FF-viable. But I'm not sure they'll even start Cole upon his return.
 -- Jets management had to be laughing themselves silly watching how good Zach Wilson was in comparison to their ex-QB on the other side of the field…Sam Darnold (24-35 for 279 yards, 1 TD/0 INT).
Darnold was fine here because he just throws screen passes to CMC. I could've thrown for 200+ yards in this game just dumping it off to McCaffrey. And can I say: It's 2021, we all have seen Christian McCaffrey play and thrive the past several years, right? Still, no one near him on almost every pass route he runs out of the backfield. There's barely anyone in the camera shot when he catches his dump passes. You'd think NFL head coaches and coordinators could be that stupid not to plan for CMC getting every other pass, but then again – you watched MNF, right? Did you see Darren Waller getting every target and the Ravens not adjusting to it at all?
Darnold is fine when he's dumping the ball off. He found Robby Anderson (1-57-0/3) in broken coverage for a long TD to help give Sam numbers. Other than that, all limited small ball…but it was there so it worked. Still in the 2nd-half of this game, as the Jets closed in…Carolina scored all of 3 points.
 -- Sam D. occasionally has to throw to someone else besides McCaffrey. His top non-CMC choice seems to be D.J. Moore (6-80-0/8)…working like his Jamison Crowder from back in his NYJ days.
And Robby Anderson (1-57-1/3) is like his old Robby from their NYJ days – the guy Darnold can never hit with any consistency because it's further than 2 yards down field. Good thing they gave Robby a big contract extension this preseason -- for his one big catch in a game against a defense that barely has CBs any of us have ever heard of…against CBs that have barely ever played in the NFL. Real QBs would have exposed that…but Darnold threw a bunch of dump passes to McCaffrey and scored 19 whole points in a game against it.
Terrace Marshall (3-26-0/6) still looks like a decent receiving tight end trying to be a wide receiver, to me.
 -- The two defenses…
The Panthers defense is rock solid across the starting 11. One of the best defensive units in the NFL. Not elite but higher end…a playoff level defense trying to cover for a bottom 10 NFL offense. Carolina will end 2021 with a top 5-10 scoring DST.
Again, I loved the Jets defense's energy and speed and aggression…but they are not ready to be taken seriously for FF, yet. Let's see how they do when facing a not-Darnold opponent. Week 2 against Mac Jones is a step up in QB/O-Line but the Jets may make this tough on Belichick's boys.
The problem is the Jets are losing starting defenders by the bunch to injury every week. They are down to linebackers off the street this week.
Snap Counts of Interest:
52 = DJ Moore
52 = Robby
34 = T Marshall
57 = CMC
07 = Chuba Hubbard
35 = Ian Thomas
33 = Dan Arnold
12 = Tremble
58 = Corey Davis
56 = Elijah Moore
37 = Berrios
09 = Jeff Smith
03 = Mims
43 = Kroft
31 = Ry Griffin
20 = Wesco