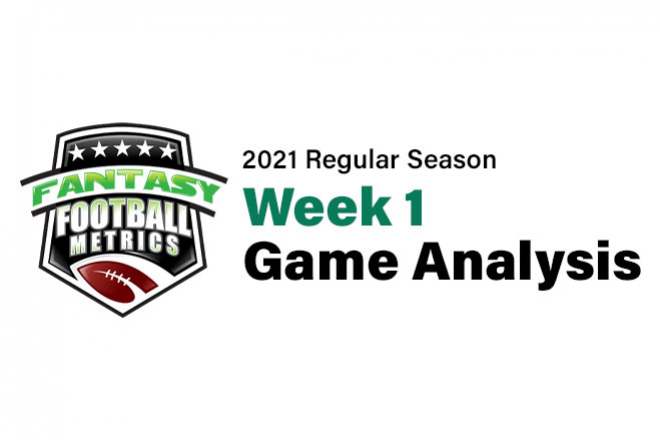 R.C. Fischer
FFM
16 September 2021
2021 Dynasty/Fantasy Game Analysis Week 1: Bengals 27, Vikings 24
I felt pretty good about calling this outright upset after Sunday's dust settled, but then I rewatched the game and realized – the Bengals were the better team, but I got lucky here.
The Bengals tried to give the game to the Vikings several times, but Minnesota refused to fully take it. The Bengals earned the victory, but if you see the Vikings as a bad team…then it's not that impressive to get a home opener win in OT here.
And that's my take: The Bengals are improved, but the Vikings are weak, so we can't get too over-happy with this Cincy win.
There are reasons to rejoice for Cincy fans…and reasons to panic. We'll get into the specific reasons on why, next.
Fantasy Player Notes…
 -- The reason the Bengals won this game? Their defense. Imagine that…the Bengals have a defense now.
I saw much potential in the Bengals free agency moves on defense this offseason and then I saw flashes of the turn of this defense in the preseason – and they continued to follow through Week 1.
The Bengals D held Dalvin Cook (20-6101, 6-43-0/7) in check while frustrating Kirk Cousins (36-49 for 351 yards, 2 TDs/0 INT) all game…3 sacks and 8 QB hits by the Bengals defense. Cousins wound up with nice numbers overall, but I don't know how…it looked much tougher/rougher on tape.
How good are the Bengals on defense now? Think of them as going from the bottom 10 last year to the middle 10 NFL defenses today…a #14-18 type overall defense in the NFL. Not bad. Better than the bottom of the barrel they had been.
The player I want to identify as so key on defense in this game: New CB Chidobe Awuzie (6 tackles, 2 PDs). Several times he was man-to-man on Justin Jefferson (5-71-0/9) and Awuzie won most all the battles. The Awuzie and Mike Hilton (6 tackles, 1 TFL) additions have changed this defense.
 -- If you told me a year ago that the Bengals would have a plausible NFL defense in 2021, I would have predicted them to win the AFC North in 2021. But, today, I will not say that. Why?
Cincy, we have a problem… I don't recognize this Joe Burrow (20-27 for 261 yards, 2 TDs/0 INTs) at all. It's like aliens came down and snatched the real Burrow away and replaced him with a weaker replica. All the preseason chatter that something didn't look right with Burrow…it's real. It's a real concern.
Burrow was tentative and threw flat-footed floaters all over the field. He saw the right things and made some nice touch passes, but the aggressive playmaker stepping into and firing his passes type of QB of the past is mostly gone right now. The greatest college QB we ever saw, and the guy who tore through the NFL as a rookie – he's M.I.A. right now.
Now, we all know he had the devastating knee injury in 2020. We assume this is likely in his head…which means it can be fixed. But what I saw here…it's definitely in his head. There were a few flashes of the old Burrow, barely…which means there's hope. But I would be afraid that if Burrow can't get it together -- he is going from 'A' to 'B-C' QB, and the fact that the Bengals did the single stupidest thing ever by passing on an O-Linemen at #5 overall in the NFL Draft to take a wide receiver isn't going to help Burrow get over his tentativeness – as he was sacked 5 times and took on 7 QB hits this game. Most of that was an awful O-Line. Some of that was timid Burrow.
Burrow may snap out of it, but this problem has been rumored since June-July…and it's here, it's still here in September. For Fantasy…there are too many other good QBs to work with. If you have Burrow as your #2 QB, you can wait another game or two to see if he shakes it off…but be ready to cut and run and find another plan B. I'm going to be keeping tabs on this because it is a huge shift for FF if Burrow has the yips.
 -- If Burrow's output is dropping, then who suffers among the WRs?
Tee Higgins (4-58-1/5) is CLEARLY Burrow's go to, but as Burrow looked shaky…it rendered Higgins as 'meh', but fortunately got a TD (on one of Burrow's best plays/old Burrow-like throws of the game).
Ja'Marr Chase (5-101-1/7) sprinted deep past coverage and Burrow floated one on the money to him for a 50-yard TD. Outside of that it was a normal/good performance by a WR from Chase, which is actually great news for him because he was butchering so much activity in the preseason, but he was solid in his debut here. Not off-the-charts or anything…just 'good'.
Tyler Boyd (3-32-0/4) was the odd man out. Why? Just a hunch…Burrow is losing/has lost (temporarily?) his heart/stomach for throwing bullets into tight windows…and Boyd works more in-between the cracks of coverage over the middle. If Week 2 is a low target Boyd-Burrow dud…then we panic on Boyd.
 -- Let me put a WR/performance into context…
K.J. Osborn (7-76-0/9) looked terrific. I'm so pleased, I thought he had NFL starter chops…and he does. It's clear now. He won't start for MIN (on purpose) because they are a 2 WR/2 TE team too much, but the more they are forced into 3 WRs sets, the more Osborn could be really nice…but no more than a WR3 with Thielen-Jefferson in the way.
Two comparisons for context:
1) K.J. Osborn worked better than Ja'Marr Chase here.
2) I couldn't really tell the difference between Jefferson and Osborn on the field…maybe Osborn looked a touch better.
Osborn won't get the run that Thielen and Jefferson do, but if someone gets hurt…or if MIN is constantly down and throwing…KJO might have some WR3/flex appeals during the bye weeks.
 -- Tyler Conklin (4-41-0/4) looked solid but unspectacular here. The rise of Osborn takes cheap food/targets out of the mouth of Conklin. Conklin will be a TE2 looking for a TD to make TE1 weeks, like most TEs.
 -- MIN LB Nick Vigil (10 tackles, 1 sack, 2 TFLs) had a nice game against his former team. Because the Vikings are so bad on defense, and Vigil is starting…he should be IDP viable/consistent this year. Anthony Barr was out, so we don't know his true role yet.
 -- Bengals rookie Evan McPherson (2/2 FGs, 3/3 XPs) showed his value right away – nailing a crucial 53-yard FG in game, what looked like a game winner at the time. But then hitting the real game winner in OT.
McPherson is a PK1 with top 5 PK hopes. He's really, really good.
Snap Counts of Interest:
62 = Ja'Marr
51 = Higgins
51 = Boyd
08 = A Tate
78 = Thielen
76 = Jefferson
67 = Osborn