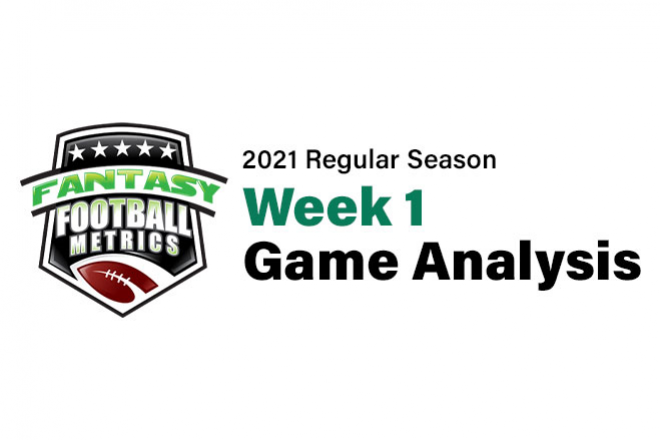 Ross Jacobs
FFM
16 September 2021
2021 Dynasty/Fantasy Game Analysis Week 1: Chiefs 33, Browns 29 (By Ross Jacobs)
This was another really good game, and I have a somewhat shocking statement to make. I think the Browns might be the better team here. They were taking it to the Chiefs for 3 quarters and then a couple of missteps in about a 5 minute period opened the door for the Chiefs to charge through. 
Credit the Chiefs, they never panicked and when the Browns gave them an inch they took a mile, but like we saw last year, this team is prone to getting down in games and then relying on Mahomes to throw them back in it. It works most of the time, but they aren't invincible. I'm absolutely convinced the Browns are a legit Superbowl threat now and one of the best teams in the AFC. Unfortunately, they lost what should have been a win here and it might cost them the #1 seed come playoff time and that is huge.
The Browns opened their first 3 drives with easy TD's. I mean they waltzed right down the field on the Chiefs like it was nothing. It was 22-10 Browns at the half and KC scored on their first possession in the second half to make it 22-17. The Browns started driving easily again, but a rare fumble from Nick Chubb gave KC the ball at the 45 and a FG soon after cut the Browns lead to 2. The entire 3rd quarter passed and the Browns ran a total of 4 plays. On their next drive the Browns did the same thing they'd done all game, drove the field and scored easily. KC hadn't done anything to stop them at this point. Seconds later though, Mahomes found Tyreek Hill 1-on-1 with John Johnson, and much like the Deebo Samuel play, Johnson lost track of the ball after Mahomes heaved it deep, Tyreek adjusted to make the catch and Johnson overran the play and had no chance to tackle Tyreek. 1 play, 75 yards, and a TD to make it 29-27. 
KC finally managed to stall the Browns on their next drive with a Chris Jones sack, and you could feel the energy change as the team and fans got fired up. The Browns looked totally rattled. On Cleveland's first punt all game the punter inexplicably dropped the ball and KC took over at the Cleveland 15 yard line. Of course KC punched in the TD to take the lead and they never relinquished it. Baker Mayfield threw the game-sealing INT while falling to the ground and trying to throw the ball away.
It took a few strange, lucky plays for KC to win this game. A Chubb fumble, a dropped punt that gave KC an easy TD, and the heave to Tyreek all could easily have not happened and then we'd be talking about how great Cleveland looked. Instead we're left with the image of the mighty Chiefs charging back to crush the upstart Browns, and while there's some truth to that, it isn't the whole truth. This is a very good Browns squad, make no mistake. They are my bet to take down the NFC North although Baltimore and Pittsburgh probably won't go quietly. The Chiefs are the Chiefs. Great offense, suspect defense that just plays for a turnover or two to give Mahomes a slight edge. That's their pattern and it works for them. This was a heavyweight title fight and the Chiefs came out on top, but I'd be very careful about crowning them just yet. The Browns are ready to compete.
--Fantasy Notes
There's not much to cover for fantasy that everyone doesn't already know. Patrick Mahomes (27-36 for 337 yards, 3 TD/0 INT, 5-18-1) is doing what he always does.
Tyreek Hill (11-197-1/15, 1-4-0) and Travis Kelce (6-76-2/7) are the offense and everybody knows it but nobody can stop it. Tyreek obviously had a huge game and is still a top 3 WR, but don't expect him to put up this kind of game every week. The somewhat fluky 75 yard TD helped put him over the top. Otherwise we'd be looking at a nice 10-122-0 day.
RC seems to hate Clyde Edwards-Helaire (14-43-0, 3-29-0/3) but I really like his role this year and I think he's a sneaky buy low right now. 14 carries when the Chiefs are down all game is quite nice and there's no threat to his touches on this team. He's not going to lead the league in rushing or anything, but he's going to catch a decent number of passes and the TD's will come just because the offense as a whole is so good. I'll be trying to pick him up where I can this week.
RC NOTE: Where could we ever find RBs who get 14 carries in a game -- why pay a 'name' premium for 14 carries of nothing in most games he plays? 14 carries for 3.1 ypc...working with the greatest QB in history, which should open massive running lanes to work with on his 14 carries. But it didn;t...it almost never does with him. He's a solid player but why pay the name value for RB2 results?
Nobody else really matters for this offense. Demarcus Robinson (1-9-0/2) plays the most snaps but it's Mecole Hardman (3-19-0/3) the team would most like to get involved. He sucks though. There will be splash days here and there, but you can't count on him with any consistency. Byron Pringle (1-6-0/2) is barely playing.
For the Browns it all revolves around Nick Chubb (15-83-2, 2-18-0/2) as it should. He is still splitting snaps nearly 50-50 with Hunt who is the 3rd down and 2-minute guy, but Chubb is the go-to when he's on the field. He's the best pure runner in the entire league. The guy is just so good at finding a crease and plowing ahead for positive yards. He's a better Dalvin Cook for this team and since Cleveland will be winning a lot this year I expect high touch counts and lots of TD's. So long as he stays healthy he'll be a top 5 or 6 back.
Chubb is definitely the lead back over Kareem Hunt (6-33-1, 3-28-0/3) although Hunt still has ppr value and is an instant RB1 if Chubb gets hurt. You have to have Hunt if you have Chubb.
Baker Mayfield (21-28 for 321 yards, 0 TD/1 INT) is a really good QB. He doesn't throw many TD's these days, but he has really become a very smart, very efficient QB. He'll have his day in fantasy at some point, he's too good not to, but for now we have to settle for just ok.
Jarvis Landry (5-71-0/5, 2-13-1) is the top guy while OBJ is out, but don't expect that to last. He's a decent WR2-2.5 play most of the time.
Donovan Peoples-Jones (1-4-0/1) was on the field a ton but didn't seem to be part of the game plan. I'm interested in him next year after OBJ and/or Landry are gone.
The most shocking development of this game for fantasy was the Browns heavy use of rookie Anthony Schwartz (3-69-0/5, 1-17-0). Schwartz played better than I would have expected, you can see the speed in an instant, but his hands are so shaky. He nearly dropped the one long ball he got to pad his totals here. I don't think he's a real WR at this point, but maybe he develops with time? Once OBJ is back his usage is going to drop. We'll have to see how he comes along next year when one or both of the two LSU receivers are gone.
Austin Hooper (3-23-0/3) and David Njoku (3-76-0/5) split time here. Hooper was in the game early and got all 3 of his catches on the first drive. Njoku was the primary TE look after that and I have to say he made a couple of really nice catches here. The athleticism has always been apparent but he was really catching the ball cleanly. You can't really count on either one while they are splitting though.
--IDP Notes
Myles Garrett (4 tackles, 1 sack) is pretty good. He blew past Orlando Brown a couple times.
Chris Jones (3 tackles, 2 sacks) is also very good. He wrecked everyone. The only player that really gave Jones fits was Cleveland RT Jedrick Wills who left the game in the 2nd quarter with an ankle injury. He's day to day and should be able to come back relatively soon. The Browns offensive line will be fine without him though. They are the league's best group to me.
Takk McKinley (2 tackles, 1 tfl) was added to the Cleveland roster this spring and he rotated in behind Garrett and Clowney. He's decent as a situational pass rusher, but at this point in his career it seems the best days are behind him. I didn't see any of the old spark from his Atlanta days.
I don't mean to pick on Denzel Ward (6 tackles, 1 pd) because he's a very good corner, but he got taken to school by Tyreek Hill and Travis Kelce here. That's no crime and he really battled well against them. Rookie corner Greg Newsome started opposite him and Newsome looks like a lockdown CB already. He mostly had the lesser KC receivers to cover, but he smothered everything that came his way. These two are going to form a really nice duo so don't be shocked when teams not named Kansas City struggle to pass on these guys. This secondary will give up some yards because teams will be throwing heavy while losing but it shouldn't be efficient throwing. I really like this defense as a whole. They are a top 10 or so group and really only gave up 26 points to KC including the long Tyreek TD. It's hard to slow KC down but Cleveland did it as well as anybody. Watch for this defense to be a sneaky good option in the coming weeks.
Another rookie Nick Bolton (7 tackles, 1 tfl) had a quietly good game for a rookie LB. He's not the greatest athlete ever but he slotted right into the defense as a solid run defender. He looks like just another role player, but that's all KC needs mostly. He won't change the defense or anything, but he makes them a touch tougher to run on (you can still run on KC though). I wouldn't use him for fantasy yet. He'll likely finish with decent tackle numbers for the year but you can do better on a per game basis.
On the other side L'Jarius Sneed (7 tackles) is possibly KC's best corner and a very underrated player. He's going to give up some yards underneath because people have to throw against KC, but it's hard for most people to separate from him.
The Chiefs traded for Mike Hughes (2 tackles, 1 pd, 1 INT) this year to help bolster their secondary and he sealed the win by intercepting Mayfield, but he struggled in coverage at times even trying to cover rookie Anthony Schwartz. He's a decent player to help fill out the roster, but he isn't suddenly making this a shutdown secondary.
--Snap Counts of Interest
48 = Demarcus Robinson
45 = Mecole Hardman
11 = Byron Pringle
47 = Clyde Edwards-Helaire
14 = Darrel Williams
31 = Nick Chubb
28 = Kareem Hunt
51 = Jarvis Landry
47 = Donovan Peoples-Jones
31 = Anthony Schwartz
38 = Austin Hooper
35 = David Njoku