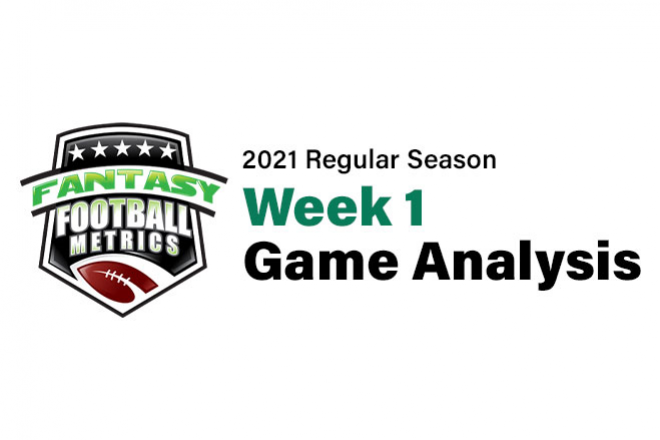 R.C. Fischer
FFM
15 September 2021
2021 Dynasty/Fantasy Game Analysis Week 1: Eagles 32, Falcons 6
Very odd game… You would have sworn, watching the first 27 minutes, that the Falcons were just going to quietly move the ball efficiently on the Eagles, and maneuver their way to a close win in the end. It was 7-6 Philly approaching halftime. But with about 2 minutes left in the 1st-half to the finish line…the Eagles dominated the Falcons…embarrassed them.
The answer to whether Arthur Smith is an offensive genius is = he got thoroughly out-coached and out-schemed by Nick Sirianni, which I never would have dreamed…but here we are. The interesting alignments and play calling…all by Sirianni, not Smith.
Smith ran the most bland, boring offense I've seen so far in my Week 1 re-watches of games. And it doesn't help that Matt Ryan is falling down a cliff in his career…and that they have no O-Line. I thought the Falcons might be a sneaky flirt with .500 team. I was wrong, this is one of the worst teams in the NFL.
I thought the Eagles would struggle under Sirianni, but he has Jalen Hurts…and properly designed an offense for him…and now I'm wondering whether they might not win the NFC East. I'm still suspicious of Sirianni, but I'll move to neutral instead of mocking after this impressive Week 1 showing.
Fantasy Player Notes…
 -- Let's start with Jalen Hurts (27-35 for 264 yards, 3 TD/0 INTs, 7-62-0)…
*Hurts is the much better Lamar Jackson…the LJax the media thinks Jackson is.
*Hurts is obviously better than Tua from the 2020 Draft class, as I scouted/graded (the only one to do so) in January 2020 pre-Draft. Now, I'm starting to wonder if Hurts is going to wind up better than Burrow…and that's not a knock on Burrow. That's how good Hurts is.
*Hurts is starting to flash that he might be a top 3-5 FF QB in 4pts per pass TD…and a possible #1 in that format.
*Hurts is the best spread QB in the NFL…he can pass the ball effectively, but he runs it like none other…a power RB build in a QB body.
All-in on Hurts.
People still don't fully appreciate it…they will sell it short fearing a 'falls back to earth' because the mainstream won't endorse Hurts like they do half the other QBs in the league. You have a limited time to make a move for Hurts if you want in…and now more expensive than a week ago.
 -- Oh…and speaking of QBs…Matt Ryan (21-35 for 164 yards, 0 TDs/0 INTs) is about done as an effective starter in this league. The lack of an O-Line is only accelerating the problem. Ryan is going to be nothing this year…he can hardly do garbage time anymore. Ryan is becoming a lesser Andy Dalton 2021…
Calvin Ridley (5-51-0/8) is going to suffer because of it.
 -- So, how about that Kyle Pitts (4-31-0/8) exciting debut!? Yawwwnnn
With months to prepare, and a lot of talk about all the exciting things one could do with a talent like Pitts…Arthur Smith did nothing interesting with him at all. Pitts basically ran the same three routes over and over and over again. Boring, old fashioned routes like what a Cole Kmet or James O'Shaughnessy might run.
They used up a #4 overall pick…and talked all summer about all the magical things they could do with Pitts, and then ran the most basic concepts with him Week 1. Pitts had more interesting work in his one play in the preseason…a play where he took a -1 yard pass and turned it into 20+ yards. Remember how cool that play was in design and simplicity? Yeah, well…it was so good the Falcons didn't run it this game.
But hey, who am I to question the offensive genius (Art Smith) who has yet to see his team score a TD in his NFL head coaching career.
Pitts is going to be fine. He can work well being used as a basic TE. He'll grow, they'll grow with him…but it's going to be a bumpy, more disappointing ride the next few weeks. Be prepared to be disappointed.
I will add…
1) Hayden Hurst had as many catches as Pitts.
2) The first series, the Falcons drove right down the field and into the red zone…and Pitts never was in the game for the first red zone. Hurst was subbed into the red zone offense and Pitts never went in…and SURPRISE the Falcons couldn't get it into the end zone. Who would want Pitts to be in for end zone work? How silly…
3) Pitts had a nice catch early on, deemed out of bounds. He had another nice catch and run for 10+ called back for an offensive penalty. Pitts was misused mightily in this game…and almost had a 6 catch on 9 targets debut despite it. There is hope.
…but, no, Arthur Smith is not an offensive genius…yet.
 -- Arthur Smith saved all his genius for Cordarrelle Patterson (7-54-0, 2-13-0/2). The player lining up all over and having a game plan was CPatt. Not Pitts.
Things you must consider:
1) Mike Davis (15-49-0, 3-23-0/6) looks shot. He's almost like Atlanta's Latavius Murray 2021.
2) Cordarrelle Patterson is a 220+ RB running like his life depended upon it. And lining up all over…and was seeing red zone work and goal line type work (when ATL did get close).
3) Yards per carry in this game:
7.7 Patterson
3.3 Mk Davis
4) It may not be long before Patterson is the lead back here…either via Davis injury or just a hostile takeover.
5) You want in NOW on that gamble, because it's going to get more expensive as we go.
 -- Kenneth Gainwell (9-37-1, 2-6-0/2) was working like a true 3rd-down/passing game back. He got a lot more work than I thought he would for Week 1. He didn't look great, but he wasn't bad. The Eagles have a ton of faith in that guy. I didn't think they would so soon. He is the handcuff for sure, obviously.
 -- Eagles receivers report…
DeVonta Smith (6-71-1/8) hit the ground running. Hurts was so smooth in this game, and DeVonta is his guy. I worried there might be passing game dysfunction here with the new coaching staff, but it was humming (and ATL is nice a team to throw on)…and DeVonta is already their #1.
Jalen Reagor (6-49-1/6) had a decent game, but Quez Watkins (3-32-0/3) still looks better to me…but Reagor is more prominent in the offense.
Dallas Goedert (4-42-1/5) was in the shadow of Zach Ertz (2-34-0/2) for a bit, but then started roiling…and reminded me that despite the bad situation in Philly (with Ertz there) – Goedert is still a damn good/talented TE.
 -- Credit to the Eagles-DST here. They were pushed around the first 2-3 series and then they just slammed the door on Atlanta…9 QB hits, 3 sacks, 6 TFLs. The Falcons were under 100 total yards of offense in the 2nd-half.
Javon Hargrave had 6 tackles, 2.0 sacks, 3 QB hits to lead the assault.
We'll see if they are good against SF Week 2…but we got issues Week 3 at DAL, Week 4 with KC. But if they look nice vs. SF…it's something to look at later if needed when they face NYG-NYJ-bye-WSH-NYG-WSH Weeks 12-17.
Snap Counts of Interest:
49 = Pitts
43 = H Hurst
54 = MK Davis
24 = CPatt
62 = DeVonta
50 = Reagor
34 = Watkins
52 = Goedert
41 = Ertz
47 = Sanders
25 = Gainwell