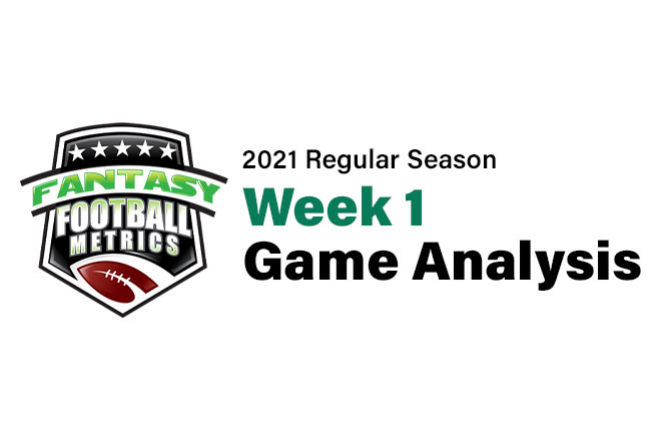 Ross Jacobs
FFM
15 September 2021
2021 Dynasty/Fantasy Game Analysis Week 1: Raiders 33, Ravens 27 (By Ross Jacobs)
What an absolutely crazy game. If you haven't already seen it, do yourself a favor and go watch this one. The NFL got the perfect opening weekend Monday night game here, a crazy thriller.
Everything started off innocuous enough. The Ravens seemed like they were going to go about business as usual. They took a lead and built it up to 14-0 as the Raiders attempted pass after pass to Darren Waller to no avail. It looked like a blowout was coming. But then Carr finally managed to connect on a few passes (to Waller) and Josh Jacobs scored from the 1 to make it 14-7. The Raiders got the ball back and snuck in a FG right before the half to cut the Raven lead to 4. 
Baltimore got the ball after half and quickly kicked a FG of their own to make it 17-10. The two teams traded defensive blows for a while but then a Lamar Jackson fumble set up the Raiders with a short field which they capitalized on to tie the game at 17. Baltimore would answer that score with an immediate TD drive of their own and at that point it felt like there was nothing Vegas could do to catch up. Baltimore had taken their best shot and come right back. But Carr and the Raiders didn't back down and landed a punch of their own with another TD drive capped off by a Waller TD to tie it back up. 
Baltimore responded with a FG to take the lead and with less than a minute left it looked like a long shot for Vegas to recover yet again. But Bryan Edwards finally came through with a couple of huge catches over the middle and Daniel Carlson booted a 55 yard FG to send it to OT. 
The Raiders got the ball to start overtime and after Edwards caught a long pass it appeared that he had scored a TD to win the game, but the booth ruled him down at the 1 and the game was back on. Carr was stuffed on a QB sneak and then a false start backed the Raiders up to 2nd and goal. Two plays later Carr was under pressure and threw a bullet to Willie Snead that ricocheted off his hands and was intercepted by the Ravens, but Lamar promptly fumbled the ball back to the Raiders who then looked like they were ready to kick an early FG to win the game. Unfortunately they took a delay of game penalty and so lined up for another play. Carr found Zay Jones running wide open to the endzone and the Raiders took the win.
The Ravens looked like the superior team overall, and they had multiple chances to slam the door on the Raiders, but they kept mucking around with Murray, letting Waller catch pass after pass, and the two fumbles ultimately did them in. It was really just shitty coaching that lost them this game, nothing that the players did wrong. Credit to the Raiders though, they were never afraid and both units kept firing despite taking body blows from the Ravens over and over. They played tough, relentless football and never quit. It was quite the gutsy performance. Is there hope for the Raiders defense? Maybe. But Baltimore did score 27 points on them and they weren't even playing that well. Ultimately I expect the Raiders overall lack of talent will hold them back. I don't see a team with enough firepower to really challenge the Chiefs or Chargers in this division, but they are definitely not a cakewalk and should be a tough out all year. 
The Ravens I expect to bounce back. I'm not sure what the coaches were doing here, but this staff usually doesn't pull stupid moves like this. They should bounce back to normal and compete with the Browns and Steelers for the North title. Not sure they are quite good enough but they'll be in the playoff mix.
There's a lot to talk about here, so buckle up.
--Fantasy Notes
We have to start with the player RC and I were pumping up all week long, Ty'Son Williams (9-65-1, 3-29-0/4). If you started Ty'Son you were probably pretty happy about the result. He finished with 18.4 points in ppr which is more than a solid day. However, it could/should have been so much better. It was incredibly frustrating to watch as Ty'Son was clearly the best RB the Ravens had available, and yet they really didn't give him the ball the way I thought they would. 
Nine carries isn't bad but he should have been in the double digits easily and possibly pushing towards 20 carries. Instead, the Ravens chose to shy away from their normal ground game and try to let Lamar throw more while simultaneously wasting carries on Latavius Murray (10-28-1) and Trenton Cannon (2-5-0). Anyone could see that both those guys were far inferior options to Ty'Son and yet the Ravens staff seemed to disagree. Even though Ty'Son was in for 50% of the snaps, he was out-carried by Murray (he probably wouldn't have been but he got shaken up at one point and had to leave the game for a series or two). Either way it was not the vote of confidence I was looking for and I am a bit more worried about his role moving forward even though the events that transpired should have been a huge wake up call for this staff. We're going to have to monitor this situation closely. 
Ty'Son should still be the theoretical lead back because Murray has nothing left, but I don't think we can just assume that especially after the nonsensical decisions this coaching staff made in this game. Let's see what happens against a nice matchup with the Chiefs. This could be the spot where Ty'Son really puts a stamp on this backfield and claims it for his own, or it could be where he falls back into a rotation with guys that shouldn't even be on an active roster. Make no mistake, Ty'Son is by far the best back on the roster and the Ravens should be giving him 15+ carries a game. That is still on the table and I think it's possible we see Ty'Son really take off from here.
In case you haven't gotten the point yet, Latavius Murray is a bum at this point with no juice left in him and should not be rostered.
Lamar Jackson (19-30 for 235 yards, 1 TD/0 INT, 12-86-0) had a solid enough day for fantasy, but just happened to not score more than 1 TD and so it felt a little muted. Don't worry about him. He played as well as I've ever seen him despite being under quite a bit of pressure from the Raiders front seven.
You know who is a sneaky good ppr fantasy play whenever he's healthy? Marquise Brown (6-69-1/6, 1-5-0). In his last 7 games he's scored 7 TD's to go along with 26 catches for 407 yards, 15.5 ppg in ppr. That's top back end WR1 material. He doesn't wow with huge yardage totals, but he doesn't need to when he's piling up TD's.
Mark Andrews (3-20-0/5) had a quiet day, but he's still a TE1 all day. Sometimes you just have days like this.
In other news, Sammy Watkins (4-96-0/8) reappeared and caught one pass per million dollars he'll make this year. This guy must have taken sales lessons from Sam Bradford because he has duped more teams into wasting money on him than nearly anyone else I can think of. He looked shockingly slow to me here, like barely running away from KJ Wright slow. Most of his yards came on one chunk play where he got matched up with a LB because Vegas wasn't worried about him at all. I'm honestly not sure how he even got 8 targets or played 56 snaps. It did not feel like that much watching the game. Seems like the team is going to force him the ball though, so I guess you can use him if you're desperate. I'm not. Counting on Watkins is a recipe for disaster. You've been warned.
Devin Duvernay (1-6-0/2) was running as the #3 receiver here, but he was barely involved and will be back on the bench as soon as the other Baltimore receivers are healthy. Hate that he's buried like this but that's the reality.
Let's talk about the Raiders for a moment, because I'm sure everyone wants to hear about how Darren Waller (10-105-1/19) is going to get 300 targets this year. You can't make this crap up. The man got 19 targets last and the worst part is the Ravens coaching staff acted like they had no idea who he was even though every other person on the planet knew the Raiders were going to throw to him literally every play. It was one of the most baffling coaching decisions I've ever seen. 
Early in the game the Ravens had their all-world corner Marlon Humphrey (9 tackles, 1 pd) on him as well as a safety or two. Carr was literally throwing the ball into triple coverage trying to force it to Waller and of course it wasn't working. That's how the Ravens took the lead. Then, inexplicably, they moved Humphrey over to guard Hunter %*&#!@ Renfrow (6-70-0/9) and in the most obvious turn of events ever, Waller started beating the crap out of them. Like the rest of the world I'm completely baffled as to why this decision was made and who in the world thought it was a good idea. That move alone cost the Ravens this game. Carr couldn't connect on anything until Waller was suddenly set free to do as he pleased. Regardless, don't think that other coaching staffs will be this stupid every week. Waller is still going to get a ton of targets, but it shouldn't be this out of control every week. Of course, in his last 6 games now he has 74 targets (12.3 per game) for 53 catches for 759 yards and 5 TD's (26.5 ppg). Maybe I'm the fool for betting against this trend...
With Waller being the first, second, and third reads for Derek Carr (34-56 for 435 yards, 2 TD/1 INT) that left scraps for the WR's. Hunter Renfrow looks like the most important receiver of the bunch and he led the way with 6 catches for 70 yards despite playing fewer snaps than Edwards and Ruggs. Apparently he's the most amazing thing ever because the Ravens deemed him more worthy of Humphrey's attention than Waller. I digress. Renfrow is the latest iteration of your classic slot receiver (Amendola, Edelman, Beasley, etc). Beasley is probably the closest comparison. So long as he's getting targeted like this he's usable in a pinch as a WR3 in ppr.
2nd year receiver Bryan Edwards (4-81-0/5), who I have been touting all off-season, would finish with the 2nd most yards but was tied for 3rd in targets and didn't get his first catch until literally the last minute of the game before OT. He was the guy that made two clutch catches to get the tying FG and very nearly won the Raiders the game outright on their first drive in OT. He was called down just inches short though and lost the score. What to do with him? If you have him as a lottery ticket I would hold for the moment. You saw flashes of what he can do here. He just needs more targets. Waller shouldn't soak up half the attempts every week, so you'd think Edwards is bound to get a chance moving forward especially considering his heroics here. If you want to drop him though I can't say I'd blame you. There's an upside hiding here that's probably not available on your waiver wire though. Note that he played 70% of the snaps here. The team wants to get him involved. They just have to do it.
Regardless of what happens with Edwards, he's still 10x the receiver that Henry Ruggs (2-46-0/5) is. Ruggs got nearly all his yards on one catch where he was left wide open. He's outright terrible and shouldn't be anywhere near your leagues including in dynasty.
Josh Jacobs (10-34-2, 1-6-0/2) was the lead RB and had a good fantasy day with the 2 TD's but he looks sluggish and his offensive line isn't doing him any favors. He's also running in a near 50-50 split with Kenyan Drake (6-11-0, 5-59-0/5) who is getting more passing game work. Right now I'd much rather have Drake. He's the 3rd down and 2-minute back but is also mixing in on early downs at times. He's getting involved and with Carr throwing so many dump passes it's a useful role. He doesn't have to worry about the weak line because so much of his work is coming out in space in the passing game with teams completely focused on stopping Waller. He'll be more usable than Jacobs in most weeks where Jacobs isn't getting a TD.
--IDP Notes
The Raiders defense still isn't very good, but they were not afraid of the Ravens here and played with great energy and aggressiveness all game. Credit to them for not rolling over. I still don't think they are very good but they might be a tougher out than I originally expected.
Maxx Crosby (6 tackles, 2 sacks) was the standout performer here. He was a handful all night and just kept coming for Lamar. Not the greatest pass rusher ever, but he's tough, gives great effort, and is as relentless as they come.Three Raiders (Denzel Perryman, Johnathan Abram, and Corey Littleton) all racked up 10 tackles apiece but honestly none of them really stood out. There tend to be higher tackle numbers against the Ravens because they run so much. I doubt it continues at that pace for any of them.
A couple of rookie defenders for Vegas made their debut here. Safety Trevon Moehrig (5 tackles) is the starting free safety and played every snap. He looked ok but definitely not the best safety in his class. Don't see any special traits there. CB Nate Hobbs (2 tackles) played 50% of the snaps here and his role is likely to grow as the season goes on. He looks like a veteran out there, not a great one but just he moves around confidently and seems to know what he's doing. Solid addition to the defense.
I already covered Marlon Humphrey and how phenomenal he is, but I have to give credit to Patrick Queen (9 tackles, 1 sack) as well. He was a guy RC and I weren't high on in the 2020 draft, but he's really developed into a good all-around LB. The guy can cover, play the run, blitz, he has great range...he's a good player. He still hesitates a little too much at times, but that's honestly nitpicking. He's a fine player and a good start in IDP leagues.
I continue to see absolutely nothing from Jayson Oweh (2 tackles, 1 sack). His sack was a coverage sack plain and simple, nothing that Oweh did. This guy is supposed to be an athletic marvel but it just is not showing up right now. We should be seeing this guy exploding off the ball and giving blockers fits but he doesn't even show flashes of it, just plain old rush the passer like any other guy. Not a fan at all.
--Snap Counts of Interest
57 = Bryan Edwards
56 = Henry Ruggs
47 = Hunter Renfrow
45 = Josh Jacobs
41 = Kenyan Drake
56 = Sammy Watkins
47 = Marquise Brown
39 = Devin Duvernay
35 = Ty'Son Williams
21 = Latavius Murray