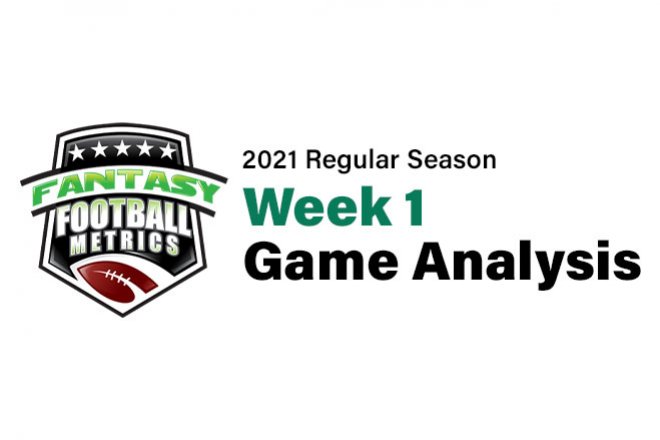 R.C. Fischer
FFM
15 September 2021
2021 Dynasty/Fantasy Game Analysis Week 1: Steelers 23, Bills 16
At the end of the day, all I can say is – this was a defensive slog. Plain and simple.
I thought the Steelers would be down on defense this year with them turning over two starting CBs and Bud Dupree, but they didn't miss a beat…and might be better than last year's very good defense (but the schedule is still a problem, as we'll get into). I thought Josh Allen would overcome the 2021 Steelers D with ease…and that was not true either. I expected the Steelers offense to struggle with the Buffalo defense, and they did…that was part of this slog of a game, but the Bills offense was also flustered and it led to this low scoring affair – and one TD/score  for PIT came off a blocked punt. It was an offensive dud for both sides, really.
The Bills held the Steelers to only 252 total yards and just 33% 3rd-down conversions and Ben barely got over 50%+ completions -- holding the Steelers down like that should've produced a Bills win…but Buffalo constantly shot themselves in the foot with bad penalties (lot's of holding…due to the PIT pass rush), some dropped passes, some poor play calls on 4th-down (Buffalo went 1 for 3 in 4th-down conversions here…last year they converted 80% of their 4th-downs).
The Bills were the better team overall, but not by a wide margin…and this just got away from them. The Bills looked like a good team, but not a Super Bowl team.
The Steelers look like a wild card team no one wants to play because they have a defense to go with savvy Ben to cause trouble, but they are so sloppy on offense at times…it can't be a consistent winning team/Super Bowl threat. But this Steelers team is better than I thought because the defense is much better than I thought.
Fantasy Player Notes…
 -- My top priority here was to make sure we didn't have any Josh Allen (31-51 for 270 yards, 1 TD/0 INT, 9-44-0) problems here, and I'm pleased to say this wasn't a Josh Allen problem loss.
However, I will say Allen didn't look as sharp as his best runs last season. The Steelers played to contain Allen/the long passing game and just rushed 3-4 guys…and it worked. Allen was reduced to dinking and dunking a bunch. I think the issue was more – this is a really good Steelers defense again. I projected it wrong.
The Steelers had a great plan and has nice defensive talent (that Joe Schobert trade was brilliant), and they just executed better than Buffalo. There were a few near miss moments that could've seen Buffalo jump out bigger and change the course of this game, but the Bills just didn't hit the big plays available and flopped on several 3rd & 4th-downs. Eventually, they ran out of time. Allen was solid but not his best…but not a real worry either.
Allen has at MIA then vs. WSH…this might be an underwhelming start for Allen to FF 2021. If you get past Week 3 with him, then it's much smoother sailing ahead.
 -- My other priority in this tape study was to see how Najee Harris (16-45-0, 1-4-0/3) looked. From the live watch, I thought he looked pretty bad. A lot of low yardage runs, too many caught in the backfield moments, and he looked like a giraffe on roller skates on two of his 3 targets. We were supposed to see smooth passing game weapon Najee, but he looks incredibly unsmooth in the passing game so far…going back to the preseason.
The one thing Najee started to show here is – he's a good enough straight-ahead runner. Najee trying to kick interior runs outside is death. Najee going out for passes has looked foolish. But Najee getting a handoff straight up the middle looks really good. This is the first pro work where I saw Najee running the interior with confidence/authority. It took him about a half to get his sea legs, and then he started to make a bit of a difference pounding the ball on-and-off.
Hosting LV and CIN the next two weeks could get him a breakout performance (stat tally wise). He just has to stay straight and not try to do things involving sharp agility, because he has little/none.
 -- Zack Moss (DNP) was a healthy scratch, further confirming this backfield is all Devin Singletary's (11-72-0, 3-8-0/5) now. But the Bills love to pass and only run occasionally to keep defenses honest. Allen took several purposeful runs and usually does. Unfortunately for Singletary, and his FF owners, this type of game/stat line is about as good as it gets for the Bills lead back.
 -- The Steelers receivers…
Diontae Johnson ((5-36-1/10) gave you all his classic hits here. In this game, you got:
*Mishandles easy passes and makes you wonder if he's got that hands issue again.
*Then makes a 'wow' catch and brings you back to him.
*Got hit on a crossing route and laid on the field for a bit, writhing in pain until he limped off, and you're thinking he's a puss…but then a series later he's back out there and you thank the Lord your God for it.
*Looks sometimes shaky all game, but then leads the team in targets and catches, and lands a TD.
Chase Claypool (3-45-0/5, 1-25-0) is so clearly the best WR on the team…one of, if not thee most talented WR in the league – and yet they still treat him like a side salad and not the featured entrée. But I have a funny feeling Ben is going to keep shifting Claypool, and it will come out of Diontae's account…and make us turn on Diontae for FF. Just a hunch.
Claypool is such a majestic stallion of a WR…he's going to be a star; I just don't know when he crosses into that threshold. But I know it's going to happen. He's way too good to be a side piece.
Let me make a pitch here: Claypool was hot early 2020, right out of the gates, but then was benched by Tomlin 2nd-half (to avoid a rookie wall for some stupid reason) and he FF-fizzled to the finish. He was a mid-round redraft WR valuation this year…people had hope but weren't craving it in the summer of 2021…they didn't have to pay too heavy a price for it in redraft. Now, he has an opening week 'meh' FF result…mostly due to Buffalo's defense, but somewhat that Diontae is still the #1 look for Ben.
Claypool is flying a little under the radar. He is 'gettable' in most cases – in Dynasty or redraft. You should try and land him before people get excited again (for those who don't already own him). There are a lot of cute WRs of the moment…Mike Williams, Antonio Brown, etc. There are all the hype guys like Lamb-Jeudy, Godwin, DJ Moore – that aren't near as talented but have better 'pub'/standing in the FF community. All I know is – there will be a day when Chase Claypool is discussed as the single best WR in FF. He's the better Julio Jones. He's built like a god among men and is a really good WR…still learning his craft. His leaping catch in this game…and his simple 25-yard jet sweep was just a glimpse at his greatness.
Someday soon, Ben or Tomlin are going to shift away from heavy Diontae and move it onto Claypool as the nuclear bomb weapon that leads the way – you can acquire that dirty bomb for a fraction of what it will cost soon…and it will be off the market. There's a window right here, right now…but I can't promise you the bomb goes off (in a good way) next week or Week 4-5…it's going to be good until it goes great then nuclear.
There may be no better 'buy low' right now in all formats. He will change your Dynasty WR group for the next 5-7 years. And for the price today…it's amazing value to not overpay for but pay going rates or possibly less. Flip something hot of the moment in a deal to secure the future.
Only Claypool's off-field immaturity, a la JuJu, can hold him back from going to 'great'/elite.
Eventually, Pat Freiermuth (1-24-0/1) is going to be a TE1 (if Ben holds up/hangs around) – whether it shows signs 2nd-half of 2021, or it's in 2022. He's moving well and just seems like he knows what he's doing. I thought he would be an average/good NFL TE…but he is showing little mini signs of being more. It's important he has a decent QB, not Dwayne Haskins, to ascend with…like it is for all TEs.
 -- Chase Claypool is a future star for sure, but the Steelers have another player that might be a naturally gifted future star on the other side of the ball – OLB/DE Alex Highsmith (5 tackles, 1 QB hit). Highsmith was so quick off the snap; he was drawing holding calls all over…and was held many other times that was not called. Who needs Bud Dupree?
I think Highsmith might have a chance at 10+ sacks this season.
 -- The Steelers defense is much better than I thought, as I previously stated. However, I still hate this schedule…
Week 2 = facing the hard to sack, solid Derek Carr
Week 3 = facing the savvy Joe Burrow
Week 4 = facing Aaron Rodgers at GB
Week 5 = facing a top O-Line with Teddy/DEN
Week 6 = facing Russell Wilson
Week 7 = BYE
Week 8 = facing a top O-Line with Cleveland.
Not a great opportunity/matchup the next 7 weeks.
 -- Buffalo's defense is really good AND has a decent schedule ahead…
Week 2 = vs. Tua
Week 3 = vs. Heinicke
Week 4 = vs. Tyrod
Week 5 = at Mahomes…no good.
Week 6 = at Tennessee might be fine
Week 7 = BYE
*this post BYE first 6 weeks is awesome matchups for them too*
Week – vs. Tua
Week 9 = at JAX/Trevor
Week 10 = at NYJ/Z Wilson
Week 11 = vs. Wentz
Week 12 = at J Winston
Week 13 = vs. Mac Jones
Aside from Weeks 5 and 7, and 14 (Tampa) – you can run this defense every week otherwise.
Snap Counts of Interest:
64 = Singletary
10 = Breida
53 = JuJu
44 = Diontae
39 = Claypool
58 = Najee (100%)…no worries of a rookie wall here, I guess…