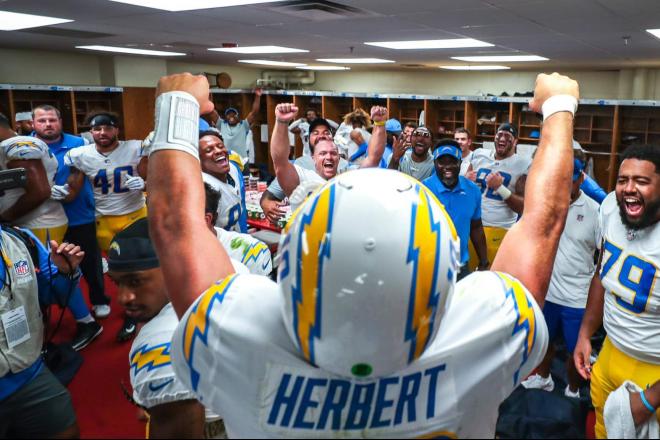 R.C. Fischer
FFM
21 May 2022
2022 Offseason Assessment Tournament: 1st-Round (LV v. LAC)
Same intro everyday: Our annual series taking a look at each NFL team's offseason (free agency, draft, trades) moves and assessing their impact for the upcoming season – simply speaking, 'did all of the offseason moves, en masse, project to make the team better or worse for just the upcoming campaign (not worried about the long-term effect)'?
We'll list the key adds and losses for each team competing and then comment on them and anoint a winner that will move on to the next round, until we get down to the final two (the 'Super Bowl') and we name a winner for the top offseason (to date). Our way to review and judge what each of these teams have done halfway through the offseason.
1st-Round Matchup…
LAS VEGAS RAIDERS
Key Adds:
WR Davante Adams (trade), QB Jarrett Stidham (trade)
LB Chandler Jones (FA), DT Bilal Nichols (FA), FB Brandon Bolden (FA), CB Anthony Averett (FA), FB Alec Ingold (FA), LB Nick Morrow (FA)
OL Dylan Parham (pick #90), RB Zamir White (pick #122), DT Neil Farrell (pick #126)
Key Losses:
WR Bryan Edwards (trade), WR Zay Jones (FA), QB Marcus Mariota (FA), CB Casey Hayward (FA), DT Quinton Jefferson (FA), CB Brandon Facyson (FA), DE Yannick Ngakoue (trade)
vs.
LOS ANGELES CHARGERS
Key Adds:
LB Khalil Mack (trade), CB J.C. Jackson (FA), DT Sebastian Joseph-Day (FA), DT Austin Johnson (FA), TE Gerald Everett (FA), LB Kyle Van Noy (FA), CB Bryce Callahan (FA), WR DeAndre Carter (FA), LB Troy Reeder (FA), DT Morgan Fox (FA)
OL Zion Johnson (pick #17), SAF J.T. Woods (pick #79), RB Isaiah Spiller (pick #123), OL Jamaree Salyer (pick #195), FB Zander Horvath (Pick #260)
Key Losses:
LB Uchenna Nwosu (FA), DT Justin Jones (FA), LB Kyzir White (FA)
Adding Davante Adams is already a big offseason, but they also added Chandler Jones. I'm not sure they didn't catch Jones at the wrong time/end of his usefulness…actually, I think that's exactly what happened – overpaying for 'name'. If that's true, then all LV really has to show for the 2022 offseason is Davante because their draft was pretty nothing, except Parham is useful/hopeful. They lost good players, but no one 'wow' player lost…no one irreplaceable. They are better with the names coming in vs. what they lost…it's just a lot of names that don't really matter that much getting sloshed around + they got Davante, which is a '+' offseason.
The Chargers…well, the Chargers killed it in free agency/the offseason. They lost nothing of note while adding a virtual all-star team on defense, plus they got a top O-Lineman out of the draft. The Chargers are one of the favorites to win this entire offseason analysis/tournament.
Easy choice here, the Chargers were already good…but they may have broke 'great' (not 'bad') with this offseason. The Raiders might be a bit better after all the moves, but we know LAC is WAY better after their moves.
WINNER = Chargers, who go on to face the Denver Broncos in the AFC West finale.
1ST-ROUND RESULTS:
NYG defeats DAL
PHI defeats WSH
LAR defeats SEA
SF defeats ARI
DET defeats GB
MIN defeats CHI
ATL defeats NO
TB defeats CAR
-----------------
NYJ defeats BUF
MIA defeats NE
DEN defeats KC
LAC defeats LV