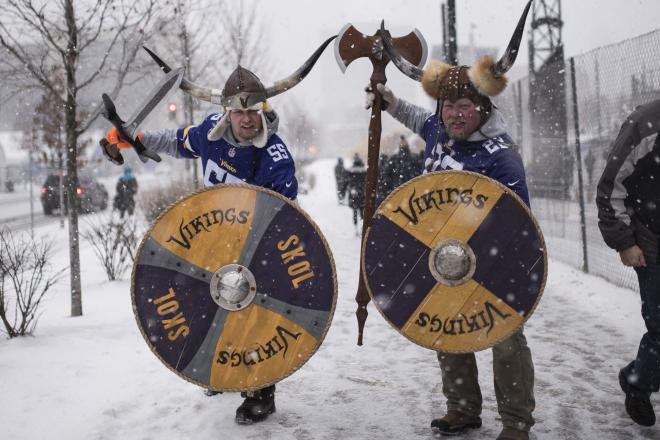 R.C. Fischer
FFM
15 May 2022
2022 Offseason Assessment Tournament: 1st-Round (MIN v. CHI)
Same intro everyday: Our annual series taking a look at each NFL team's offseason (free agency, draft, trades) moves and assessing their impact for the upcoming season – simply speaking, 'did all of the offseason moves, en masse, project to make the team better or worse for just the upcoming campaign (not worried about the long-term effect)'?
We'll list the key adds and losses for each team competing and then comment on them and anoint a winner that will move on to the next round, until we get down to the final two (the 'Super Bowl') and we name a winner for the top offseason (to date). Our way to review and judge what each of these teams have done halfway through the offseason.
1st-Round Matchup…
MINNESOTA VIKINGS
Key Adds:
LB Za'Darius Smith (FA), DT Harrison Phillips (FA), LB Jordan Hicks (FA), SAF Lewis Cine (pick #32), CB Andrew Booth (pick #42), OL Ed Ingram (pick #59), LB Brian Asamoah (pick #66), CB Akayleb Evans (pick #118), RB Ty Chandler (pick #169), CB Chandon Sullivan (FA)
Key Losses:
TE Tyler Conklin (FA), OC Mason Cole (FA), SAF Xavier Woods (FA)
vs.
CHICAGO BEARS
Key Adds:
CB Kyler Gordon (pick #39), SAF Jaquan Brisker (pick #48), WR Velus Jones (pick #71), OT Braxton Jones (Pick #168), OL Zach Thomas (pick #186), DT Justin Jones (FA), DT Al-Quadin Muhammad (FA), OG Lucas Patrick (FA), WR Byron Pringle (FA), LB Nicholas Morrow (FA),
Key Losses:
OLB Khalil Mack (trade), WR Allen Robinson (FA), OG James Daniels (FA), WR Jakeem Grant (FA), DT Bilal Nichols (FA)
Look at what sneaky/savvy Minnesota Vikings new GM did…
They lost very minor impact players but then quietly rebuilt their defense, which was their major issue the past two seasons…retooling and vastly improving right under everyone's/Green Bay's noses. The battle for the NFC North is real…it's on. Minnesota had a window open when Davante Adams left…and then Za'Darius Smith crossed over enemy lines, and the Vikings are further pushing that window open with their 2022 Draft.
Za'Darius Smith is an instant starter added in free agency, and so too is underrated DT Harrison Phillips…plus they add undervalued (instant starter) veteran Jordan Hicks at ILB. Those are three HUGE impacts. Then Minnesota grabbed Week 1 ready rookies Lewis Cine and Andrew Booth (if healthy)…that's five of 11 defensive spots turned over with talent. Then if you figure Danielle Hunter back as like a new 'add' for 2022…that's a 6th bump. They also grabbed underrated slot CB Chandon Sullivan from GB, who will start. Six new starters on defense coming in…all upgrades over 2021.
What Minnesota did to their defense this offseason may be the smartest maneuvering of an offseason to address specific/obvious needs that I've ever seen…way better than the great defensive rebuild by Cincy last year.
On the other side of this matchup…
An all-new management team for the Bears and…well…they aren't as good as the new Vikings regime. Losing Mack-A.Rob-Daniels is crushing. Losing Jakeem Grant and Bilal Nichols is a hit to the roster as well. They really lost some good/great players. In response, they got a top-notch CB in Kyler Gordon…and then a bunch of hopefuls and mediocrity the rest of the draft. Jaquan Brisker is nice/OK, but also a low importance safety.
When you step back, the Bears really had a devastating exchange of talent this offseason…a franchise that has been awful the past few years, didn't get better this offseason…they got worse for 2022, hoping it's a good plan for the rebuild for the future. The Vikings nailed their offseason with precision laser guided bombing of targets (or they are the luckiest team in the offseason 2022). The more I look at the Minnesota offseason, the more I love the plan…and execution of said plan. That's a rarity in the NFL…having a vast need, and then addressing it properly…all in one offseason. It shows, it can be done…like Cincy showed last season. 
WINNER = Minnesota, who goes on to face Detroit in the next round.
1ST-ROUND RESULTS:
NYG defeats DAL
PHI defeats WSH
LAR defeats SEA
SF defeats ARI
DET defeats GB
MIN defeats CHI