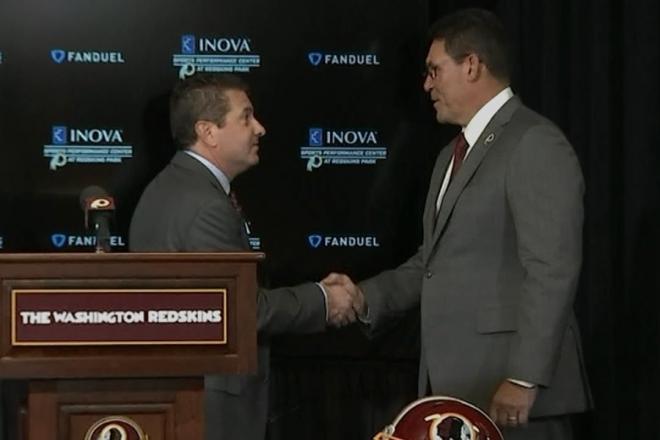 R.C. Fischer
FFM
10 May 2022
2022 Offseason Assessment Tournament: 1st-Round (PHI v. WSH)
Same intro everyday: Our annual series taking a look at each NFL team's offseason (free agency, draft, trades) moves and assessing their impact for the upcoming season – simply speaking, 'did all of the offseason moves, en masse, project to make the team better or worse for just the upcoming campaign (not worried about the long-term effect)'?
We'll list the key adds and losses for each team competing and then comment on them and anoint a winner that will move on to the next round, until we get down to the final two (the 'Super Bowl') and we name a winner for the top offseason (to date). Our way to review and judge what each of these teams have done halfway through the offseason.
1st-Round Matchup…
PHILADELPHIA EAGLES
Key Adds:
LB Haason Reddick (FA), DT Jordan Davis (pick #13), OL Cam Jurgens (pick #51), LB Nakobe Dean (pick #83), WR A.J. Brown (trade)
Key Losses:
CB Steven Nelson (FA), #18, #101 picks in 2022 (trade for A.J. Brown)
vs.
WASHINGTON COMMANDERS
Key Adds:
OG Andrew Norvell (FA), OG Trai Turner (FA), WR Jahan Dotson (pick #16), DL Philarian Mathis (pick #47), RB Brian Robinson (pick #98), FS Percy Butler (pick #113), TE Cole Turner (pick #149), Sam Howell (pick #144)
Key Losses:
OG Brandon Scherff (FA), DE Matt Ioannidis (FA), TE Ricky Seals-Jones (FA), WR DeAndre Carter (FA)
For Philly, if you consider that pick #18 ended up Treylon Burks -- then using that pick in trade to get A.J. Brown instead is a massive upgrade for the 2022 season (and, here, we don't care about money or contract…we're just looking at 2022 only impacts/bodies in-out). Despite the AJB trade, Philly still had one pick in the 1st and 2nd-rounds of the draft and walked away with a Jordan Davis lottery ticket and solid depth/potential emergency starter Cam Jurgens on the O-Line.
I don't think Nakobe Dean is anything special. He'll play some snaps but he's not a big 2022 impact. Hasson Reddick is a pass rush specialist that's a liability in other phases, and a liability when he rushes and doesn't get near the backfield…but he's better at blitz/pass rushing than most.
I didn't realize how poor the Washington offseason was until I laid out the key moves all in one spot here. Losing Brandon Scherff is massive…and they added two OLs in free agency to offset that loss, but it was with OGs that were last good several years ago. A huge downgrade on the O-Line. They then added a WR (Dotson) they didn't really need and then added an RB (Robinson) they didn't really need to draft along with adding an Alabama DT who stinks and a solid free safety (Butler). Cole Turner and Sam Howell have some hope in the future, but likely don't help 2022 much.
Washington had this massive loss of OG Scherff and then moved up to draft a smaller WR they didn't really need, with top OC/OG Zion Johnson going with the very next pick. Who the hell is running that organization? Don't answer…
Carson Wentz is not a huge upgrade over Taylor Heinicke, but it is an upgrade.
Washington definitely lost ground for 2022 this offseason, best case they didn't really improve or drop…while the Eagles definitely improved in many areas. As much of a thumb's down you give Washington, the same level of a thumb's up goes to Philadelphia.
WINNER: The Philadelphia Eagles, who go on to face NYG for the NFC East title
1ST-ROUND RESULTS:
NYG defeats DAL
PHI defeats WSH