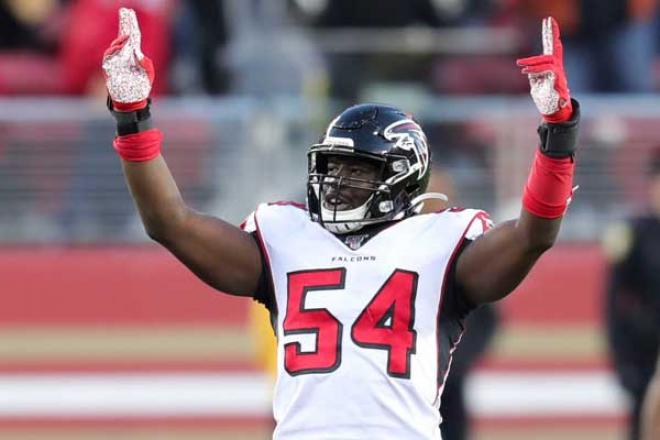 R.C. Fischer
FFM
15 March 2022
‍‍2022 Free Agent Positional Preview: Linebackers (non-edge)
I researched the available free agent lists in late-Feb./early March in order to get a feel for the marketplace and identify key players likely on the move; players that could shift a team's fortunes under-the-radar if a team landed/grabbed a bunch of them. We have the obvious names, the under-the-radar, and the trap doors to look at.
Here's my take on 2022 NFL free agency…the players I'm really watching for fantasy, handicapping, etc., on where they might land.
The Top 3 Available According To NFL Analysts:
1) De'Vondre Campbell, GB – Campbell is finally getting his due…need I remind all of us – the Cardinals had Campbell in 2020, and benched/made him a part-time player and then let him go. GB picked him up for a song late in the offseason 2021…now, he's the most coveted linebacker in 2022 free agency. How can people with such money and experience be so bad at identifying talent within their own industry…it's mind-boggling.  
2) Alexander Johnson, DEN – Rose to starter in 2020, then got hurt and missed a lot of 2021. Now a free agent. He was once a top LB prospect in college, then got wrongfully accused of something and lost all his draft stock and had to scratch and claw to a roster, to become a starter…and now, a desired free agent.  
3) Foye Oluokun, ATL – The former Yale safety turned linebacker has been terrific. I don't know how Atlanta has allowed it to come to this with him.  
The Top 3 Talents Available/To Target If I Were an NFL GM:
1) Foye Oluokun, ATL – Everyone wants a young, athletic, high IQ middle linebacker…Oluokun is as athletic as there is in the NFL at linebacker, he's 26+ years old, and he's a graduate from Yale…and the league leaders in tackles in 2021…what's not to love here? Why is he available? We'll see if ATL takes him off the table before free agency.
2) De'Vondre Campbell, GB – If you needed a shorter-term ace linebacker to help with a title run…Campbell is a great next option. Arguably the most valuable defender for GB in 2021.
3) Jayon Brown, TEN – Was really good in 2018 and 2019, then got hurt…then lost his job. I don't trust what Mike Vrabel sees/is looking for in linebackers, so I'd try to swoop in and grab Brown for cheap(er). Solid linebacker, and very good in coverage.  
Had 6.0 sacks in 2018 with 97 tackles. He 105 tackles in 2019 with 8 passes defended. He's been productive in various roles given the past few years before the nightmare treatment in 2021.
The Top 3 Values/Sleepers According to FFM:
1) Nick Morrow, LV – Broke through with LV in 2020, was set to be the man in the day one starter in 2021 but got hurt and gone for the season. Now, he enters free agency off that downer. 78 tackles, 8 TFLs, 3.0 sacks, 9 PDs in 2020 in about a half a season of playing/starter. He could be a serious steal.
2) Eric Wilson, HOU – 2020…122 tackles 8 TFLs, 9 QB hits, 8 PDs, 3 INTs, 2 FRs…and then he hit free agency coming off that year in 2021 and garnered little interest. Philly signed him and cut him halfway through 2021. I'd swoop in on this bargain.
3) Nick Vigil, MIN – Always solid, productive, reliable, multifaceted…and always overlooked, disrespected. He's another great bargain option.
The Top 3 Problems According to FFM:
1) Leighton Vander Esch, DAL – I like the player, but he's had neck injury issues in the past haunting him…concerns he may need to retire upon the next one.
2) K.J. Wright, LV – I think his career clock has just about expired.  Has name appeal, but he's about 3+ years past his prime.
3) Ja'Whaun Bentley, NE – He played for Belichick for 4 years, so there will be several ex-Patriots coaches trying to sign him and you pay the 'played for Belichick' tax that goes with it…higher price in the market than he warrants. I don't think he's a legit NFL starter anyway, on top of the 'NE tax'.
Predictions/Notes:
 -- I would think Green Bay, despite its cap issues, has to find a way to resecure De'Vondre Campbell.
 -- Considering Denver is suddenly 'in the race' in the AFC…they might lockdown Alexander Johnson and let Josey Jewell depart.
 -- Atlanta is crazy to let Foye Oluokun hit the market, and if they do…he's gone. He'll get great offers with better teams. He's not the current regime's guy, so he's probably on the move.
 -- Anthony Walker is a bit of a sleeper pickup, if he comes cheap. Buffalo might make a run at him or Jayon Brown to replace A.J. Klein.
 -- Leighton Vander Esch is probably going on the market and potentially finding a lack of bidders. He may need to take a one-year 'prove it' deal with a contender and then go for the better contract in 2023.