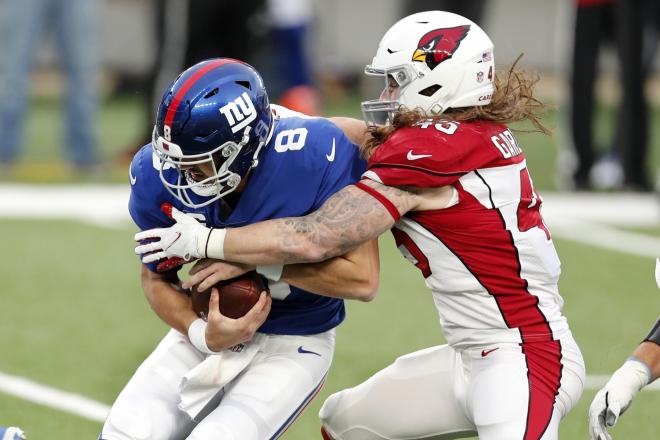 R.C. Fischer
FFM
13 March 2022
‍‍2022 Free Agent Positional Preview: Edge Rushers
I researched the available free agent lists in late-Feb./early March in order to get a feel for the marketplace and identify key players likely on the move; players that could shift a team's fortunes under-the-radar if a team landed/grabbed a bunch of them. We have the obvious names, the under-the-radar, and the trap doors to look at.
Here's my take on 2022 NFL free agency…the players I'm really watching for fantasy, handicapping, etc., on where they might land.
The Top 3 Available According To NFL Analysts:
1) Von Miller, LAR – This top 3 list (edge) is definitely going by name recognition and career achievements, but they are all older/aging pass rushers…maybe they have one more year in them. Miller is the most infamous and is a top everyone's list – but there is cause to worry that he's sliding downhill fast.
2) Chandler Jones, ARI – Arizona was unhappy with him going into last season, now they're letting him walk. After five sacks on opening day in 2021, he went to sleep the rest of the season, pretty much.
3) Jadeveon Clowney, CLE – The most overrated pass rusher of the decade…and again available in free agency 2022.  
The Top 3 Talents Available/To Target If I Were an NFL GM:
1) Von Miller, LAR – If I had a title contending team, and if I could get Von on a 1–2-year type deal to help me attract other players and bolster my locker room with this addition…if I felt I needed that, he's the guy players would rally around and would want to join up with him – not Chandler Jones as much, and not Clowney at all.  
2) Hassan Reddick, CAR – If I was a heavy blitz defense, I would want Reddick among the bigger names to help with the pass rush in that instance.  
3) Uchenna Nwosu, LAC – A 3-4 OLB/pass rusher who can drop into coverage as needed. I saw some moments where Nwosu really shined in games last season…5.0 sacks, 17 QB hits, 8.0 TFLs. I wouldn't spend a ton, because of all the great athletes coming in from college to the pros to get cheaper.
The Top 3 Values/Sleepers According to FFM:
1) Dennis Gardeck, ARI – I love this player…he has flashed as a pass rusher. He was a great middle linebacker in college. He's a special team's warrior. He costs me little to nothing to join my team.
2) Lorenzo Carter, NYG – A higher-end athlete to try and shape/mold into a better pass rusher, already good against the run. Carter has some upside.  
3) Jordan Willis, SF – One of the highest graded edge rushing prospects, in our system, that I've scouted for the NFL Draft the past decade – and he became a bust almost instantly. However, he started to show signs of hope in 2021 with SF…3.0 sacks, 5 QB hits in 10 games, and only playing 10-20% of the defensive snaps per game. He's only going to be 27+ years old this season…still has time to improve and will cost next to nothing. 6'4"/270 with athleticism…he should've been better. Maybe he's getting it now.
The Top 3 Problems According to FFM:
1) Jadeveon Clowney, CLE – He's on this list every year. So incredibly overrated his entire career. A guy that constantly finds excuses to not practice. He was OK with CLE in 2021, but his cost is prohibitive. There are so many as-good/better options available much cheaper.
Clowney keeps gaming the system with short-term deals, and there's always an NFL sucker team to pay it…so, I guess he's a genius.
2) Randy Gregory, DAL – Has never lived up to the hype. Gotten better the past few years but he's hitting age 30 now and so many talented pass rushers with better head's on their shoulders are hitting the league – why spend for Gregory?
3) Dante Fowler, ATL – Ditto the Gregory note above. Fowler flashed nice numbers as a specialist for the Rams in 2019, just in time for a nice contract…then died off again with ATL the past two seasons. Why pay this guy money when the motivations are questionable and so many other options out there?   
Predictions/Notes:
 -- Von Miller and Chandler Jones will go to contenders…to the highest bidder that has a legit chance to win a title…so, the Rams, the Chiefs, the 49ers, the Packers type teams are all in-play. The contenders that are more blue collar are probably not in play, because these mercenary stars want to be treated as such. Going to play in miserable Buffalo with miserable Sean McDermott…or ditto New England and Baltimore, etc., is not where guys with options want to go grind.
 -- Jadeveon Clowney will go to the highest bidder…and that will be a fake contender team like the Browns or Seattle or Arizona or the Steelers, etc.
 -- Emmanuel Ogbah is as good a mercenary, veteran pass rusher out there…he's the smarter team's option vs. Clowney since he comes cheaper and is usually more effective as a pass rusher anyway.
 -- Harold Landry would have been the top get of all the edge rusher type free agents, but Tennessee smartly locked him up ahead of the FA madness.
 -- Haason Reddick seems like a big name out there, but teams are suspicious that he's only good for situational blitz pass rushing…and that has its place, but there's also a number of guys you can put into a role like that and get similar pressure without paying tens of millions of dollars for it.
Honestly, you could take an athletic, inexperienced rookie and teach him to blitz on obvious passing downs for a fraction of the cost. Not that Reddick is 'bad'…just the likely price he's looking for is not prohibitive, but a team in need with money might want the veteran NOW, if there are coaching jobs in danger.