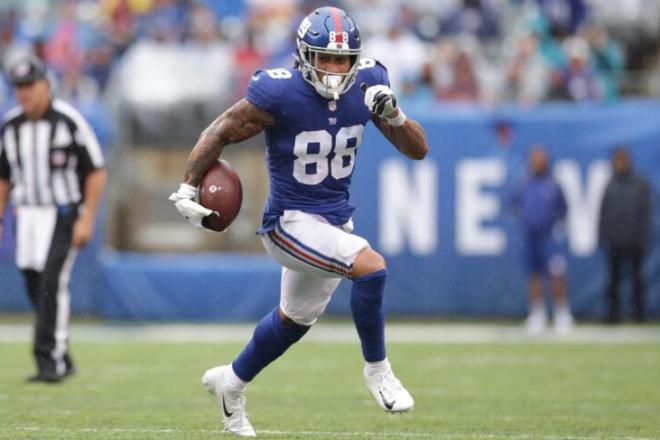 R.C. Fischer
FFM
09 March 2022
‍‍2022 Free Agent Positional Preview: Tight Ends (TE)
I researched the available free agent lists in late-Feb./early March in order to get a feel for the marketplace and identify key players likely on the move; players that could shift a team's fortunes under-the-radar if a team landed/grabbed a bunch of them. We have the obvious names, the under-the-radar, and the trap doors to look at.
Here's my take on 2022 NFL free agency…the players I'm really watching for fantasy, handicapping, etc., on where they might land.
The Top 3 Available According To NFL Analysts:
1) Rob Gronkowski, TB – The name-appeal alone…much less a future Hall of Famer. It makes sense that he would be the top name of interest.
2) Mike Gesicki, MIA – Great Combine got everyone's attention but then he never really ever played/looked like his Combine numbers…it's one of the oddest things I've ever seen come from the Combine. Great size/length and had moments of being a dominant option for Miami, but Brian Flores didn't use him all the way…and Tua had a hard time throwing the ball further than 5 yards downfield.*Got the franchise tag after I wrote this.
3) Dalton Schultz, DAL – He's become a very respected hand around the league in the past year. *Got the franchise tag after I wrote this.
The Top 3 Talents Available/To Target If I Were an NFL GM:
1) Evan Engram, NYG – My love child for years. One of the most underutilized weapons in all of the NFL. He could be the 'Deebo' of the TEs if anyone in NYG had half-a-brain. Whenever they did use him as a weapon more (jet sweeps, screens) he was great – but the NFL loves using players 'the way it's been' for decades. Someone has to break the mold for all the sheep to follow…for me, I would snatch Engram and go break the mold with him as a weapon TE – stop making him a deep threat and shorten the game for him, get the ball in his sometimes shaky hands in simple ways not way downfield ways all the time.
2) Rob Gronkowski, TB – If you could have any TE in this field, for just one season/2022…wouldn't it be Gronk?  Sure, he doesn't have long-term appeal -- but I think most contending teams would love to rent Gronk for a year or two. Can you imagine if he joins the Bengals for 2022?
3) Hayden Hurst, ATL – A guy who was stuck behind Mark Andrews…then stuck behind Kyle Pitts. I think there's a very solid, underrated legit starting TE here…at, likely, a bargain price.
The Top 3 Values/Sleepers According to FFM:
1) Will Dissly, SEA – IF he's knee checks out...two ACLs in the past. Is as good a blocking TE with a sneaky pass catching ability to be a great, low-cost option – but higher risk on his knee history. He would be a great 2nd-TE to have…or the blocker with a receiving weapon #1 TE. He's an NFL-sleeper more than FF-sleeper, per se. And you can sign for next-to-nothing.
2) Ricky Seals-Jones, ARI – A former college WR turned TE...I thought RSJ was not going to make the turn to legit TE, but he really stepped up in place of Logan Thomas for Washington last year. I was stunned by how solid he looked/worked as a pass catcher and improved in all the other phases too.  
3) O.J. Howard, TB – Remember when he was the great hope TE prospect? Really had a nice 1st and 2nd season with TB, then Bruce Arians came in…and he and OJH never got along, for whatever reason. OJH died off under Arians, then he got hurt and was gone for 2020, then ran behind Gronk-Brate for 2021…BUT that was with Tampa opting for his 5th-year option, for reasons I cannot explain because they never used him. He'll come cheaper, maybe, if there's anything left with him mentally.
The Top 3 Problems According to FFM:
1) Rob Gronkowski, TB – He's 33+ years old this season. Does he really want/need to play another year? How bad does he want it? He still has starting NFL TE skills, but what would it look like at this stage without Brady? A contender is going to sign him…and he could be a make-or-break type of player for a title run for like the Bengals or Packers.
Sleeper option…to the Rams or Chargers.
2) C.J. Uzomah, CIN/Maxx Williams, ARI – Coming off injuries, on the back nine in their careers, and not that athletic as it is/was. They had decent 2021's…their best NFL seasons…but I don't think they'd be high on my list at their age and coming off serious injuries.
3) Eric Ebron, PIT – You know your team sucks at evaluating talent if/when they sign Eric Ebron…one of the biggest fraud TEs in the NFL the last decade. Oh, some team will sign him…just not sure who. What team is really dumb?  
Predictions:
 -- Zach Ertz, age 32+, still a reasonable TE for a year…you have to pencil him in for Indy if he'll take a short-term deal. This is his last big deal opportunity, so someone may be able to buy him…but Indy with Frank Reich has always made sense here. And now that Jack Doyle retired…even more likely.
 -- Robert Tonyan will be back from ACL…but once GB spends for Rodgers-Adams, they may not have room for Bobby Tonyan…but Rodgers might demand it, but perhaps he'd rather have a rental TE like Gronk or Ertz.
 -- Where do I think Evan Engram will wind up? I'm going to guess the Rams…but, for FF, I hope it is GB or CIN or LAC. The 49ers are not out of the question either…they've been linked to him before. Yes, working with George Kittle…which would kill Kittle's FF value.
 -- My Hayden Hurst guess/rumor…to the NY Giants. Defensive Coordinator Don 'Wink' Martindale would have some insights from his time in Baltimore. And NYG is in need, losing Engram and cutting Rudolph.
 -- My guess is Gerald Everett goes back to Seattle.
 -- Tyler Conklin guesses…Green Bay if the Pack goes 'cheap' on a TE.
**College Football Metrics 2022 NFL/Dynasty Draft Scouting…new season sign-ups have begun**
The new season of CFM will be starting up in January, as always. A little different schedule this year as the NFL extended their season by a week and the Senior Bowl was bumped back a week as well. We should have a Senior Bowl, NFL Combine…it looks like it will be a normal scouting year!
The NFL Draft, Dynasty Rookie Draft, and regular season ahead rookie analysis all gets started through CFM in January with our usual season starter -- the past two years/2020-2021 Mock Rookie Draft re-do, along with in-depth Senior Bowl analysis, and full QB scouting reports and much more as we build towards the NFL Combine and all the other positional scouting reports. Football study never ends…
Thank you for your support of CFM for the past decade now…wow, time flies.