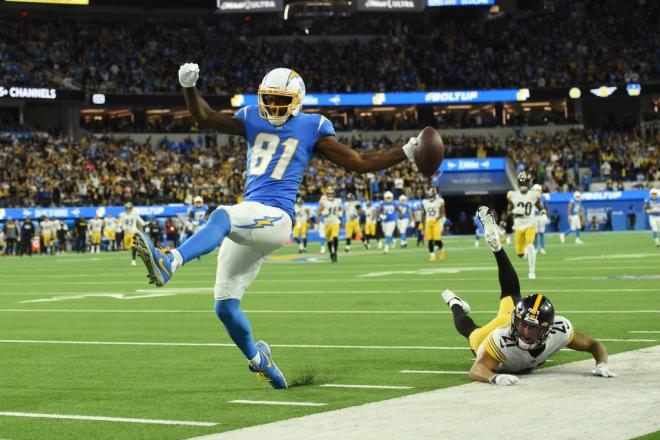 R.C. Fischer
FFM
07 March 2022
2022 Free Agent Positional Preview: Wide Receiver
I researched the available free agent lists in late-Feb./early March in order to get a feel for the marketplace and identify key players likely on the move; players that could shift a team's fortunes under-the-radar if a team landed/grabbed a bunch of them. We have the obvious names, the under-the-radar names, and the trap door names to consider/discuss.
Here's my take on 2022 NFL free agency…the players I'm really watching for fantasy, handicapping, etc., on where they might land.
The Top 3 Available According To NFL Analysts:
1) Davante Adams, GB – The biggest no-brainer of free agency 2022. Except, he'll never see the open market.  
2) Chris Godwin, TB – Godwin has had a favorable ride from the media and fans for three years now. Tampa Bay won't let him hit the market…too much blowback from the media/fans if they do.
3) Mike Williams, LAC– He's getting his media/fan groove back. Surprising that Williams is getting this level of respect over Allen Robinson…what a difference one year makes.  
The Top 3 Talents Available/To Target If I Were an NFL GM:
1) Davante Adams, GB – I mean…it's Davante Adams. No explanation needed.
2) Allen Robinson, CHI – It wasn't long ago that ARob was considered a top tier NFL WR…then the offensive guru Matt Nagy destroyed the lives of many offensive players in Chicago, and now we have forgotten Robinson. ARob might be a cheaper (but still expensive) stab at an instant #1 WR for a team.
3) Mike Williams, LAC – He was so physically dominant at points last season, you want to overlook his injury history and dive in on him.  
The Top 3 Values/Sleepers According to FFM:
1) Jakeem Grant, CHI – A kick or punt return TD in five of his 6 NFL seasons…and yet no one seems to want to invest in him. The Bears stole him from Miami mid-2021, and once given some touches…he caught TD passes, nice jet sweep runs, had a punt return TD…and then he got dinged up and all but disappeared from the scene.
Worst case, he's a return weapon…best case he's one of the hidden 'Tyreeks' out there – he can be a jet sweep and receiving weapon as well.
2) Noah Brown, DAL – Had a 6 catch/53-yard game Week 11 when he got his first real start of his career (93% snaps). The thing is…he's a decent receiver, but more valuable is that he's a terrific blocker that some teams will covet. He can also play some backup/emergency TE.
3) Mack Hollins, MIA – 6'4"/221, a special team's ace PLUS he broke out a bit in 2021 with 4 TDs from Week 7-13. Decent receiver, special team's warrior.
The Top 3 Problems According to FFM:
1) Odell Beckham, LAR – Oft-injured and coming off another major injury (ACL), and already well-paid with a Super Bowl ring…do you trust OBJ to come roaring back from a 2nd ACL and be higher-level again?  
2) Christian Kirk, ARI – A solid WR, but with so many solid/ready-to-go WRs flooding the NFL from college…why give Christian Kirk $40-50M+ to be a decent WR for your NFL team?
3) Chris Godwin, TB – I think Godwin is a very good NFL WR, but again…with his injury history of late and the fact that he rode some favorable-to-WR offensive situations the past few years, is he worth a $80-90M+ contract with so much young, cheap WR talent hitting the league?  
Predictions:
 -- Big names highly likely back with their same teams in 2022: Davante Adams, Chris Godwin.
 -- Mike Williams is about 85% likely back with LAC. Listening to an interview with the LAC GM, it looks like if Big Mike wants to be back, they want him. Some team could try to really bid up for him and he takes an offer too good to refuse with a desperate-to-spend team like the Jaguars or Jets, but LAC has a ton of CAP space as well. VERY likely back with LAC unless the Browns get silly chasing him.
 -- Christian Kirk is trying to get his way to Buffalo, and if he takes a lesser-than deal he might get there.
 -- It looks like (as of the time I type this) Dallas will sign Michael Gallup and send Amari Cooper into free agency. Where will Cooper then wind up? To the highest bidder, probably. I'm not sure he's looking to search for a title more than the biggest deal, because this is likely his last shot at bigger money. Jacksonville might try and buy him.
But Jacksonville may rather re-sign D.J. Chark cheaper and make him 'the #1'.
 -- I'll assume JuJu Smith-Schuster signs back with the Steelers because the Steelers are one of the worst run teams in football…falling apart fast for the past few years.
 -- Jamison Crowder is likely to not find much of a market for his services. If I were the Panthers, if they plan on another year of Sam Darnold, I'd try and low-ball Crowder. Darnold-Crowder has been a decent pairing in the past.
 -- Allen Robinson is the most intriguing free agent WR name out there…the one top guy I know is not going back to his prior team. And thus, ARob is an instant #1 WR for his new team…a desperate team can buy themselves a legit #1 WR here.
This should be a bidding war between the Browns and Raiders.
The Chiefs should try to land this fish with the promise of a title or two, but money is probably going to talk, and the Browns and Raiders have more cash, in theory.