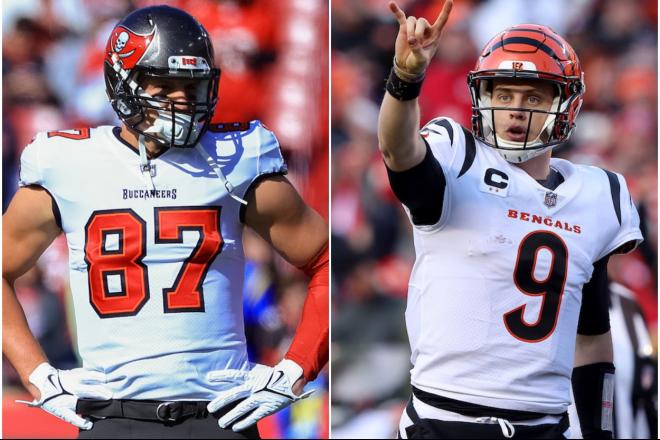 R.C. Fischer
FFM
02 March 2022
NFL Combine 2022: Quick Notes from 3/1 TUE…
 -- Shoulder surgeries talked about for two QBs…
1) Dak Prescott…non-throwing shoulder, and everything should be fine for training camp, etc., but it made me think – Dak is injured, having some pretty major types of injuries/surgeries seemingly every year now. This can't be good for his longevity.
He'll be 29+ years old this season. I know a lot of QBs are playing fine into their late 30s now…but I speculatively wonder if Dak will be one of them, or will he run out of gas, physically, in a few years?
2) Jimmy Garoppolo…throwing shoulder, major surgery, out for 4 months. They are saying it's not going to affect his trade value…
Say what?
So, the 49ers expect some NFL team to take on a new, expensive QB via trade…and he'll come to that new team missing a lot of camp, or at least not being able to throw to his new WRs/TEs/RBs all summer…to then hopefully be OK come August? Someone is going to trade into that and pay JG $20M+ to take a look? That's a pretty big ask. No new head coach is going to want to take a shot on the unknown injury situation like this…they want a QB they can 'get to work' with for years and build the program. Of course, the injury will affect his trade value.
I say that the 49ers will find no real trade offers, and they will be forced to cut him…and then maybe workout a 1-2 year deal on the cheap to stay in SF?
With the shoulder rehab, Trey Lance will get all the #1 reps all summer…whether the 49ers would have wanted that (JG gone) or not (with JG still there).
 -- Chris Godwin very likely to get a good, regular (not franchise tag) deal from the Buccaneers. Tampa is definitely the leaders in the clubhouse on this when you listen to Bruce Arians speak about it.
I wonder if Godwin wants away from Arians, however.
Take the money or get away from Arians…we'll see what Godwin's priority is. I suspect it's just easier for him to stay in Tampa Bay.
 -- The Chiefs appear to be allowing Tyrann Mathieu to walk in free agency. If so, I ask myself – if this guy is so good, so key…why does every team he signs with happily let him go? To me, he's one of the most overrated (because of pay) players in the NFL…and has been for years.
 -- For your rumor enjoyment…
New Denver head coach Nathaniel Hackett spoke of the team going to be aggressive at the QB position this offseason.
Most people are focused on Hackett's friendship with Aaron Rodgers as the lead headline in that 'quest'. But I think Rodgers back to Green Bay is like 95%+ certain.
So, what is the alternative?
New coaches want young QBs to grow with. I'm starting to hear more and more rumbles of Denver possibly getting into the Kenny Pickett sweepstakes. Those of us betting that prop – it's exactly what we need.
I think we could get Carolina v. Denver chasing Pickett soon…with maybe an outside shot the Giants consider it. I don't think the Commanders are serious players for a young QB. Rivera will go 'old school'…I think he fancies Jimmy G., if not for the shoulder.
If Carolina and Denver get hot for Pickett…then getting to the #1 overall pick is paramount to make it happen.
 -- Prospects who announced they were skipping drills at the Combine…
Evan Neal…smart, he's already the consensus #1…so, how could he improve his draft stock any more than where it is at? He can only hurt himself.
Derek Stingley…smart…he's not as good as his hype – but he's good. However, there are several top CBs better and more athletic…so, it's smart for Stingley to stay away – but I think he's going more 2nd-half of the 1st-round pick, not top 5-10. Stingley can only hurt his perceptions in the drills, so he's smart to ditch out.
Matt Corral…smart…a desperate act to cover up the unwarranted 1st-round hype. When people would see how small he is compared to the other guys and not a big-time arm, he could only hurt himself by visual comparison.
Jeremy Ruckert…injured, plus 'smart' because he's not a great athlete – so, this process will not help him at all. Hiding behind 'Ohio State' is his best draft stock hope.
 -- The slightly tantalizing rumor discussed yesterday…the thought of Gronk going to Cincy to be with Joe Burrow is picking up some steam. I'd think Gronk might lay out of playing football anymore, but if he came back he's going to jump in with an elite QB for a Super Bowl run…so, Cincy, Green Bay, the Rams, possibly the Cowboys…long-shot to jump in with the Bills.