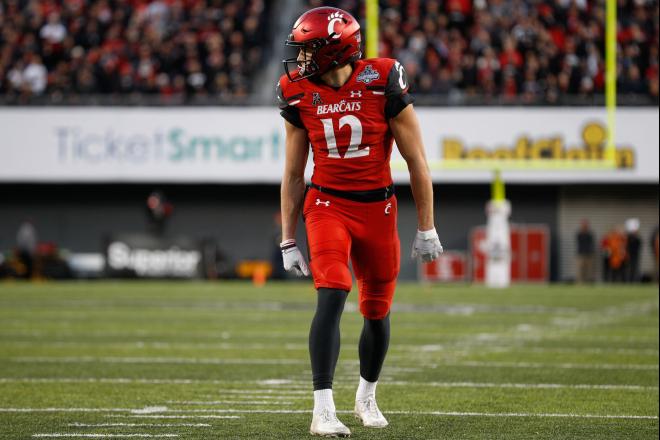 Ross Jacobs
FFM
18 February 2022
1. Carolina Panthers (trade from Jaguars): QB Kenny Pickett (Pittsburgh)
I believe there's a very good chance the top pick is traded to someone for Pickett. He's the best
QB of the supposed top guys, and there is always a frenzy for any decent QB. I'm changing this pick from Washington to Carolina because of Pickett's connections to both Matt Rhule and David Tepper. He was committed to play for Rhule at Temple until Rhule left for Baylor and Tepper is a Pitt alum and big donor to the school.
2. Detroit Lions: DE Aidan Hutchinson (Michigan)
Detroit tipped their hand that they won't be drafting a QB by not requesting Pickett for their team in the Senior Bowl. That means they'll go with the perceived next best option which in this case is Hutchinson. I'm not a fan, but the media has decided he's the best 4-3 pass rusher available. He's also a local kid and fits the tough guy image that Dan Campbell so wants to cultivate.
3. Houston Texans: OT Ikem Ekwonu (NC State)
Houston could literally draft any position and nobody would blink an eye. Their roster is barren. I'm switching this pick to Ekwonu because of his versatility and character, two attributes highly valued by ex-Patriot Nick Caserio.
4. New York Jets: OLB Kayvon Thibodeaux (Oregon)
This is where things start to get murkier. The Jets need a lot of help, but they'll have several reasonable options at this juncture. Joe Douglas tends to be a "best player available" kind of guy, so I'm going to slot in the perceived top remaining guy. Thibodeaux definitely has some issues with effort and focusing more on his brand than football, and there are rumblings he could fall a bit in the draft but I have a hard time seeing him drop too far.
5. New York Giants: OT Evan Neal (Alabama)
The Giants almost have to take the top offensive tackle available. Their line has been a complete disaster and there is no way Nate Solder is coming back. Neal slots in nicely as the starting RT.
6. Jacksonville Jaguars (trade from Panthers): CB Derek Stingley (LSU)
If Jacksonville does not trade back from the #1 pick I expect they'll take one of the two tackles, Neal or Ekwonu. But if they do trade back with the Panthers, Stingley could be an enticing option with the 6th pick. They desperately need more corners after trading away CJ Henderson, and Stingley feels like the type of highly athletic, upside pick that Trent Baalke loves to make.
7. New York Giants: EDGE David Ojabo (Michigan)
The second of the Giant's first round picks could be spent on several positions, but I'm going to put Ojabo here for now. New DC Wink Martindale comes from Baltimore where he was one of the heavier blitzers in the league. Ojabo seems like a perfect fit on the edge in a hybrid defense.
8. Atlanta Falcons: WR Drake London (USC)
The Falcons appear to be one of the few teams that will just take the BPA (best available player) on their board (which coincidentally tends to be the highest one on mainstream boards), and they have plenty of holes on the roster so there's really no position they couldn't take. I'm giving them London here because they need another WR regardless of Calvin Ridley's status but if he's traded then WR becomes even more imperative. London is racing up draft boards with comparisons to Mike Evans and could easily go top 10.
9. Denver Broncos: S Kyle Hamilton (Notre Dame)
I don't have a good idea what Denver is looking for yet, but safety is probably on the list and Hamilton is widely regarded as a top 5 player in this draft. Here I have him dropping to #9 because safeties almost always go lower than projected due to positional value. Malik Willis is a possibility here as are several other players like Karlaftis and Gardner.
10. New York Jets: WR Treylon Burks (Arkansas)
The second of the Jets picks could be anything, but WR is right at the top of their boards and I believe Burks is a top 5 player in this class and could easily rise to the top 10 by draft day.
11. Washington Commanders: QB Malik Willis (Liberty)
I suspect that Washington may end up trading for Jimmy Garoppolo, but until they do, QB is at the top of their wish list. After more study, RC and I are both coming to the conclusion that Willis isn't as bad as we originally thought. He's definitely grown as a passer since 2020. He's absolutely going top 20 and likely as the 2nd QB behind Pickett.
12. Minnesota Vikings: CB Ahmad Gardner (Cincinnati)
Minnesota has been bringing in veteran corners the past several years under Mike Zimmer and still have an awful secondary. I think everyone expects this to be a CB and I'm not going to fight the obvious.
13. Cleveland Browns: WR Garrett Wilson (Ohio St)
Another obvious pick. Everyone and their grandmother knows the Browns are going to bring in multiple receivers this year, and Wilson is widely regarded as one of the top available options.
14. Baltimore Ravens: DT Jordan Davis (Georgia)
Baltimore loves two things: 1) Big, athletic maulers in the trenches and 2) 1st round prospects from major schools. Davis fits both categories and is a mountain of a man at 6'5" 340 lbs, perfect for what the Ravens look for on defense.
15. Philadelphia Eagles: C Tyler Linderbaum (Iowa)
If Linderbaum makes it to this pick this is a no-brainer for Philly if Jason Kelce retires (which all signs are pointing to). Trouble is, I don't know that Linderbaum makes it this far as he's considered a very solid pick and could easily get pushed up the board due to the lack of QB's.
16. Philadelphia Eagles: EDGE George Karlaftis (Purdue)
The Eagles need to replenish their talent on the edges and Karlaftis is far too juicy to pass up at 16. He could easily go much higher than this.
17. Los Angeles Chargers: CB Trent McDuffie (Washington)
The Chargers could go a number of directions with this pick, most of them on defense, but I'm going with a corner to replenish their secondary. McDuffie is definitely in contention for top corner in this class and might go as high as the top 10, but I feel like his height might drop him below Stingley and Gardner.
18. New Orleans Saints: WR Wan'Dale Robinson (Kentucky)
This is another one where everyone is going to give the Saints a WR and I'm not going to argue. Robinson is not always mocked in the 1st round yet, but I've heard behind the scenes he's getting comparisons to Brandin Cooks...who was drafted by the Saints. We'll have to see how Sean Payton's absence affects how the Saints draft.
19. Philadelphia Eagles: WR Jameson Williams (Alabama)
The Eagles will likely trade one or more of their first round picks to move either up or down the draft board, but if they stay then Jameson Williams makes a lot of sense. He would be their third straight WR picked in the 1st round and second from Alabama. Howie Roseman has no problem taking players dealing with injuries if he thinks he's getting a good value.
20. Pittsburgh Steelers: OT Tyler Smith (Tulsa)
Perhaps the Steelers move up aggressively for a QB like RC thinks, but that's not usually their style. They prefer to sit back and let a talented prospect fall to them. They also are usually quite open about their interest in certain prospects and it's known far and wide that they really like Malik Willis. Will he drop this far? Possibly. If not, Smith is a huge, athletic, nasty tackle and will fit right in on a Pittsburgh line that wants to pound the ball with Najee Harris. Smith isn't often mocked this highly yet, but I think a dramatic rise could be coming.
21. New England Patriots: EDGE Travon Walker (Georgia)
The Patriots have very specific traits they look for in prospects, and two of those traits are prototype size and versatility. Walker provides both in addition to being a very underrated player. I've heard the NFL likes him more than the media, and the Kirby Smart/Nick Saban connection is always a huge plus for Belichick.
22. Las Vegas Raiders: LB Devin Lloyd (Utah)
The Raiders have so many holes on this team it's ridiculous. How this team scrapped to the playoffs I'll never know. They could take just about any position, but their defense is especially thin and they are likely to lose a few LB's. Enter Devin Lloyd, one of my personal favorite prospects from this class. He's tall, rangy, and makes a ton of plays. The media still isn't giving him the credit he deserves. He's definitely in the mix to be the first off-ball linebacker selected.
23. Arizona Cardinals: EDGE Jermaine Johnson (Florida St)
Arizona could be looking a number of directions. A corner or offensive lineman would make a ton of sense, but I could also see them taking a swing on another pass rusher. I've seen Johnson mocked as high as the mid-teens so this feels like a decent spot for him.
24. Dallas Cowboys: LB Damone Clark (LSU)
An offensive lineman wouldn't shock me here and would be the choice if I was making their picks. Connor Williams needs to be replaced badly. I'm not sure yet if Dallas will go after edge rushers in this draft, but it makes some sense if they want Micah Parsons to play more off the ball next year. They could also go the opposite route and take a LB which would allow Parsons to play on the edge more consistently. We'll have to see which direction they go. Here I have them going the latter route and taking yet another big, athletic LB.
25. Buffalo Bills: CB Roger McCreary (Auburn)
The Bills can afford to take whatever position they want, but CB is probably at the top of their list. McCreary isn't considered to be in the same tier as the top 3 guys, but he's a decent consolation prize.
26. Tennessee Titans: WR Chris Olave (Ohio St)
This pick could be just about anything, an edge rusher or another big offensive lineman like Kinnard or Green makes some sense, but I'm going to go the WR route and give Tannehill a savvy safety valve. The Titans really struggled in the passing game when both AJ Brown and Julio got hurt. Olave isn't the greatest receiver ever, but he is steady and dependable.
27. Tampa Bay Buccaneers: DL Logan Hall (Houston)
Tampa doesn't have a lot of weaknesses so they can afford to take whatever they want. I'm giving them Logan Hall, a versatile defensive lineman that can play in a variety of fronts and is supposed to be a good run stopper with a little bit of pass rushing upside.
28. Green Bay Packers: EDGE Drake Jackson (USC)
Who knows what changes the Packers will see this spring, but they love to scoop up talented linemen on both sides of the ball, and Jackson fits the bill as a flexible edge rusher in multiple fronts. I didn't love him on tape in 2020, but there were a few flashes of ability. GB almost has to draft edge rushers since there's almost no way they can keep the Smith's if they pay Rodgers and Adams a combined $70-80 million this year.
29. Kansas City Chiefs: OT Charles Cross (Mississippi St)
Andy Reid loves drafting linemen, and he might have to if they can't re-sign Orlando Brown. Cross gets mocked as high as 10th overall so it would be a great value to get him at 29. I've heard Cross is a bit lacking in strength but is a nice pass blocker. Sometimes guys like that fall lower than the mainstream is projecting.
30. Miami Dolphins: OT Trevor Penning (Northern Iowa)
The Dolphins need help at a lot of spots, but their offensive line has been atrocious in particular. New HC Mike McDaniels is going to want to run the ball like his former boss Kyle Shanahan, so a big, mean road-grading LT should be right up his alley. Penning could easily go much higher than this.
31. Cincinnati Bengals: OG Kenyon Green (Texas A&M)
The Bengals may have gotten lucky to make the Superbowl, but they blew the lead due to their awful offensive line. I bashed them all year for it and that weakness finally caught up to them. Ja'Marr Chase is fine, but he can't catch the ball if Joe Burrow is lying on the ground. The Bengals have to take multiple linemen in this draft and they know it. Here all the best tackles are gone, but they are still able to grab the top guard in the draft.
32. Detroit Lions: WR Alec Pierce (Cincinnati)
This pick is speculative on my part, but I have a feeling Pierce could sneak into the bottom of the first round due to his size, athleticism, playmaking ability, and toughness. He would fit perfectly with a Detroit team that needs a big body receiver and loves their WR's to be aggressive blockers.